Dropshipping Software From AliDropship: Here's What We Offer!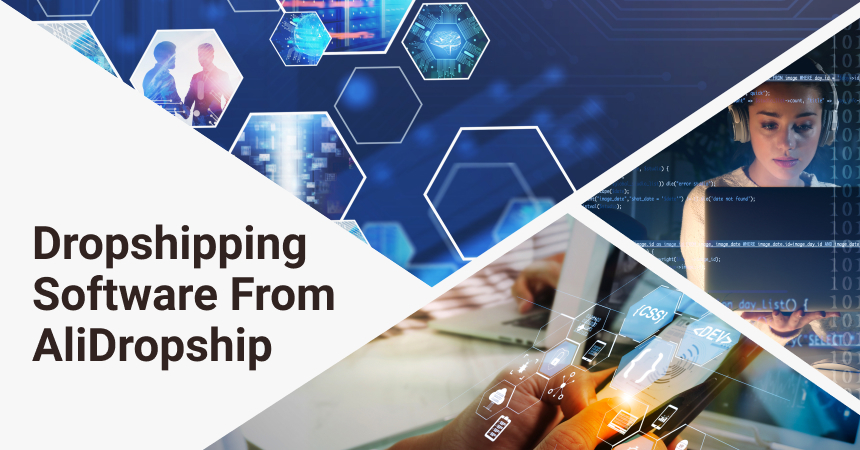 Recently, we've been posting quite a lot of articles about the updates in our dropshipping software and extra services. We understand that this flood of offers might be confusing for some of our readers. 🙂 So, if you've lost track of the solutions you can get from us, here's the latest overview of our tools and services!
Historically, the AliDropship company started as an experimental local project.
At that point of time, we were just a bunch of enthusiasts who worked on their own dropshipping stores. This priceless first-hand experience of organizing the daily management routine helped us understand something. We realized that if we create some software that automatically performs some of the most important dropshipping tasks, we can turn this business around – and support hundreds of entrepreneurs across the globe.
So we did.
The AliDropship plugin was the first dropshipping-related product that we developed and introduced. We tried it on our own stores first, and documented every step of this experiment on the most reputed ecommerce forums: Warrior Forum and Digital Point.
You all know what happened next.
The plugin's success was astonishing. Our own AliExpress dropshipping stores started performing better than ever thanks to the plugin.
The external AliDropship plugin users got satisfied with the product, too! Our forum writings turned into the most popular threads in the history of eCommerce sections of Warrior Forum and Digital Point. Even the first plugin buyers spoke highly of it, and we realized that a huge audience needs the solutions of this kind.
So, we started the testing and development of new, supplementary dropshipping software that serves the same purpose – making the entrepreneurs' lives easier and better. Now, we offer our customers a wide range of handy dropshipping tools, and there are more to come!
Dropshipping offers from AliDropship: turnkey solutions
In this section, we will talk about the AliDropship solutions that help you create an online store that automatically performs some of the most important dropshipping tasks.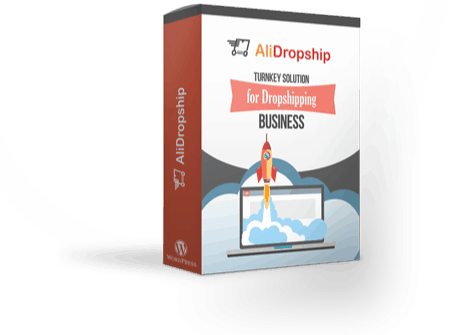 This plugin is the foundation of all our products and services.
It's the tool that transforms your vision of dropshipping business!
Simply speaking, the plugin can turn any WordPress website into a fully functional dropshipping store with all the vital elements: product pages, shopping cart, payment gateways, etc.
So, with this plugin, you can:
In other words, this automated dropshipping software lets you enjoy all the benefits of dropshipping and have no worries over the technical side of this business.
Here is a more detailed plugin review if you need it!
By the way, the plugin is perfectly compatible with WooCommerce websites as well. Read this article to learn more about the differences between the original AliDropship plugin and the AliDropship Woo plugin versions.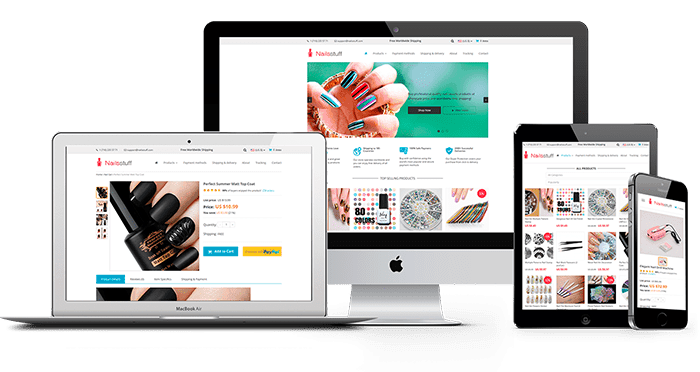 A skeptical reader will say that an online store is not exactly a piece of dropshipping software. 🙂 Still, it's a turnkey solution that we offer, so it would be unwise to stay silent about it!
In fact, ordering a custom store is a super easy way to receive a fully functional business that is perfectly ready to operate from day 1.
When you buy a custom store from us, you receive a professionally developed niche store that has:
Catchy design elements created with your approval
A range of products that suit your niche and are carefully picked by the expert team
The already integrated and set up AliDropship plugin
All the technical elements that make it possible for your visitors to place orders and make purchases
And many, many more!
To get an idea of the amount of work that is required to set up a moneymaking dropshipping store, just watch this video!
And now, imagine that you don't have to worry about any of these tasks. All of them are carefully done for you by our specialists!
Tired of choosing the greatest niche to take, the hottest products to add, and the best marketing strategies to apply? Why bother? Premium dropshipping stores from AliDropship let you start a booming online business with no worries at all!
Buying a Premium store, you receive a FULL COPY of a money-making, well-equipped online store – and start earning with it right away!
More specifically, you get:
An exact copy of our long-performing online store with lots of sales and traffic
A winning product range consisting of pre-edited, best-selling items only
A set of powerful marketing elements that are proven to attract and engage the audience
Guidance and support from our dedicated team of skilled developers and marketers
There's everything you need for a successful business start!
Dropshipping software from AliDropship: supporting add-ons
Have you already built your awesome dropshipping website? Great! Now, it's time to let everyone know that you have one!
It's hard to overestimate the importance of marketing for the growth of a dropshipping business. This is why we have developed a number of additional tools that help you boost your sales, increase your profits, and save even more time that is typically spent on marketing tasks.
Enjoy an all-in-one solution for dropshipping newcomers: a set of 6 powerful add-ons to present your store in the best possible light!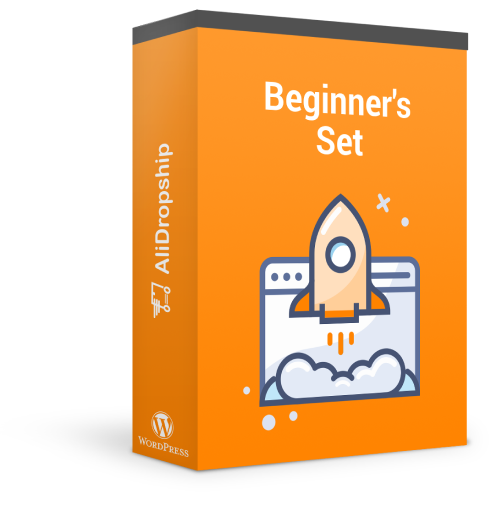 This extraordinary add-on lets you manage multiple aspects of your store management with ease:
Notify site visitors of your hottest offers instantly
Create a sense of urgency to trigger impulse purchases
Demonstrate social proof to inspire visitors' trust
Make the store more SEO-friendly and easy to load
Figure out the best ones of your current suppliers to work with
Isn't it a game-changing solution for those making their first steps into the exciting world of dropshipping from AliExpress?
Motivate your store visitors to BUY NOW!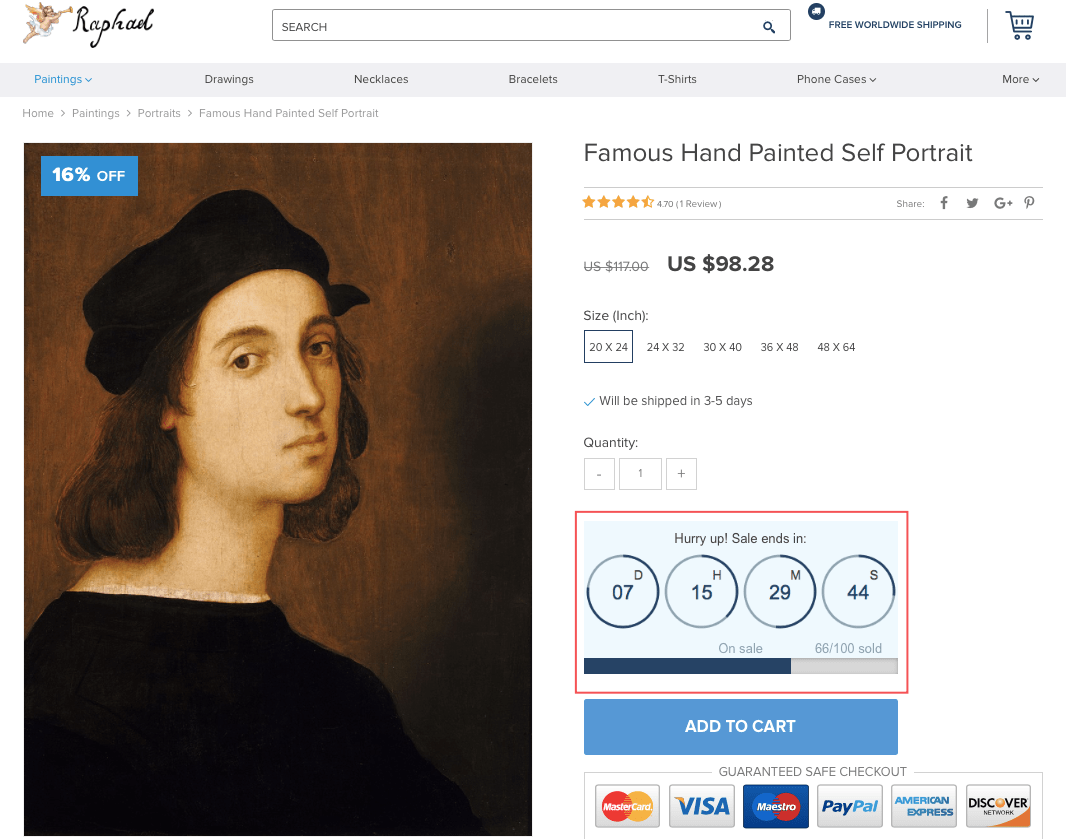 This add-on lets you create catchy notifications on your product pages. You can modify the settings and change the sale duration and the amount of products available to create the so-called 'fear of missing out'.
Certainly, your guests won't like to miss out an appealing offer! Therefore, they will be more likely to complete their purchase with no second thoughts – and bring you a bigger profit than usual!
Heighten your visitors' interest in your store!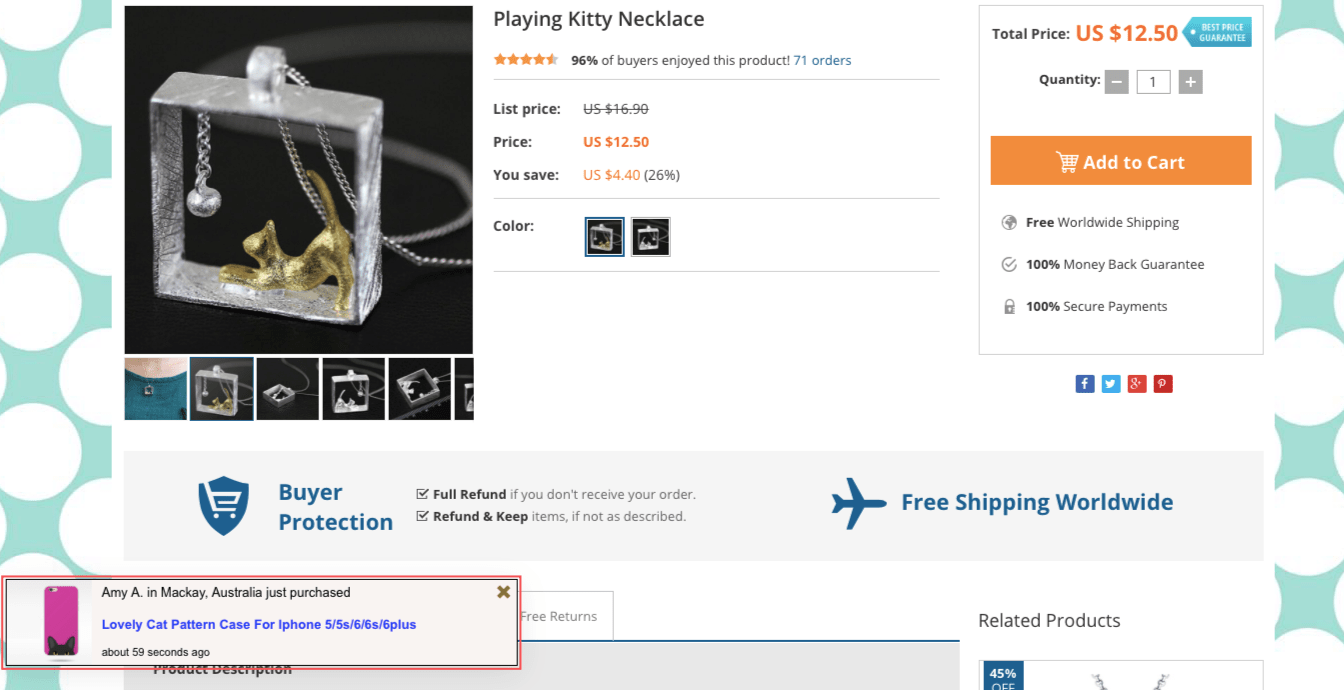 Thanks to this add-on, your guests will see the bursting activity on your website. It will let them understand that lots of other people are safely buying products from you, and there's no need to worry about the reliability of your store.
Besides, as they will see the exact products that have been purchased, it will give them even more ideas of the items they can safely buy from you.
Who knows – maybe, they will end up ordering something that they weren't even expecting to buy?…
Promote your store in 4 social networks at once with no extra efforts!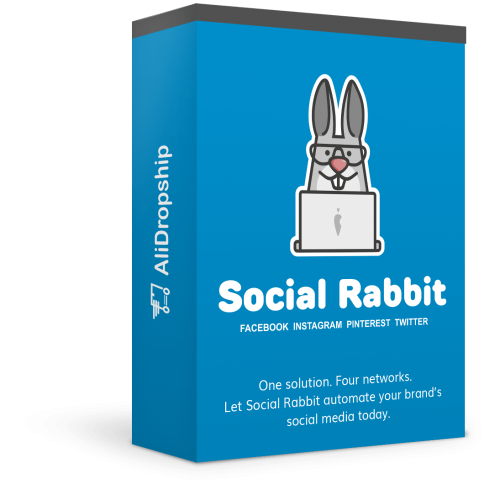 One of our clients, Asif from India, runs a $52,000-revenue store with $2,000+ monthly profit. He uses both free and paid advertising methods to grow his venture, and explains that he managed to use a free promotional channel thanks to another AliDropship solution – the Social Rabbit plugin.
You can achieve a similar level of success, too!
Our Social Rabbit plugin can automatically promote your store across 4 social media platforms: Facebook, Instagram, Pinterest, and Twitter. With its help, you can not only create engaging human-like posts, but also raise awareness about your store and attract new followers easily.
According to our estimates, this plugin saves you about 6 hours every day! How about dedicating this free time to more urgent tasks? Note that the plugin goes with a FREE 7-day trial!
Create highly efficient Facebook ads in a blink of an eye!

If you have ever tried making Facebook ads, you know it's really challenging and time-consuming to create the so-called product catalogs – the basis for your product-related ads.
Nevertheless, these ads show incredible results! Our client Alan from China says that he spends about $2,000 on Facebook and Instagram advertising every month, and, as the result, he has an average monthly profit of $17,000!
It would be really sad to miss out on such an incredible opportunity to make money just because of the inconvenience of Facebook ads setup, right?
To solve this issue, we have created the Facebook Business add-on: it organizes the store products into a special logical system, and automatically creates a catalog that you can later use as the foundation for your Facebook ads.
Isn't it a brilliant opportunity to cut down the time expenses and simply enjoy the financial effect of the ads?
Make your store visible on Google and YouTube!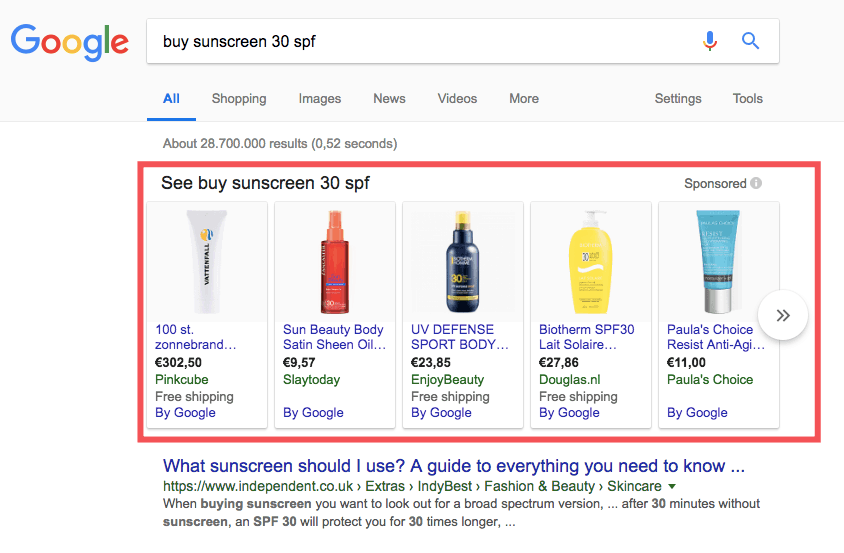 Do you want to showcase your products on Google Shopping platform?
Martin from the Netherlands made over €4,100 in 30 days of running his business, and, in his experience, AdWords text ads and Google Shopping promotion were the 2 most efficient ways to generate revenue.
To help you create winning Google Shopping ads and get your products featured on Google Search, Google Images and YouTube, we have developed the Google Merchant add-on – feel free to read more about it here!
Increase the average purchase volume in your store!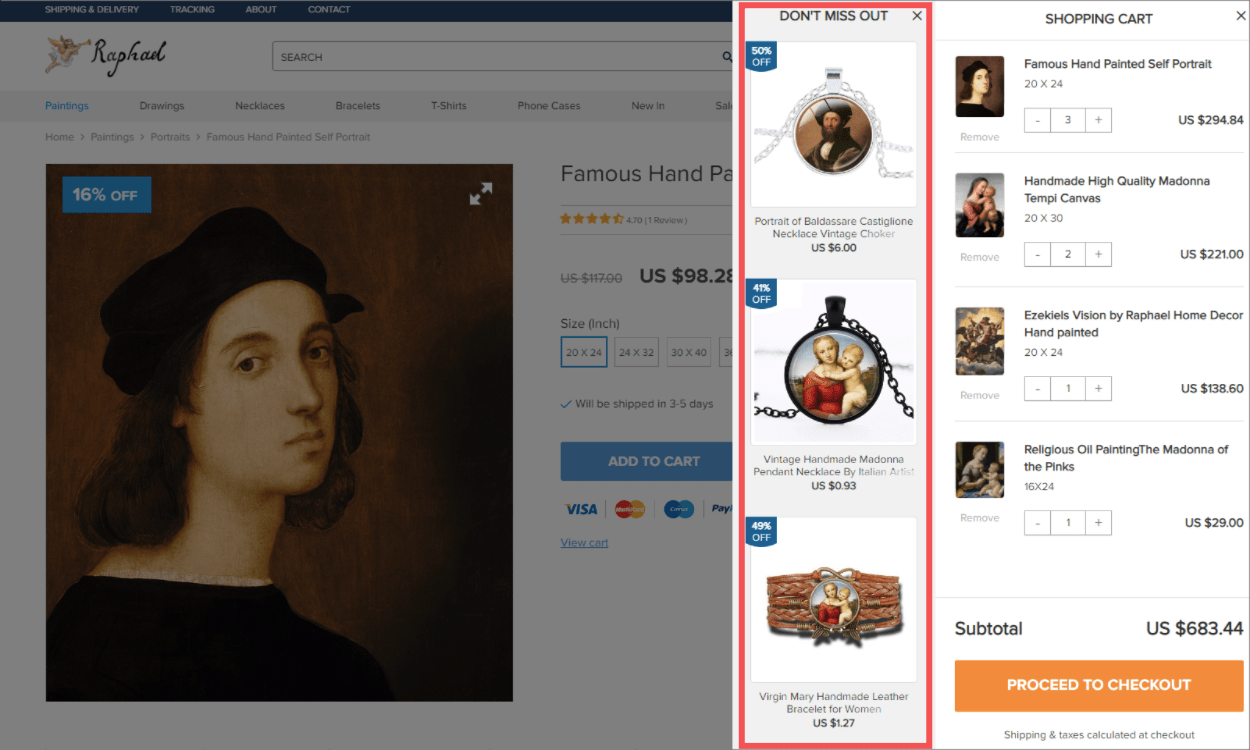 Are you happy when your store visitors purchase 1-2 items from you?
Would you become happier if your guests bought 4-5 products in a single order?
We know how to scale up your average check size!
The Upsell add-on is specifically designed to inspire your potential customers on adding more items to their shopping carts.
Just attach 2-3 complementing items to your store products, and give your buyers more interesting ideas about the awesome things they can buy from you!
Learn which of your dropshipping suppliers plays the most important role in your business growth!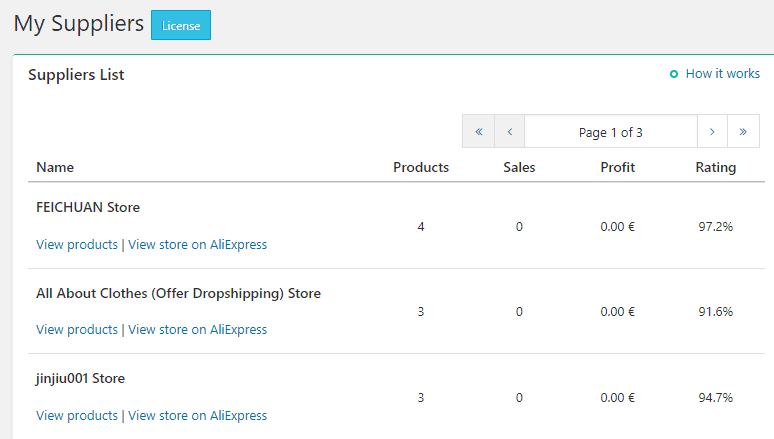 Do you know which of your AliExpress sellers supply your store with the most demanded items? Have you any idea about the suppliers who are the most highly valued by buyers?
With our My Suppliers add-on, you can easily identify the best suppliers you currently have, and build even more efficient partnerships with the leading industry players!
Save $63 and benefit from the joint power of the six profit-oriented add-ons!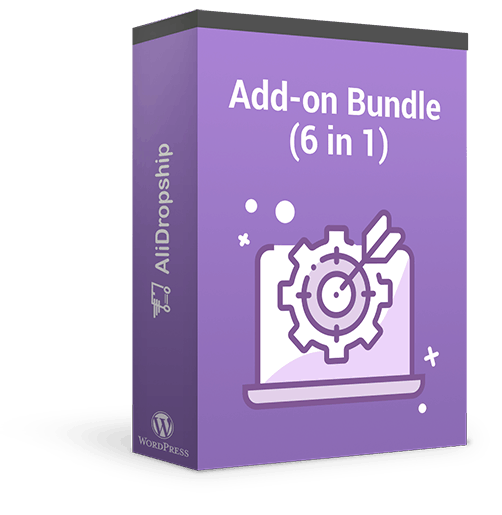 Do you want to cut your expenses, but still get the awesome dropshipping software?
Thanks to our Add-on Bundle, you can get 6 amazing promotional add-ons with a noticeable discount and save $63! Read more about this offer here.
Showcase your exclusive store offers in style!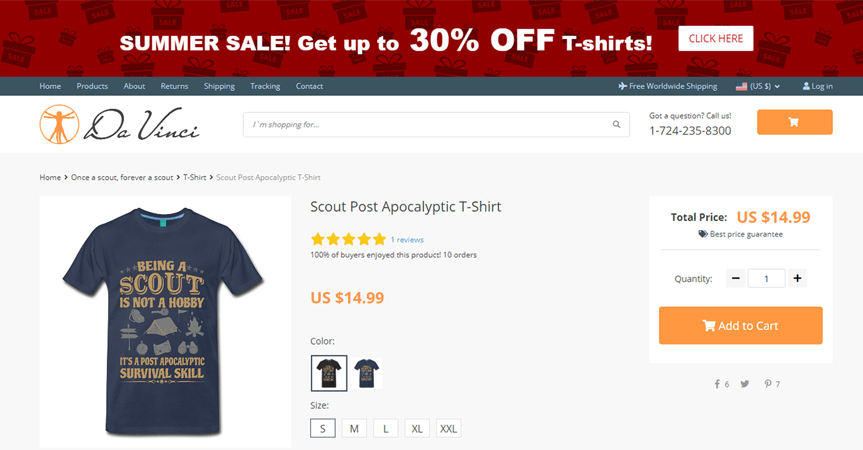 Are you announcing a huge sale event? Do you want to display new product offerings you've got for the store? Nothing solves these issues better than a catchy banner on top of your page!
You can easily make one with the help of our Promo Banner add-on!
It goes with a set of professionally designed templates that make your website pages look trustworthy and appealing. What is more, these banners are customizable: it means that it's totally up to you to achieve a unique AND purchase-motivating look for your pages.
Use the power of social proof to multiply your business profits!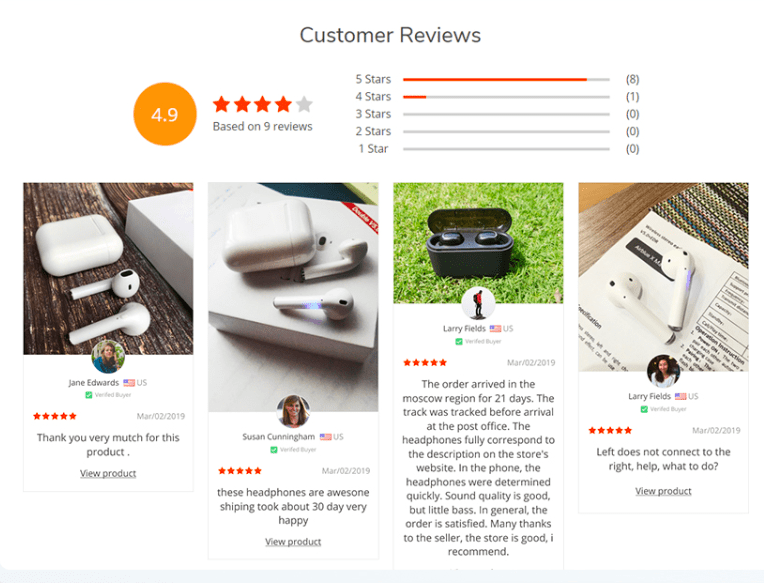 Do you want your store visitors to feel that your offers are worth their attention?
This amazing add-on uses authentic client reviews as a highly powerful business growth driver. It works like magic: the add-on collects the reviews left by both AliExpress buyers and your own customers, and puts them on a specially created page.
This is a really easy and truly impressive way to let your potential customers know they can trust your business – and to prompt their purchasing decisions!
Make appealing sets out of your products to motivate the store visitors buy more!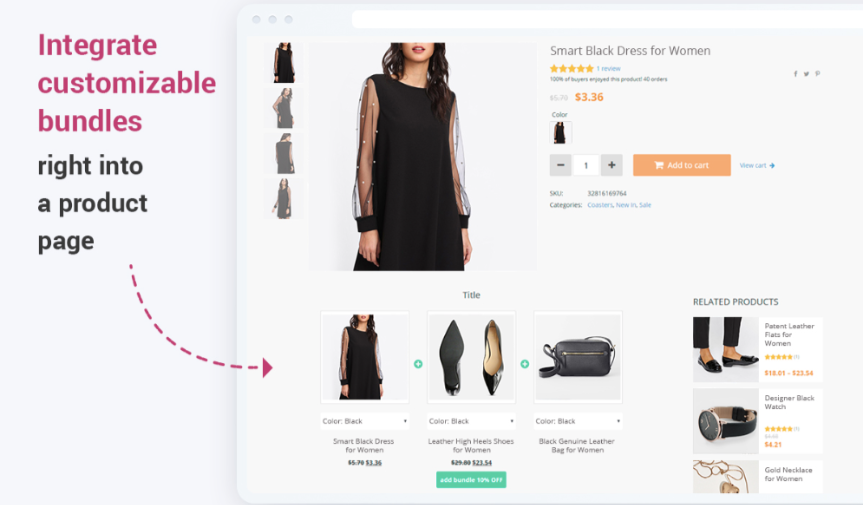 Thanks to the handy Product Bundle tool, you can easily increase the average order value.
Make your customers the offers they can't refuse! Show them how to combine your products in the smartest way possible, and watch your profits grow.
Use this 3 in 1 solution to let your customers know they can't miss out on your amazing, time-limited deal!

Motivate your store visitors to place their orders right here, right now, before your tempting offer is expired! Use a variety of motivational instruments integrated into the add-on to achieve the highest conversion possible.
Make your website work several times faster and boost the technical performance of its multiple other aspects!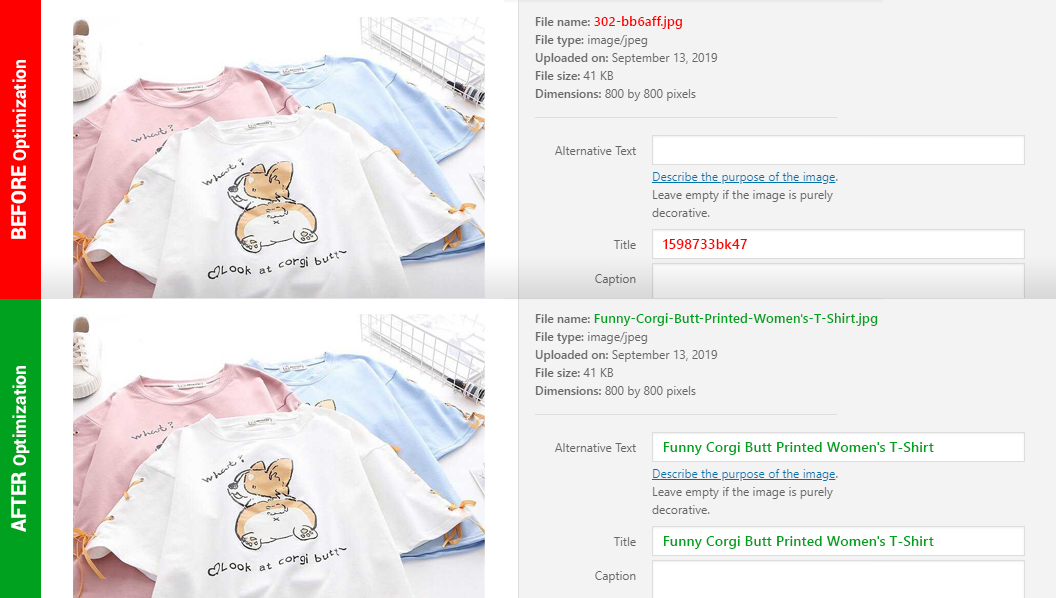 Would you like your website to load in a blink of an eye, making your visitors excited about their on-site experience?
What would you say to the chance to improve your store SEO and protect its contents from competitors' actions?
SEO Image Optimizer is the tool that solves all these issues at the same time!
Minimizing the size of your site pictures without lowering their quality, it dramatically reduces the loading speed of your store. Having an extended functionality of optimizing the images' ALT tags and file names, it also lets you add branded watermarks to make sure you're using the potential of your images to the fullest!
Offer your buyers irresistible discounts – and encourage them to buy MORE!
Wondering how to motivate your customers to spend a little more in your store than they originally planned?
Why not!
In fact, they will even be happy to do that – all because of this exciting add-on letting them save with bulk buying! Whether you want to make a tempting offer to wholesalers or entice end buyers into purchasing multiple product units, Bulk Discounts add-on has got it all covered.
Make an irresistible offer when your buyer's loyalty is at its peak!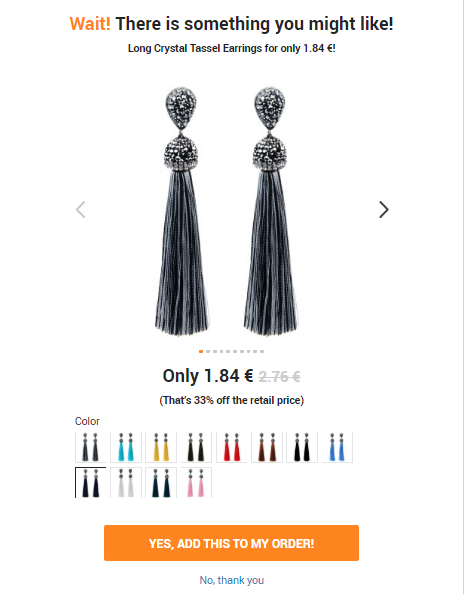 Is your buyer excited about the successfully processed purchase that has just happened? Don't let this magical feeling of satisfaction and trust disappear!
Use the power of Purchase Upsell add-on to offer wonderful additions to every recent order and make higher profit from every sale without extra customer attraction efforts! Just check out the screenshot above to see how this piece of dropshipping software transforms your buyer's experience. 😉
Treat your buyers with gifts to build long-lasting relationships and multiply the number of repeat purchases!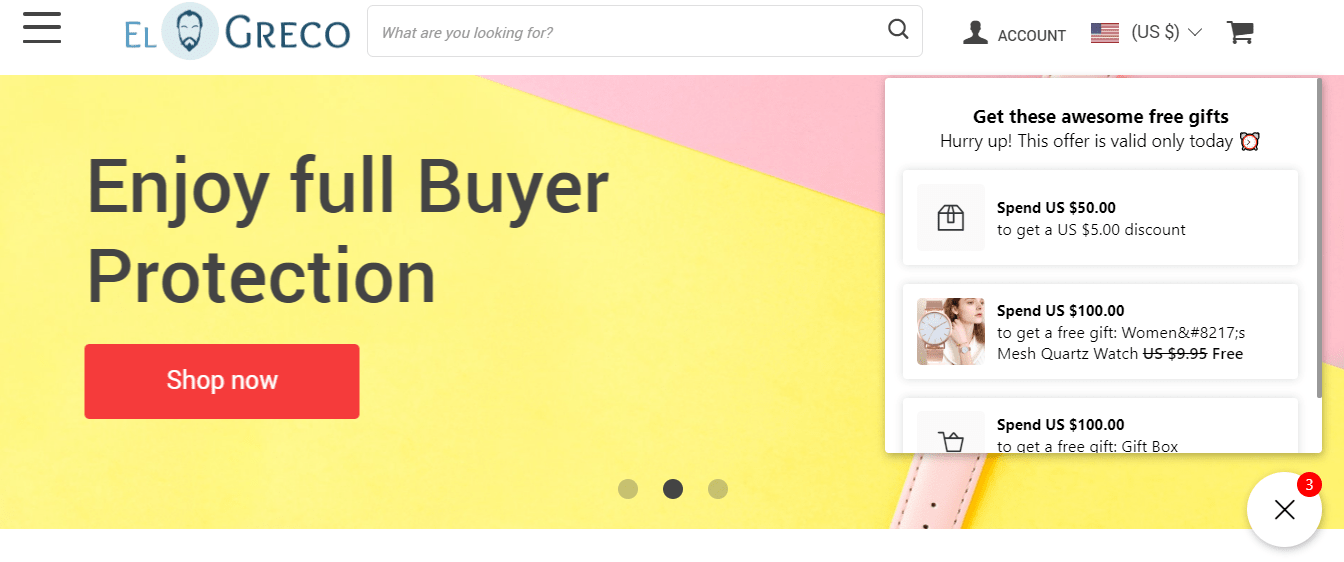 How about creating an offer that's too tempting to ignore? Gift Box add-on does just that!
Who, indeed, would say no to an adorable gift? Show the colorful array of presents, discounts, and other tempting offers your buyers can get if their order meets specific requirements – and enjoy the difference it makes to your order volume!
Turn product pages into standalone, conversion-centric landing pages with minimum effort.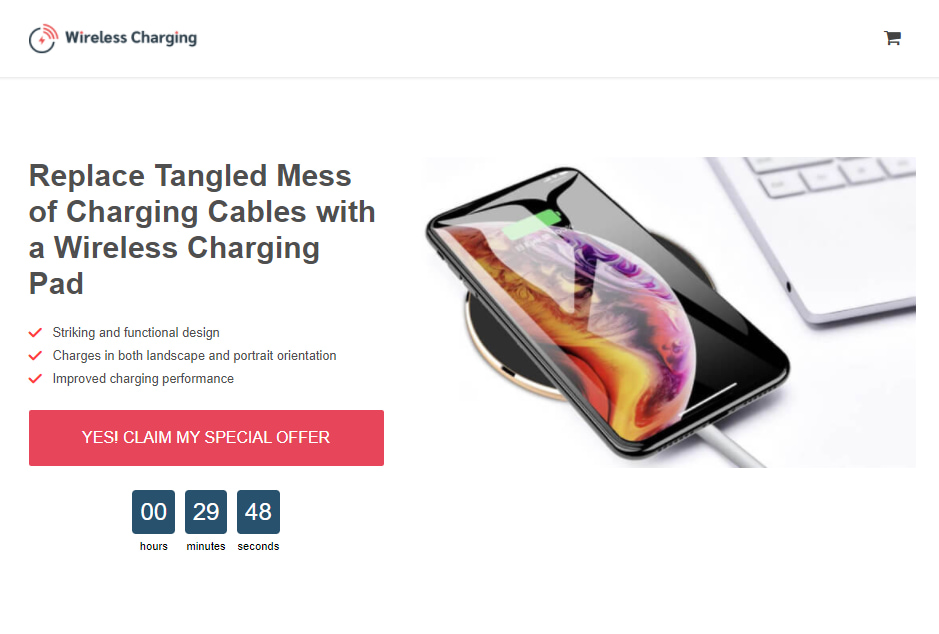 While advertisers usually lead potential buyers to single product pages on their sites, sometimes it is wiser to lead them to standalone landing pages. But building such pages is almost the same as creating a new website! That's why AliDropship has developed the Landing Pages add-on.
With this dropshipping tool, you can turn any single product page into a landing page that is at least twice more likely to convert visitors into buyers. You can pick from four templates – Two-Page Sales Funnel, Lead Generation, Contest, and Product Sales.
The add-on also lets you customize the landings with a simple drag and drop tool.
Isn't a wish list sometimes a total lifesaver? Well, with our savvy Wish List, your buyers will be able to create their own wish lists with all your products they'd love to get.
With the Wish List add-on, you can easily collect the email addresses of your shoppers to run targeted email marketing campaigns and keep reminding them about their favorite products.By allowing customers to bookmark their favorite products, you motivate them to come back to your store and even spend more money per order! With the Wish List add-on, you can add this option in just a couple of clicks.
Don't let people forget about their favorites and leave your store empty-handed.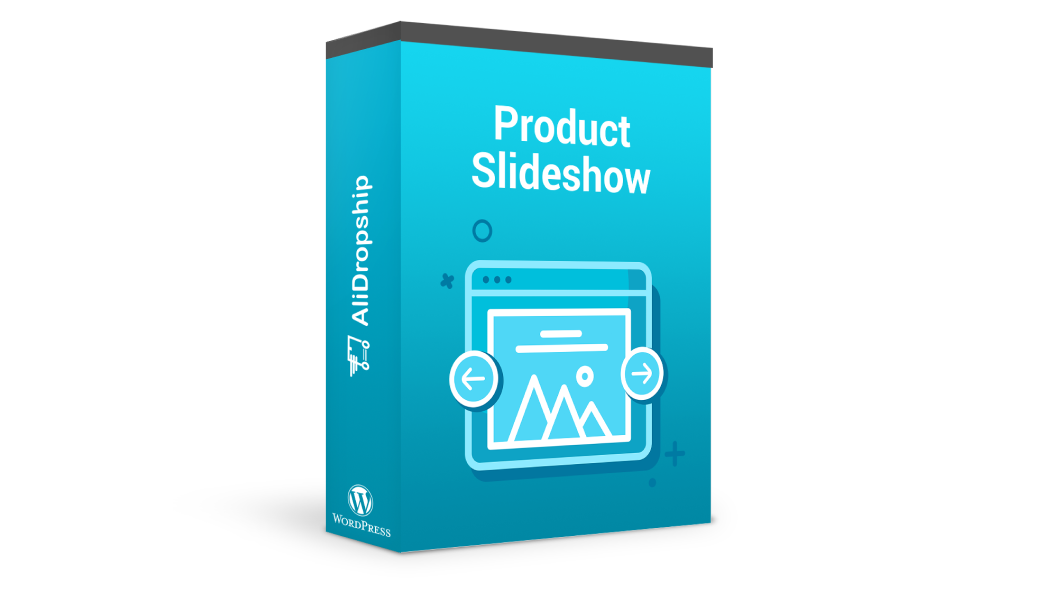 Have you heard the old saying 'A picture is worth a thousand words'? The importance of product images cannot be overestimated. Pictures help customers get a better understanding of your product range, make a faster evaluation, and differentiate between similar items.
Thus, with a product slideshow, you can show multiple product thumbnails on your listing pages to create a seamless and uplifting shopping experience free from frictions and loading issues.
Encourage your customers to discover more products and help you build a higher brand awareness, with this Product Slideshow add-on.
Add labels to your product images to notify buyers of new arrivals and special offers.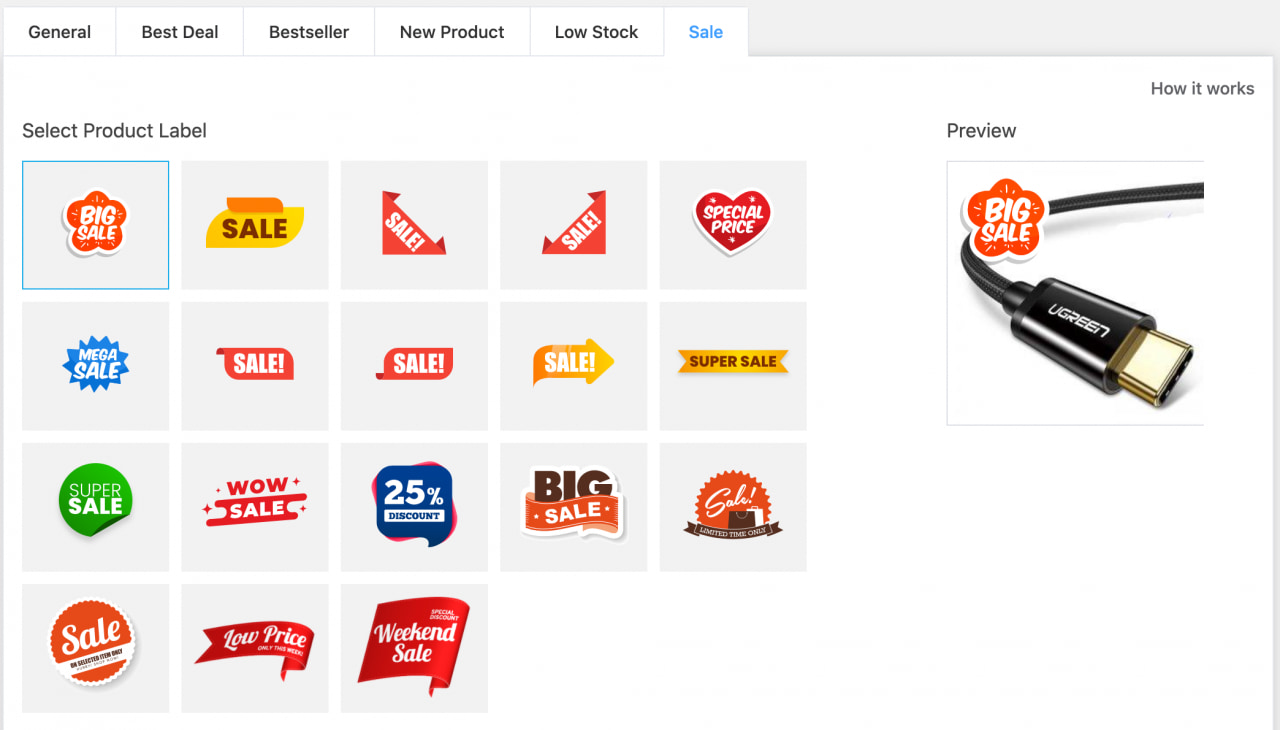 Often having a good product in your inventory is not enough to get lots of orders. You should be able to tell site visitors about your great offers, new arrivals, and discounts. The easiest way to do it is to place labels on product images. After all, customers are 90% more likely to click on a labeled product compared to an unlabeled one.
The Product Labels add-on lets you choose from 8 placement options and 4 animation types. And of course, you have several label designs available divided into five categories: 'New Product', 'Sale', 'Best Deal', 'Best Sellers', and 'Low Stock'. You can also upload your own labels.
The add-on lets you assign different labels for each product page or category. You can also choose when to show the labels.
It's an ideal dropshipping solution to draw your customers' attention to particular products or events.
Test different versions of product pages and get clear analytics to pick the best-performing page designs and most profitable products.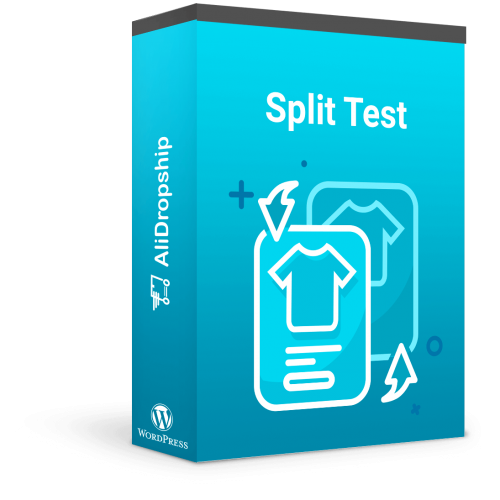 What if you have two great ideas on how to design your product pages but can't be sure which one will better convert visitors? With the Split Test add-on, you can launch A/B tests for your product pages.
This tool lets you create two versions of the same page and drive equal portions of traffic to them to see which one is more efficient. The add-on provides you with clear analytics so that you could rely on data rather than intuition.
With the Split Test add-on, you can discover weak points in your conversion funnel, reduce the bounce rate, deliver the best customer experience, and ultimately raise your conversion rate.
Free dropshipping software from AliDropship
Since we've started to talk about saving money, it's an appropriate moment to mention that AliDropship also offers certain dropshipping software for free!
That's right – you can enjoy our promotional solutions and boost your business with no extra expenses!
Let your visitors know that your buyers are IN LOVE with their purchases!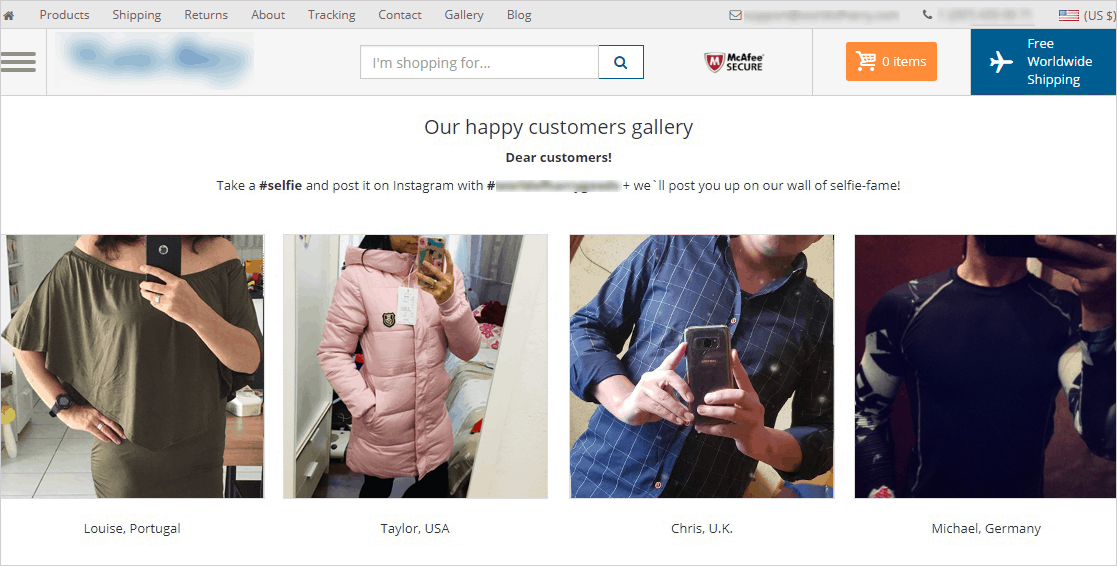 Do you know how important it is for online shoppers to know that your business is trustworthy and your products have a perfect quality?
To help them make their purchasing decision and to stimulate them on impulse purchases, you can safely use our Customers Gallery add-on.
With its help, you can create a lovely gallery out of the happy buyers' pictures. What is more, you can link each of these pictures to the product this person is demonstrating. Certainly, it will give a major boost to your store reputation and your revenues!
Get in touch with the visitors who left your store without making a purchase!

Our client Pirn from Estonia uses email marketing as one of the most efficient instruments to promote his dropshipping store. With a 90% open rate and an 85% click rate, there's no wonder that he makes $10,000+ in monthly revenue even with no previous experience!
If you want to use the power of email marketing as well, start with our free Abandoned Cart add-on. It lets you send appealing emails to the people who left their shopping carts without making a purchase. These clients already got interested in your offers – why not persuade them to finally order the things they liked?
Add only the greatest AliExpress items to your dropshipping store!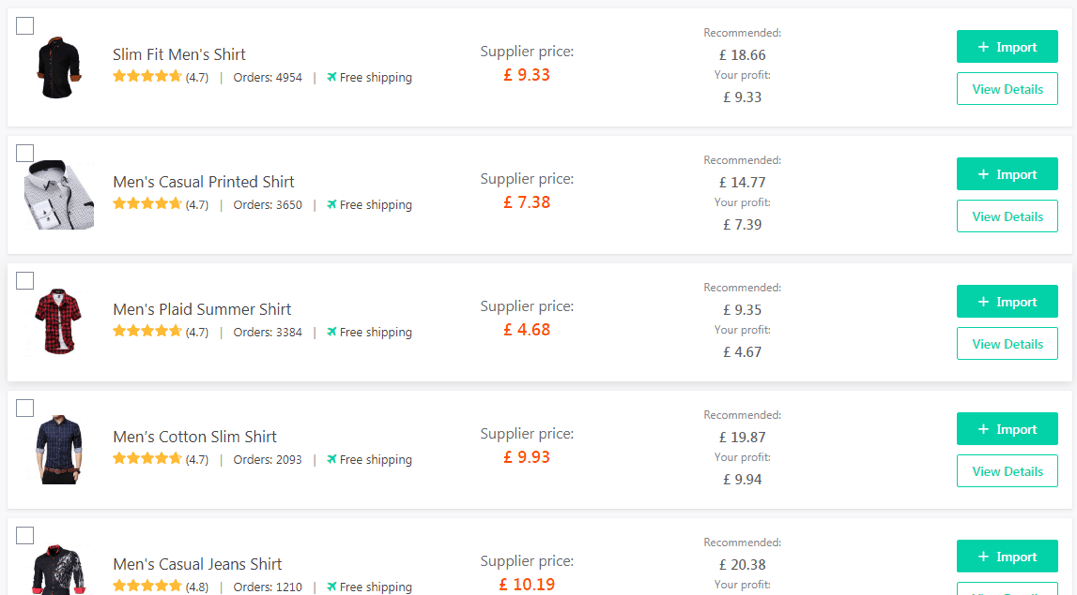 That's probably one of the most time-consuming projects we ever did. 🙂
As you can see, it's a sort of a product database. As of today, it consists of over 50,000 items, and the list is growing daily. We've selected the most demanded and high-rated AliExpress items, and brought their descriptions to perfection.
It means that you don't have to spend endless hours on browsing AliExpress, and you certainly don't need to take any efforts to edit their picture galleries and descriptions. It has already been done by us for you! All you need to do now is click the 'Import' button and add these wonderful items directly to your store.
The best part? You can import up to 50 products for free!
Alternative solutions for dropshipping businesses
AliExpress dropshipping provides ecommerce entrepreneurs with a unique opportunity to sell all sorts of products from various different categories. However, there are other options out there you can try to target other markets and create your unique dropshipping experience.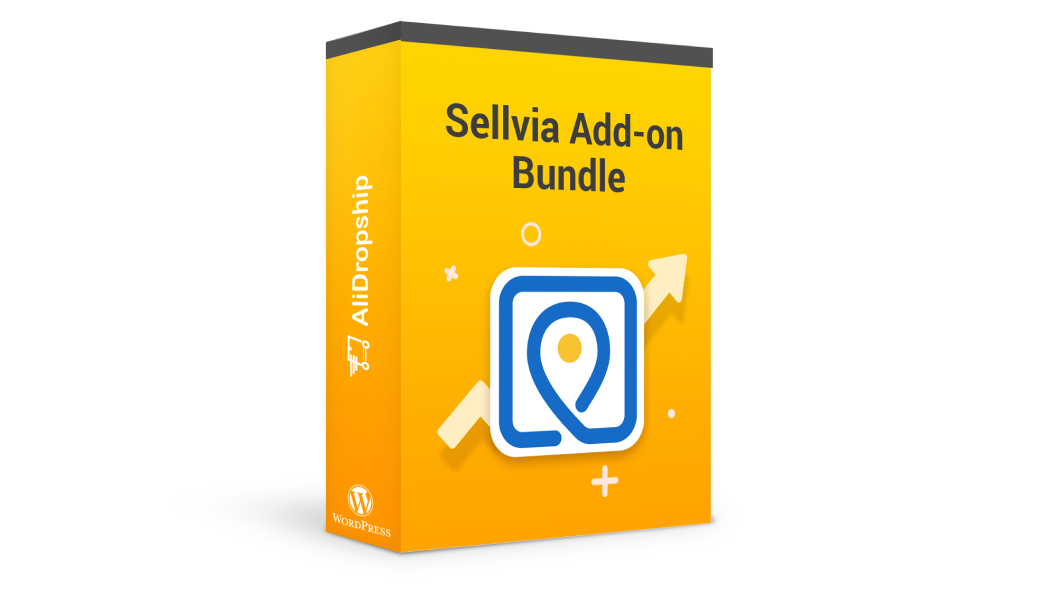 First of all, what is Sellvia?
Sellvia is a groundbreaking ecommerce ecosystem. It's aimed at covering many online business areas – from product sourcing, storing, and packaging to branding, promotion and online store creation.
If you've dealt with AliExpress suppliers before, you've probably experienced long delivery times where customers have to wait for their order several weeks. However, with Sellvia, all of that will be a thing of the past. By partnering with Sellvia, your US customers will receive their packages within 1-3 business days. It's possible thanks to a US-based fulfillment center, where all the items will be packaged and shipped from.
But that's not all! Sellvia partners will get many additional benefits that will allow their business to thrive and reach its full potential in no time.
Nevertheless, with this Add-on Bundle For Sellvia, you will be able to drive many more customers to your online store, increase the effectiveness of your ad campaigns and make more profits as a result. Moreover, by purchasing this bundle you SAVE $71 as you're getting SIX powerful tools in ONE set!
Don't miss your chance to partner up with one of the biggest US dropshipping suppliers out there and create a successful ecommerce business.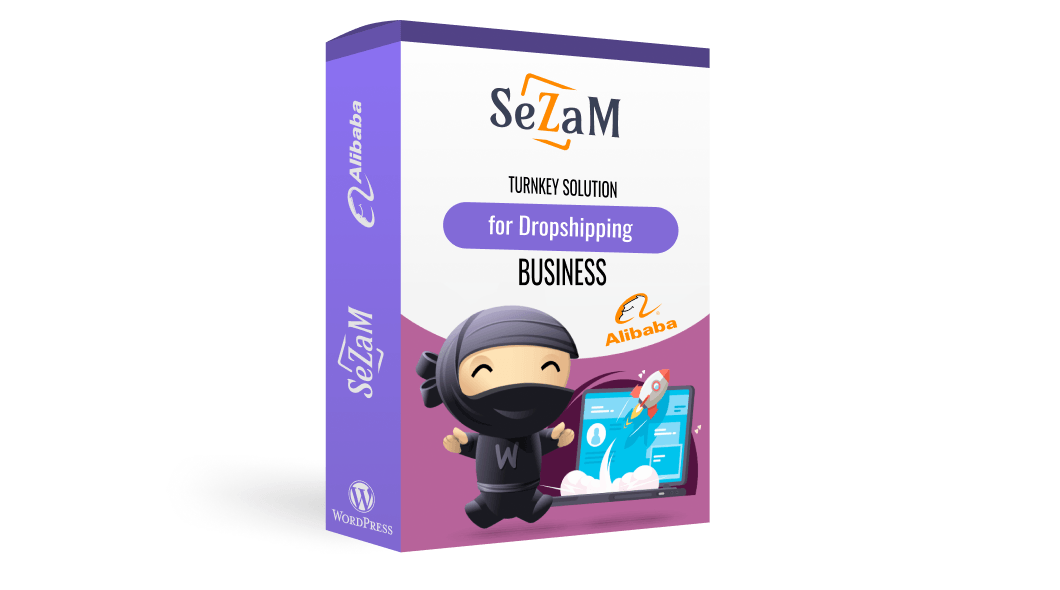 Have you ever thought about establishing your dropshipping business with one of the world's largest platforms? Now, you can set up a fully functional Alibaba dropshipping business with Sezam!
Recently, Alibaba has made it possible for dropshippers to cooperate with this platform and dropship its products. Thus, they have created a list of products that are available for dropshipping exclusively.
Of course, as some of you know, Alibaba deals mainly with B2B sales, so does that mean that your customers will have to order products in bulk? The simple answer is no. Since Alibaba intends to pursue this business route, by choosing this platform as a supplier, the sales process will be performed the same way it would as dropshipping with AliExpress.
Anyway, dealing with Alibaba, your dropshipping business will be able to buy products directly from manufacturers and at factory prices. The number of international warehouses exceeds 200 countries throughout the world. And what's more, you can customize products with your own branded labels.
In addition, with the Sezam plugin, most of the business processes will already be automated, for a seamless dropshipping business experience.
What principles do we use to create our dropshipping software?
When you run your dropshipping business, obviously, you don't need a 'random' piece of software. Instead, you want a handy solution that solves your issues.
But what should it be, exactly?
You can't even imagine how important the answer to this question is for us.
This is why we actively communicate with the global dropshipping community through our forum. There, we collect the suggestions and preferences from the entrepreneurs all over the world, and do everything possible to help people meet these needs through our products.
We even offer our readers to take part in beta testing! This way, we can test our new tools on their production stage, and listen to the audience's opinion. It gives us the opportunity to tailor our solutions to the clients' preferences. So, this is how we create the dropshipping software that meets the public's expectations.
So, what are the defining features of our dropshipping software?
That's a pretty much obvious point. For many people, the dropshipping model is the only suitable option for starting an affordable eCommerce business. Naturally, they want to have the lowest startup costs possible. This is why they commonly prefer affordable solutions that don't require massive investments.
Curious fact: for the affordable price of $89, we offer our customers the plugin that can turn a basic WordPress website into a fully functional dropshipping store. A number of FREE supporting promotion-oriented products is also available!
Even a 0-cost dropshipping tool has no value for a user if doesn't do much. Normally, dropshipping store owners expect that these solutions will help them with the daily business routine. This is why they pick the tools that can perform the basic dropshipping tasks automatically.
The range of these tasks is quite wide – actually, almost any procedure from niche research to social media promotion can be automated easily. It gives the entrepreneurs the opportunity to find more time for the work that includes the human factor – most importantly, the customer relations.
Did you know that? The AliDropship plugin covers lots of dropshipping management issues, from searching & importing products to creating a unique and memorable in-store design. What is more, with the help of our add-ons, you can broaden the scale of your business operations even further.
If a piece of dropshipping software slows your website down or works incorrectly, it's obviously not a good choice. The same goes for tools that can only be installed on some specific types of websites. Surely, they limit you in your business choices.
Interesting fact: the AliDropship plugin works on any WordPress-based website – even if it's built with WooCommerce! There are differences between the original and the Woo-friendly versions of the plugin, but they are identical in their core. Both of them are aimed on turning your website into a user-friendly and moneymaking shopping destination, and they handle this job perfectly.
At the beginning of their dropshipping journeys, most newcomers don't have the relevant experience and aren't well aware of the eCommerce world in general. Therefore, they need intuitive solutions that are easy in daily use, and are understandable to people of any professional background.
That's curious: the already mentioned Pirn from Estonia, along with Alvaro from Chile and lots of our other clients, had zero experience in dropshipping at the moment of the AliDropship software purchase. Still, the lack of knowledge hasn't troubled these people's user experience – they are happily working with AliDropship solutions and making pretty good money with them!
When newcomers start to combine their 9 to 5 jobs with a dropshipping venture, they lack a vitally important resource: time. Typically, they can't even find a couple of hours per day to learn more about the business they're exploring. Surely, it slows down their progress and doesn't really motivate them to keep going.
To solve this issue, we are offering a wide range of educational materials. They give some basic insights into the dropshipping business in general, and explain how to use our products.
Over to you: you can choose any type of our educational materials – just go with your personal preferences! If you don't mind reading, explore our Guides and Knowledge base – you can find lots of priceless tips there. Alternatively, if you are a fan of videos, take a look at our YouTube channel. Or, if you prefer real-life communication with the field experts, you can hang out on our dedicated forum, and learn from the experience of skilled store owners.
That's it! Now, you know much more about our current product offer and the strategies that we use to create our solutions.
Do you have experience in working with our dropshipping software? Feel free to leave your feedback in the comments section below!