Thank you
for sharing your thoughts with us as your feedback will help us to provide you with enhanced product quality.
Optimizing your images is a must if you want your website to load fast and easy. SEO Image Optimizer is a winning WordPress plugin designed to improve your website performance and SEO ranking. Set it up once and never worry about images SEO again! The plugin makes SEO improvements automatically for your benefit.
Overview
Beautiful, high-quality images are vital for any modern eСommerce store. But if they are not optimized correctly, they can slow down your store loading speed and lower your SEO ranking. Surely, you don't want to reduce the efficiency of your marketing efforts or even to lose money because of this!
SEO Image Optimizer is the WordPress tool that solves this issue once and for all. Enjoy this solution and benefit from good-looking images that improve your Google ranking positions and conversion rate!
Benefits
Speed up your store to provide clients with the best shopping experience
Improve SEO and generate constant traffic
Set it up once to boost your store performance, SEO ranking, and loading speed
Optimize an unlimited number of images without any additional fees
Save time with auto-optimization of all new images uploading
Enjoy lifelong support and updates
Features
Boost your page loading time with the Image Minimizer tool
Minimizer compresses your images by up to 40-70% without any loss of quality. It dramatically increases the site's loading speed that is a significant parameter in Google ranking algorithm.
In other words, the Image Minimizer tool helps you get a higher position on search results page and improves the shopping experience of your clients.
Add ALT texts to your images automatically
Each image uploaded on your store should have ALT texts. It makes your store more SEO-friendly and lets you get more traffic from image search. With the ALT Optimizer tool, you can automatically add optimized ALT texts to your images in just a second by using our templates or the ones you create by yourself.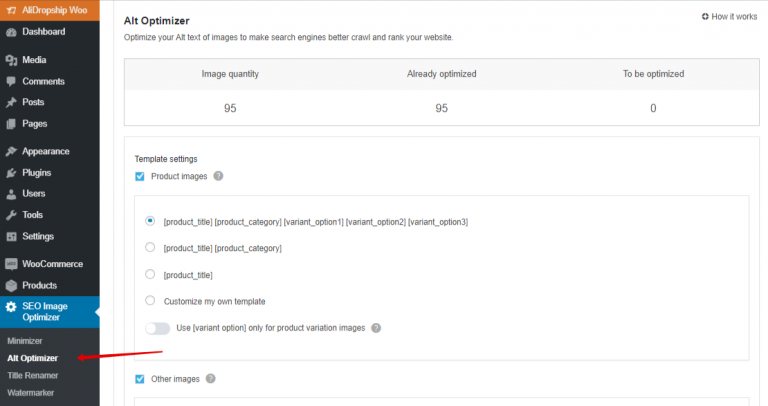 Increase organic traffic to your store with the Title Renamer tool
Images can be a great source of organic traffic for a store if the images are named correctly. Descriptive, keyword-rich image titles and filenames are crucial for image SEO optimization. Rename your image titles with customizable templates to make Google show them to as many potential customers as possible.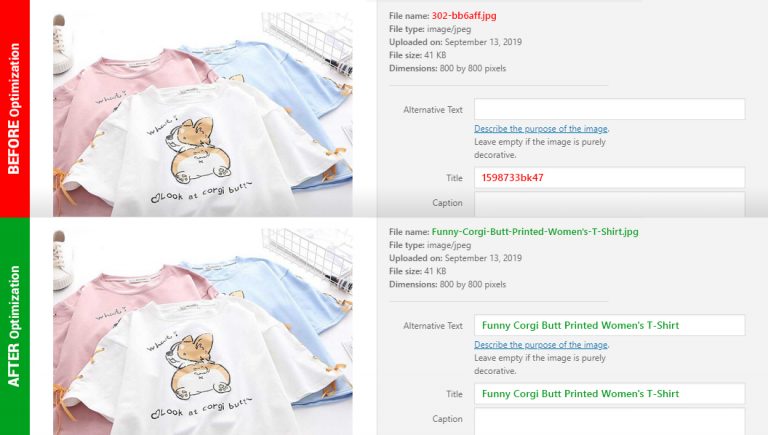 Add Watermarks to protect your product images and keep them on brand
Do you want to make your product images more unique and protect them against theft? With the SEO Image Optimizer add-on for WordPress, you can add a text or image watermark to a product picture in a click! Customize it the way you want: select the color, size, and position right within the add-on.
With such a sign on your product images, you will also advertise your store every time one of the pictures gets shared on social media.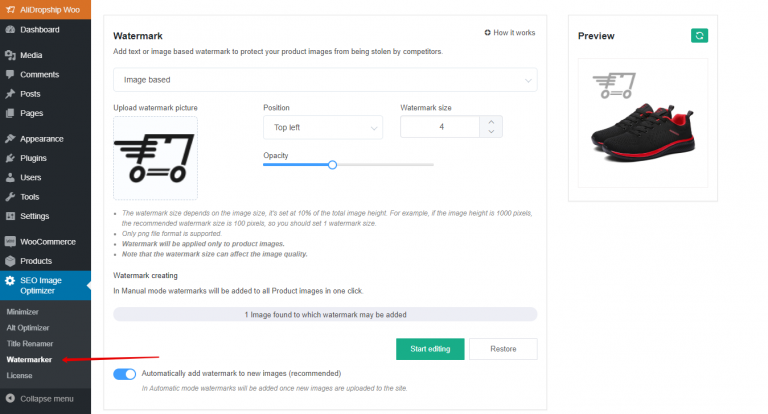 Install SEO Image Optimizer and improve your Google SEO rankings in a couple of clicks! Any questions? Please refer to our Knowledge Base or ask us at support@alidropship.com.
Some questions you might have
Why hasn't the plugin found all my images (homepage slides/banners/logo)?
SEO Image Optimizer can automatically compress Product, Blog Post, and Pages images. Any images stored within a theme cannot be compressed or even accessed.
If I stop using Image Optimizer, will my images remain optimized?
Absolutely! If you uninstall SEO Image Optimizer, your compressed images, ALT texts, title/file names will remain optimized.
How long will my SEO Image Optimizer add-on license key be valid?
All our add-ons have a lifelong license key. You can use it as long as you want.
Is the setup service included in the price of SEO Image Optimizer?
No, you can order the service
here
.
Does the SEO Image Optimizer add-on support AliDropship Woo?
This add-on is compatible with both plugins: Alidropship Original and Alidropship Woo.
Can I use SEO Image Optimizer on WooCommerce sites without AliDropship?
Yes! SEO Image Optimizer works on any WooCommerce website even if it isn't powered by AliDropship.