Thank you
for sharing your thoughts with us as your feedback will help us to provide you with enhanced product quality.
Get floods of sales and maximize your profits with Recent Sales Pop-Up – a killer social proof tool. This add-on will turn your hesitant visitors into buyers. It is an absolutely hassle-free experience.
Overview
Recent Sales Pop-Up is an incredible way to win your clients' trust and motivate them not only to look at your items but to buy them right away. This add-on automatically generates pop-up notifications about recent sales: who and from where has just bought and what product it was. It creates an atmosphere of a busy store and shows that people buy from you and want your products. What could be more important for any dropshipping business?
Benefits
Create a sense of urgency and fear to miss out on a good deal
Trigger sales by showing recent orders
Increase trust level with social proof pop-ups
Show more items to the shoppers to get a great upsell opportunity
Reach clients from any device thanks to a mobile-friendly design
Enjoy free lifelong support and updates
Features
Enjoy one-click setup and handy interface
Recent Sales Pop-Up has an easily understandable interface. The add-on features a vast number of customization tools so you can set it up according to your preferences and business needs. Select countries, time between notifications, display time, the maximum number of pop-ups for one visitor and fill in the text fields to make your pop-ups unique.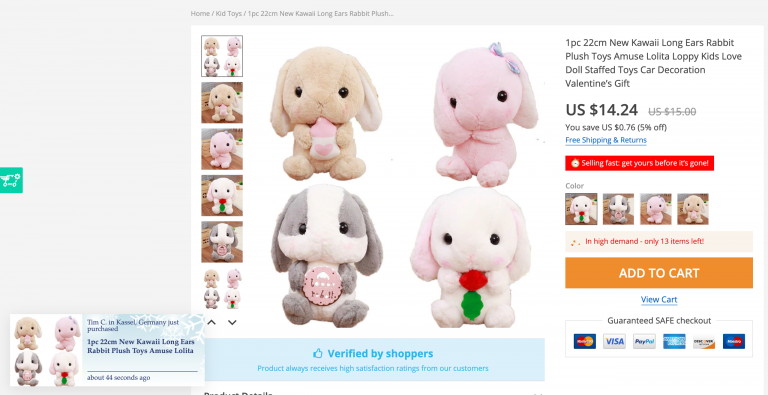 Easily customize the layout of your future pop-ups
We added a wide range of tools to change the design of sales pop-ups. In this tab, you can select and customize all the elements you want: font, layout, colors.
Want anything special? We've got it!
As a nice bonus, our professional designers created several templates for your seasonal and holiday sales. We called them "Holiday themes" and they are a part of the "Layout" field.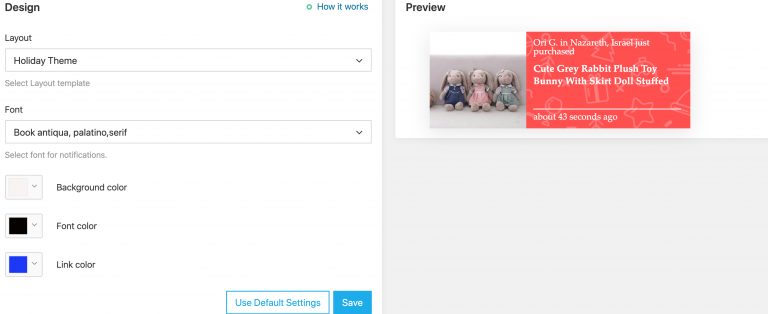 Create pop-ups with names and countries relevant to your target audience
To make your sales pop-ups even more trustworthy, you can select countries to be indicated on your notifications and add relevant names and cities. Your target audience will be confident that people just like them are buying from you!

Recent Sales Pop-Up kickstarts your profits, increases the trust level of your store and encourages people to BUY from you!
Do you need any help? Please refer to our Knowledge Base or feel free to get in touch with our support team at support@alidropship.com
Some questions you might have
Is Recent Sales Pop-Up supported by AliDropship Woo plugin?
This add-on is compatible with both plugins: AliDropship and AliDropshipWoo.
Can I use Recent Sales Pop-Up on WordPress and WooCommerce sites without the AliDropship plugin?
No, this add-on doesn't work with WordPress and WooCommerce sites without AliDropship.
What if I have very few or no sales?
To boost your sales, the add-on will automatically generate recent sales notifications with the items from your catalog. Once somebody really buys from you, the add-on will display this information, too. This way, your store will always look "busy."
Why don't I see my pop-ups?
In the add-on's settings, there is an option for the number of pop-ups. Check the
Knowledge Base
for more information.
Is Recent Sales Pop-Up mobile friendly?
Yes! Pop-Up will be displayed on any device.
Where can I find the holiday themes for notifications?
These templates are a part of the "Layout" field. Find the "Design" tab and select "Holiday Layout", then choose one of the templates.
Is setup service included in the price of the Recent Sales Pop-Up add-on?
No, but you can order this service
here
.
How long will my Recent Sales Pop-Up add-on license key be valid?
All our add-ons have a lifelong license key. You can use it as long as you want.