Dropshipping Automation Software You've Been Looking For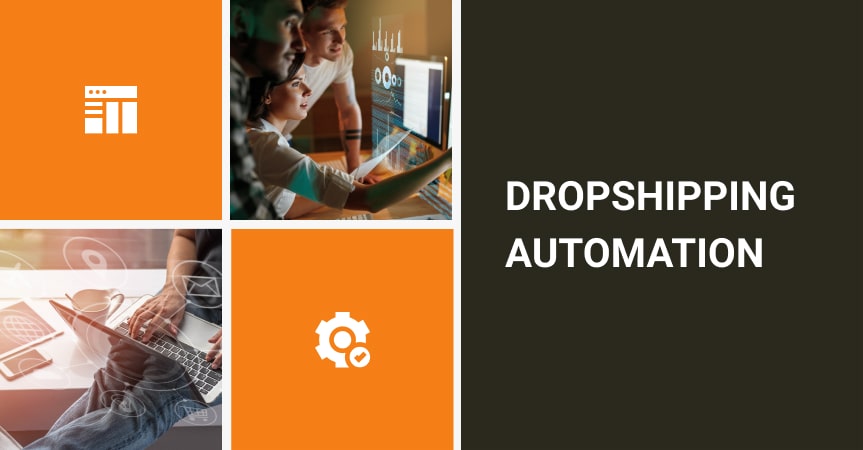 Helpful dropshipping automation software is a must-have for every entrepreneur working with this business model. Let's see what the right tools can do for you!
Why dropshipping automation software is a must-have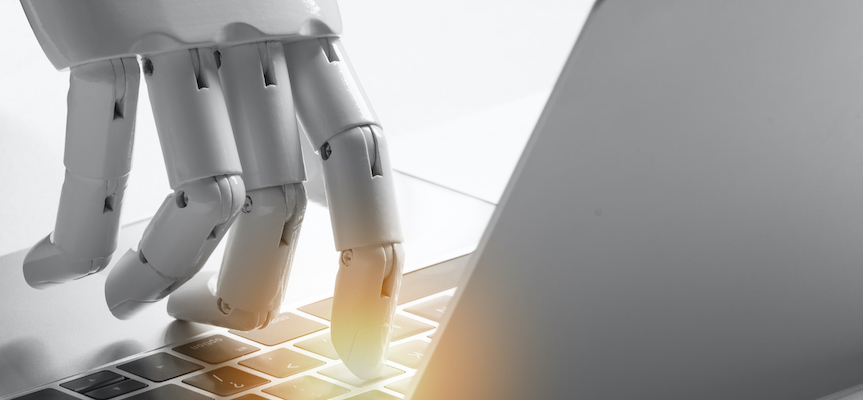 Technically speaking, dropshipping is definitely an easy business to start. You can get your own store without much effort and even background experience, and you're good to go!
However, when it comes to managing this newly made ecommerce business on a daily basis, you might feel a bit overwhelmed. There are lots of monotonous tasks you need to complete every day in order to keep the store performing at its best. Uploading products, automatically updating their prices and stock availability, editing product data, redirecting sales orders to the supplier(s), collecting tracking information from them…
Here's when dropshipping automation software comes into play!
The steps you need to take to complete routine business processes repeat over and over again. And by some point, they might even start annoying you!
As a dropshipping business owner, you surely want to dedicate more time and effort to your store promotion and customer support, but not to these boring duties.
Fortunately, you can easily fix your working schedule thanks to special software that completes routine managerial tasks on autopilot. But where to find such tools? Pay attention to the AliDropship Plugin. It makes it really easy for you to run your dropshipping business with great pleasure and even greater profits!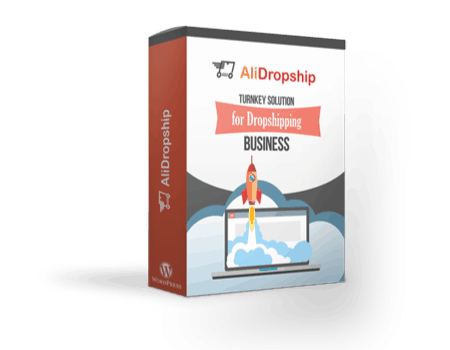 AliDropship plugin was developed by a highly skilled team of experienced developers, designers, digital marketers, and other IT specialists who have first-hand experience in running dropshipping stores. The knowledge of each stage of the dropshipping process allowed us to create a unique product. This is an easy-to-understand, multifunctional solution for you to automate your dropshipping venture.
So, what makes this plugin so helpful to those who have no experience at all and those people who have already tried themselves in this business?
What is dropshipping automation software capable of?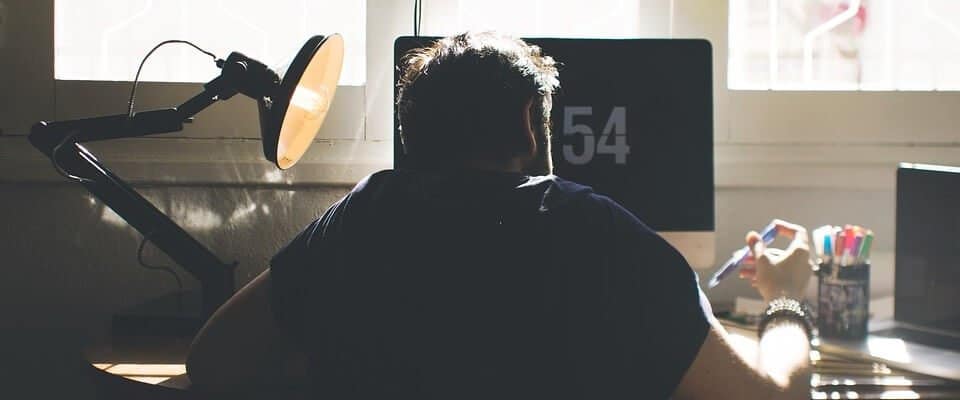 Generally speaking, it should help you forget about as many boring ecommerce procedures as possible. 😉 Below, we will review 6 amazing things that the AliDropship plugin does to make your dropshipping life fun, easy, and rewarding.
#1 Saves your time when you import products
As soon as you've chosen your primary suppliers and selected your future business partners, you are free to pick any of their items for your store.
It's great that there are plenty of products! You can add a wide range of items to your store, and renew your offer from time to time. This way, you open up lots of opportunities for your customers and increase the chances they will make a purchase.
But.
How do you choose the products for your store, make these deals look appealing for customers, and secure your profits?
There is a guide you can use to find the right dropshipping products. However, going through dozens of products and checking EVERY SINGLE ONE sounds like you'll spend hours and days on it. Besides, it will take you even longer to add each and every one of these items to your dropshipping store and edit their details manually!
What does the AliDropship plugin do to fix this?
The solution we created for this purpose is automated product selection and import.
It works simply and efficiently. You can either import the desired products directly from AliExpress and edit them manually later, or import products from AliDropship's database to get pre-edited, polished product pages in your online store immediately. Just take a look at how easy it is:
In other words, you don't have to do all the work manually – it takes a few clicks and several minutes to complete these processes. Plus, there is no limit on the number of products you can upload. Also, all of them can be imported with all possible variations in size, color, etc., and together with authentic customer reviews that significantly boost your store visitors' trust.
#2 Helps you edit product information easily
So, you've added all the chosen products to your dropshipping store. Now the fun begins: your goal is to make your items look appealing to the website visitors!
While importing the suppliers' products directly from AliExpress, you automatically transfer their original photos, text descriptions, and even titles on your website, too. As a rule, it makes these pages' content look a bit messy – and not always unique. Does it mean you need to edit every product page manually?
How does the AliDropship plugin solve this?
If you prefer direct import from AliExpress, our powerful AliDropship Google Chrome extension will let you edit product info quickly and easily – just watch the video below:
This solution lets you edit multiple product parameters (title, description, variations, etc.) before importing, update products stock and prices, and more! Learn more about AliDropship Google Chrome Extension and it will become clear how it can help you save plenty of time on routine dropshipping business tasks.
And of course, your store will also benefit greatly from automated reviews import – just look how easy it is and what a difference it can make:
By the way, please note that it's extremely important to create perfect product pages since it influences your store's performance a lot. So this is one more piece of automation software you should pay attention to – this is Sellika!
Sellika is an example of automation dropshipping software that lets you automatically create product descriptions, drives traffic to your website, gets your business ready for launch in no time, etc.
#3 Lets you set prices for the whole product catalog
One of the most important parts of a good dropshipping product is its low price. As a rule, AliExpress products don't cost much.
Therefore, when you're dropshipping from AliExpress, you can set a markup that secures you a nice profit and, at the same time, leave the buyers happy with the price. But how exactly will you change the price of each product you're adding to your store?
How our dropshipping automation software sorts it out
Meet automated price setting: it lets you easily increase all the product prices at once, with no need to edit them manually.
We have developed a special markup formula that automatically increases the product price the way you prefer. You can apply this formula to all your products, or to some specific categories. This is how you automate your dropshipping business' pricing tasks:
We review this formula from time to time, and it gets more and more advanced options and settings. What's more, you are able to create your own pricing formula for your store's best performance, and AliDropship Plugin will switch to it! Stay tuned to be aware of the newest updates.
#4 Takes note of suppliers' inventory levels
One of the key benefits of dropshipping business is staying free from many product-related concerns. You don't manufacture products yourself, you don't buy them beforehand, and you don't keep them in a warehouse. All you need to do is to keep in touch with the suppliers you've chosen and promote their items in your dropshipping store.
But what if your supplier decides to change some features and details of the items, stop producing them, or even runs out of stock?
These and many other situations will negatively affect your relations with customers if they decide to order these exact items. Customers' loyalty and trust are the keys to your store's success, so letting them down is simply dangerous.
It means that you need to keep up with all the changes your suppliers make into their offers – even if there are hundreds of them!
How you can overcome this dropshipping challenge
With our software, you don't have to check your AliExpress suppliers everyday to make sure there are no product changes. Thanks to the automatic info updating feature, the AliDropship plugin connects to AliExpress and makes the necessary edits in the product info on autopilot.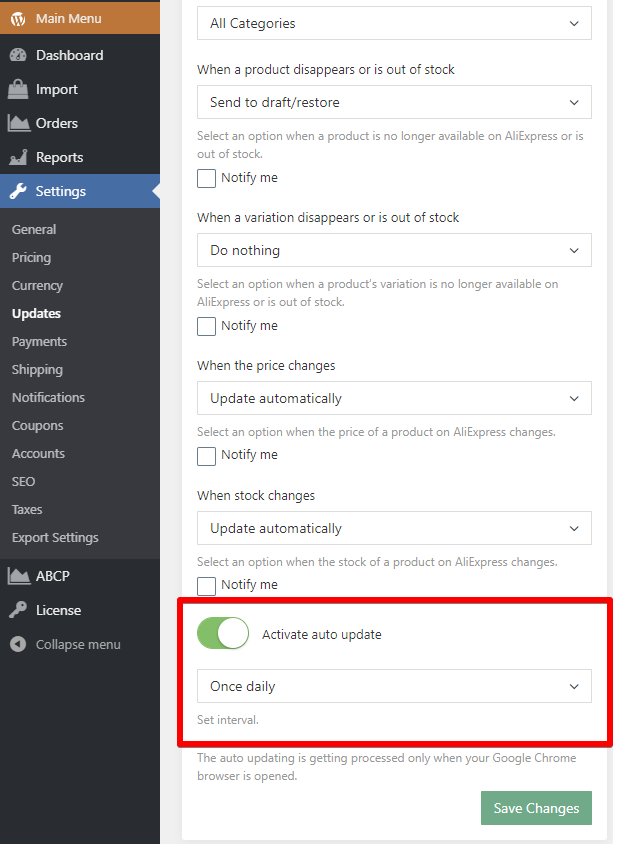 How cool is that? The plugin checks the necessary data by itself, and your automated inventory management goes seamlessly!
By the way, even if your seller stops selling a product you've added to your store, it's not a big deal. Follow the instructions here and keep going!
#5 Allows automatic order fulfillment
So, an Internet user comes to your dropshipping store, chooses some of your items, and makes a purchase.
What's next?
You need to recall who is the seller who's provided you with this item description. And then you have to get in touch with them as soon as you can. The seller needs to get the order details (quantity and specification of the items, the buyer's name, and address, etc.) to assemble and ship the package.
You, in turn, only need to notify your customer that their orders are dispatched, and provide them with the tracking code so they could monitor their package location.
Can you do that at short notice and efficiently if your store receives lots of orders?
Is it always possible to keep everything in mind without forgetting or mixing something up (especially if you're working with multiple suppliers)?
As soon as your store becomes popular (and that's your goal, right?), managing multiple orders might become tricky. You even start thinking you need to come up with a whole management system!
How can AliDropship Plugin help you with this issue?
To streamline your order management, feel free to use the AliDropship plugin's automatic order processing feature.
When a customer places an order in your dropshipping store, you don't have to contact the AliExpress seller by yourself. The software transfers the necessary information to your supplier automatically, so that you don't need to do it manually. It means you get rid of the risk of forgetting and mixing something up.
What is also great, when the supplier sends the package, the AliDropship plugin provides you with detailed data on the order tracking.
Surely enough, it does a lot for your convenience – and for improving your clients' shopping experience!
#6 Improves your conversions
Your dropshipping store needs to compete with a huge number of similar online marketplaces. So, you want to create a memorable shopping destination and build a community of loyal customers and followers around it.
Do you think it's an easy task for a person who has little to no previous experience in running and promoting online stores? Most certainly, it's not.
What can our dropshipping automation software do to help you?
If you run your dropshipping store with the AliDropship plugin, you don't have to worry about converting visitors into buyers.
First of all, the plugin goes with built-in best WordPress themes: you're free to choose any of them as the basis for the layout and appearance of your store.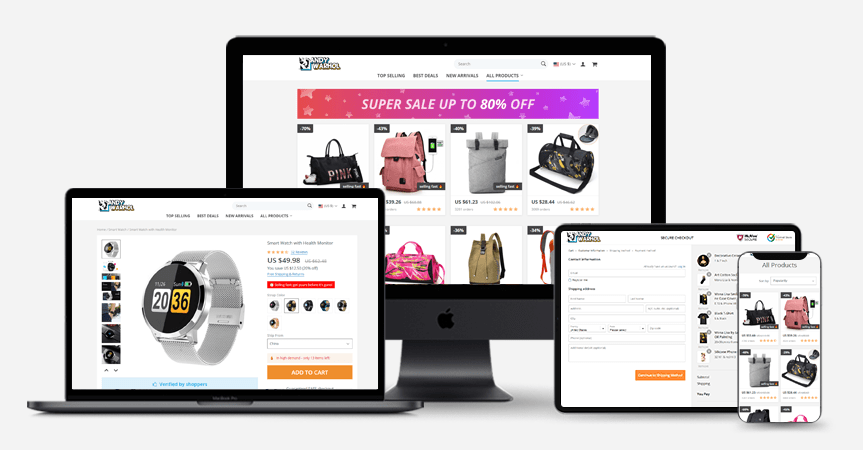 Thanks to this opportunity, you can be absolutely sure that your store is professionally designed. Meanwhile, it's mobile-friendly and easy to navigate. That's a great foundation for a pleasant shopping experience, right?
What's more, you can heavily benefit from the power of social proof thanks to the plugin's feature of importing authentic product reviews! Seeing that other people are happy with these exact products, the store visitors will get much more likely to place their orders, too.
To make your visitors even more interested in purchasing from you, it's also possible to enable catchy discount coupons. No one is able to resist a tempting deal!
Dropshipping automation software: do you really need it?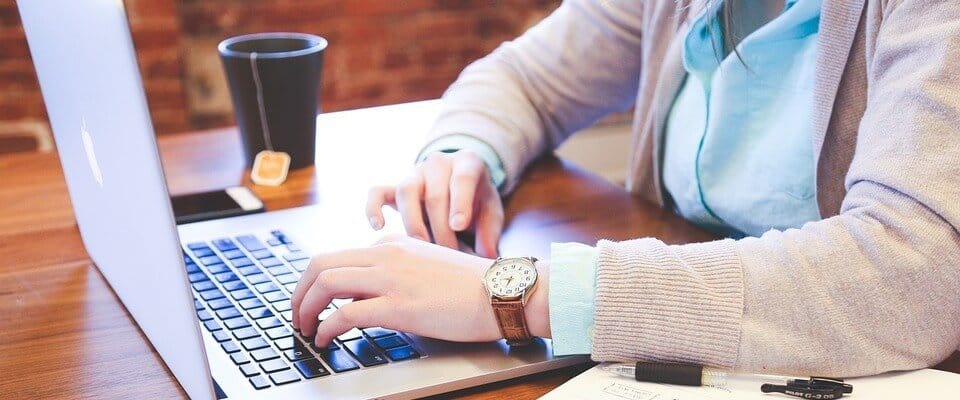 As you can see, dropshipping software lets you overcome the most common ecommerce business challenges and enjoy:
Effortless store management
Setting up your dropshipping store has never been easier! You don't have to spend days and weeks figuring out how this business works or developing management procedures. The software does all that for you. All your data is gathered in your Personal account. So that you can easily see, run, and improve all the business processes.
Why waste your time on something that can run effectively without your direct involvement?
Besides, the automation of dropshipping processes means that you don't need to hire anyone. Even when your business starts growing really fast!
However, it also means that you can use the time and funds you've saved in order to run ad campaigns, promote your business by means of other channels, and benefit a lot from it!
If you don't perform all of your business operations manually, nothing stops you from further expanding your business. Want to try out a new customers' segment, add a new product category, or open a couple of new stores? Why not! You can always rely on the automated software which you already know and trust.
Want to experience true dropshipping automation? Try Sellvia! It is a whole Ecommerce Ecosystem where you will find always in-demand high-quality products form a reliable dropshipping supplier, with all the features and benefits an ecommerce business needs to start its journey towards success!
How can you automate your dropshipping business?
So, using the AliDropship plugin in your online store, you can save multiple hours of your time every day, and enjoy the hassle-free performance of your fully functional profitable dropshipping business. Now, you must be wondering: how can you launch such an ecommerce business from scratch? There are 3 options we're excited to offer you!
Create a store through your own effort
A cool thing about the AliDropship plugin is that it lets you easily create a full-scale dropshipping store by yourself. In this case, you simply need to install and activate the plugin on any WordPress or WooCommerce website. Then, it requires you to adjust some settings. Here are the first steps you need to take in order to build an AliDropship-based dropshipping store.
Order a custom dropshipping store
Do you like the idea of the plugin that manages your online business on autopilot? But are you eager to get a smooth start in dropshipping? And don't you want to bother yourself with technical details? In this case, that's the perfect option for you! A custom dropshipping store is a unique ecommerce website that our team is happy to develop for you at your request. Of course, this store is based on the AliDropship plugin, too – that's what makes it so convenient in daily management.
Do you already have an idea of what to sell and what your store should look like? Our digital marketing experts will be happy to consider all your preferences and ideas. Check out this article to learn more about the easiest way to start a dropshipping business!
Get a copy of a premium dropshipping store
As you can guess, it takes some time to develop a custom store even if a whole team of specialists works on it. No doubt, you will also spend some time on the store creation if you want to assemble it by yourself.
But what if you want to start selling immediately? What if you'd like to start your business with no guesswork or experiments, and enjoy its profitable performance from day one?
In this case, we're thrilled to show you our Premium dropshipping stores! These are AliDropship's self-owned stores: we've created them on our own initiative, not on some client's request. We're managing and promoting them to the best of our knowledge. This is why their operational data is so impressive – you can check the numbers yourself!
And what's most exciting, we offer you the opportunity to buy an exact copy of any of these stores. This way, you can instantly become an owner of a venture that fully recreates a successful business model. So you can easily achieve the same – if not higher – performance results with a Premium Dropshipping Store!
What would you say about the opportunity to get user-friendly dropshipping automation software that can change your business life for good? It's time to make your decision!