Thank you
for sharing your thoughts with us as your feedback will help us to provide you with enhanced product quality.
Quickly build crazy effective landing pages that convert your visitors into paying customers and make every product sell. With minimum effort, for maximum profit.
Built for AliDropship original plugin and AliDropship themes
Overview
What is a landing page?
Landing page is a standalone conversion-centric page that your prospects land on after they click your ad (in an email, social post, search ad, etc.) or a search result. It has one goal: to convert by focusing on one offer. They focus visitors specifically on one call-to-action and uninterruptedly move them down the sales funnel. Free from any friction, landing pages make each product an irresistible offer and win more loyal customers. In short, they are designed for conversion.
I already have a website. Why should I use landing pages?
No matter how great your homepage is, it doesn't have the single-focus goal that landing pages can boast about. They are simply too generic to convert customers effectively. That's why you wouldn't want to waste your hard-earned money on sending traffic to your homepage — this won't bring in the revenue you've hoped for. You can gain a true edge over the competition by using specific and relevant landing pages, though.
How landing pages differ from product pages?
At AliDropship, we've worked hard to develop and optimize themes' product pages so you can count on their enormous conversion potential. However, their look and feel are pretty much unified across a website. With landing pages, you can go even further. The intuitive drag-and-drop builder offers a drastically broader scope of functionality than the back-end customization tool your theme does. Thanks to the Landing Pages add-on, you can create unique landing pages that really stand out and meet your needs. Plus, landing pages are at least twice more likely to convert visitors into actual paying customers than typical product pages. Do we need to say more?
When should I use landing pages?
Landing pages can be your go-to solution regardless of whether you're a long time pro or you're just starting out.
If you're doing niche research to get started. You can quickly hit the ground running by giving a few niches a try without investing a lot of time and money in filling the whole store with products you aren't сompletely sure about.
If you are struggling to get sales. To get people to know your brand, there's no need to promote all the products you have in your store. Instead, you might want to pick the most promising items and build effective landing pages for them.
If you're building your marketing expertise. Thanks to relevant messaging, a compelling call-to-action, and sound social proof, landing pages might be your secret marketing weapon that fuels your conversion rates.
If you're an experienced store owner running a successful business. With these dedicated pages, you can easily find a new marketing channel and a novel way to amplify your audience.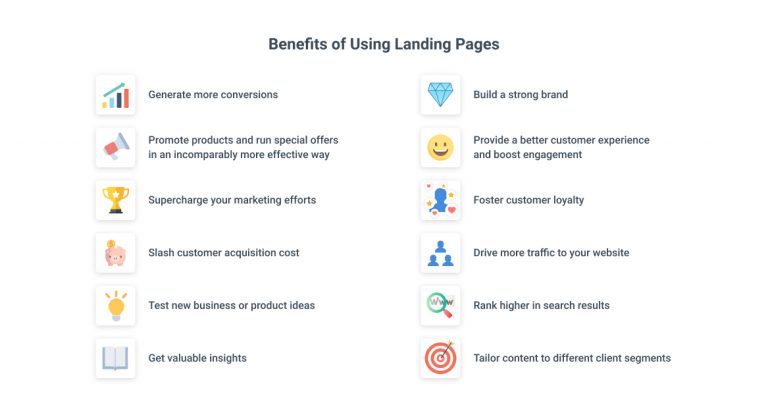 What is the Landing Pages add-on?
The Landing Pages add-on is a tool you can easily create high-converting landing pages with. It offers an ever-growing library of proven pre-made templates and a flexible drag-and-drop builder to help you quickly launch a profitable landing page.
What will I get?
With the Landing Pages add-on, you'll get:
✅ Ready-to-use winning templates filled with convincing time-saving demo content
✅ Access to the intuitive front-page drag-and-drop builder
✅ A set of customizable content elements
✅ Bulk Discounts integration to increase your average order value
✅ Mailchimp integration to collect leads
✅ Easy Facebook Pixel installation
What sets the Landing Pages add-on apart?
The Landing Page add-on is the most cost-effective solution to scale your business with the help of landing pages. On average, entrepreneurs who use other platforms are limited on the number of pages they are allowed to create and how many unique visitors they can get. They have to pay at least twice as much as the Landing Pages costs to get its functionality. Bigger packages may cost thousands of dollars! With the Landing Pages add-on, you will:
⭐ Create as many pages as you like at no additional cost
⭐ Link any product in your store to a landing page
⭐ Link one product to several landing pages at the same time
⭐ Get off to a great start with ever-growing template library
⭐ Enjoy unlimited traffic
⭐ Get premium support
I don't know how to write code. Will I need a developer to create a landing page?
The best thing about the Landing Pages add-on is that you can create effective landing page all on your own. Thanks to the powerful drag-and-drop builder and the ready-made templates, you won't have to hire a developer to craft a landing page of your dreams.
Will I have to create a landing page from scratch?
Absolutely no! Instead, jump-start your work with easy-to-use customizable templates. They're filled with demo content to help you quickly build a landing page the right way without having to rely on a tech team. All you need to do is to link a product you want to promote to your page and adjust the demo content to fit your needs. As simple as that! Regardless of whether you're just getting off the ground or you're already a seasoned business owner, you'll quickly replicate success of million dollars worth of examples.
Two-Page Sales Funnel
Convert interested visitors into paying customers with a long-form sales funnel built with Attention – Interest – Desire – Action formula in mind
Lead Generation
Inspire interest around your product, generate leads, and close sales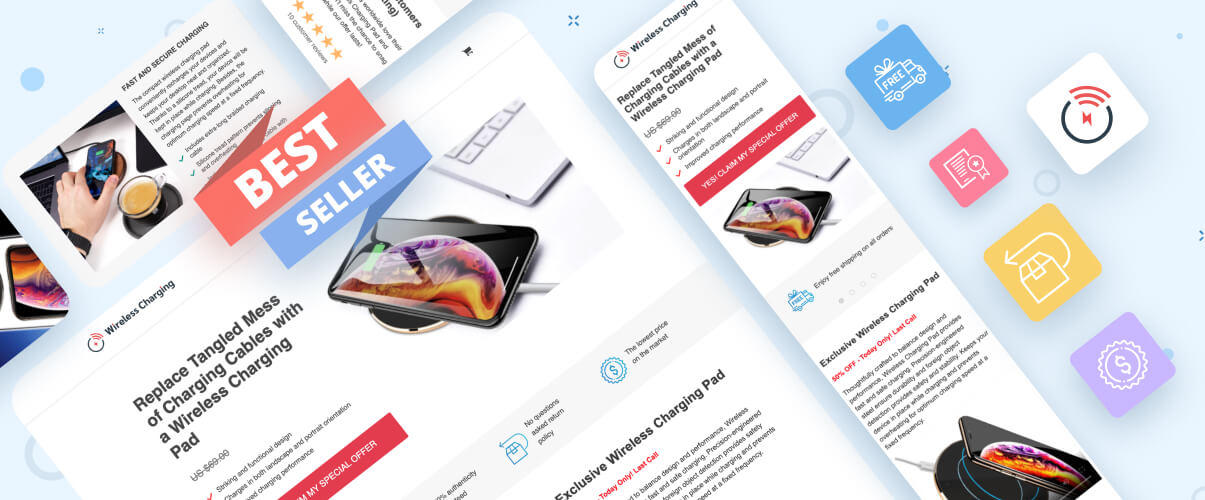 Contest / Giveaway
Create a buzz around your brand, go viral on social media, and grow your email list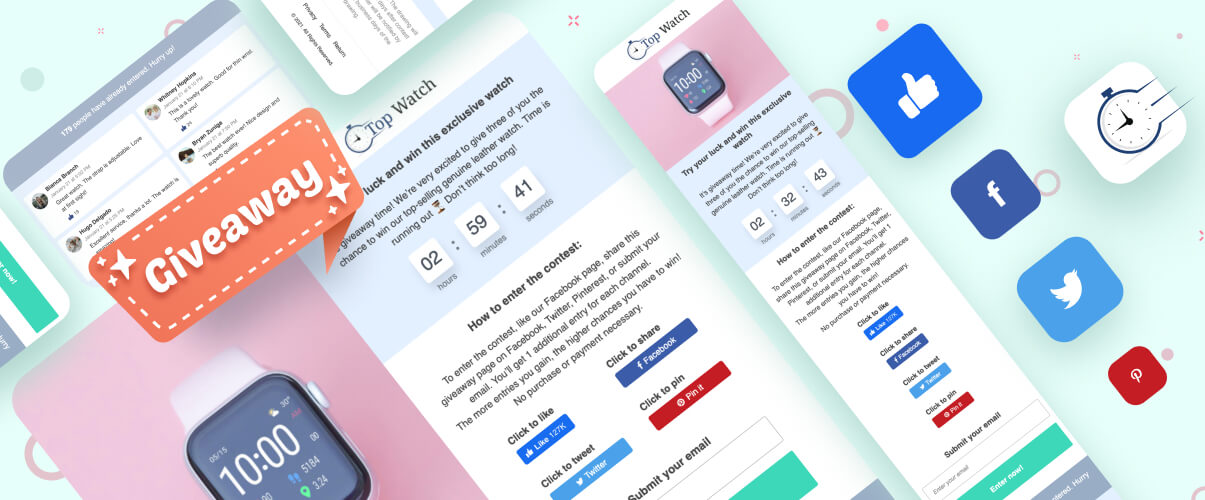 Product Sales
Tell a beautiful story about your product and close more sales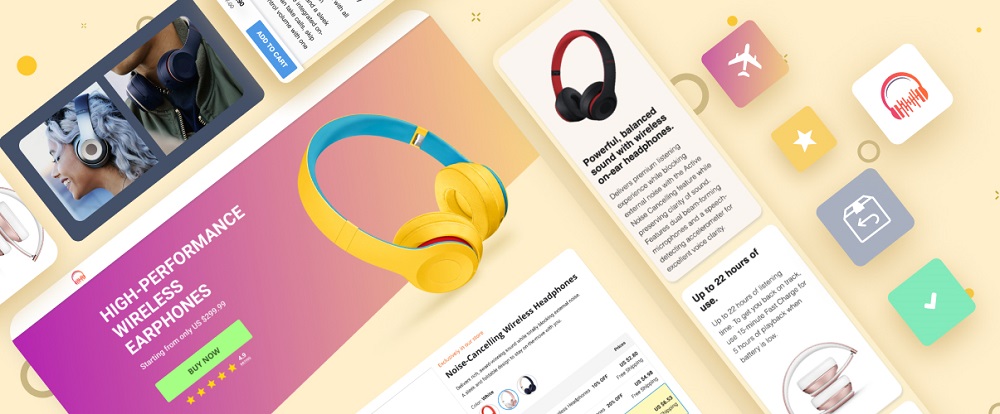 Do I need to stick to the pre-made layout?
The pre-made templates you get with the Landing Pages add-on can be your starting point. We've developed our own flexible drag-and-drop builder you can customize your page with. Content elements are ridiculously easy to tailor: edit, delete, duplicate, and move them around the page with a couple of clicks. Add and edit paragraphs, visuals, lists, buttons, countdown timers, comments, and more on the fly to make the page look and act the exact way you want, and our builder will handle the technical stuff. You'll see the end result of your work and how your landing page will look once it's published without leaving the builder.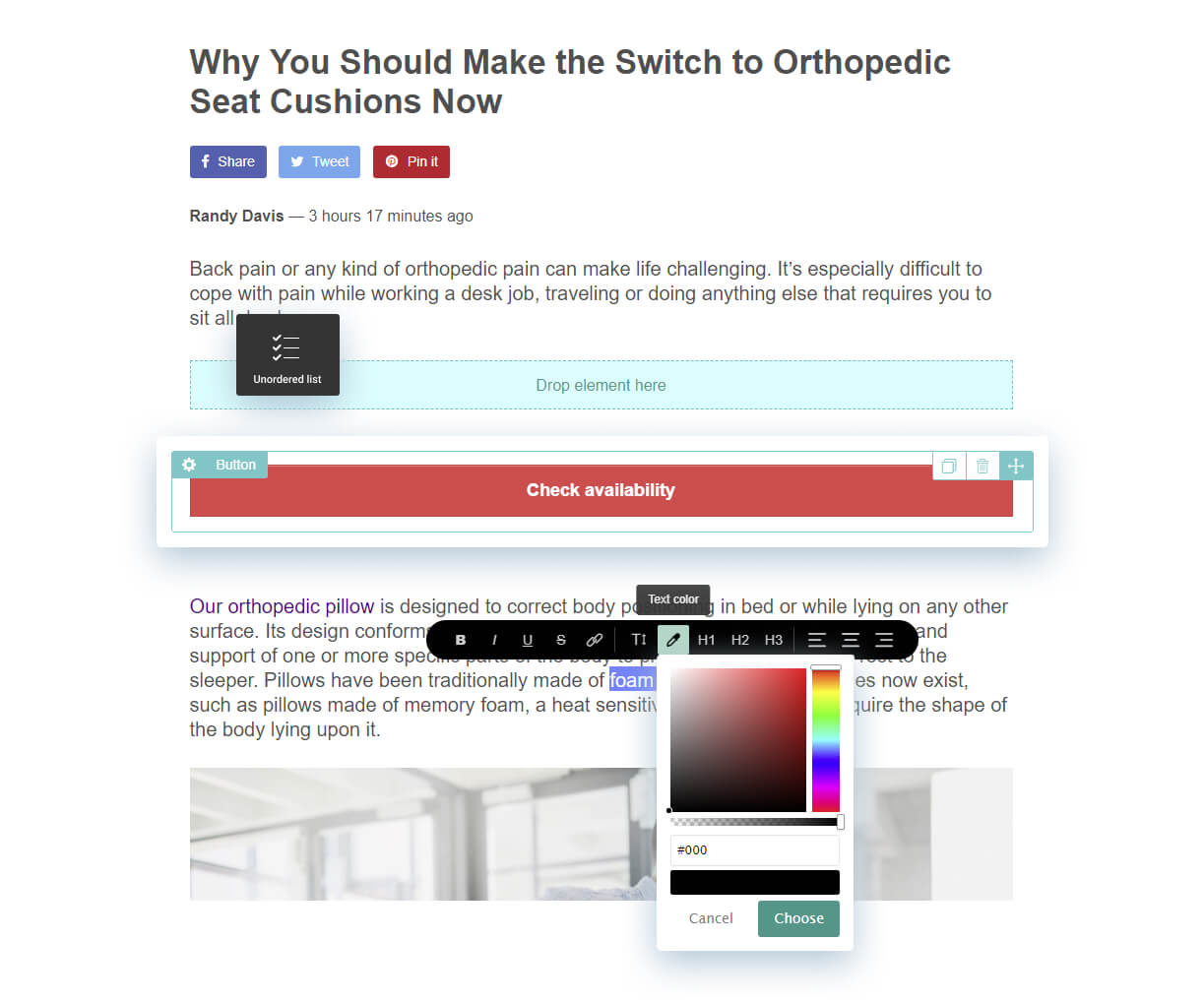 What makes your landing pages so effective?
Nearly 90% of consumers trust online reviews as much as personal recommendations. They do a great job of convincing your prospective customers to make the final purchase decision. That's why we put a great emphasis on social proof sections you can inspire trust with: blog comments, Facebook-style comments, and masonry-style reviews.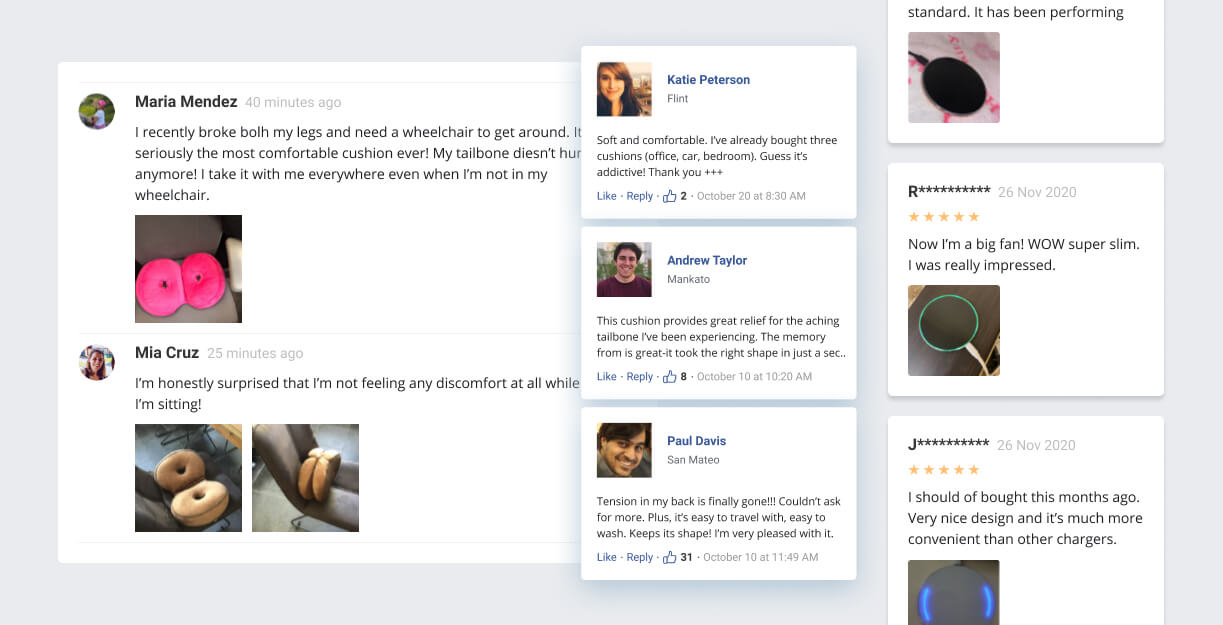 The pre-made templates offer effective exit-intent pop-ups that convert your bouncing traffic. The add-on detects when someone is about to leave the page and shows a pop-up window that restates your value propositions and gives your abandoning visitors another reason to stay on the page.

For even more impressive performance, the Landing Pages add-on integrates with the Bulk Discounts add-on. With this tool, you can increase the average order value by featuring volume discounts on your product page. Coupled with a countdown timer, the offer is to win lots of sales for you.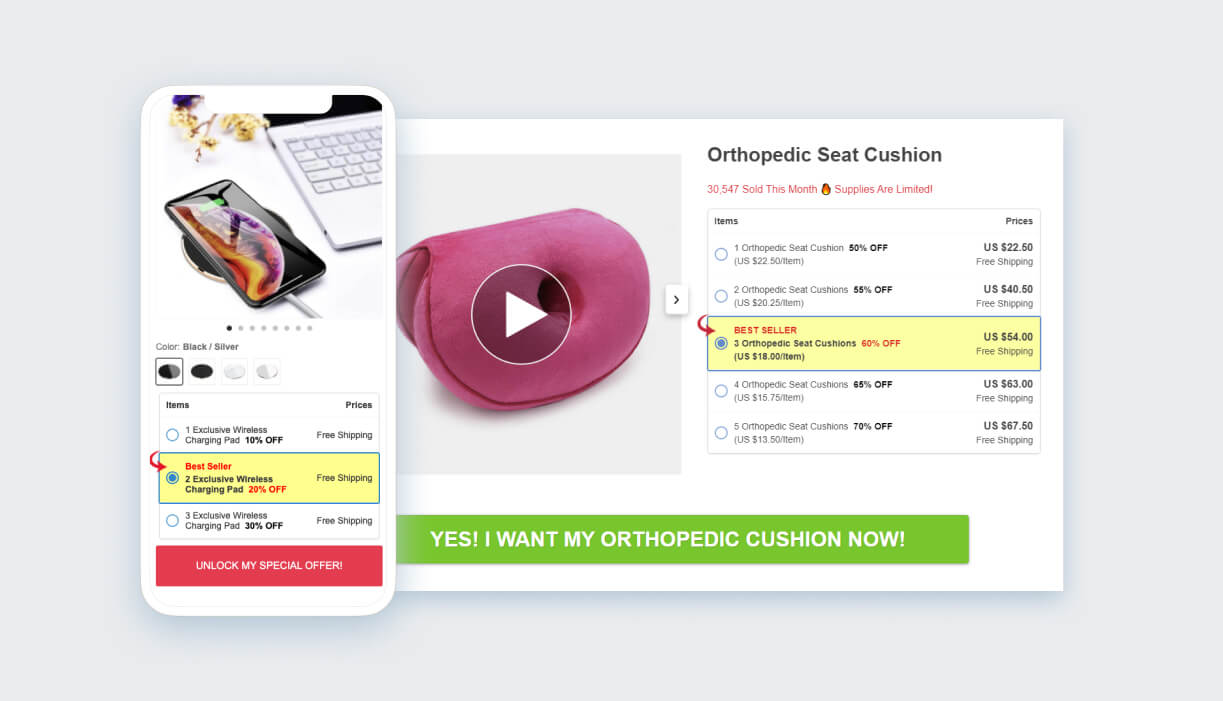 Some questions you might have
Landing page is a conversion-centric page your prospective customers arrive at after they click your ad (in an email, social post, search ad, etc.) or a search result. On a landing page, visitors are way more likely to buy from you as it offers a smooth friction-free purchasing experience and focuses on only one action - conversion.
Can I associate a landing page with more than one product?
Each landing page can only be associated with one product. You can link one product to several landing pages.
Can I use the add-on with AliDropship Woo plugin?
At this point, the Landing page add-on is compatible only with AliDropship original plugin.
Does my landing page replace the product page in my store?
No, it doesn't. Once you create a landing page, you'll have two independent pages of one product you can take advantage of: the one offered by your active theme and the other one is your landing page.
What is a pre-made template?
A landing page template is a pre-built landing page design that you can edit to your specifications by clicking to change text, images, and other page elements.
Can I make custom edits in the code of my page?
Sure, you can add your custom CSS code and third-party scripts in the landing page settings.
Can I request new templates, elements, and features?
Absolutely! We can't wait to hear what you think about the Landing Pages add-on and will be glad to have you as a part of the development process.
How many landing pages can I create?
You can build an unlimited number of landing pages.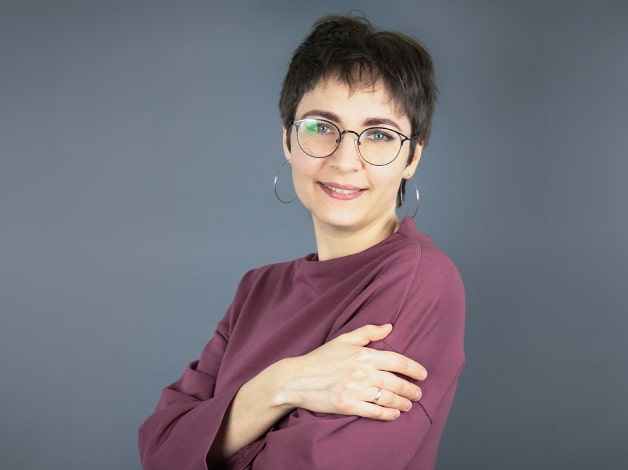 Any questions?
We'll be happy to answer in detail!
contact us