Thank you
for sharing your thoughts with us as your feedback will help us to provide you with enhanced product quality.
Keep your customers excited for limited-time offers and enhance their shopping experience with the Countdown Timer add-on! Definitely, a must-have to get your sales to soar upward. There is no need to adapt to constantly changing buying patterns anymore: fear of missing out is one of the core sales drivers.
Overview
Take your website to another level with a full-featured Countdown Timer add-on and watch your sales blast off! Visitors to your website will see you have a time-limited offer – and buy right away not to miss out. Easy and effective!
Benefits
Create a sense of urgency to trigger sales
Run flash sales to convert more visitors into buyers
Increase the number of impulse purchases with time-limited offers
Enjoy free lifelong support and updates
Features
Start motivating your clients to buy the products here and now
You need only five minutes to start increasing your profit and encouraging your clients to buy without hesitation. This time is enough to install, activate, and set up the Countdown Timer add-on, thanks to its clean and easy-to-use interface. Choose where to place your timer and how it will be displayed. Edit days, hours, and minutes to set up the time range. You can also select what will happen when the timer expires.

Create a timer that matches your webstore theme and style
Thanks to easy customization, you can create a unique timer suitable especially for your online store! You have seven appearance options and six color themes to choose from or set up the colors of your timer manually to make it even more original, write your own text and select a font and its size.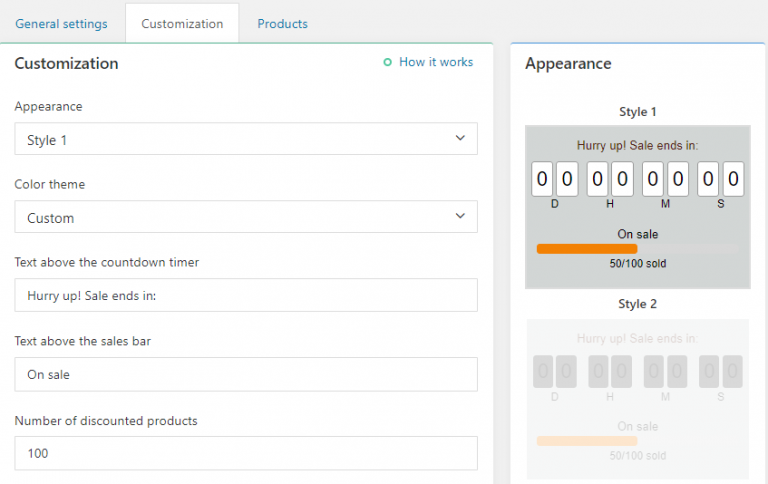 Choose products categories you want to sell out

One more incredible feature of Countdown Timer is the option to select a product to place the timer on! You can select all the goods or just several ones you want to promote. Plan your individual marketing strategy and multiply your sales with ease!

Create a sense of urgency and trigger sales with Countdown Timer! Start using the add-on right away – and watch your products sell like hot cakes.
Questions? Please check our Knowledge Base or feel free to get in touch with our support team at support@alidropship.com.
Some questions you might have
How will the Countdown Timer add-on increase my profit?
Countdown Timer helps you create catchy notifications about special price offers that are only valid for a limited period of time. It makes people hurry up to buy here and now.
Is Countdown Timer compatible with WooCommerce or WordPress without the AliDropship plugin?
No, it isn't. You can't use this add-on on a WooCommerce or WordPress site without AliDropship.
Is Countdown Timer supported by AliDropship Woo plugin?
This add-on is compatible with both plugins: AliDropship and AliDropshipWoo.
Will my clients see the timer on the mobile version of my webstore?
Countdown Timer will be displayed correctly on any device.
Where can I place Countdown Timer?
Timers can be placed on the Homepage, specific product pages or category pages.
Is setup service included in the price of the Countdown Timer add-on?
No, you can order the service
here
.
How long will my Countdown Timer add-on license key be valid?
All our add-ons have a lifelong license key. You can use it as long as you want.