Instagram 101: Detailed Tutorial For Your Business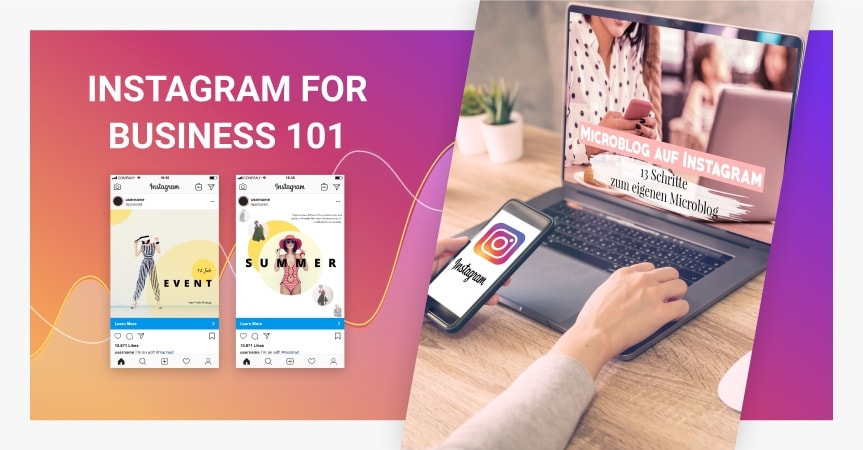 Running an online business? Just starting your own brand? Then you need to be on social media – and you absolutely need an Instagram account at the very least. Today, we're going to take a deep dive into the world of Instagram for business accounts. We'll see how to leverage your profile to attract followers, convert visitors to buyers, and how to effectively brand yourself. Welcome to our Instagram 101 Tutorial for 2020!
What is Instagram
If you're reading this blog post right now, you most likely know what Instagram is (you're on a laptop or smartphone, after all). Instagram is the leading social media app owned by Facebook, reported to have over 1 billion active users monthly with 120 million users in the United States alone (making it the leading app for photo sharing in the country).
The appeal of Instagram is the ability to share content through dynamic photo and video functions. This, in turn, allows a person (or brand) to connect deeply with followers, loved ones, and family.
Why use Instagram for business
As you may have guessed from above, Instagram is a great tool to market your business. In fact, Retail Touchpoints says that 72% of users report making purchase decisions based on something they saw on Instagram. Having a brand account also allows you to build a community based on your brand's beliefs, products, and niche – it's a branding goldmine. Furthermore, having a specific-business account on Instagram will allow you to more effectively reach consumers. There are multiple features available such as ads, post insights, and specific call-to-action buttons.
Are there any downsides to using Instagram for a business though? The biggest one may be if your business' target demographic is older, as the platform still mostly attracts younger teen-young adult users. Also, utilizing paid ads can get pretty expensive. And really, sometimes – some users are on Instagram for memes or funny content – not necessarily to shop or discover brands.
How to create an Instagram business account
Setting up an official business account for Instagram is easy (and free). You'll need a Facebook account set up to start though (but it's easy). Facebook Business offers easy step-by-step tutorials on how to get set up.
During your profile creation, be sure to select the appropriate category for your account. Think about what industry or category your business lies in. If you don't see a category that fits, custom search categories to find more specific listings. And remember: you can change your category listing at any time (you know, in case your business grows to include more things).
The brand profile for AliDropship's Instagram account.
Once you are set up, make sure you have aspects of your account profile filled out. Pay attention to the avatar, a website URL, and website bio. Your bio is important because there's limited space to describe your brand, its story, and its beliefs. We share examples of great, catchy brand bios here to help you get started.
How to get Instagram followers for business
BMW has a curated feed that can attract viewer attention quickly.
Content, content, content (and hashtags). Instagram is all about photos and videos that captivate people and lure them in. Brands have to utilize their accounts to sell the benefits of their products while establishing a connection with followers and customers alike.
Gaining followers is usually easy to do for free (take some tips from us) – but you have to do some work upfront, such as niche and competitor research to see how and where your brand and its products fit into the spectrum of things. Are you high-end or more affordable? Are you more rooted in science or rely on artistic vision and free expression? These are some questions to get you started so you can position your brand effectively.
As you establish your brand, you can move on and focus on bigger efforts such as inspiring mass followings on your profile while avoiding fake followers or bot accounts. And along the way, you may notice a drop in followers, which is actually normal, but can be explained with some reasons.
Building a following isn't easy work. We actually gained 70,000 in one year through a dynamic, automated approach (and it's possible with the super-cool Social Rabbit plugin).
What to post on Instagram for business
Wednesdays at 11 a.m. and Fridays from 10 a.m.–11 a.m. are best for engagement.
Dove Chocolate posts friendly quotes on its account.
When speaking of followers and accumulating or losing them, it's natural to progress into what conspires all this to happen: what you post on your account.
From memes to inspirational quotes and professional studio shots of products, there's a lot you can do to elevate your website and its branding. Take a page from our experts' books and consider these start-up ideas for your Instagram business account.
Like with other social media platforms, Instagram also has some easy best practices in terms of how often (and when) business pages should post content. Generally, Sprout Social has found that Wednesdays at 11 a.m. and Fridays from 10 a.m.–11 a.m. are best for engagement, with Wednesday being the best day of the week to post. And on average, one post a day is max.
Of course, there isn't a universal recipe for how many times a week you should post. As you can guess, it varies too much by audience and niche. Still, we think at least 3 times a week is ideal (Monday, Wednesday, and Friday) to capture all facets of the work week.
Want an easy way to keep track of your social media calendar? Use this free template here (courtesy of the wonderful Hootsuite) to help you organize your brand's content and ideas.
How to increase engagement of an Instagram business page
Example of researching keywords for "coffee" on Instagram.
Once you know how to attract followers and post on an organized schedule, it's also smart to keep in mind how you can keep engagement (clicks, comments, likes, shares) of your Instagram page for business.
When establishing your content calendar and brand strategy, one major piece of prework a brand should do is conduct hashtag research. Hashtags are the keywords of Instagram, as they act as tags for any user to search for to explore content. Look into competitor hashtags, trending hashtags, and what unique hashtags you can utilize for your brand or any campaigns you have. Dive more into the fun world of hashtags here.
One beginner's strategy we recommend (but it takes time) is the grassroots marketing strategy (you've probably seen this if you're on Instagram yourself) – posting comments on posts of trending accounts or those similar to yours in interest). This gets your name – and humor, should you choose to utilize it for your brand voice – out there to followers of bigger accounts.
Remember: a well-executed grassroots strategy can bring an Instagram business account such as your own new followers, comments, and greater interaction with your brand. As people engage with your business, don't forget to also be engaging as a brand and to respond to comments or likes on your posts.
A final approach is to get your brand involved in engagement groups (some are free, some are paid), which are small communities of niche-like accounts that co-engage with one another's accounts to boost engagement rates. In these groups or pods, there generally are rules in regards to link sharing and what type of engagement you need to engage in (ex. "Like" posts only, comment on posts only, repost posts only).
Instagram for business advertising
Before spending money on ads, you'll want to make sure you have great content and offers to entice viewers.
Fast food chain Wendy's runs a paid video ad.
Influencer Hungry Hipsters gives a shoutout to Mercedes-Benz.
If you're building an Instagram account for an ecommerce business, at some point you'll want to think about expanding into paid advertising to broaden your reach.
But before spending money on ads, you'll want to make sure you have great content and offers to entice viewers. An engaging profile ensures visitors who click on your ads will want to further interact with your profile.
One approach you can take to advertise your business is to utilize paid shoutouts. By featuring a product or business in exchange for a flat rate, shoutouts are a great way to gain exposure within your niche or target audience with another brand. Learn step-by-step how to use paid shoutouts with our walkthrough video.
Another approach is to reach out to influencers to collaborate on something, whether it's a feature on Instagram Stories or a sponsored post. Influencers can be expensive, however (especially if they are big names).
A final method (and the most traditional one) for business advertising on Instagram is to roll out paid ads. These are the sponsored posts you may see on your feed. You can create attractive ads and set them up through Facebook Business Manager.
And if you want to get even more interactive, you can engage in Instagram Shopping through shopping ads, where users can click on links directly on your post image. Unlike paid ads, these ads do not cost you anything. They may take more setup work on the backend of Facebook Business Manager, but can make your posts even more attractive.
Building your brand on Instagram
How to build a brand on Instagram: Start with setting up your account
It is recommended to use one and the same email address for all your social media accounts including Instagram. Start building your brand by properly customizing your avatar, profile bio and Story Highlights.
Avatar
First of all, you need a professional, trustworthy-looking avatar. Companies usually use their logos here: see how Mercedes-Benz does it.
Profile bio
This is an extremely important section of your account as here you place the information about your brand, your motto and a link to your website. A good Instagram bio should explain users who you are and what you do.
Instagram Story Highlights
If you use various campaigns, launches and collaborations, it's also a good idea to list display Stories like albums right below your bio. This way users can see what you do and view each of them.
Identify your audience
With an Instagram account, you want to promote your business to potential customers. To do that, you need to understand who your potential buyers are. In other words, one requires thorough target audience analysis.
How to build a brand on Instagram: Your social media strategy
After creating and customizing your Instagram account, it is time to develop an effective social media strategy. Any social media activity is based on posts, which is why it's important to have a well-organized content calendar. There are also other vital elements to use in your strategy.
Messaging
Most brands communicate with potential clients via a conversational tone to engage them more naturally. Here's how Neutrogena uses an engaging intro and question to get users to respond.
It's also important to take into account what you want users to do. Different posts can have different objectives, and this is where links, certain hashtags, calls to action and tagging profiles come into play. In most cases you want users to either visit your website or engage with your posts.
Here's how BMW uses a unique hashtag for a New York Fashion Week sponsorship and tags an influencer to highlight a collaboration.
Hashtags and tagging
As you can see, hashtags are used as keywords to find posts on social media. With proper tools, you can find the right hashtags suiting your business niche. Hashtags can also create a sense of community, while unique hashtags can help when running a branding campaign or product launch.
Liking, sharing, commenting
Businesses on Instagram should not only talk but listen as well. Instead of just posing about yourself, like, comment, and share other posts published by businesses and your followers.
Interaction is the key to showing you are a real brand that is knowledgeable in its niche and community. A lot of traffic can come from people who clicked on your comment or like/share that you did.
Using Instagram Stories & IGTV
You can also use Stories as a part of your strategy to build a brand on Instagram. They are live videos or images that show up on your profile avatar. Instagram Stories last for 24 hours before they get archived in your profile settings, where you can organize them into Instagram Story Highlights.
If you need to use longer videos (up to one hour long) but don't have a YouTube channel, use IGTV. Once you upload any IGTV content, you will have a tab automatically appear on your Instagram page between your tabs for Posts and Tagged. Unlike Stories, these videos won't disappear. But keep in mind that you can upload only vertical videos for IGTV.
Tools for Instagram
To create successful content and find deep analytics that'll help shape and craft your following to precision, it helps to utilize third-party tools and apps. Elevate your Instagram Stories or feed pictures with great photo-editing apps, or get a free inside look to trending hashtags that build traffic on online databases. Take time to create videos and images that speak to your target audience and entice them. And of course, don't forget to use analytics to see what is working and what isn't.
Editing apps for Instagram Stories
#1 VSCO
VSCO is one of the most popular video editing apps for Instagram Stories. It has multiple color effects, can create GIFs and even features a built-in community, thought it requires subscription.
#2 InShot
Another video editing app, InShot has a variety of functions such as video trimming, video merging, speeding up, bordering blurring for Instagram Stories, and more. You can also apply video filters and voice covers and import mp3 tracks.
#3 StoryArt
StoryArt was designed for creating beautiful Instagram Stories with various text fonts, a selection of themes, filters, and other cool design effects.
#4 Canva
One of the most popular image editing tools, Canva features 60,000 free templates and more than 700 font options. It can also be used for editing videos.
#5 InstaSize Photo Editor & Grid
InstaSize allows you to create your own background for images and videos and features 80+ filters for customization.
Here you can learn about other app for Instagram Stories.
Tools for content creation and management
#1 Compfight
It's a free tool to help you find images (both stock and licensed pictures) for creating fresh visual content. The service is fast and provides good-quality images.
#2 Sked Social (formerly ScheduGram)
This tool can autopost content on Instagram, Facebook and Twitter, which is extremely useful when you use multiple channels. It also integrates with Canva so you can edit images before posting.
#3 Repost
This mobile app allows you to share content and credit to the original Instagram posts by simply copying and pasting their URLs. The author's name will automatically appear on your new posts.
#4 Shortstack
It's a tool that lets you create and run contests in different social media including Instagram. It features 90+ templates and 30 themes and allows you to use custom URLs.
#5 Gramto
Gramto can automatically follow and unfollow multiple users by following the criteria you set for it. It can also automatically post, comment, send direct messages, etc.
Tools for Instagram analytics
#1 Iconosquare
It's a popular tool for managing your social media accounts and gathering data. It can track engagement insights, reach, impressions, mentions, audience demographics, etc. It also tracks what users say about an industry or your brand.
Iconosquare can be used for both Instagram and Facebook.
#2 Squarelovin' Instagram Insights
Gathers relevant data over time periods – year, month, week. It tracks likes, followers, post performance and interactions with audiences. The tool can also identify the best time to engage followers.
#3 Crowdfire
Crowdfire can visualize gathered data into user-friendly charts and diagrams. Another useful function is its ability to find content relevant to your topic. In addition, it lets you publish posts from your blog, website, online store or YouTube channel.
#4 Socialbakers' Instagram Performance Quadrant Report
Allows you to compare your account with up to 5 competitors over the last 90 days. Although it's pretty expensive, one can find its free tools very useful.
#5 Instagram Insights
If you don't want to use paid tools, there's always Instagram's built-in analytics. It tracks your most popular posts, impressions and reach, as well as the best time to post.
SUMMARY: Utilizing Instagram for business is fun (and necessary in today's social age). Still, it does require a good amount of research and continuous content creation and engagement tactics to reach high follower counts and exposure. From paid ads to shoutouts to maintaining a social media calendar, there's a reason why social media is a serious part of marketing for your online business.