How To Boost Your Instagram: 10 Tips For You From Top Brands Across The Globe
Are you an entrepreneur working with eCommerce? Is it interesting for you to boost your Instagram? This article will provide you with detailed information on how to use this social network for the benefit of your business and boost your Instagram engagement, in principle.
What's the reason to boost your Instagram engagement?
To date, the most visited websites worldwide are social networks. Tons of people use them everyday for chatting, sharing photos, and so on. Moreover, they are extremely popular not only among teenagers, but among the users of all ages. What does it mean for you as an eCommerce business owner? In fact, it gives you an opportunity to use social networks to promote your business.
Why are we going to talk about Instagram today? Actually, there is little wonder. Nowadays Instagram, owned by Facebook, is a platform for sharing photos with the highest number of users.
How many people log in each month? According to Statista, there are more than a billion active users.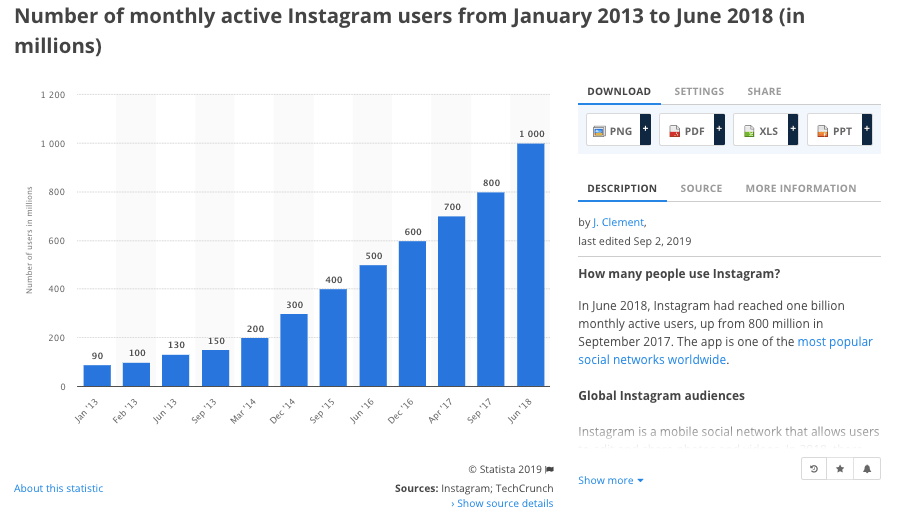 So, is it really wise of you to lose a tempting opportunity of boosting your sales by means of this social network? Of course, it isn't.
How you boost your Instagram and use it for the benefit of your business?
We have prepared 10 most useful tips for you on how to boost your Instagram and make it work for your business. Here they are!
#1 Create a brand
A strong brand is extremely important for any type of business. And, especially, if you deal with eCommerce.
Building a memorable brand image, you enjoy a whole range of long-term benefits. For example, you get the opportunity to establish an emotional connection with your followers. After gaining a loyal audience, you will find it much easier to introduce and promote new product offerings and raise awareness about your business through word of mouth. What is more, having created a strong brand once, you're highly unlikely to lose all of your customers in case of unexpected business faults or advertising experiments gone wrong.
#2 Optimize your Instagram bio
An Instagram bio that is written in a proper way is a vital element of your Instagram monetizing strategy. For you, as the account owner, it means the chance to tell your potential clients all about your business while keeping it short and to the point. You have only 150 words to do this. That's why we are eager to give you several tips on how to optimize your Instagram bio!
First of all, specify the niche where you conduct your eCommerce activities. It will help the Instagram users find your account faster and easier.
Also, we recommend you to use emojis because they enhance the readability of your bio.
Of course, don't forget to spice up the bio with a couple of relevant hashtags.
For more experience-based AliDropship tips on writing a great Instagram bio, please go to this article.
#3 Think of how to boost your Instagram followers
The number of followers of your Instagram business account is also extremely important. Take one step at a time and start small: first of all, try to get 1,000 subscribers.
Achieving this milestone, you'll be able to proudly write that you're a micro influencer in your Instagram bio 🙂
There are multiple ways of how to boost your Instagram likes and the number of followers. For example, you can launch a giveaway, pay more attention to your posts' content, and even use awesome semi-automated software to enhance your Instagram activity.
Your ultimate goal is to reach the audience that is going to be really interested in your business offers. In this case, it will be much easier for you to convert these people into customers and long-term clients.
#4 Use social proof and user-generated content
Social proof plays a huge role in your brand image creation and support. The posts containing authentic reviews from your clients can also contribute greatly to your Instagram monetizing strategy. In fact, they can improve your conversions significantly and influence the number of both immediate and long-term purchases.
You surely know that most people prefer to surf the Internet and look for the information on the desired product before buying it. Social proof helps them make their purchasing decisions quicker and influences their loyalty to your brand. So, think about asking your buyers to leave their reviews and send their photos showing your products in use. It's a good idea to reward them with a coupon or any other special offer!
#5 Use hashtags to boost your Instagram likes
The right hashtags let Instagram users find your posts more quickly. The reason is simple: hashtags contain a clickable link that makes it extremely easy for people to navigate through billions of posts.
When running an account on Instagram, you should know that it's allowed to use up to 30 hashtags in one post. Of course, it doesn't mean that all your posts should include 30 hashtags! In fact, it can harm you post appearance and make it look spammy.
By the way, if you want to interest as many potential clients as possible, you should use more broad hashtags. For example, if you sell smartphones, it's perfectly fine to write a specific hashtag like #honor10i under your post, and also put something more generic like #smartphone next to it.
Remember that Instagram doesn't like when you collect several hashtags and use the same combination of them in all of your posts. Variety is your key to success!
#6 Make entertaining posts
One of the main purposes of your business Instagram account is to inform its visitors and followers about your products and services. Still, it's a great idea to mix these product-oriented posts with educational, entertaining, and fun entries to keep your audience interested, engaged, and curious to follow you.
It's not a secret that most business accounts include entertaining posts. And do you know what? They are very popular! In most cases, such posts have even more likes and shares than any single-purpose posts. Why?
We believe it's all because Instagram's primary idea is to share photos. It means that when people check their Instagram feed, they just want to have fun and see something interesting and catchy. So, give them what they want, and they will be more likely to subscribe! You need to understand that people are very tired of persuasive advertising. They want to a break of it. And that's exactly what entertaining posts do.
#7 Post videos
If you're wondering how to boost your Instagram with ease, think about shooting different types of videos! Demonstrating your products in use, educating your followers and sharing something valuable with your audience, you interest your potential clients and give them the unique content they're here for. Using this marketing strategy, you have an opportunity to increase the level of loyalty to your company. By the way, did you know you can create exciting product videos even if you have nothing but this item pictures at hand? Read this article to find out more!
#8 Use Instagram shoutouts
One of the most common, convenient, and profitable ways of promoting your business on Instagram is making Instagram shoutouts.
Why do we choose shoutouts, but not official ads? Well, again, people are tired of intrusive advertising. Instagram shoutouts, in their turn, don't really look annoying, and in some cases they are not perceived as ads at all
What is an Instagram shoutout?
An Instagram shoutout is a way of advertising your products or services by means of posts in a popular blogger's account.
In fact, there is nothing difficult about it. You need to find a blogger who's popular enough in the same niche you deal with. This blogger will promote your business in his or her account. Please pay attention to the fact that there is no need to chase the bloggers with several million subscribers! They often ask to pay quite a lot for the promotion, and your ad campaign risks to become unprofitable. What is more, as a rule, their accounts are overfilled with ads, so their followers are very likely to just scroll your ads down. It's better for you to choose bloggers with some tens of thousands of followers.
#9 Run contests
If you want to drive more potential customers to your Instagram account, you can try running contests and giveaways. Remember that they lead to a short-term boost in sales and traffic, and the effect doesn't always last for a long time.
However, it's a great tool if you want to attract the audience's attention in the run-up to some special event, holiday, etc. To learn how to make the most of your Instagram giveaways, please go to this article.
#10 Offer discounts and bonuses
Giving discounts and bonuses is still a great way to draw attention to your business. However, we don't recommend you give them for doing nothing 😉
For example, you can make them available only for those who follow your account. Or, it's a good idea to make special offers for those who have already made a purchase from you and posted their review online as we've already covered it above.
Summing it up: how to boost your Instagram
Social media can give a huge boost to your online business if you treat your promotions wisely. Being one of the most popular social networks worldwide, Instagram deserves your close attention – and gives you countless ways to spread the word about your exciting business.
We hope these experience-based tips on how to boost your Instagram will be of great use to you! If you ever used any of them to boost your dropshipping store performance, feel free to share your story in the comments section below!