How To Sell Adults Toys: Making Ads That Don't Get Banned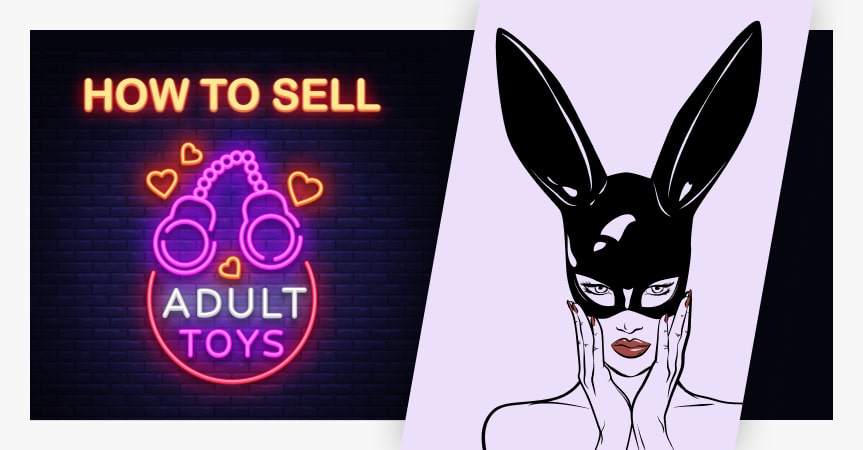 Are you in the adult toy or product business? Hey, there's no shame. This seemingly-taboo industry was estimated at $30.48 billion in 2021 and is expected to reach $32.72 billion in 2022, meaning it's a lucrative niche to do business in.
Disclaimer: If you're running an AliDropship-based store, you are free to sell any type of product you want. We don't limit or control your business activity in any way! However, remember that your offers should be legal to sell and to purchase both in your homeland and your target country. Also, please note that not all payment gateways might approve online stores selling adult products: your safest choice is PayPal.
Actually, have you had a hard time advertising your website or its products through ads? Is your ad imagery or copy being rejected by social media platforms? In this article, we'll explore why toy-centered adult ads have a hard time passing as ads. We'll also take a look at alternative content and traffic-driving strategies you can use to promote your business.
Facebook's policy on advertising adult items
So this is the big question – and the whole reason why we're dishing out advice for owners of adult toy websites. If you've been trying to promote ads on Facebook or Instagram, you may or may not know that there actually is a policy on adult products or services. Basically, you cannot promote any item that speaks to sexual pleasure or enhancement. Another policy that can relate to whatever imagery you decide to use is the one on adult content in general. Images cannot feature anything sexually-suggestive, from partially-clothed to implied nudity even. Yes, it's very strict. And of course, any of these ads must be targeted towards people 18 or older.
"But my business isn't doing anything wrong," you might think. And yes, we'd agree – you are offering products to fit a specific need in the market. But on social media, content related to sex or adult activity is generally frowned upon. It's for the decency and safety of all audiences.
How to promote your business with alternative adult ads
While it may be difficult to draw attention to your items or business through paid ads on social media, there are still ways to utilize your social media through content.
Get educational
When it comes to sex and sexual exploration, education comes first. Because knowledge is power. In your ad copy or imagery (or even your regular feed posts), you can utilize or capitalize on sexual education or just tips about well-being. This can help your content be viewed as informational as opposed to being sexually-suggestive.
Utilize email marketing
Ah, the good 'ol email marketing. Facebook can't monitor your email content, so if you're not getting across the direct points or benefits you'd like for your paid ads or social media, save them for your emails. But make sure your email content is still informative and beneficial to the customer. It should provide the reader with something of value to open up and read or click through for. And a lot of this ties into the previous point in providing something educational to your customers.
You can try creating a health-focused newsletter, for instance. Give your customers tips on how to stay healthy and manage stress. Talk about relationship dynamics and how to make time for oneself (and one's significant other). These speaking points will make it easier to incorporate your items into the conversation, with CTAs that can link to your products. You can even include coupon codes to use at checkout to further incentivize your customers.
Use SEO and Google Ads or purchase niche-ad space
SEMRush's Keyword Magic Tool for keywords
Google search results
Google Shopping results
And remember – just because Facebook doesn't permit sex-forward ads for your products doesn't mean your ad game is over. Google is still a great traditional resource for search results. Work with your Google Ad Manager to set up ads for search and Google Shopping. And keep in mind – Google has an ad policy of its own for adult items, so be sure to carefully review the terms.
Hinge is a popular dating app
Tinder is also a popular choice for meeting people to date
And if you want to zero in more on your niche, you can try purchasing ad space on websites or apps that can relate to your audience. For example, if you are targeting a younger millennial audience, you can consider dating apps such as Tinder and Hinge. You can advertise your adult toys on there since many users are looking for sexual meet-ups or encounters, and toys can be a good target item for them to consider.
For appropriateness of this article, some things cannot be posted (hence no screencap examples of these), but depending on your item's niche, you can also consider forums or pornography websites to purchase ad space for your items. These spaces also tend to not have many rules or limitations on what nature you can use to express your ads, so this also may be
Examples of alternative adult ads
So we've given you some content and ad ideas that you can go about trying for your website… but are you still in need of some coaxing? Take a look at these two Instagram accounts we found of adult toy businesses and their content strategy:
Good Vibrations Toys is an online retailer of sex toys for men and women with a greater target of women.
You can see how the company utilizes its products to create creative and fun displays like this one above to wish its clients and followers happy holidays.
The company also gets educational by posting about sex education truths to empower and connect with its users and followers.
And to add a bit of entertainment to its promotional and educational posts, Good Vibrations even utilizes memes! This way, it can connect to the audience in a relaxing, informal way, and diversify the content popping up in its followers' feed.
Aneros is a company that sells sex toys for men and women, with a greater focus on men.
It takes an informative approach to its content strategy, utilizing statistics about sex to educate its audience.
Brand truths and beliefs are also used on Aneros' feed to establish a safe and accepting space for its users to be a part of. As Thought Catalog unveils, many people have a stigma about utilizing sex toys, so Aneros does a good job in slightly addressing this.
On Facebook, Aneros shares insightful articles that can be of interest to its audience. We see here a post for an article about dating app use and the burnout associated with it. This can be a great to users who are users of Aneros' sex toys but also users of dating apps.
And in a post promoting "good vibes only" (referring to the physical vibrations of its toys), Aneros promotes a product without any explicit sexual image. This could possibly work as a paid ad image and ad copy!
SUMMARY: Yeah, adult toys have barriers when it comes to advertising, unfortunately (it's all about keeping social spaces appropriate for all audiences and ages!). However, you can utilize educational content for your target audience on social media to draw traffic to your website instead. Paid ad space on dating- or sex-centered websites and apps is also a great alternative. And lastly, remember there are still traditional PPC and keyword-driven adult ads you can utilize (rules tend to be less strict than on Facebook).