How To Get More Comments On Instagram And Increase Users' Engagement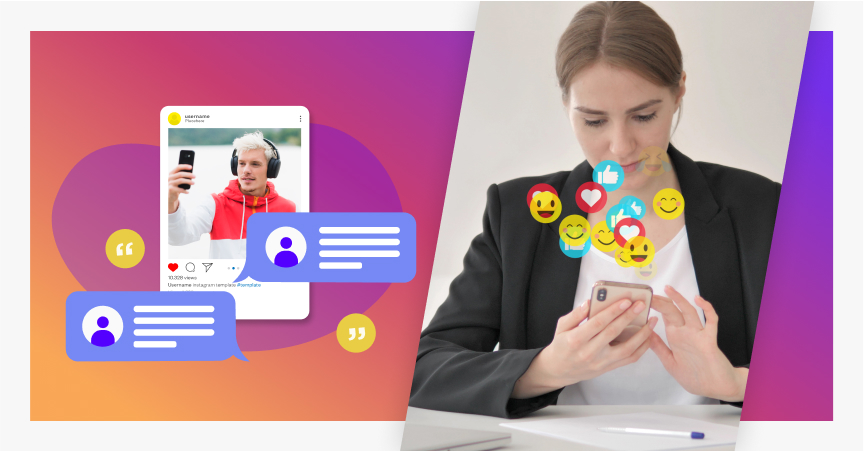 Like me. Comment on me. Share me. On Instagram, it's all a game of engagement. For most brands today, their content is all about starting a conversation or putting out a message that elicits a response from visitors and followers. And how do you measure this kind of response? By tracking the amount of comments on Instagram, of course!
If you've created your own brand on Instagram before, you should know that your content should always have strategy behind it – are you trying to increase engagement in your posts (this is where likes, comments, and shares come in) or are you trying to get viewers to visit your website and convert (this can mean shopping and purchasing something or downloading a free guide).
Today, we'll take a specific look at how to make people to interact with your posts, and share some strategies you can use to get more comments on Instagram.
How to get more comments on Instagram: start with content
What makes an intriguing post? A captivating image. A witty caption. And an enticing incentive or offer. If you're using low-quality images or imagery that does not convey a legitimate brand, you won't attract many eyes on Instagram. In today's day and age of glitz and glam through video and curated photos, you have to use sharp, eye-catching images. Your videos also have to be enticing and offer an engaging story or message.
Toyota utilizes the rule of three for its feed, posting images in groups of three for a visually-catchy effect when users are browsing its profile page.
Nestle Toll House utilizes an engaging animation to promote a new product.
Post UGC (user-generated content)
Old Navy reposts this fun and cute picture from a blogger.
Reposting user-generated content is one of the easiest ways of getting content. The reason is simple: the content is already premade by an Instagram user. Generally as a brand, you just have to message the user and ask for permission to repost his/her post.
A reposted image or video usually benefits the brand and the user being reposted. Generally, the viewers will click on the user's profile to view his or her profile (and possibly leave comments or follow them) while doing the same on the original brand's post.
Ask a question
Fast food joint Jack In The Box uses an Instagram Story poll to question its followers.
The age-old way to get a response out of someone is to ask a question. On Instagram, you can do this either in your caption or by utilizing an image with text on it. You can also get ultra-engaging and use Instagram Stories, whether through the Ask or Poll options to get feedback.
Utilize hashtags
Forever 21 utilizes some brand-specific hashtags to encourage users to use in their posts for a chance at being featured on the page.
Remember: hashtags are essentially your keywords on social media. Use a mix of trending keywords and brand-specific keywords to ensure your posts show up in search while remaining unique to your brand. Even campaign-specific keywords (as shown in the example above) can generate comments! The trick is to start featuring posts and showing a brand-to-consumer connection that can entice customers.
If you need extra help on coming up with hashtags, you can utilize hashtag generators such as Display Purposes or Seek Metrics for ideas.
Be engaging and responsive to comments
Skincare brand Paula's Choice responds to praise and questions by customers.
Whether it's just a simple emoji or a typed-out response to a question, being responsive to comments shows engagement as a brand. Comments can also turn into a conversation, building a deep connection with a peeping user or potential/existing customer.
Set up a giveaway or contest
NBA Kicks promotes a giveaway for a pair of exclusive shoes, asking followers to comment for a chance to win.
A popular way to offer incentive while connecting to users or followers of your brand, a giveaway or contest usually sees very high engagement.
Use Instagram Stories to tell a story
In the case of the Westfield Santa Anita Mall, the shopping center used Instagram Stories to preview a pop-up experience the mall was hosting. Showcasing something cool as a sneak peak to followers can not only rack up comments on your feed posts, but also private messages with questions from shoppers and fans.
Share a new post on your Instagram Story
Social media megahouse Napoleon Cat showcases via video how to share a feed post to your Story.
Due to changes in the past years to Instagram's algorithm, it's likely that not all followers of your account are seeing your newest posts in their feed. Since Instagram Stories are always on the very top of the Instagram app, it's smart to dedicate a story directing followers to your latest feed post after you post. You can also follow up the next day to highlight your newest post again. This ensures visitors (if they click on your Story but not your profile) can see that you have a new post.
Try sponsored posts
Toyota utilizes a sponsored Instagram ad.
Yeah…sometimes when visibility just isn't enough, it pays (literally) to get your posts on the post feeds of some new eyes. And you can do this through Facebook Business Manager by using Facebook Pixel (in case you forgot: Instagram is owned by Facebook). Retargeting is also possible meaning if someone visited your website; you can pop up again by being in their Instagram feed as he/she scrolls.
SUMMARY: So there you have it – some cool ways to get more comments on Instagram. At the end of the day, it goes back to having unique, engaging content (having good content strategy is still key) but also maintaining a pleasant brand presence (respond, respond!) to visitors.