200+ Instagram Hashtags For Likes And Followers: List Of Business Hashtags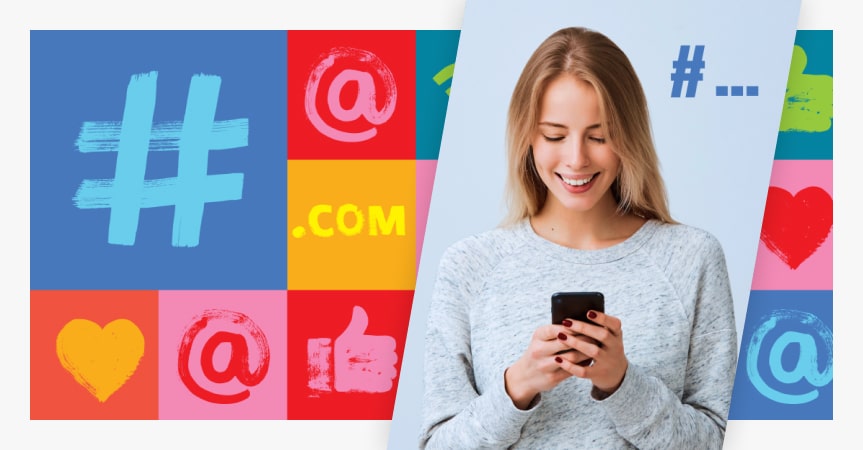 In this article, we'll cover what hashtags are, how to incorporate and find targeted ones for your Instagram posts, and what kind of tools and analytic tools you can utilize to maximize your reach.
#Instagood. #TBT. #PhotoOfTheDay. If you're on Instagram, you've surely seen one of these popular hashtags at some point while scrolling through your feed. They're actually some of the most popular.
So hashtags are fun and quirky. Yet, they also hold great business impact because of how they allow users to discover content. Everyday, 200 million users visit a business profile. It means hashtags are definitely essential in social media content creation to connect your brand to the right audience.
What are Instagram hashtags?
Simply put, hashtags on Instagram are like labels for users whose intent is to search and discover brands and content on Instagram.
With the right phrases and terms, Instagram hashtags help filter your content to your target audience and niche.
Above all, hashtags are also a way to brand your content.
How Instagram hashtags work
Hashtags are magic. Simply add the # sign to any word or phrase and voila — it becomes a clickable link. Once your hashtag is active, it automatically joins a community of Instagram content with the same hashtag (or it could be the only post with the hashtag, depending on how unique it is). So when users click on your hashtag, they are taken to this community of posts using the same tag, providing them a more targeted browsing experience.
Why you should add Instagram hashtags
Adding hashtags is crucial. To clarify, it's due to the reason they allow you to target your audience and niche. For example, if you have a business selling dog toys, you can try using the hashtag #dogstagram or #dogloversclub to reach users who post about dogs and interact with posts about dogs. So using trending hashtags, especially targeted ones, opens the door for the right audience to follow your Instagram account and engage with your content.
How to gain likes and followers with Instagram hashtags
Need more likes or followers? In this case, you can also utilize hashtags that cue other accounts to interact with you. In practice, trending hashtags such as #followme or #followforfollow are some popular choices for accounts looking to increase followers and engagement or exchange likes and follows. So you can try adding these to boost your engagement.
How many hashtags should I be using?
Instagram limits a post to 30 hashtags. However, that doesn't mean, however, that you should add 30 hashtags to your post. In fact, there is no actual answer as to how many hashtags you should use. Generally, your analytics will show you which posts perform best, and you can see which hashtags work best for your brand. From there, you can trial and error with how many hashtags for Instagram (and which high-performing ones) you use.
Yet, remember, with hashtags:
More is not more (too many clutter your post and can read like spam)
Focus on brand-specific hashtags that will help target your content
Where to add Instagram hashtags (post or first comment)
So you know what hashtags are and what their social media marketing value is. Now, you may be asking where you should put them — in your caption or as a post comment? Like with the number of hashtags to use, there isn't an exact "correct" method. However, for post readability, here are some suggestions.
If you have less than a handful of hashtags (five or less), keep them alongside the post caption.
However, if you have a larger amount, it's helpful to separate your hashtags from your caption:
Insert a line break (this is done by utilizing the underscore symbol)
Use periods
Use bullet points
Post the hashtags as a first post comment
In a nutshell, the key to hashtag placement is to have them read cleanly with no clutter. In this case, viewers can focus on your post's caption.
Adding hashtags to Instagram Stories
Like with your regular Instagram posts, hashtags also apply similarly to Instagram Stories. So on Instagram Stories, you can stylize your hashtags in a wider range of ways, colors, and fonts for added uniqueness. Therefore, when you type in a hashtag, Instagram will also auto-populate related hashtag ideas for your tagging convenience.
When users search for a specific hashtag in Search, popular Instagram Stories tagged with the hashtag may populate in the Stories icon.
Most popular hashtags on Instagram: Instagram hashtag research
Before exploring other brands, it's a good idea to start by thinking of specific hashtags that are applicable to your brand as a whole and your posts. Once you have a list of hashtags, you can start researching for more trending ideas:
Explore/Search on Instagram
By default, Instagram's Explore page curates content from other Instagram users based on your activity and shows you related content you might be interested in. Assuming you have an Instagram account for your brand and view competitors and influencers in your industry, your Explore page should be a goldmine of trending posts. So look at what hashtags these popular posts are using to find the best hashtags for your large or small business.
Above all, you can also use Search to test the popularity of your list of hashtags or those that you have scoured from the Explore page.
As you explore what is popular, you should take a look at what competitors are doing with their posts. So what hashtags are they using? Do they use a brand-unique hashtag or a campaign-specific hashtag? Therefore, this can give you ideas on what you should be focusing on to garner visits.
When it comes to trends, influencers are the go-to source for what's most up to the minute. Projected to be a $2.3 billion industry by 2020, Instagram influencers are an invaluable source for trending hashtags. After all, it is their job to post content that will be highly visible and sell.
Instagram hashtag generators
Out of ideas for what to hashtag your Instagram posts with? In this case, let a smart machine do the work. There are tons of highly-rated names out there such as:
These generators all work to gather top hashtags and specific hashtags related to your search query. Best of all? They're free!
25 best universal Instagram hashtags for online business
#Shoponline is probably a good start. Hey, it's what you're doing, after all. So as noted in our above steps, you can explore Instagram to see what is related to online retail.
#OnlineShopping
#onlineshoppingaddict
#onlineshoppingwebsite
#onlineshoppingmall
#onlineshoppingfun
#OnlineShoppings
#onlineshoppingstore
#onlineshoppingbag
#shoppingonline
#instashop
#igshop
#onlinestore
#onlineboutique
#shopping
#shoppingonline
#shoppingday
#shoppingtime
#shoppingaddict
#shoppingqueen
#shoppingtherapy
#shoppinglover
#shoppinginsta
#shoppinglist
#shoppingaddiction
#shoppingguide
Instagram by default will even show you related hashtags to elevate your efforts. For example, we see "#shoppingonline" and "#onlinestore" as related (and relevant) terms.
185 niche business hashtags to gain followers
First, if you sell to a certain niche, look into what is trending for that niche. So here are some great niche hashtags that we found.
30 brilliant hashtags for jewelry niches
#jewelry
#jewels
#jewel
#gems
#gem
#gemstone
#bling
#stones
#accessories
#crystals
#fashionista
#accessory
#instajewelry
#jewelrygram
#fashionjewelry
#bracelets
#bracelet
#braceletstacks
#braceletsoftheday
#jewelry
#earrings
#earring
#earringsoftheday
#earringaddict
#earringstagram
#piercing
#piercings
#pierced
#earringfashion
#earringlove
30 adorable hashtags for baby products' stores
#babystyle
#babys
#babyshop
#BabyPhotography
#babyclothes
#babylights
#babyfever
#babyroom
#babygift
#babystuff
#babycute
#babyphoto
#babywearing
#babyshoes
#babylife
#instababy
#newborn
#babylove
#babyfashion
#momlife
#momblogger
#momboss
#momsofinstagram
#momswithcameras
#mommytobe
#momofboys
#momoftwo
#momof3
#momanddaughter
#momandson
30 awesome hashtags for sports niches
#fitness
#instafit
#instafitness
#fitnessgear
#fitnessaddict
#trainhard
#workout
#bodybuilding
#cardio
#gym
#training
#gymlife
#eatclean
#strength
#instahealth
#healthychoices
#muscle
#determination
#lifestyle
#cardio
#getfit
#cleaneating
#eatclean
#exercise
#gametime
#sports
#fitnessmotivation
#fitnessaddic
#fitnessfreak
#fitnessbody
35 killer hashtags for footwear stores
#shoes
#highheels
#heels
#platform
#instaheels
#fashionshoes
#shoelover
#instashoes
#highheelshoes
#heelsaddict
#loveheels
#iloveheels
#shoestagram
#sneakers
#sneakersaddict
#sneakershouts
#sneakersoriginal
#sneakers4sale
#sneakersoftheday
#sneakerspics
#sneakerslover
#sneakersale
#Sneakersnstuff
#sneakershoes
#sneakershop
#bootseason
#bootslover
#bootshoes
#bootswiththefur
#bootsoverknees
#bootsocks
#bootsfordays
#loafershoes
#loaferstyle
#loafersforlovers
30 timeless hashtags for stores selling watches
#watches
#instawatch
#watchesofinstagram
#watchaddict
#watchnerd
#watchgeek
#watchesonsale
#watchmania
#luxurywatch
#watchcollector
#luxurywatches
#watchesofinstagram
#watchessentials
#watchesoftheday
#watchesforsale
#watchesformen
#watchesdaily
#watchesforhim
#watchesforher
#watcheslover
#watchesoninstagram
#watchesofinsta
#watchesforwomen
#watchestyle
#watchesstyle
#watchesaddict
#watchesworld
#watchesandbracelets
#watcheslovers
#watcheskeepstime
30 top hashtags for travel niches
#travel
#vacation
#visiting
#instatravel
#trip
#holiday
#travelling
#instapassport
#instatraveling
#mytravelgram
#travelgram
#travelingram
#igtravel
#travelblogger
#traveldiaries
#TravelAwesome
#traveladdict
#traveldeeper
#travelmore
#travellingthroughtheworld
How to hashtag by the audience (brand, location, niche)
The traditional idea of a hashtag goes beyond a phrase with a # sign. Therefore, the ever-evolvement of Instagram ensures all types of tags on a post help boost visibility — these include:
Geographical location tags
People/brand tags
For location tags, you have to tag an actual location. Meantime, for people/brand tags, you must add an @ in front of the account handle. When people/account tags are clicked, they go straight to the tagged profile. Like with the dog business example earlier, it's great if, for instance, you tag users who are posting about your products to build a relationship. Therefore, if your brand is at an event or convention, tagging the geographical location of the event can help get more eyes on your profile.
For niche tags, you have to manually create to tag your posts. Using the dog business example again, using niche-specific hashtags such as #dogstagram or #dogloversclub helps get your content in front of users who are part of your target audience. So niche tags can come out of research or by using a hashtag generator.
Instagram Stories also utilizes the same location and people/brand tags (called "Mention" in Stories) as regular posts. You can also add any niche tags you have using the "#Hashtag" function.
These steps help make your Instagram posts and Stories more visually interesting and optimized for search to your targeted audience.
Instagram hashtag analytics
Well, once you're up and running with strategic hashtagging for your content, be sure to check your post analytics with the built-in Instagram Insights tool to measure your performance.
So these metrics show you where your audience is interacting with you, where they're from, and what time of day they are viewing your posts.
However, if you want deeper inside stats such as all-time profile data and customized reports, consider some third-party sources such as:
In fact, most of these apps have free trials. So you can test run and see which platform works best for your profile and its needs.
How to hide hashtags on Instagram
Sometimes even the most trending Instagram hashtags look too intrusive. In this case, it's a great idea to hide them.
Actually, there're several ways to hide hashtags on Instagram. One of the most common and appropriate ways to hide hashtags is using dots. Here is how to do this easily, in two shakes.
Write a post caption
At the end of the last sentence, hit return. Make sure there're no extra spaces
Put a dot on the new line, then hit return again.
Keep doing that until your Instagram hashtags stop standing out.
Another great idea to hide your Instagram hashtags is to put them in the first comment under the post itself. Don't forget to save your best hashtags list. Otherwise, you'll have to type it each time you're going to make a post.
In conclusion, Instagram hashtags are easy (and fun) to implement into your content. With the right research and tools, you'll be on your way to posting content that is targeted to your store audience and niche.