22 Best Apps for Instagram Stories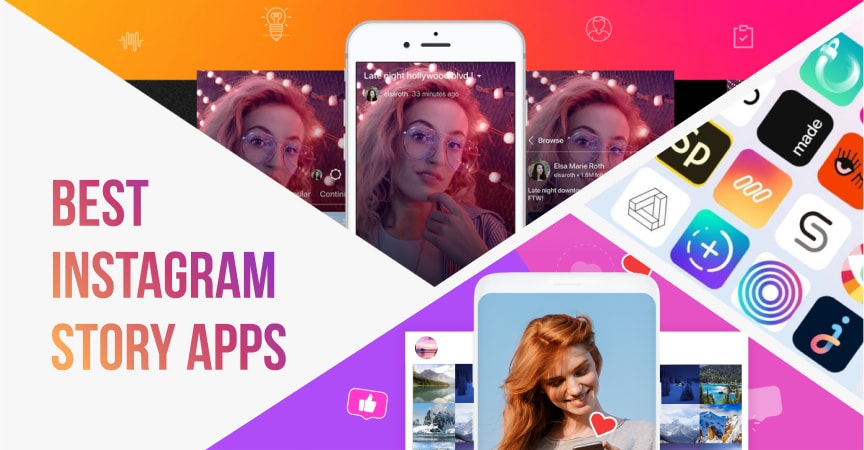 Why review best apps for Instagram Stories? Well, because they are one of the most engaging Instagram features a business can use!
With a reported 500 million daily active users on the platform, Instagram Stories is a hot marketing tool – with good reason. In 2018, VidMob released a report finding that 1 in 4 millennials and Gen Z-ers use social video to learn about products and services they are interested in buying. And since the younger generation is also projected to have the most spending power, this means that if you do your Instagram Stories right, you could engage better and potentially see sales spike from younger buyers.
While by default Instagram Stories has some great filters and features, to stand out in today's noisy space of Instagram (where there is content being uploaded a mile a minute), you've got to have branded video and imagery that is stylized to captivate. Today, we'll cover 22 cool apps for Instagram stories you can download right onto your phone to turn your device into a creative machine!
Bonus: We'll also give some real-brand examples of content you can create!
Best video editing apps for Instagram Stories
#1 VSCO
iOS & Android (Free 7-day trial; subscription required after trial period)
One of the most popular and highly-rated editing apps available, VSCO is a must-have for big brands and influencers alike. Make videos pop with color effects and the ability to create GIFS for more content and branding possibilities. Plus, VSCO is one of few apps to feature a built-in community (similar to Instagram and TikTok), allowing you as a brand to connect to others through Suggested Users (this community feature requires a subscription, however).
#2 InShot
iOS & Android (InShot Pro Unlimited monthly subscription available for more features)
InShot is the go-to video editing app for Apple and Android users alike. A full suite of editing functions are included such as video trimming, video merging, speeding up, bordering blurring for Instagram Stories, and more. Effects are abundant in this app, with video filters, voice-over ability, mp3 track imports, and more. You can create engaging, one-of-a-kind Instagram video right from one powerful app.
#3 CutStory
iOS Only (CutStory Pro subscription available)
CutStory allows you to import video to cut to create multi-post Instagram Stories. Plus, add music, stickers, and text for a pop that captivates your followers and viewers.
#4 Splice
iOS & Android (Various subscription plans available for greater features)
From the makers of GoPro, Splice is an award-winning video editing app that allows you to sync music with your video while creating transitions, text overlays, titles, and more. Of course, there's also the ability to trim and crop your videos. Splice is also photo-friendly.
#5 Lifelapse
iOS & Android (PRO Plan available with subscription, available as a free 7-day trial)
Convenience, convenience, convenience. Lifelapse is a powerhouse app with a plethora of free tools such as stop-motion, exposure/white balance, an Instagram crop-sized camera, filters, interval timer, and more. Going PRO provides a grip of perks such as royalty-free music, GIF creation, tilt and reposition crop ability, and more. Lifelapse lets you capture and create amazing content in one got-it-all app.
#6 Adobe Spark Video
iOS Only ($9.99 a month as part of Adobe Creative Cloud; trial period available)
Take video editing from the pros. Adobe Spark Video delivers fast and simple video editing into the palm of your hands – no expertise required! Add in your own voice overs or use free music for an ear-catching video. The highlight of Spark? An automatic cinematic effect for all your videos – for Instagram Stories that make viewers smile, laugh, and engage with.
#7 8mm
iOS Only ($2.99 for in-app purchases)
Get vintage for your videos with one app. With the touch of your finger, add retro to your video with scratch effects, flickers, frame shakes, and more. 8mm offers 8 different lenses and 113 retro lenses to customize your brand's Instagram Stories.
#8 Videoshop
iOS & Android (Monthly or annual subscriptions available for unlimited access to all features)
From music tracks to sound effects and animated titles, Videoshop lets you spruce up your videos so you can edit like a pro for your Instagram. Got multiple videos? The app likes you merge videos for dynamic story-telling.
#9 Enlight Videoleap Video Editor
iOS Only (Monthly or annual subscription available for unlimited access to features)
Whether you're completely new to video editing or a seasoned professional, one thing that everyone can appreciate is a handy app that can help create eye-catching, captivating video content. And that's exactly what Enlight Videoleap does. From special video effects to filters, stickers, layer-based editing, and cinema-like transitions, discover an app with built-in stock footage and tools for the ultimate video-editing suite.
#10 Hyperlapse
iOS Only (100% free app)
From Instagram itself, Hyperlapse lets you create ultra-still, stabilized video – from bumpy roads to captivating time lapse. If your brand isn't about all the fancy filters and effects, Hyperlapse can be a great help for simple video that is clean and smooth.
#11 Jumprope
iOS Only (100% free app)
Is your brand geared towards educating consumers? Or are you a brand that loves to create Instagram Stories that are step-by-step how-to videos? Jumprope is your answer for fun and engaging video making. The app features easy-to-use templates with animations, themes, patterns, and music for quick (yet visually-outstanding) content sure to forge a deep connection with your viewers.
Best image editing apps for Instagram Stories
#1 StoryArt
iOS & Android (Paid subscription available)
Decorate your photos for your Instagram Story with different text fonts, a selection of themes, filters, and other cool design effects with Story Art. From animations to a retro VHS camcorder effect, Story Art is one of the highest-rated apps for taking your Instagram game to the next level!
#2 Canva
iOS & Android (In-app purchases available only for iOS)
Boasting 60,000 free templates and 700+ font options, Canva is a leading photo editing tool that lets you create email templates, banners, social media posts – and Instagram Stories. The tool works for video as well.
#3 PhotoGrid
iOS & Android (In-app purchases available)
Crop, blur, sharpen, and stylize your photos (and video) with an array of effects and special templates on PhotoGrid. From animated filter effects to 500+ stickers and over 200 unique filters, PhotoGrid takes your photo game to new heights all while minimizing the need for multiple editing apps with an all-in-one solution.
#4 Storyluxe
iOS Only ($2.99 for access to unlimited features)
Want to showcase something new (or a fun company event) like a photo album or film reel? Storyluxe has got you covered with story templates stylized like polaroid snaps and film templates, in addition to a plethora of filters to customize your images.
#5 Unfold
iOS & Android (In-app purchases available)
Tell your brand story on your Instagram Stories through 150+ templates and bonuses such as 10 filter effects and stickers on the app's own Unfold Camera function. Unfold lets you create dynamic experiences through curated designs to touch every viewer.
#6 A Design Kit
iOS Only (Unlimited access available for $23.99 USD per year or $3.99 USD per month)
Discover textured brushes, 60+ fonts for a custom feel, plus backgrounds and textures of all kinds for enhanced, eye-catching images for your brand's Instagram.
#7 Adobe Spark Post
iOS & Android (Unlimited access available for $99.99 USD per year or $9.99 USD per month)
Step up your effects and style with a name brand app. Adobe Spark features professional-grade filters, effects, and more from a leading creative powerhouse.
#8 Afterlight
iOS & Android (Free 7-day trial; subscription required after trial period)
Edit like a pro with Afterlight's user-friendly editing tools such as touch-gesture touch-ups, in addition to filter blending and effects such as color shift and overlays. Expand your creativity with 120+ hand-picked fonts for text and 150+ original designs from the developers.
#9 Over
iOS & Android (Get Pro for $99.99 a year or $14.99 a month)
If you're all about creating overlays (from texts to images to special effects), Over is the go-to app for you. Make your Instagram Stories stand out with a wide assortment of graphics, fonts, and styles.
#10 Font Candy
iOS & Android (Weekly paid subscriptions available for full-access to app features)
Looking for just something simple for overlaying text? Font Candy is the choice for you. Add titles and simple captions to your images while choosing from simple artwork and enhancing with stickers. Font Candy also allows for text editing capabilities such as text curving and opacity control for added feel and effect.
#11 InstaSize Photo Editor & Grid
iOS & Android (Go Premium for $4.99 a month and get unlimited access to bonus features.)
Ever get tired of how Instagram automatically crops your photos and adds background for you on Instagram Stories? InstaSize gets rid of that nuisance by allowing you to create your own background for your image (or video) while choosing from over 80 filters for a customized look. Need to do some cleanup? Get right to it within the InstaSize app with brightening, sharpening, and contrast functions (and so much more) for convenience at your fingertips.
Content ideas for Instagram stories
Okay, so we've given you a LOT to work with. So what type of stuff can you make exactly with all these amazing apps? Let's take a look at some examples from real brands on Instagram.
Guess
Showcase real users (or influencers) of your company's products. Guess showcases two influencers to promote some of their clothing and bags. You can utilize your Instagram Stories as a way to shoutout personalities you've partnered with, or just give loyal customers some time to shine in the spotlight.
Target
Target tells an engaging step-based shopping guide for customers to learn how to accessorize their home. Utilizing a simple layout and bright text box colors, Target showcases top-pick items with built-in shopping links, allowing users to buy the decor shown. There's also an ending page with a CTA to swipe up and visit a landing page.The chronological layout of Instagram Stories makes perfect for numerical tap-through experiences such as this.
Dove
Is there a matter near and dear to your heart? Utilize Instagram Stories to bring awareness to a social or environmental issue. Dove shined the spotlight on a young girl named Ellie as part of its Dove Self-Esteem Project, which aims to bring body positivity to young women around the world. You can see how the health/beauty brand fused animated text, video, and a simple template together to create an easy-digestible yet impactful story. There is also a mention in the story of a feed post for viewers to learn more (in the post caption), plus a swipe-up CTA to the project's landing page.
H&M
If you're launching a new product or promotional campaign, take a page from H&M's book. The Swedish fast-fashion retailer recently launched a spring/summer collection for women. Showcasing crisp campaign images (as well as a fun video from the campaign shoot), the brand builds a cohesive message, and finishes off its series of Story posts with a stylized video screen that prompts viewers to an IGTV video that shares designer inspiration for the collection. A very solid hit, this move by H&M demonstrates how to use video and imagery (with some razzle and dazzle effects) to build up a campaign experience, leading up to longer-length video outside of Instagram Stories.
SUMMARY: Instagram Stories can be an artistic marketing vehicle for your brand and its products. With a myriad of editing apps for Instagram stories to choose from, it's easier than ever to make your video and imagery stand out and tell a unique and visually-appealing story. From promoting a new product to bringing awareness to a company value, there are many smart ways to utilize Instagram Stories to hype up your company.