Special offer available
Let's choose your perfect dropshipping store
Whether you're looking to start a simple dropshipping store or aiming to create a multi-million dollar ecommerce brand, we are here to help
100% unique store created for your personal taste from scratch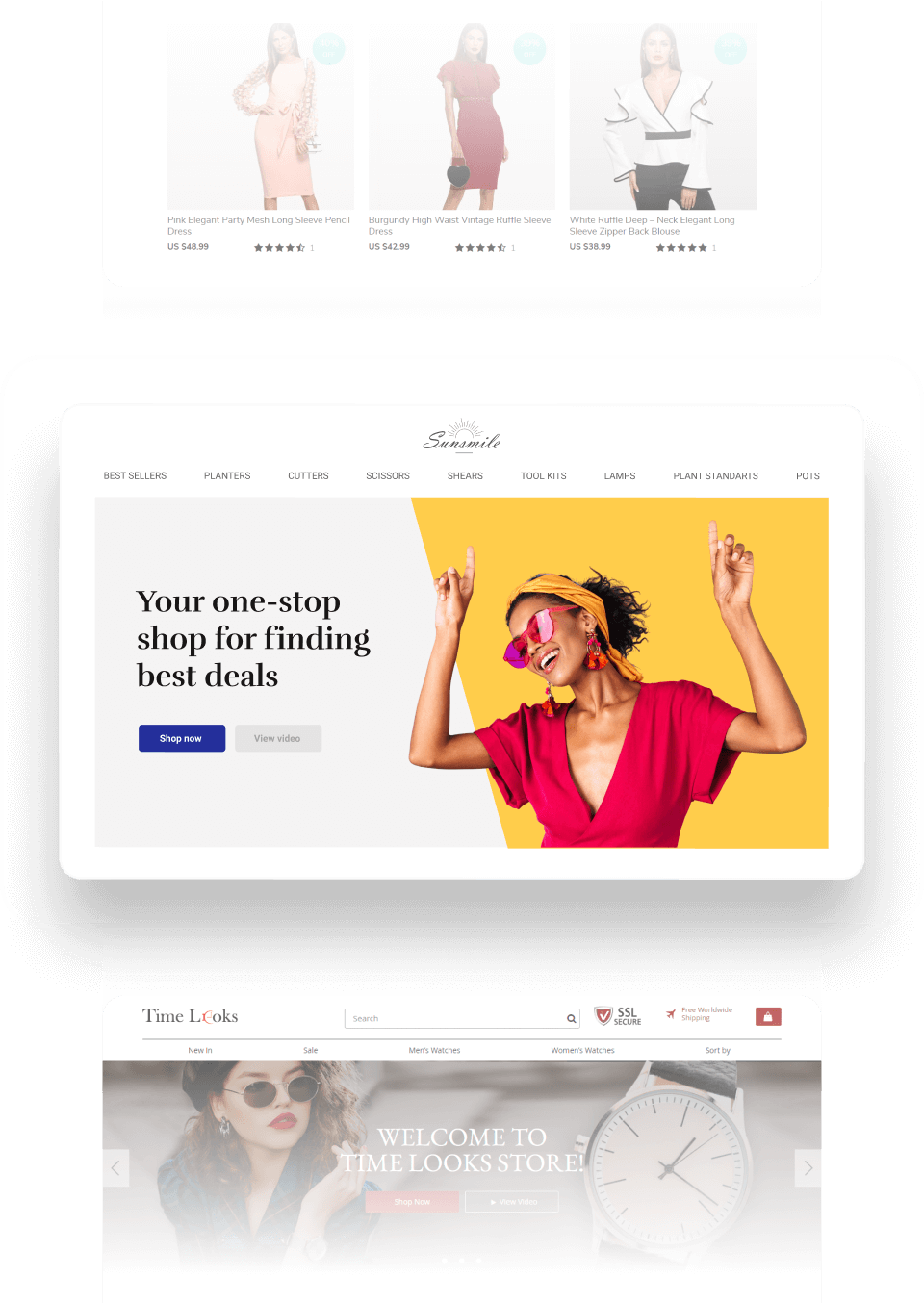 Get a professionally designed, done-for-you store that reflects your unique vision
Hand-picked products in your preferred niche sourced from top-rated suppliers
Choose between worldwide dropshipping or swift US shipping options
Benefit from automated AI promotion through SEO articles to drive traffic
Perfect for bringing your unique business idea to life with a tailor-made website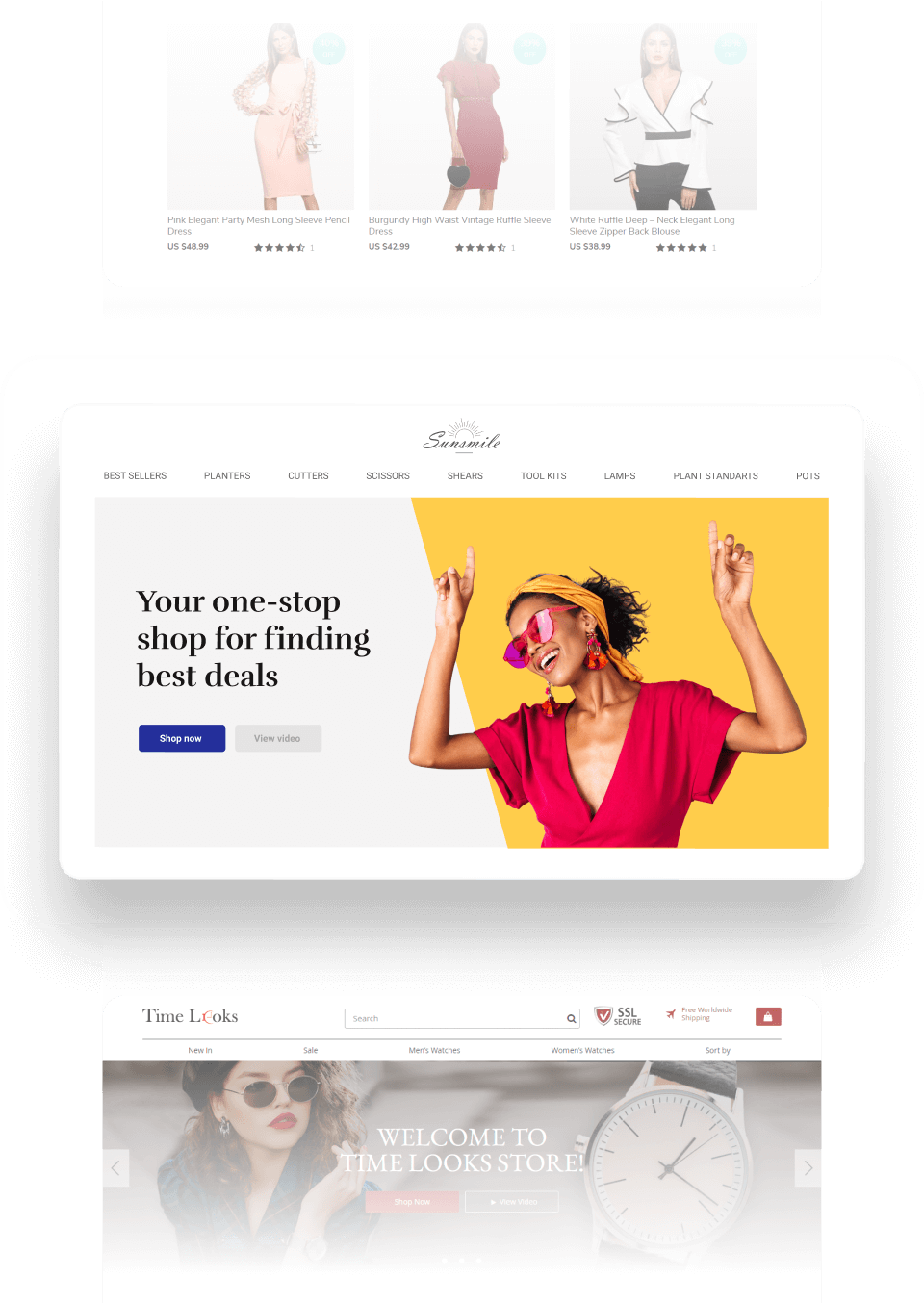 Start today with a replica of a highly successful store generating up to $500,000 per month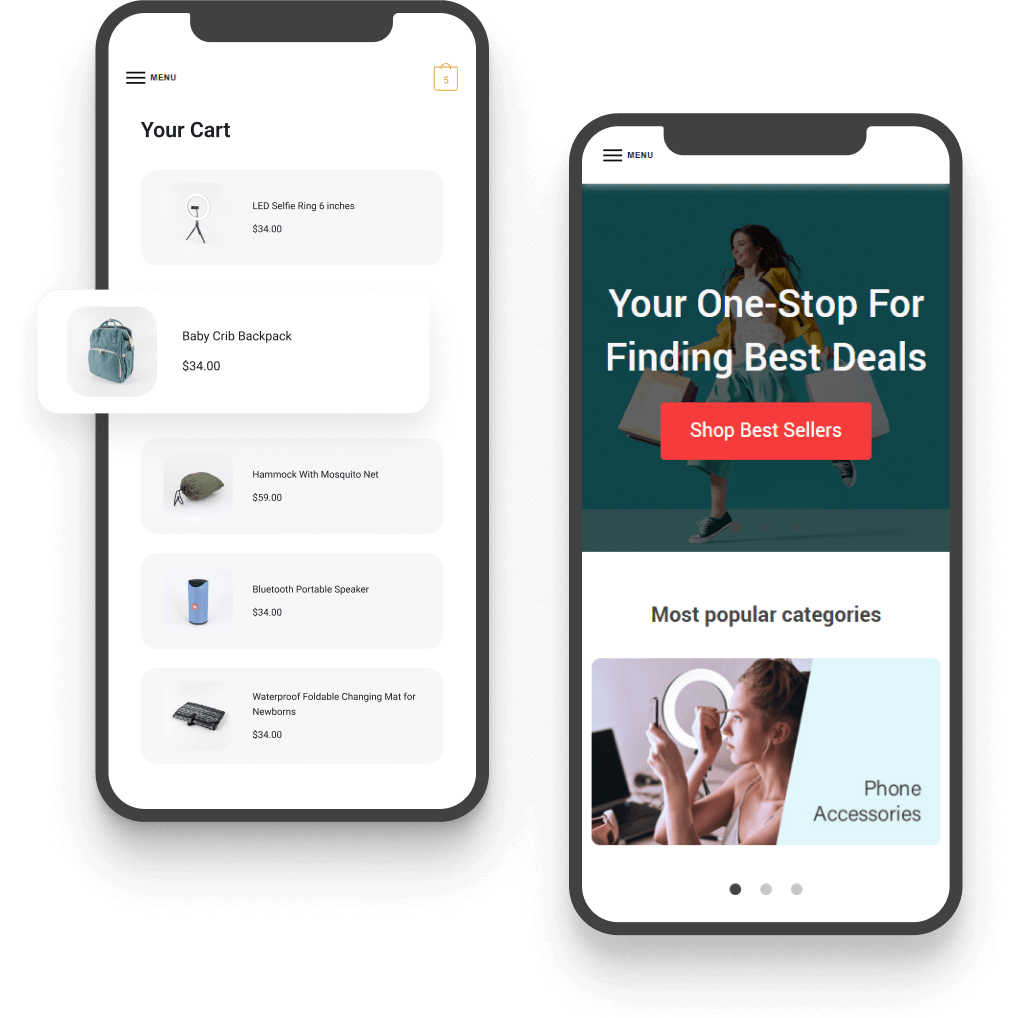 Super-fast business launch with no guesswork or time wasted
All stores come pre-packed with proven bestsellers in hot niches
Marketing Package includes only winning materials for each store
Attract a flood of buyers and skyrocket your sales with a proven marketing strategy
Ideal for replicating the success of a booming store with an immediate launch and no guesswork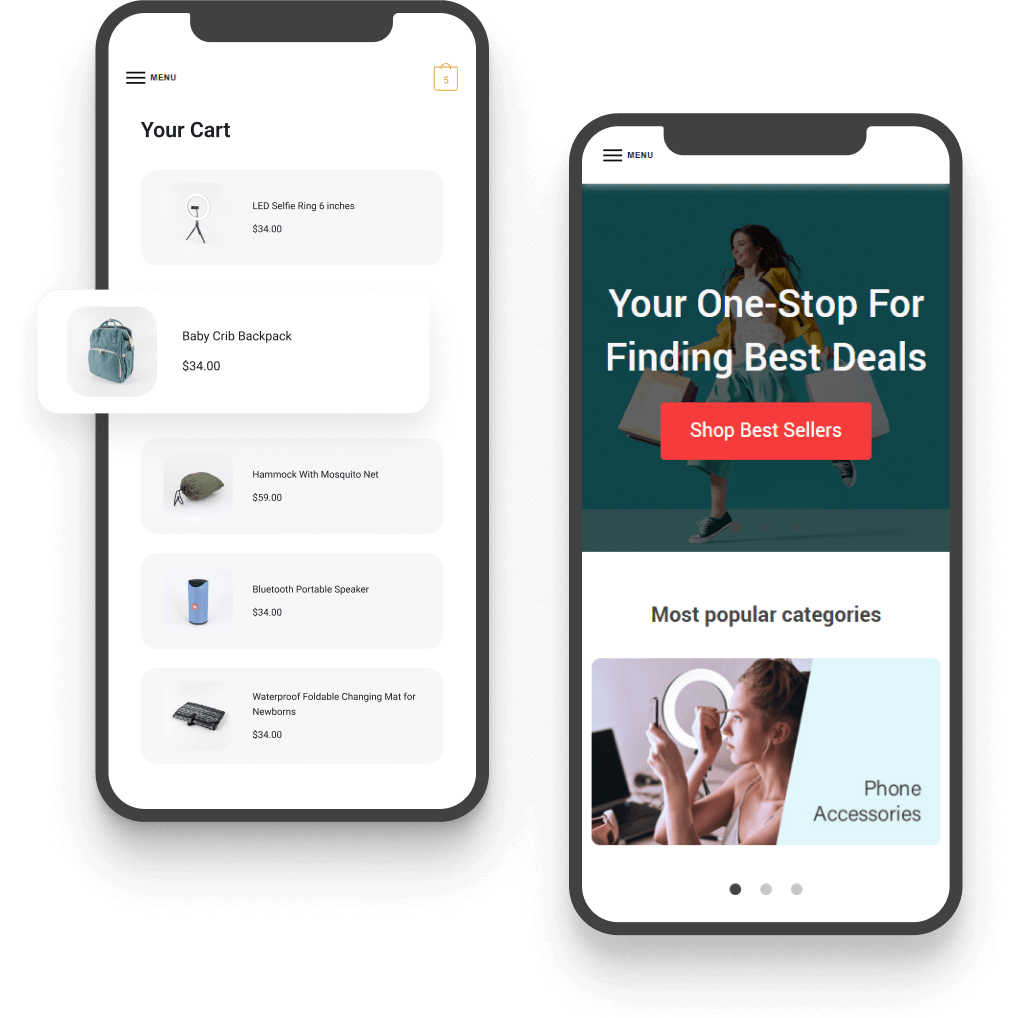 Become the owner of a successful business with a proven marketing strategy generating a stable income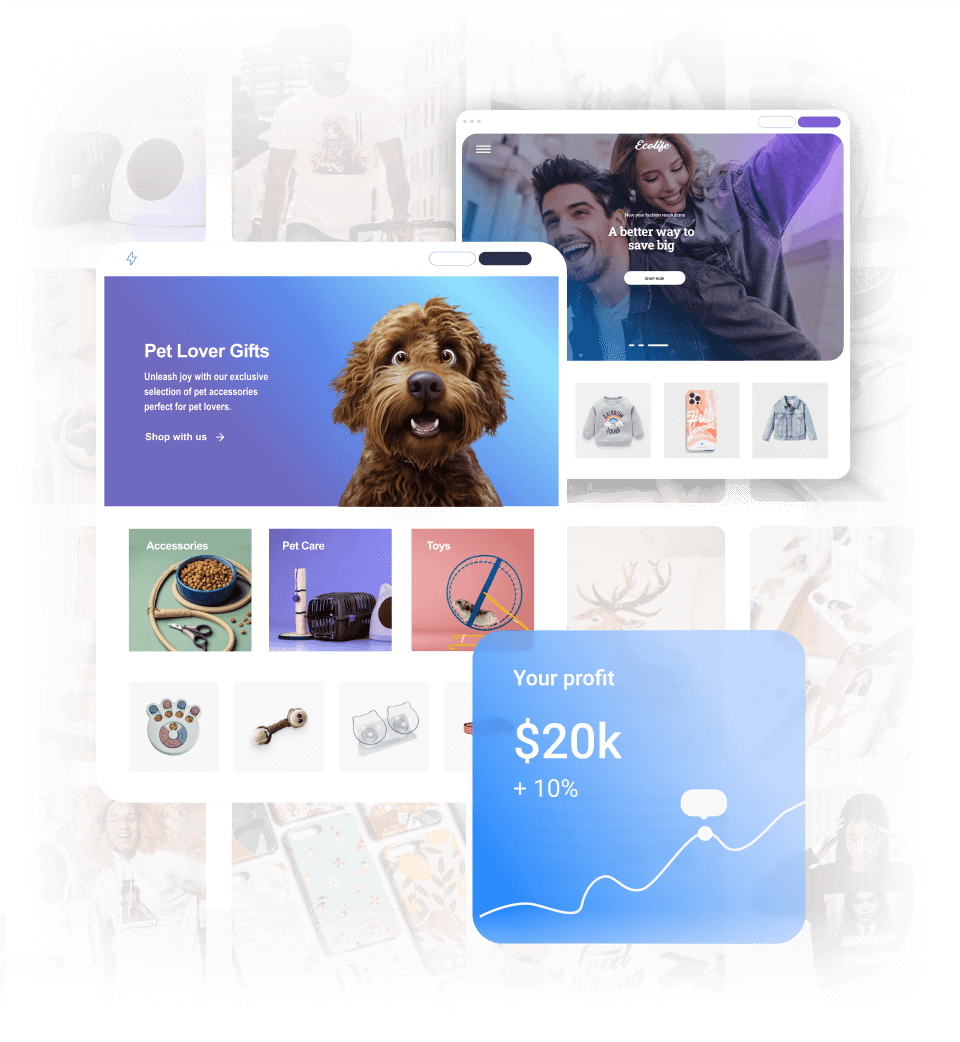 Choose from a selection of unique established businesses already generating monthly profits
Follow a proven marketing strategy tailored to the chosen store
Gain a business with scalability and growth potential with a loyal and established customer base
The businesses have gained a strong reputation and attract floods of quality traffic
Perfect for those who want to eliminate any risk and get a business already bringing stable profit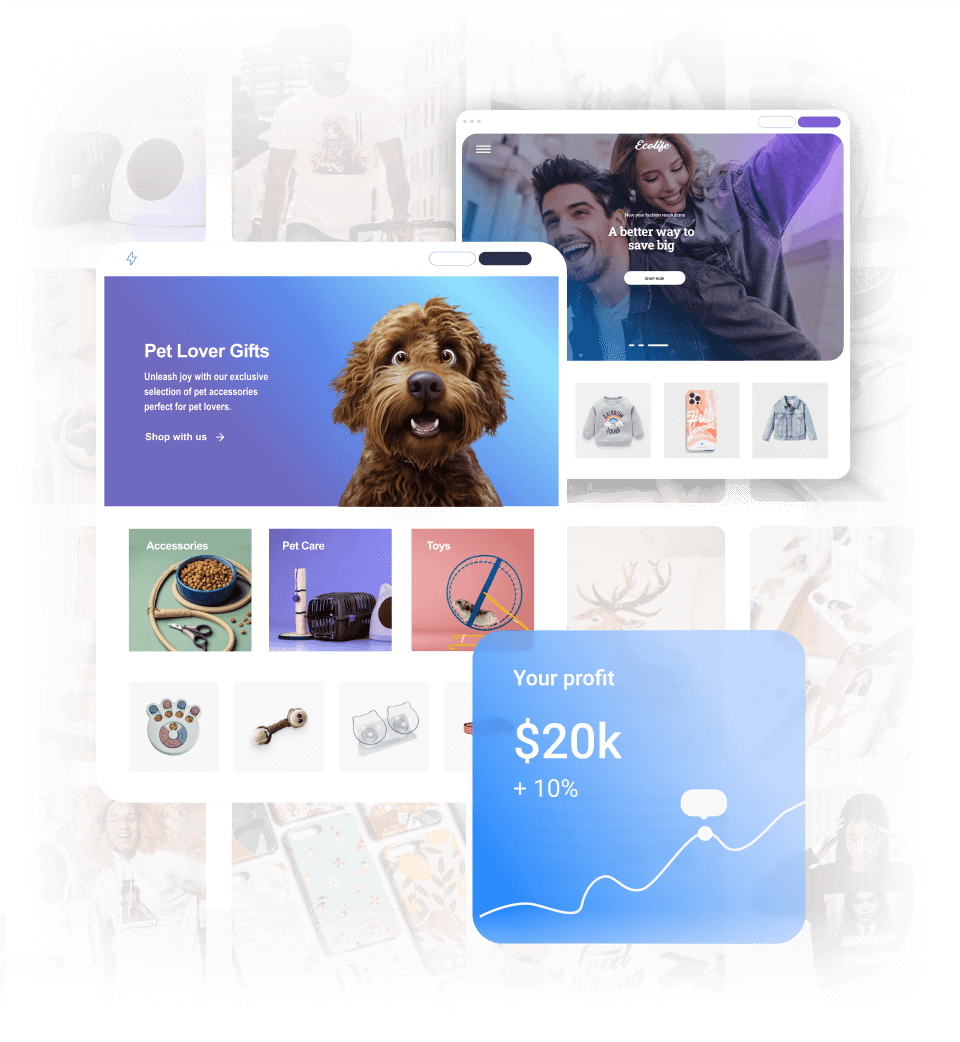 Need more details?
Look through this comparison table to make your choice!
Our turnkey solutions

Custom store

you save 10%

Recommended for beginners

Premium store

you save 15%

Established business

Days required for launch
5-25 business days
1 business day
1-2 business days
Uniqueness of website design
Professional design included
Free lifelong support & software updates
Personal manager
Option to choose a product niche
Number of products ready to sell
50-200
50+
50+
Fast US shipping
Available with Sellvia™
Available with Sellvia™
Selling geography
US or Worldwide
US or Worldwide
US
Ready-to-use marketing campaigns
Optional(with additional package)
Professional marketing services available
Loyal customer base
Already bringing sales
Social Media pages
AI-driven promotion
Optional(with additional package)
Start now Use code CUSTOM10 to get 10% OFF
Start now Use code PREMIUM15 to get 15% OFF
Get a quote
Your personal manager is here to guide you!
By purchasing any service, you get a dedicated personal assistant to help you with everything:
24/7 technical support
Marketing guidance
Answering all of your questions
Help with payment gateways
Personal business recommendations
Book a FREE consultation now to get advice on starting your own dropshipping business
Here's what our clients say:
"I really recommend you to try AliDropship. Honestly, it's the best choice I would have ever made and I'm really happy about the result."
"I liked the procedure and the way they helped me to open the store. I got all the information on how to use it and how to make sales."
"In 28 days, two of my already running stores made over $12,000. And we started to see sales go up with Facebook and Instagram like crazy: about 247% growth over time!"
"They basically went above and beyond. The entire store was brought to me completely finished. It is the biggest bang for your buck out there."
"I've always wanted to do it, to actually test it out and see if it's a viable strategy, but I had no prior experience… My store is doing about $4,500 in sales per week, with monthly sales of almost $18,000 right now."
"I just bought the business and the sales just started from the first week. In the first week of May we already are doing $2,200 in the first week and we do plan on hitting $10k this month"
"It exceeded my expectations! The layout, the products, the service, all of it was top-notch. Can't wait to start another stream of income and get the ball rolling."
"Dedicating only 2 hours a day to my store, I make $9,000 in revenue per month! And it's only one store, so I'm looking forward to having some more stores and expanding my business."
"I found it very professional. They guided me in choosing the domain name, the niche, the products, and they incorporated all my suggestions in the process."
"The gross revenue since taking over the business is $10,274, and I made 239 sales. This business is giving me so much more than just income. It feels like I bought a lifestyle – I got my life back."
"They have plenty of products. It makes me a lot easier to do business. I have more time to enjoy with my family"
"We were in constant communication. Everything was done according to my preferences. It's very efficient. Definitely highly recommend it."
"I run 2 stores. The first one was launched about a year ago and made €43K during this period. AliDropship Woo plugin was the best solution. It was ergonomic, it was easy to use."
"And like this, we've started our journey… It's the easiest way to jump into the ecommerce world. Step out of your comfort zone and take action. Now is the best time ever."
Vendi and Dimitris,
Czech Republic and Greece
"You don't need to stress over your inventory management or how to run your backstore. So, it gives you a tremendous opportunity to focus on your marketing activities that will give you profits."
"So far, I have had 99 orders with a lifetime revenue of just over $4,000. I'm business-minded, so I wanted to launch my own thing. It makes you feel free and empowered."
"Everybody on the team is very responsive, seems like they want to help and they are very adamant about helping me. They put a lot of effort into trying to keep a good customer service base which is very useful."
"For starters, I chose AliDropship because it is . I'm looking for something extra and in the long term, something as the main source for living."
"And almost 7 to 8 months I have like $4,000 in total sales, and it's more than 100% profit. I knew it was the best prompt decision I made for starting an ecommerce business from scratch."
"I loved how you can have a custom website built: you can actually go in there and you can choose your niche, products you want, add-ons – from social media to marketing to digital advertising."
"I turned to AliDropship for everything – from custom website boiled all way down to advise on niche selection and logo design. The entire experience was incredibly easy"
"So far, we've garnered a gross revenue of $3,691, with monthly earnings exceeding $1,500. It's thrilling to see the minimal capital I've invested generating revenue."
"I checked a few options. AliDropship seemed to be the best, had the better options, better price points, offered everything I needed, really, from the store."
"My favourite thing about AliDropship custom store is that once the store is ready, they will give you a complete guide on how to effectively and efficiently run your custom store."
"In 3 months, I made about $2,500. I think this business is a perfect thing – especially for moms! – if you want to start something new. It does not require too much time to get some results."
"I wanted to say thank you to AliDropship and Tatiana and Chris for giving me that impulse to discover the world of dropshipping which is really easy and if I managed to do it – everybody can do the same."
"AliDropship has been a very good site for us, newbies. Thank you for your welcome support!"
Joy Joy Cart Team,
Singapore
"The profit that I made in one month of $2100, it was nice to see. It's an awesome next step for the future of ecommerce. Full-scale marketing support will make it a one-stop solution for all ecommerce players."
"The business has been scaling so far… It's been awesome! Thank you everyone on AliDropship, you all really did me a great favour, and I have a new stock coming up also from AliDropship!"
"I came to AliDropship kinda searching what it had – awesome websites, awesome setup, everything. Wonderful prices – I love it! I'll be back for many more!"
"The average gross sales per month are $892 with no ads running. I changed mentally if you know what I mean and became more disciplined and purposeful."
"You not only get a professionally designed website but you also get the store loaded with the hot products. They've already done the hard work for you. All you have to do is market the products!"
"Here I am, having my first sales right from the start, within the first week or two. A lot of people are scared to do something like this, so I want to set this example – to prove this really is doable."
"I want to thank the whole team of AliDropship for the great job that they've done for me so far, answering all my questions and putting me on track."
"At first, I had no idea about this kind of field. But I liked to make a change for my life, so I checked out AliDropship's web page and had a little consultation with one of the agents there."
"I thought it was such an innovative idea because it was just so easy."
"It is a good experience to have an AliDropship store! My project manager is Miss Tatiana. She is very much helpful and supportive. I want to grow along with AliDropship."
"Top-notch help, they give you all the help in the world, answer your questions, get back to you. So far so good for me. AliDropship has done a great job with the help that I needed."
We helped 200,000+ people like you achieve financial independence
World's best rated ecommerce solution:
4.74
Based on
189
Sitejabber reviews
Our customers rate us as
excellent
Based on
1050
Trustpilot reviews
4.5
Start your own money-making ecommerce business today
Choose from the THREE options: start today by replicating the success of a Premium store, order a unique Custom store tailored to your preferences, or become the owner of a profitable business right away.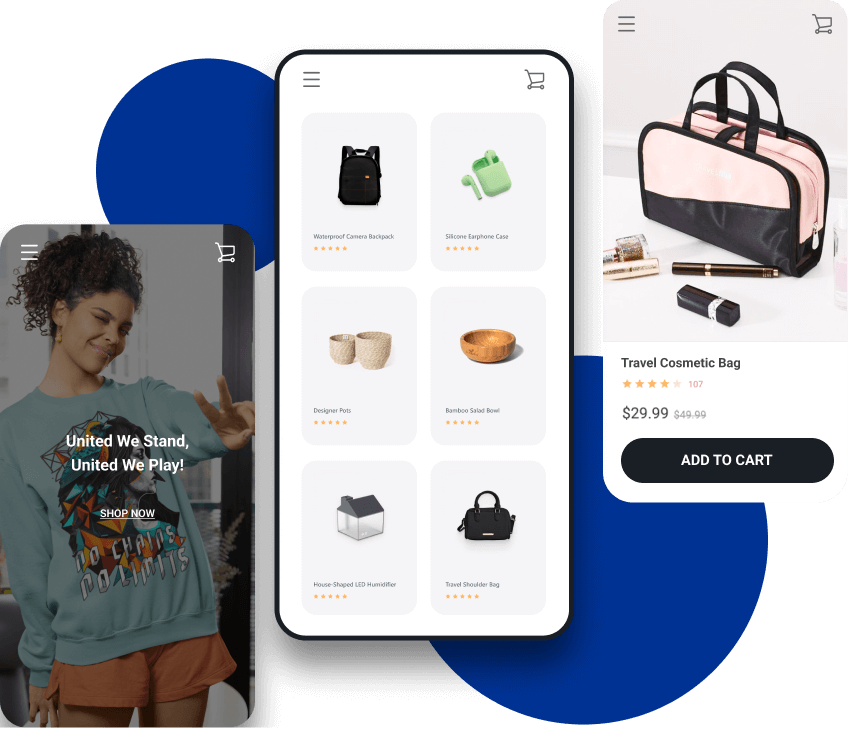 Any questions?
We'll be happy to answer in detail!
Featured on