25 Best Instagram Post Ideas For Your Business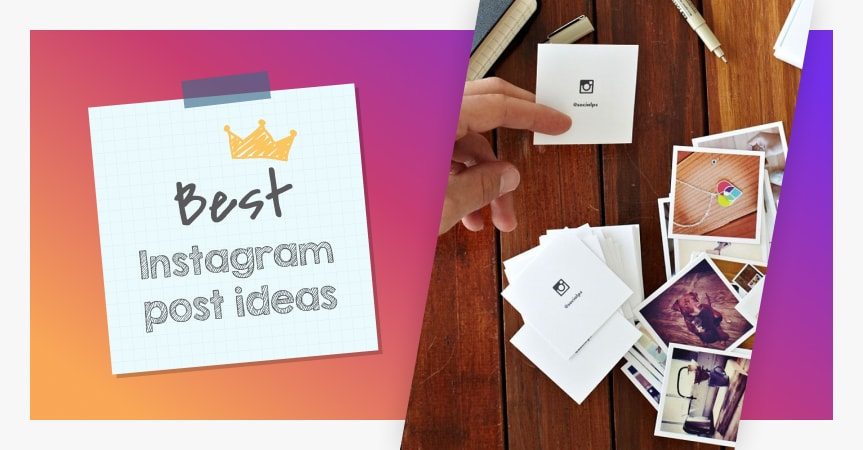 Have you run out of Instagram post ideas? Don't you know what to post on Instagram to diversify your business account? Are you looking for ways to promote your brand and engage your followers efficiently? If so, here's good news for you: this article is going to share the 25 best Instagram post ideas for your business with you!
Instagram post ideas: is it necessary to stand out from the crowd?
To date, building a brand on Instagram is a must-have for both big and small businesses. However, in order to interest a large number of followers, it's not enough to post usual stuff on your Instagram account. These are creative Instagram ideas you need to take advantage of.
Just imagine that there are almost 100 million photos and videos published on Instagram every day.
And you need to draw attention to your Instagram account in the face of such a large amount of media content uploaded.
So it gets clear that the types of content you post should be unique, interesting, and valuable if you want them to be noticed.
Well, what to post on Instagram? How to make an Instagram post attractive to win your target audience? How to boost your Instagram account in the right way? Where to find the best Instagram content ideas for your business for high engagement?
Let's find this out!
How to interest Instagram users: 25 best Instagram post ideas for your business
When managing your business social media accounts, at some point, you realize that you have run out of content ideas for new posts. Meanwhile, you are to go on posting extremely valuable content.
Since lots and lots of entrepreneurs face this challenge, AliDropship has prepared the 25 best Instagram post ideas for your business! Check them all, here they are!
Provide your followers with a piece and life hacks on using your products regularly
Remember that people follow your Instagram account to get some benefits from it. What's special about the products you sell or the niche you operate in? Share your advice and tips – you're an expert in this industry, after all!
Memes. Right, memes are one of the most efficient tools to increase customer engagement and boost sales. Yet, you need to be careful while using memes to promote your store. The point is that most memes have a limited lifetime (besides those that become a "real classic").
Even if you decide to use a really popular meme for Instagram, but much time has passed after it was trending, it's likely not to ensure the result you count on. So use only up-to-date ones: this is your road to success!
Do you want to increase customer loyalty? If so, you definitely should talk to them. So ask them questions about your products, their preferences, etc. What's more, it's an easy way to get feedback from them and receive pieces of user-generated content.
If you're looking for ways to make close contact with your followers, try to use "AMA". By means of your Instagram stories with AMA that stands for "ask me anything", you can let your account visitors ask you any questions they want.
One more way to engage your potential customers is by taking polls. Moreover, by taking a poll you have an opportunity to evaluate your clients' satisfaction with your products, etc.
Publish photos of your customers' feedback
Let's imagine that your potential customer is interested in a product you sell. What can play a crucial role when they make a decision? Right, this is your customers' feedback.
That's why it's extremely important for you to post photos with your previous customers' reviews. But here is a life hack: try to make feedback posts with the photos of your customers. It's due to the fact that it's important for your potential customers to look at those who leave feedback. Such reviews are a lot more efficient.
Share your blog content in your Instagram account
In case you're running a blog on your business website, this is a good reason to share your blog content in your Instagram account. In this case, you can easily count on a much wider audience visiting your site.
As a business owner, you should pay lots of attention to new trends on social media. So check new challenges, etc. In that case, you will be able to educate or entertain your target audience with ease!
Keep your customers informed
Notify your followers about discounts, updates, new product arrivals, etc. In that case, you will drive quality traffic to your website when you are ready to provide your potential customers with a new product or service.
Since you're running a business, there's a lot to share with your followers. So why not benefit from that? Try to win the followers' trust by telling them the way you act throughout your business journey. Make your business look transparent and Instagram users will appreciate this.
Tell your followers about your staff or show your own daily business routine
One more Instagram post idea is to let your potential customers look at your staff. Some people don't like to deal with those whom they cannot see. So if you manage to show your team, this will help you significantly increase customer loyalty.
Do you work alone? Never mind! Feel free to show your own daily business routine, post nice pictures of cats, dogs, etc. But don't forget that this is your business account!
Show your products in use
When purchasing, most people think about whether they need this. So try to show what's the use of your products as often as possible. Provide examples to convince them that this is a must-have for them!
Show how your products are manufactured or packaged
Lots and lots of people are extremely interested in how the products they want to buy are manufactured, packaged, delivered, etc. So, if possible, use this great Instagram post idea to show them that in detail.
If your business is not about providing services, it can be a good idea to show people how the products you sell look after they've been used. It's a chance for you to demonstrate that your products are of high quality.
Keep your followers informed of the latest news in your industry
When you're a business owner, it's a great idea to be an authority for your target audience. So keep your followers informed of the most important events that can influence them.
When you're about to release a new product or service, this is one of the best Instagram post ideas to tell your followers about it in advance. This, above all, can help you assess the interest of your target audience in your novelty.
Entertain your followers from time to time
Each and every SMM manager knows that sometimes you need to entertain your followers. So this is the best time to post some funny photos! Just look at the post cover AliDropship has created to draw followers' attention and make them have a bit of fun.
One more great Instagram post idea is to educate your followers. So post some historical facts and tell them about the most interesting events, etc.
Post inspirational quotes
In between educational posts, don't forget to cheer your followers up. It's necessary to boost engagement and encourage your audience to share your content with their friends.
"Success is not final, failure is not fatal". Each business journey implies its ups and downs. But the point is not to give it up, but to go on making every effort to achieve this success.
Compare the products you sell
It's also a good idea to compare the products you sell. In some cases, people can be confused with the products you offer them. So try to make it clear for them what all of your products are aimed at, and it will be a lot easier for them to choose what they need.
If you are looking for ways to collect lots of new followers, one of the most creative Instagram post ideas for you is running a contest. Don't you know how to deal with contests? Here is an in-depth article that provides you with 10 marvelous giveaway ideas to make your business a success.
Share your business statistics
It's also very important for all the business owners to share their achievements. So tell your followers how many people bought something from you, how many of them made a repeat purchase, etc. This is also all about increasing customer loyalty!
We've already mentioned that each business owner has to face highs and lows throughout their business journey. But one can treat these lows like mistakes, while others will try to make it work for them. So in case of failure, you need to learn from your mistakes. This is the feature of the winner.
What's about an Instagram post idea? Well, share your failures with your followers. Firstly, people value honesty. And such an approach will definitely increase your credibility. Secondly, some of your followers are likely to face the same issues. So your experience can be of much bigger value. And that means a lot.
Have you ever heard about flash sales? This is a sale with a discount that is valid for a short period of time. As a rule, it's about 24 hours. And this is the reason people call it 'deal of the day'.
In practice, a flash sale is a perfect tool for you as a business owner to draw the attention of buyers to your brand, drive traffic to your website, increase customer loyalty, and boost sales considerably. So create a flash sale in Instagram Stories. They suit this purpose best!
Finally, automate your business!
In fact, you have an opportunity to try an IT solution from AliDropship that is aimed at fully automating your SMM and letting you benefit from it on a permanent basis. So meet Social Rabbit!
Social Rabbit: an IT solution that will automate your SMM
Sometimes, due to a number of reasons, entrepreneurs are not able to deal with social media marketing while this is crucial for their businesses. For example, it happens when they don't have enough background knowledge of digital marketing. And there is nothing wrong with this. Fortunately, such a business model as dropshipping lets you run your online store without any ecommerce experiences.
In some cases, business owners just don't have time for this.
So if want to run your business wisely and make the most of your social media accounts (on Instagram, Facebook, Pinterest, and Twitter) for your business, but you need to save your time and effort in order to focus on other dropshipping business aspects, you should definitely get the Social Rabbit Plugin from AliDropship!
Social Rabbit from AliDropship is a plugin for WordPress that is designed to fully automate SMM and drive traffic to your website for the maximum benefit of your business.
So have you ever thought about how much time you need to spend on SMM for your business? In practice, to promote a business wisely, an ordinary entrepreneur or SMM specialist spends about 40 hours a week.
And now consider the fact that you can automate your social media marketing by means of the Social Rabbit Plugin that is going to promote your business on Instagram, Facebook, Twitter, and Pinterest like an experienced SMM manager.
Meanwhile, you will be able to devote the time you save on SMM to those aspects of your business that definitely require your direct involvement. Sounds like a perfect strategy, doesn't it?
What's so special about Social Rabbit?
Well, how exactly can you benefit from getting the Social Rabbit Plugin from AliDropship? It's aimed at performing the following tasks:
Increase your sales and profits
Improve your website indexing
Promoting your business round the clock
Generating quality traffic
Replace a whole SMM team, etc.
Moreover, since recently, Social Rabbit from AliDropship is also available for Shopify!
So, do you want to make the most of your social media accounts? Are you eager to save your time and efforts while your business is promoted automatically? If so, go and get the Social Rabbit Plugin!
Wrapping up: best Instagram post ideas
Well, nowadays it's not as easy to draw Instagram users' attention since there is a huge amount of photos and even live videos published on Instagram every day.
You should remember that when making a post on Instagram, you have a great opportunity to win the followers' trust. So in order to succeed in this, you have to post valuable and diverse content.
However, it can be challenging for you to make such posts on a regular basis.
That's why we hope that you will benefit from the best Instagram post ideas AliDropship is happy to share with you. Meanwhile, here is a perfect decision for you to automate your SMM, boost sales and profit, improve the indexing of your website, etc. – it's the Social Rabbit Plugin that is at your service!