AliDropship Blog
Get marketing tips, tricks and dropshipping inspiration right into your inbox!
Sign up today not to miss out a single post:
5 Smart Instagram Bio Ideas To Turn Your Followers Into Customers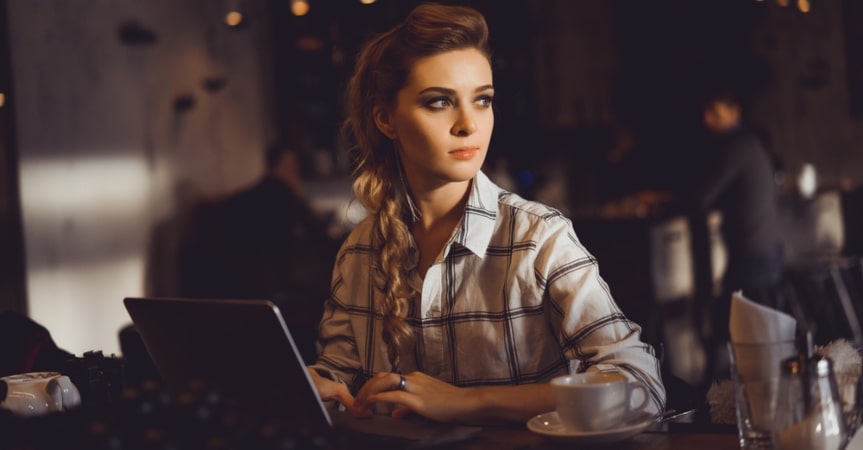 It's small things that make you successful. One of those things is your Instagram bio. This article is going to give you some ideas for creating the right one.
Instagram is a great marketing channel that can bring your dropshipping business to a whole new level.
However, some entrepreneurs could pay all their attention to the posts and pictures while neglecting such an important thing as their Instagram bio.
Of course, the quality of your content is instrumental to the success of your Instagram promotion. But if you underestimate the importance of your bio, it may blow up in your face.
Why is it so crucial? And what should you do to optimize it properly?
Let's figure this out!
Table Of Contents
Why your Instagram bio matters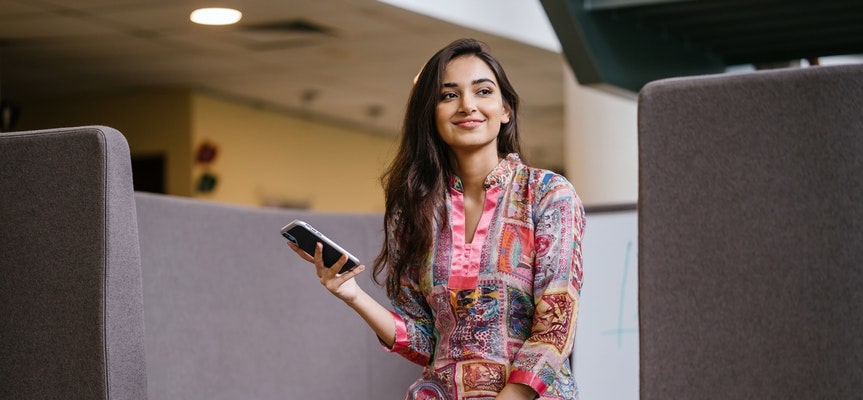 Have you ever been to Las Vegas?
If so, you must have visited one of the local casinos and noticed some interesting fact.
When you come in, it becomes difficult to leave a casino. Even if you're a discreet guy and have no gambling addiction, some magic makes time pass slower and keeps you staying inside.
It's not a secret that casinos use the whole bag of tricks to make you gamble as long as possible. There are no windows and clocks to make you lose track of time. And even casino layouts are designed in a way to make you feel comfortable spending your money.
But… there is something more.
First impressions are the most lasting ones. It's an unwritten law that works in every business.
The owners of the casino named Mirage knew it. That's why when a man whose name was Mark Peltier came to them to offer a deal in 1991, they took him up on it.
Mark was the head of AromaSys, a company developing scents. He offered Mirage owners something that blew their socks off – some metal boxes.
Those boxes were meant to be set in the ventilation system so that the pleasant scent they contained spread throughout the casino.
So, once Mirage clients set their foot in the casino and breathed in the air, the scent put them in a good mood, caused good memories and took away their worries. Ideal state to spend money, isn't it?
And no, there wasn't any drug mixed in. Everything was absolutely legal. Smells act on our brains this way – shape our impressions. Peltier was just the first one who found it out.
From then on, the other casinos followed the example of Mirage and set the boxes at their resorts. Now, it's hard to find one which hasn't employed this practice.
In the digital world, giving a taste of your business to customers is even more vital than in the gambling industry. Moreover, you should grab their attention within the first several seconds. Otherwise, you may wave them off.
There could be some awesome content on your Instagram page, but… First, you need to rope people into.
Naturally, you can't use the power of scents when it comes to Instagram or other digital marketing tools. So, what can you do instead?
The solution is your Instagram bio. The thing responsible for creating the first impression of your business. It could either draw your visitors in or leave them cold.
That's why it becomes really important to create a catchy and engaging bio. It might seem to be difficult, when you discover that there are only 150 characters to pull it off.
Too little, isn't it?
Actually, it's quite enough to achieve your goals. So, let's take a closer look and find out how your Instagram bio should look like.
5 tips you should employ to create a perfect Instagram bio
1. Add your niche keywords and link to your Instagram bio
The very first fields you need to fill out while creating your Instagram bio are "Name", "Username" and "Website".

It's important to mention that the "Website" field is the only place where you can put a clickable link leading to your website or a specific web page. You can't attach it to your posts' captions or comments. So, make a point of putting your link in this field.
The next step is filling in your "Name" and "Username" sections. Of course, when you've come up with your business name, it doesn't seem to be a big problem. You just need to choose the same or similar username on Instagram and write it in.
Yet, while thinking up your brand name, it could be hard to make it both catchy and SEO-friendly. The good news is that you can easily sort it out on Instagram.
If your store name doesn't contain your niche keywords, you can make up for this in the "Name" section like in the picture below.

Snipes just added "sneakers" and "streetwear" words in the "Name" field. And this lets the company come up in the Instagram search results when someone types these words in.
2. Let people know who you are
The next step you should take is to optimize your "Bio" section.
There, you need to catch the attention of your visitors. People want to know what you can do for them. So, you need to give them a sense of your business and make them interested.
For this, you need to have a clear picture of your audience, to be tuned in to their interests and needs. This way, you can zero in on the people that may turn into your clients.
Tell them about your venture: what products you provide customers with, what goals you pursue. Don't forget to keep it short!
Let's take the example of Funco that lets customers understand what to expect in two short sentences.

Or you could be more creative and follow the example of Coca-Cola. In one statement they explain to customers that they produce a beverage, why they do this and inspire people to buy it.
3. Increase your authority
Another important thing you need to convey in your Instagram bio is why people should buy from your dropshipping store.
Simply speaking, you need to make your visitors confident that choosing your business is going to benefit them.
For this, you should add some short message showing off your strong points and increasing your authority.
A case in point is Petco's Instagram bio. In their message, they point out that their products are absolutely natural. So, customers don't need to worry about their favorite pets' health when buying from Petco.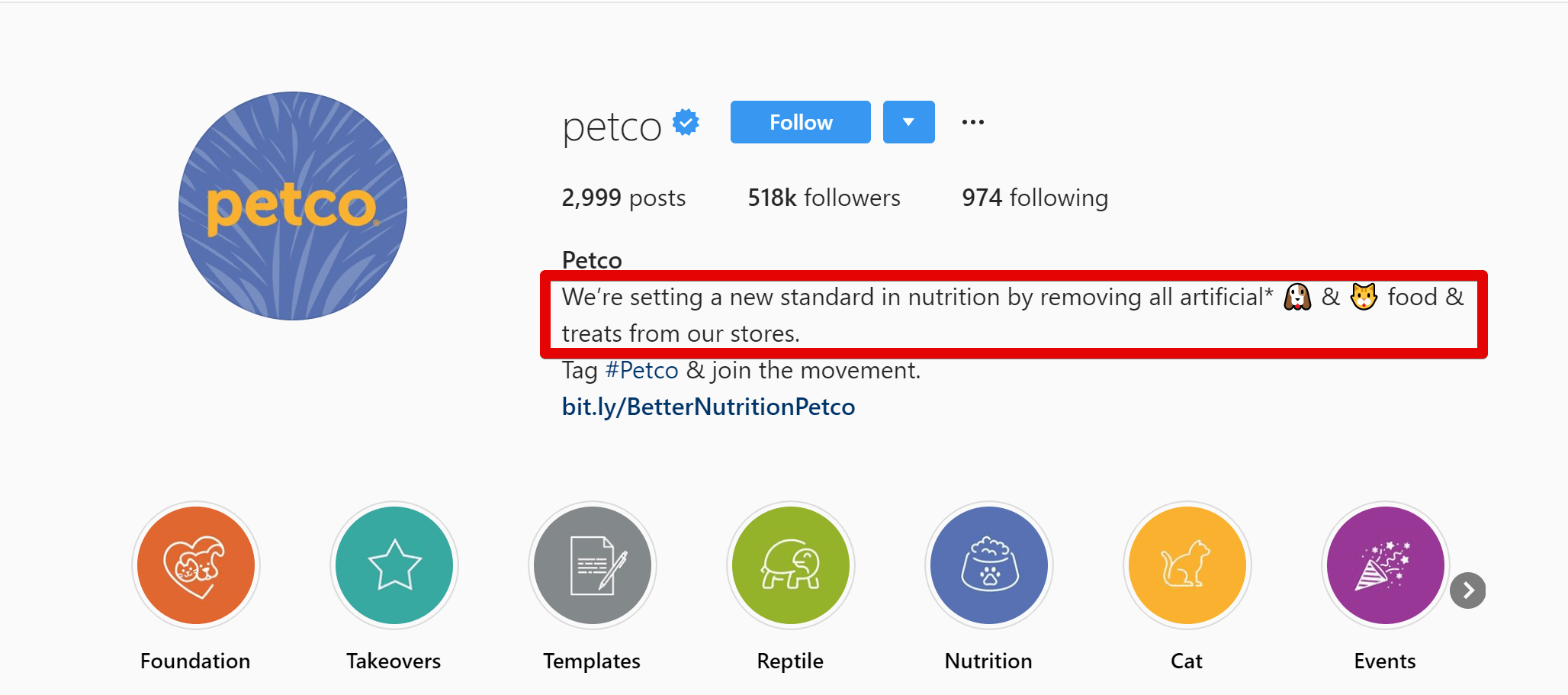 Another great examples of pushing customers towards making their choice in your favor are Lays and Krispy Kreme. These companies emphasize the time they have been operating in the industry. Numbers and stats increase your authority.
4. Use hashtags and emoji in Instagram bio
The message in your Instagram bio could be really persuasive, but it still could be overlooked by your visitors.
So, you need to catch their eye and make them read your bio.
How?
The solution is pretty simple. You should use emoji! This way, you can be sure that people won't miss your message.
Look at the picture below. Gatorade's bio draws your attention, doesn't it? And as you could guess, the reason is the emoji.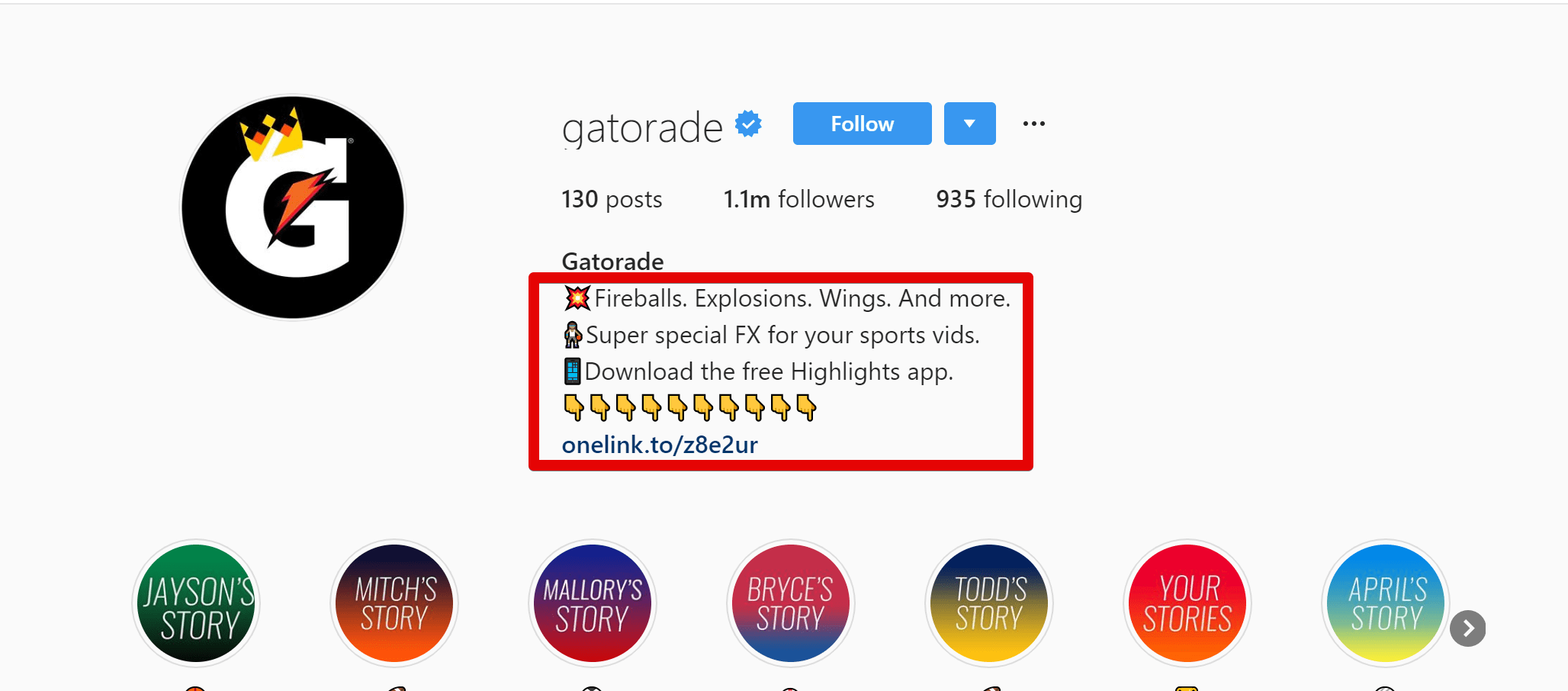 When you've caught the attention of your visitors and let them read the message, the next thing you need is getting their engagement. One of the most efficient ways to implement this is creating your branded hashtag.
For instance, if you go to Red Robin's Instagram account, you can see their branded hashtag attached to their bio. This allows Red Robin to get user-generated content. And what could be a better advertisement?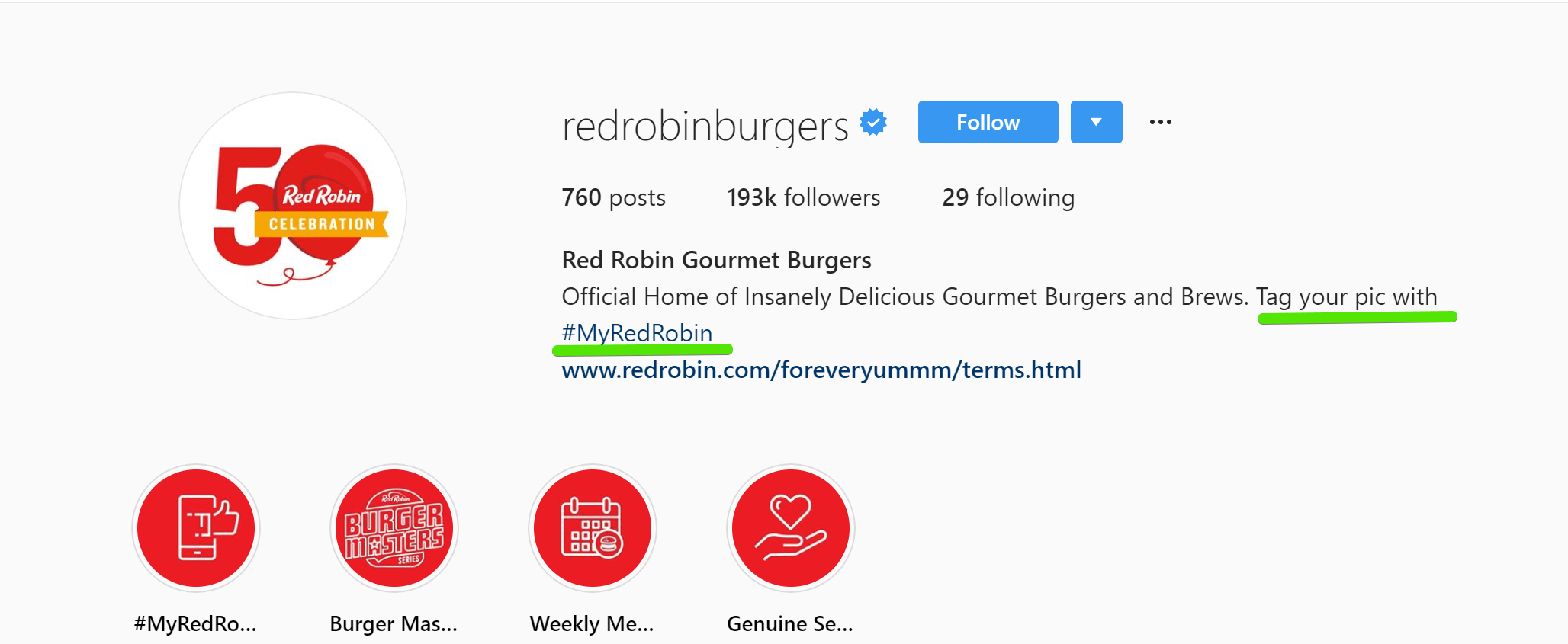 5. Include a call to action in your Instagram bio
Sometimes making decisions might be hard. People need a little push to make up their mind.
Similarly, including a call to action in your Instagram bio can dispel your visitors' doubts and let them click on the link to make the purchase.
It could be a call to share a bottle of soda like in the example with Coca-Cola we described above. Or you can encourage your visitors to take photos as Red Robin does it. Or you can follow the example of Pillsbury as it's shown in the image below.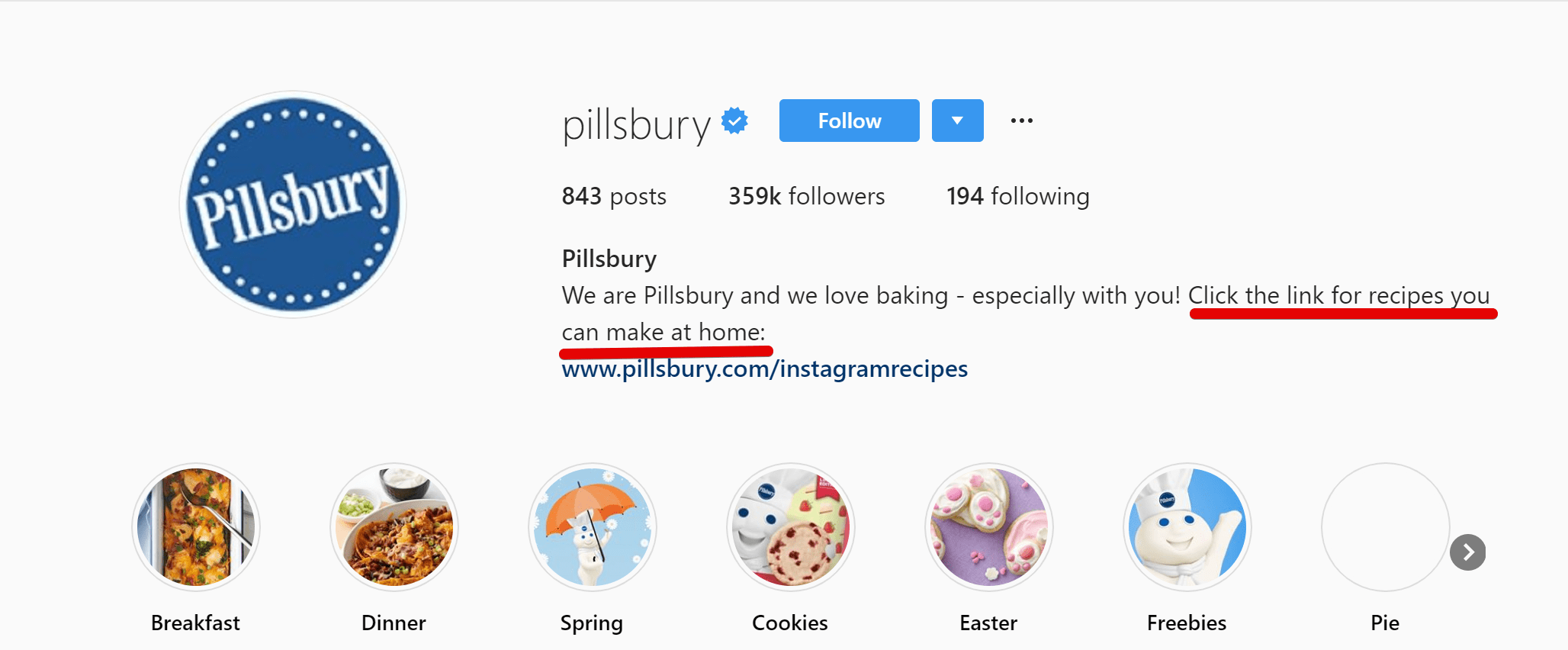 The choice is up to you. Yet, you need to keep in mind that you shouldn't shove it down your clients' throat. Nobody likes this.
We hope the examples we give in this article will help you come up with some great ideas for your Instagram bio and make your online business grow. If you have some questions, you can leave them in the comment section below. We're always glad to answer!
Join 325,000+ entrepreneurs who are already mastering new skills with our FREE Guide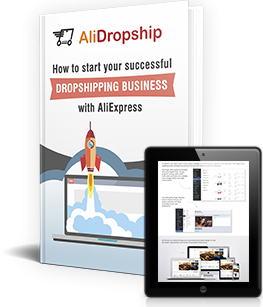 How to Start Your Successful Dropshipping Business with AliExpress
Get step-by-step instructions for newbies, expert advice how to build and promote your store, and best tools for AliExpress Dropshipping