Getting Started With Influencer Marketing on Instagram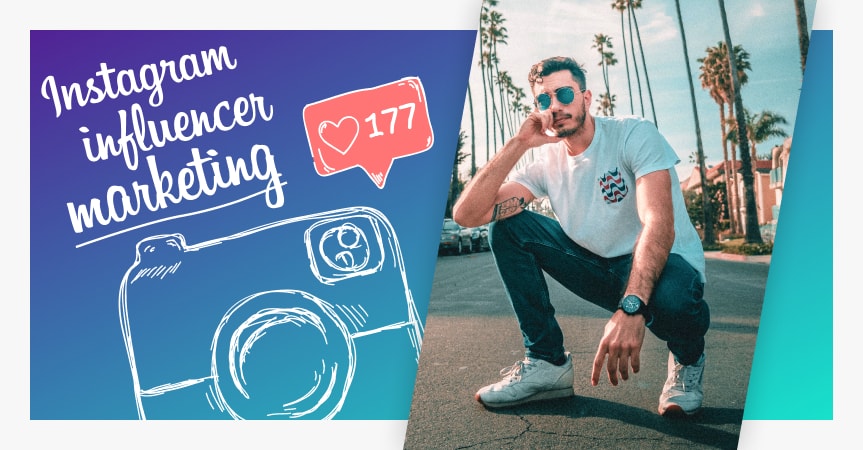 Influencers. The show-stoppers who have their cameras out 24/7, recording (and capturing) every moment. The trend setters. The vloggers who share their daily lives and lavish adventures. While many scoff at this generation of digital personalities, influencers are here to stay – and their marketing power was valued at an estimated $15 billion for 2020. In this article, we'll take a look at what an influencer is, why he/she is so… well, influential, and how you can utilize this generation of talent for your brand.
What is an influencer?
An influencer is an online personality usually with a mid- to large-sized following on social media. Influencers usually specialize in content and lifestyle for a certain niche. Some of the most popular ones include travel, food, photography, and fashion and style. Seeing them as "experts" in their niche, companies commonly recruit influencers via sponsorships to promote products, services, and a lifestyle.
What do influencers on Instagram do
Influencers promote your products or services through their social media channels – Instagram being one of the most popular. Though captions, videos, images, Instagram Stories, or even Instagram Live, there are many touchpoints for influencers to push your brand.
But beyond recommending what you sell, influencers establish a sense of trust and credibility in your company to their niche following. The reason is, their following trusts and relates to them and their lifestyle. This is key to what makes influencers so important – they cut through the corporate sales voice. So if you are partnered with an influencer who specializes in your niche, that means you can gain customers who are well-targeted for your business. That's the power of an influencer – earning you very qualified leads for potential sales.
Inspiring influencer statistics
So, how can a properly chosen influencer impact your business' growth? Just a quick look at the market data is enough to see how impressive can the results of your collaboration be.
So… if your target audience consists of 25-40-year-olds, it's totally a must to invest in a quality online presence. And who can support your online reputation better than an influential person?
Apparently, not any influential person will do well if you want to strengthen your online reputation. That's why it's so crucial for businesses to team up with unique content creators.
Obviously, not only Twitter influencers drive sales: whether you're partnering with a YouTube blogger or a rising TikTok star, you can count on a noticeable sales' boost – in case you did everything right.
Great news: you don't have to spend a fortune to make a truly successful collaboration with an influencer. On the contrary, you should be focusing on micro-influencers – and watching them do magic to your own following and sales.
In other words, almost everyone will be doing influencer marketing in a couple of years. Will you be among these lucky market players, too?
How to use influencer marketing on Instagram
The search for the right influencer may be tough. There are many out there online now, and the bigger the name and following, the more you have to pay (this is where you can consider micro-influencers). But it really comes down to finding one with a good following and deep understanding and fit for your niche. For example, if your business sells hiking gear, it'd make total sense to reach out to a travel vlogger or someone who films outdoor adventures and hikes or films tours of the great outdoors. It just takes some research to find a good match.
Sponsored posts
The most basic form of promotion, feed posts that are sponsored by your product are easiest to utilize. An influencer shows your item in an image post or a video post. Posts include a link to purchase the product or learn more about the sponsoring company.
Sponsored Stories
In a more interactive method of sponsorship, influencers can utilize Instagram Stories to post curated imagery with text, integrated links, or film video of themselves promoting your product(s). Stories remain highlighted on the influencer's Instagram profile icon via the rainbow-hued ring and are also viewable on your own profile's main feed page. Instagram Stories disappear after 24 hours, but if the influencer saves the Story as a highlight on his/her profile, you can rewatch it anytime.
In some instances, influencers do what is known as a "takeover," where a brand allows the influencer access to its account so make Stories. Featuring an influencer on an actual brand page (as opposed to the influencer just posting about a brand on his/her own profile) adds an element of surprise and anticipation for followers.
Sponsored Lives
And after posts and Stories come the something super cool – sponsored Lives. As the name suggests, the videos are recorded live. What's cool is that followers receive a pop-up notification on their smartphones once you go live. When an influencer goes live (whether on his/her own account or your brand's), followers can watch and interact with the person in real-time. This makes for a great chance for answering questions about your product directly, in addition to allowing followers to truly be "in the moment" with your brand. Many companies let influencers go live on their accounts during big events such as industry conferences, fashion shows, and expos.
Top influencers on Instagram
With such fun, personal ways to get your brand name out there, influencers are a powerful component of an effective digital strategy. Let's take a look at 10 top influencers compiled by Influencer Marketing Hub (and be sure to click the link to see more):
Cristiano Ronaldo – @cristiano
Leo Messi – @leomessi
Kendall Jenner – @kendalljenner
kyliejenner – @kyliejenner
Zendaya – @zendaya
Beyoncé – @beyonce
Kim Kardashian – @kimkardashian
Ariana Grande – @arianagrande
Taylor Swift – @taylorswift
Selena Gomez – @selenagomez
The list represents a diverse cast of vloggers, comedians, beauty gurus, and fitness experts – showing that there really is a niche for everyone on Instagram.
How to find influencers on Instagram
So by now you should have a good idea of why influencers are important, how they can benefit your business, and what some of the biggest names in the game are. Let's take a look at 5 tools you can put to work to help you find powerful names to work with.
1. United Talent Agency
Known as the UTA, this Los Angeles-based talent firm is home to many top influencer names such as Action Movie Kid, Emma Chamberlain, and more.
2. Upfluence
Using AI for smarter thinking with Upfluence, which features a database of over 3 million influencers, convenient keyword search (this is vital for finding niche-based personalities) ROI measurement for your partnerships, and more.
3. Post For Rent
Post For Rent can help you find the perfect talent for your campaign with 96K+ influencers to choose from, campaign management software, and a team of qualified experts to help throughout the process (they can even do all the work for you).
4. Social Blade
With 9.7 millions Instagram profiles in its database, social media analytics powerhouse Social Blade is a force to be reckoned with. However, Social Blade is more for monitoring stats of profiles you already know of. Therefore, it doesn't actually search for influencers. But with the website, you can instantly search look up an influencer's stats! Use it to view the history of subscribers, estimated income, agent, and more. Certainly, that's an invaluable source for info not shown on an influencer's Instagram page.
5. Awario
Awario allows you to search by keywords for your niche to find what influencers tag and mention your key phrases. From there, with a range of filters at your disposal, you can uncover what influencers will likely work best for your niche and product(s).
SUMMARY: Influencers on Instagram can promote your business greatly through a variety of posts and video content. With the right research and tools, you can connect better to your audience through a niche-targeted digital personality.