Best Banner Ads: 50 Inspirational Examples From Most Famous Brands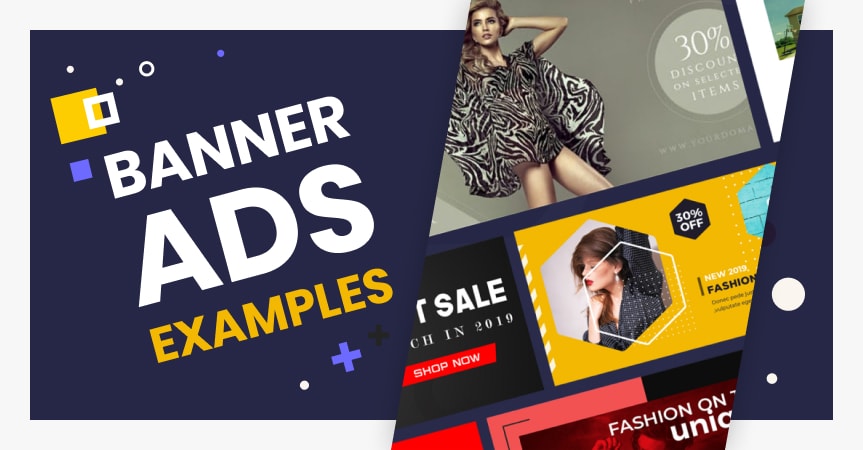 What do the best banner ads have in common? And what does it take to create a catchy, memorable, high converting banner? Let's take a look!
Banner ads: a brief introduction
Wouldn't it be awesome to have your store advertisements placed all over the web?
Just think about it: thousands of people will have the opportunity to see your amazing offers, get interested in your products, and eventually visit your website – even if they have never heard of it before.
Sounds tempting, right?
That's what banner ads are for!
Banner ads are clickable images you can place on different websites all across the Internet. Whenever users click on such a banner, they get redirected to your store page that you've linked to this image.
All over the world, business owners increase their banner ad spending due to the efficiency of these promotional tactics.
It's not surprising, banner ads can help you achieve numerous growth goals, for example:
Create and raise brand awareness
Drive more traffic to your store
Demonstrate (and hopefully even sell) your products to a wider audience
Announce new product arrivals, discounts, and special shopping events
Retarget the users who have already interacted with your store
To launch your banner ads campaign, you can safely use Google Ads, Facebook Audience Network Ads, or any other banner ads network – there's plenty of them! Planning your campaign, you'll be able to place the banners on almost any website you want:
Your own store
External sites popular with your target audience
Social media
Best banner ads: the most common types of banner ads
If you want to grow your online business and show it to a wider audience of people, you have to diversify your banner ad campaigns. More specifically, you need to implement the most effective banner ads.
So, to make your banner advertising campaigns successful, you need to know the common types of digital banners and their specifications. The right banner size can be the difference between a successful promotional campaign and one that brings no results.
Furthermore, to not fall flat, you have to get acquainted with the various requirements for banner ads across the major networks, such as: Google, Facebook, and Instagram.
So, for you to achieve maximum results, let's look at the most popular and effective banner ads and their specifics!
This type of marketing banner ad quickly catches the attention of the viewer as it is visible due to its size. Usually, this ad format is found above the navigation bar, especially in a blog or forum.
This type of ad is the perfect solution for smaller spaces. However, these types of banner ads are not among the most preferred for many brands because they don't exactly offer a lot of room to "play with".
This banner ad is typically placed on the sidebars. It is the best way to showcase downward descending visual information. Moreover, thanks to its narrow-width design, this banner can fit where broader ads can't.
These are just a few types of the most popular banner ads. The best part? You can easily order original banners for any advertising campaign you need on AliDropship! Your banner ads will meet all the standard size and file formats.
But what exactly will you put on your banners?
What will motivate viewers to click on them and go to your store?
To answer these questions, we've looked through countless banner ads promoting clothes, footwear, gadgets, jewelry, and accessories. We selected 50 exciting, inspiring examples from the world's most famous brands, and took note of 5 common strategies they use!
Best banner ads type #1: close up product photos
It seems to be the most obvious way to advertise your offers, right? Let's see some banner examples! Click on the image to enlarge it.
As you can see from the banners above, large-high-quality photos work really well if you want to make people familiar with your store offer in general, advertise new arrivals, and even show the items in action.
It's not uncommon for advertisers to go even further and zoom their product images greatly.
For business owners, it's a great way to explain and visualize their products' competitive advantages. So, even if your offers are different from others in the tiniest details, you can showcase them proudly!
Best banner ads type #2: minimalistic visuals
Placing your product images on a white background, you make sure that nothing distracts the viewers from the items themselves.
Of course, it's not the only way to focus your clients' attention on your outstanding offers! Another trick is to simply use a limited range of colors – and, again, as much 'air' and white spaces as possible.
It's enough to take a single look at these banners to immediately understand what's offered and where it can be bought.
Best banner ads type #3: audience-relevant imagery
There is no doubt: you can demonstrate your products in hundreds of ways. But the thing is, you need to concentrate on the subjects that are important, meaningful, and valuable to your potential customers.
Are your clients following the latest trends closely? The visuals featuring smart clothing, statement makeup, vintage stylistics, shiny neon, and glitter are highly likely to attract their attention.
Or maybe, your potential buyers adore fantasy worlds and fictional universes, art and artwork, and all sorts of creative/fan motifs. Why not incorporate them in banner ads, too?
Each of these examples focuses on a specific hobby or interest. Even if these topics are not directly connected to the advertised products, they still resonate with the relevant audience strongly. And interestingly enough, the last example in this banner selection makes us think of one more strategy for creating a winning banner advertisement!
Best banner ads type #4: influencers involvement
It's quite common for large-scale brands to collaborate with actors, artists, sportsmen, social media influencers, and other celebrities to promote their products.
Of course, for an owner of a small business, it will be super challenging to persuade Olympic champions or Oscar winners to take part in your advertising campaigns.
Good news: it's not a must!
Did you have a shoutout or giveaway promotion recently? Were you teaming up with some small-scale blogger or influencer for this purpose? Well, let everyone know about it, and use the banners above as an example!
Best banner ads type #5: focus on texts
Do you have an important message to share with your audience? Would you like to highlight some specific product benefits or make 'image' statements? Use the power of text! You can either combine it with some imagery or just dedicate the whole banner space to your words of wisdom.
And of course, it's a winning strategy if you're announcing a discount or a special shopping event.
No unnecessary information to process, no extra time to understand your idea. It's all plain and simple!
Want to get awesome banners for your own campaign?
Nothing can be easier!
Our team of digital marketing experts will be more than happy to assist you. With a solid background in dropshipping stores promotion, these specialists are ready to work miracles.
Simply request our banner ads design service and get your very special, unique, one-of-a-kind banners for any occasion and placement type!