AliDropship Blog
Get marketing tips, tricks and dropshipping inspiration right into your inbox!
Sign up today not to miss out a single post:
Best Life Hacks On How To Find Niche Products In 2020
We all know how hard it is to find niche products that will be selling like hotcakes and will make your customers come back to your website again and again.
Want to sell the hottest and most demanded items only? Receive WEEKLY updates on the most popular items on the market – and get every week's bestsellers imported to your store AUTOMATICALLY!
They say to find a hot product, you need nothing less than a kind of superpower.
We say, you just need to go through the list of our extremely effective life hacks!
Here they are!
And, if you'd like to see the extended text version, here it is!
Table Of Contents
#1 Look for the suppliers who offer tons of products in your niche
When people buy something from an online store, they expect to get one package with all the ordered products inside. If you have many suppliers and your customers like to buy dozens of products at once, they will need to visit a post office several times and probably won't be happy about it.
So, to find niche products for your eCommerce store, go for the suppliers who can offer you a lot of related items to sell.
#2 Pay attention to customer reviews with photos
It makes sense to pick the products that have lots of positive reviews and are very popular with people. However, it's better to find niche products with customer reviews containing photos. This will allow you to increase your sales and customers loyalty because people trust people more than brands!
#3 Focus on the products with pictures taken in the same style
As a rule, most people decide to buy a product after looking at its photos. So, you need to search for the suppliers that take clear, high quality product pictures with no watermarks.
What's more, we recommend you pay attention to those suppliers who take pictures in the same style. This lets you combine different products and make your own exclusive collections for sale.
#4 Check the terms of delivery to your customers' regions
You probably know who represents your target audience and which countries you want to reach. However, not all the suppliers are ready to send their packages to your selected countries.
There are several reasons for this:
A seller can't guarantee quick terms of delivery

Shipping to certain countries can be extremely expensive for a supplier

Some countries have awful customs or postal services, so people often don't receive their orders.
That's why we recommend you select a target country before choosing the seller/ product.
What's more, we advise you to double-check all the delivery information displayed on the seller's account! Sometimes, suppliers warn about their special conditions or limitations. You should definitely take them into account when dealing with these sellers.
#5 Use Google Trends to find niche products in demand
To find niche products for our self-owned stores, we regularly check items in Google Trends. This tool analyzes the popularity of search queries across various regions and languages, and helps us decide if selling this product is really worth it.
For example, let's check how often people look for "bluetooth earphones".
As you can see, the popularity of this product is consistently growing. People are increasingly interested in modern technologies, so it's a great idea to include this item in our product list.
#6 Use Google suggestions
You probably know that when you start typing something into search box, Google starts showing you the most popular queries of other people.
You can use these suggestions to find niche products that are the best choice to sell online. Think outside the box, play with words and you will get a massive list of the most popular users' queries.
Remember, the more research you do, the more new ideas or sources of inspiration you will discover.
#7 Track what your clients type in your website search box
Like many modern consumers, I have a couple of favourite online stores where I usually buy clothes. I really like shopping there, but sometimes they don't have all the things I'd like to purchase. When that happens I leave the website and start searching for that product all over the Internet.
In order to avoid this unpleasant situation, you need to regularly track what your customers usually look for on your website.
To do this, go to Google Analytics, click on 'Behavior' and open the Search Terms report. This data will show you what your clients expect to see on your website.
You can use this information to:
Fill your store with the new products you don't have yet

Edit product titles and descriptions according to your website visitors' queries
#8 Compare prices using AliDropship Plugin
In the dropshipping business, great products mean cheap products.
This is pretty obvious.
A low original price gives you a good chance of setting up an acceptable markup and therefore, making you and your buyers happy 😉
However, looking through thousands of AliExpress web pages in search of the cheapest products is not for the faint-hearted entrepreneurs.
But we have a solution!
Our AliDropship plugin has a great feature which allows you check if there are identical, but lower-priced products from other sellers. Use it to compare the prices and you will find niche products for your store for the best prices available.
#9 Use product video reviews made by suppliers
When looking for the best niche products you should concentrate on items that have video reviews.
Products with video reviews are perfect for:
Promoting your eCommerce store

Building trust with your customers

Reaching a wider audience
Statistically speaking, after watching a product video, consumers are 64-85% more likely to make a purchase! So, it's better to search for products that include short video reviews.
However, if a really cool item doesn't have a video review, you can always make your own one. In an earlier post we told you how to create amazing product videos, so feel free to read our guide.
#10 Use other marketplaces to find products and product ideas
Along with these methods, you can also find products for your dropshipping store by analyzing other platforms. Although, you can't import goods from other marketplaces, they often serve as a source of new ideas. They can tell you what kind of products are popular right now so that you could find similar products on AliExpress.
1) Check products on Pinterest
Its founders call Pinterest a "catalog of ideas" designed for inspiration and creating a good mood. Besides, lots of businesses use this platform to promote various trends, which means you can borrow an idea or two from it.
First, create an account on Pinterest and turn it into a business account. Make sure you set your account language to English and the country to the United States.
Now you simply need to find interesting pins (short Pinterest posts people save on their "boards"). Do the following:
Go to home page and type your keyword into the search box
Click on the "Buyable pins" tab
Now that you see the results, analyze the products. Although you can't rank them by popularity, you can tell how popular a product is by the number of people who saved them to their "boards". The images and names will tell you how to find similar goods on AliExpress.
You can also take a look at the results in the "All Pins" tab to get more ideas. However, keep in mind that it contains pins that are NOT buyable. So the fact that people saved these pins doesn't necessarily mean they wanted to buy these goods.
2) Find products for a dropshipping store on eBay
I also recommend looking for product ideas on eBay. Use the watchcout.com service that shows the most watched eBay items/auctions.
Simply type a keyword in the search box (and use categories to filter the results if necessary) and find products with the highest number of views.
3) Find niche products on Amazon
Amazon is a great platform for dropshippers looking for top-selling niche products. Simply type your keyword in the search box and sort the results by the average customer review.
Amazon is also a good source of information on your audience's preferences, latest trends in your niche and ideas for product page design. Now you just need to find something similar on AliExpress and import it to your dropshipping store.
Here were the best life hacks that make it easier for us to find niche products for our dropshipping stores. Follow our tips and get the best additions for your own store offer! Good luck!
Join 325,000+ entrepreneurs who are already mastering new skills with our FREE Guide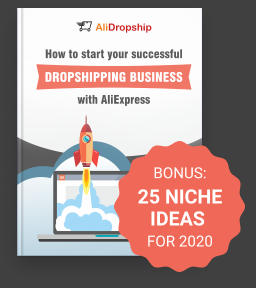 How to Start Your Successful Dropshipping Business with AliExpress
Get step-by-step instructions for newbies, expert advice how to build and promote your store, and best tools for AliExpress Dropshipping