Best Life Hacks On How To Find Niche Products Easily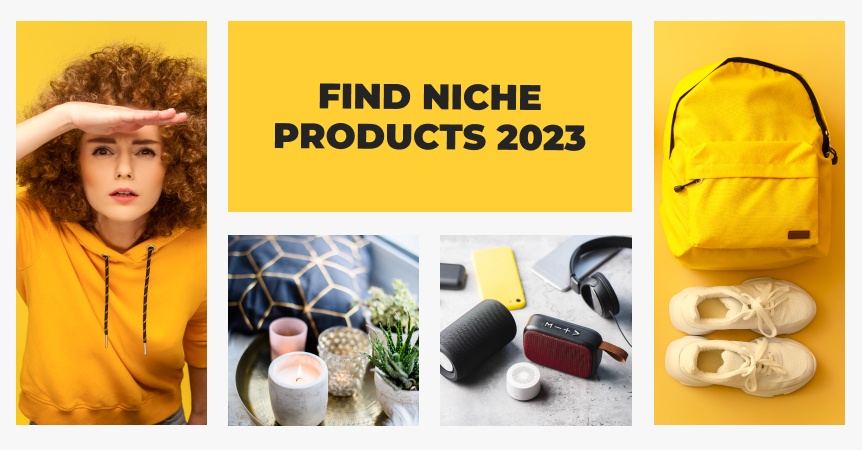 All the dropshipping store owners are eager to place only the most demanded products on their website. Most definitely, you are not an exception. So, get ready: we are about to share our experience in how to find niche products that would mesmerize your customers and fatten your profits!
It's said that in order to find niche products that can really bring you a fortune, you need nothing less than a kind of superpower.
We say, you just need to go through the list of our extremely effective life hacks on how to find niche products to sell and benefit from!
And, if you'd like to see the extended text version, here it is!
#1 Use analytic tools to find niche products that are in strong demand
First of all, try to look for ideas in the sources which purpose is to review and share information. In other words, follow specialized media that select the best products and projects.
To find niche products for our self-owned stores, we regularly check the dynamics of search queries on Google Trends. This tool analyzes the popularity of search queries across various regions and helps us decide if selling a product is really worth it.
For example, let's check how often people look for "Bluetooth earphones".
As you can see, the popularity of this product is growing day by day. In fact, people are increasingly interested in modern technologies, so it's a great idea to include such kinds of items in your product range.
Be sure to check out Kickstarter. This is the famous website testing all the coolest new ideas. Actually, this is the largest crowdfunding site in the world. Here you can sort out all projects by popularity, filter them by category, and take the advantage of other useful options.
This independent leading trend website reports on the hottest trends worldwide. Its team consists of reputable experts, so you can be sure that the insights you get there are worth noticing.
Trend Hunter is the world's largest collection of up-to-date ideas. This site is crowdsourced by thousands of volunteers calling themselves Trend Hunters. Just visit this website and take a look at the result of their efforts.
This global resource scans the World Wide Web in search of the most promising business ventures and concepts. So you are highly likely to find some valuable ideas there.
#2 Conduct a keyword study on product trends
It's also a good idea to analyze current product trends by means of conducting a keyword study. On the Internet, you can find several instruments that can both assess the potential of keywords you have and provide you with a list of keywords that are considered to be extremely promising in terms of using them when running and starting your profitable online business.
It's a classical tool for niche research. The keyword ideas it provides are the product ideas as well. So you can evaluate their potential and competition as soon as you pick them.
Actually, the main principles of using Moz Keyword Explorer are the same. Beyond this, there is an additional parameter called Difficulty which shows the level of competition in the selected niche.
Semrush is a tool that lets you search main and related keywords and additional ideas. Besides, here you can detect the websites that are shown to Internet users in response to their specific queries. So they can be used for your further investigation.
#3 Use offline sources to find what to sell online
When you are looking for product ideas to sell in an online store, it would be a good idea to look at other industries where there is already enough useful information. Try to think of the potentially related fields – can you use their experience anyhow?
Take any good source of information concerning the offline business and think about how it can be adapted to the online sphere. Printed business materials include books, articles in magazines, guides, manuals, etc. So don't miss a chance to get the information you can benefit from!
Attend some thematic conferences or watch them online. A great part of quality products is born at various conferences, forums, and meetings. There you can hear really inspiring stories about how products were created and promoted or what mistakes their creators made.
And now some good news for you: when you finally decide what products you want to sell, you can test the chosen niche with the help of our free niche research tool. Answer a few simple questions and find out whether you have made a good choice.
#4 Use Google suggestions to find the best products to sell online
You probably know that when you start typing something into the search box, Google starts showing you the most popular queries of other people. This is called a live search.
So you can use these suggestions as one more way to find trending products to sell online. Think outside the box, play with words, and you will get a massive list of the most popular users' queries.
Remember, the more research you do, the more new ideas or sources of inspiration you will discover.
#5 Use other marketplaces to generate product ideas to sell
Along with these methods, you can also find top ecommerce products for your dropshipping store by analyzing other platforms. Although you can't import goods from other marketplaces, they can easily serve as a source of new ideas. They can tell you what kind of products are trending right now so you could find similar ones on AliExpress.
Find product ideas for an online store on eBay
We also recommend looking for product ideas on eBay. Use the watchcout.com service that shows the most popular eBay items/auctions.
Just type a keyword in the search box (and use categories to filter the results if necessary) and view how many people watched the product you are searching for on eBay, and what goods are the most popular. It's simple!
Find niche products on Amazon
Amazon is a great platform for entrepreneurs looking for top-selling products. Simply type your keyword into the amazon.com search box and sort the results.
There are two ways to do this.
Filter by the average customer review
Your search results are ranked now by products' rating according to customer reviews.
Voila! You are shown the best-selling niche products on Amazon! It's really worth analyzing popular items' representations and placing similar products in your store.
Using this website to look for product ideas, you are highly likely to achieve multiple goals as you:
As a result, you increase the loyalty of our customers, and this, in turn, helps you boost the revenues. Not bad, right?
This marketplace of handmade products is not suitable for dropshipping, but it's a real treasure trove of unusual ideas. Study the section with items that are popular right now – you'll find lots of inspiring things among their current trending items and listings.
#6 Refer to social networks to find niche products
It's logical to look for ideas and products where people live, and nowadays they live in social networks.
Check products on Pinterest
Its founders consider Pinterest as a "catalog of ideas" designed for inspiration and creating a good mood. Besides, lots of businesses use this platform to promote various trends, which means you can borrow an idea or two from it.
First, create an account on Pinterest and turn it into a business account. Make sure you set your account language to English and country to the United States.
Now you simply need to find interesting pins (people save short Pinterest posts on their "boards"). Do the following:
Go to the home page and type your keyword into the search box
Click on the "Buyable pins" tab
Analyze the goods shown. Even though you can't rank them by popularity, you can see how many people saved certain goods to their boards (the more the better), and what are the names and image styles of the most popular products. Use this information wisely, and your online store will contain only top-selling goods. The images and names will tell you how to find similar goods on AliExpress.
You can also take a look at the results in the "All Pins" tab to generate more product ideas to sell. However, keep in mind that it contains pins that are NOT buyable. So the fact that people save these pins doesn't necessarily mean they wanted to buy these goods.
Look through YouTube in the search for product ideas
Use YouTube as a search engine to both get general ideas of currently popular products and learn the trends in some specific niches. While searching, don't forget to add "2022" to your query to get only the hottest product ideas.
Learn more about what's trending on Instagram
Tons of photos make this social network an invaluable source of ideas for online retail and possibly the greatest media to find inspiration. Hashtags make the search process more convenient.
Subscribe to the accounts of actual trendsetters. People who are in love with their hobbies spend hours learning and mastering them – and save their time and energy.
Check up Facebook product trends
Facebook still remains the most popular social media platform with an enormous number of active users. So, thematic groups on Facebook will also work well for you. There are more of them than you can imagine. Make sure that you follow the communities of your potential competitors. Competitor analysis is an integral part of any niche research.
#7 Explore forums and other discussion websites to find niche products to sell
Where else can you look for the current product trends information? Check forums!
This well-known news aggregator has multiple subsections focused on different industries, spheres of interest, and product categories. Note that thematic subreddits are full of business ideas. You can also ask for advice in communities, as thousands of other users do.
This popular Q&A website is full of specialized topics. You can customize your feed and receive the relevant questions and answers by email every day. Besides, the analysis of the most popular topics and questions can also give you some food for thought.
Forums are humming with life, discussions, and hot arguments. Lots of original thoughts float around them. Choose threads that are close to your interests and go ahead. By the way, many successful dropshippers were inspired by AliDropship forum – isn't it a good reason to join them?
#8 Look for the suppliers who offer tons of products in your niche
When people buy something from an online store, they expect to get one package with all the ordered products inside. If you have many suppliers and your customers like to buy dozens of products at once, they will need to visit a post office several times and probably won't be happy about it.
So, when looking for niche products for your ecommerce store, go for the suppliers who can offer you a lot of related items to sell.
#9 Pay attention to customer reviews with photos
It makes sense to pick the products that have lots of positive reviews. Meanwhile, they should be very popular with people. Beyond this, it's better to find niche products with customer reviews containing photos. This will allow you to increase the credibility of your online store and boost your sales considerably since people trust people more than brands!
#10 Focus on the products with pictures taken in the same style
As a rule, most people decide to buy a product after looking at its photos. So it's a good idea to search for suppliers that take clear, high-quality product pictures with no watermarks.
What's more, we recommend you pay attention to those suppliers who take pictures in the same style. This lets you combine different products and make your own exclusive collections for sale.
#11 Check the terms of delivery to your customers' regions
You probably know who represents your target audience, and which countries you need to reach. However, not all the suppliers are ready to send their packages to the countries you need.
There are several reasons for this:
A seller can't guarantee quick terms of delivery
Shipping to certain countries can be extremely expensive for a supplier
Some countries have awful customs or postal services, so people often don't receive their orders.
That's why we recommend you select a target country before choosing the seller/product.
What's more, we advise you to double-check all the delivery information displayed on the seller's account! Sometimes, suppliers warn about their special conditions or limitations. You should definitely take them into account when dealing with these sellers.
#12 Track what your clients type in your website search box
Like many modern consumers, I have a couple of favorite online stores where I usually buy clothes. I really like shopping there, but sometimes they don't have all the things I'd like to purchase. When this happens, I leave the website and start searching for that product all over the Internet.
In order to avoid this unpleasant situation, you need to regularly track what your customers usually look for on your website.
In order to do this, go to Google Analytics, click on 'Behavior', and open the Search Terms report. This data will show you what your clients expect to find on your website.
You can use this information to:
Fill your store with the new products you don't have yet
Edit product titles and descriptions according to your website visitors' queries
#13 Compare prices using AliDropship Plugin
In the dropshipping business, great products mean cheap products. This is pretty obvious.
A low original price gives you a good chance of setting up an acceptable markup and therefore, making you and your buyers happy. However, looking through thousands of AliExpress web pages in search of the cheapest products is not for the faint-hearted ecommerce entrepreneurs.
But here comes a solution!
AliDropship plugin has a great feature that allows you to check if there are identical, but lower-priced products from other sellers on the platform. So use it to compare the prices and you will find niche products for your online store for the best prices available.
#14 Use video reviews made by suppliers
When looking for the best niche products it's better to concentrate on the items that have video reviews.
Products with video reviews are perfect for:
Promoting your ecommerce store
Building trust with your customers
Reaching a wider audience
Statistically speaking, after watching a product video, consumers are 64-85% more likely to make a purchase! So, it's better to search for products that include short video reviews.
However, if a really cool item doesn't have a video review, you can always make your own one. In one of our articles we told you how to create amazing product videos, so feel free to read our guide.
#15 Use Sellvia to find niche products to sell
All the options mentioned above are perfect for niche product ideas, the meantime, all of them require free time and your participation. So are there any ways to find niche products with no effort? Actually, there's one – it's Sellvia!
Sellvia is an ecosystem that will take care of all the stumbling blocks an ecommerce business model can have.
Only the most demanded products in the catalog
Fast US shipping (1-3 business days)
High-converting marketing materials, etc.
The point is that all the products in the catalog of Sellvia are carefully selected and already edited bestsellers. You don't need any research and things like that: all you need to do is to choose the ones from the Sellvia catalog you like, and that's it!
Here are the best life hacks on how to find niche products for your online stores easily and benefit from. Follow our tips and build your own financial empire with no effort. Good luck!