YouTube Keyword Research Methods And Tools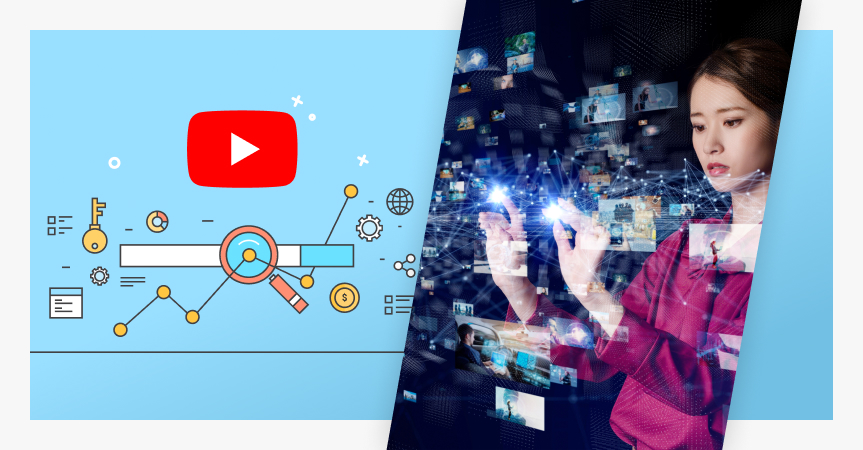 Are you going to promote your online store on YouTube? Then keep reading to learn how to find keywords and what YouTube keyword research tools to use.
Why do you need YouTube keywords?
We all know YouTube as a huge platform with millions of videos – educational, entertaining and of course commercial. However, it's also a search engine that allows you to find those videos.
If someone wants to promote business by using this platform, they need to optimize their videos for the built-in engine. Call it YouTube SEO if you like.
In order to get a video to a high position, one should use keywords just like in a text article. And just like an article, a video has its own structure.
Video titles describe its content to both users and YouTube. That's why it should contain a keyword. We recommend putting it at the beginning of the sentence.
Description is a text beneath the video, and it should contain keywords as well. Always start and finish descriptions with exact keywords and place one or two in the middle. Make descriptions at least 250 words long.
Before creating a video, one has to check keyword search intent. Simply speaking, search intent is what search results people expect to see when they enter queries. For example, when I type rock'n'roll music, I may be looking for the genre's history or online music streams.
So, first of all, before deciding whether to use a certain keyword, one should check what exactly people search for. Maybe this isn't the topic you thought it was. Second, you should let YouTube know what your video is about. And that's when tags come up.
Strictly speaking, video tags on YouTube are the keywords you use when creating a video. Use your main keyword as the first tag and several more to specify the topic of the video.
This is also a good way to learn what keywords your competitors use. Nowadays, YouTube hides tags from viewers, but you can see them by right-clicking on the page and choosing View Source to see the HTML code.
A simpler method is to use vidIQ Vision Chrome Extension. It'll simply show you them near the video.
And finally, to push videos higher in ranking, say your keywords in the video. YouTube analyzes the sound tracks and can recognize speech. So, make the platform hear the keyword several times.
YouTube keyword research methods
Method #1: Define the topic
Before getting to keyword search, you have to come up with a topic for your YouTube video. And this is when you can generate a couple of keywords.
Sometimes ideas come to you instantly. For example, if you want to create a video about drawing, it's natural to use the phrase how to draw [something] as the keyword. At this stage, you can write down these ideas to check them later.
Method #2: Use keyword suggestions
The easiest and fastest way to check whether your ideas were good or not is to put these phrases or their parts into YouTube search bar. Its autosuggest function will do the rest.
These suggestions are what previous viewers were looking for, and it's a great source of ideas if you're stuck. Besides, if a phrase got into this list, there's a high chance it's a frequently searched keyword. Moreover, you can find a number of unexpected suggestions there to use in other videos.
Here's a tip: you can type an underscore between words which works as a wild card, so YouTube will suggest popular queries with one or several words in that place.
Method #3: Check dynamics on Google Trends
Google Trends is another free tool you can use for YouTube keyword research.
Just type a keyword, and the tool will show you how popular the query has been.
100 points indicates the highest interest for the whole time, while 50 points means the popularity level is twice as low. Remember: these are not the exact number of queries, but a relative index.
Here you can choose countries and regions (including the whole world), period of time, categories and the platform to analyze. The latter allows you to ignore searches in Google and other engines and focus solely on YouTube.
Marketers use Google Trends to see whether a trend is rising or falling and decide whether it is worth trying to promote their products with a given keyword.
Method #4: Use Ubersuggest
Another method to find keywords for videos is to use any available keyword research tool. I recommend trying Ubersuggest as it provides detailed data including search volumes and is free to use.
However, keep in mind that these numbers come from Google Keyword Planner, so they don't show how many people search for something on YouTube. On the other hand, people usually use the same keywords for YouTube. Besides, Google often shows links to YouTube if it considers the content relevant.
Method #5: Analyze competitors
This method is based on analyzing the videos of your competitors who create similar content.
The simplest way to understand what keywords they use is to visit their YouTube channel, click on the 'Videos' tab and sort them by popularity. As a result, you'll see videos with most views.
After that, open the videos that seem related to your topics and look at their titles and descriptions. If you see the exact same phrase repeated in both, it's the keyword.
To make sure you got it right, you can also check the tags used for a given video. I described how to do that at the beginning of the article.
Method #6: Use special tools
And lastly, you can find keywords for videos by using special tools.
5 YouTube keyword research tools for your business
I already mentioned this Google Chrome extension as a handy tool for revealing hidden YouTube tags, but it has more SEO functions. The extension adds a number of indicators to YouTube UI, with the most important being search volume and competition scores. It also shows related queries and the tags used in the most popular related videos.
Price: Free
Unlike other free tools for YouTube keyword research, this one shows you the exact search volume, as well as a number of other important parameters. They also include cost per click, on-page and off-page difficulty, competition level, SEO difficulty, etc.
Price: Free or Subscription ($40/80/280 per month)
This tool gathers YouTube's autosuggest results, but analyzes them and divides into four categories – keywords, questions, prepositions and hashtags. It does show you search volumes, but only after you pay money. Paid user also get to see current trends, CPC and competition level.
Price: Free or Subscription ($89/99/199 per month)
Kparser is another freemium tool for finding related keywords. It doesn't offer many indicators, but is easy to use. Free-users can see Krasper's own evaluation score, but search volumes are available to paid-users only.
Price: Free or Subscription ($4.99/14.99/29.99 per month)
Ahrefs is a professional tool for SEO providing a whole range of indicators including global and local search volumes, clicks and click percentage and more.
Ahrefs actually offers a number of tool and Keyword Explorer is just one of them. Since it doesn't offer free options, I suggest that you save it for when your business gets stronger.
Price: $7 for a 7-days trial or Subscription ($99/179/399/999)
You can combine these YouTube keyword research tools and methods for different purposes and to double check the results. If you don't have a video to post, use our Promo Video creation service to get professionally made materials for YouTube promotion.
Final thoughts
As you can see, promoting a video is very similar to promoting a regular web page. At the same time, video promotion has been a rising trend. For example, videos are now taking place of traditional product descriptions, and there's no reason to expect things will change.
So, if you really want to successfully compete with others, make sure to benefit from this trend.