How To Find The Best Keywords For SEO: An Action Plan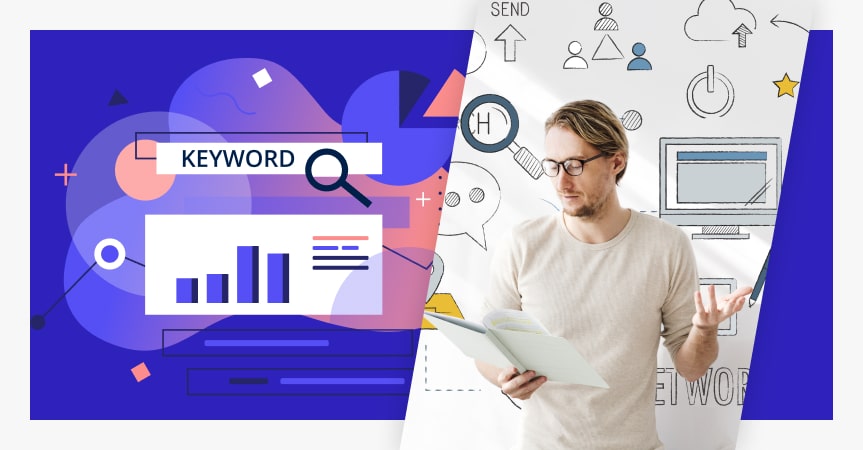 Is it difficult for you to choose the best keywords for SEO? Here are some tips that will help you get new keyword ideas for your search engine optimization campaign to benefit from your business on a long-term basis!
Importance of keyword research
We all know that Search Engine Optimization is an essential part of your business promotion. It significantly affects the ranking of your website on search engines, and the amount of organic traffic you can get.
Actually, SEO can easily boost your business or even tear it down. So it's very important to constantly work on your SEO strategy and look for the most effective ways of improving your website performance. One of them is choosing the right keywords and phrases for SEO.
SEO keywords are keywords or phrases that make it possible for Internet users to easily find your website by means of search engines.
Don't you know how to pick the best keywords for your SEO campaigns? Haven't you ever optimized your pages? Are you searching for ways to increase your organic traffic?
Actually, these are exactly SEO keywords that are designed to help you solve these issues!
So how to find the best SEO keywords for your website's optimization? Actually, anyone can cope with it. We will tell you the way.
Stay tuned to learn more on how to pick the best keywords for your SEO campaign, optimize your pages and increase your organic traffic. You're only 5 steps away from success!
#1 Brainstorm ideas to choose the best keywords for SEO
The first thing you should do is to come up with keyword ideas related to your niche.
Let's say you're selling toys. Think about the words that your potential buyers may type into the search box when looking for something for their kids, and write them down. For example, I guess people may search for dolls, big toy trucks, cars, smart robot toys, and so on. Use Google suggest for this purpose: start typing a word related to your niche and check what keywords are now trending.
After that, take notes of each idea and each keyword that crosses your mind, even if it seems a bit crazy at first glance. Your main aim is to jolt you out of your normal way of thinking, so don't criticize your ideas and don't limit yourself.
Once the list of your ideas is ready, try to identify niche phrases and group them. So you'll get some groups of keywords that most likely have some potential.
#2 Keep tabs on your competitors
Two heads are better than one. So you can visit websites and blogs of your competitors and take a look at the keywords they're using.
We recommend you to start with bigger players than you and any other dropshipping stores. For example, if you're selling toys, you can go to the websites of such giants as Walmart or Mothercare. There, you will study carefully what phrases and keywords they're adding to their web pages.
These brands have lots of promotion experts and a large marketing budget. So, they test different strategies and know for sure what works for their stores.
Besides, it's a great idea to visit niche-related forums and Q&A websites to determine what words people usually use when discussing something. This step is a must if you're running a store for fans, for example. People may use niche-specific terms which you couldn't even imagine yourself.
#3 Use keyword discovery tools
The next step in finding the best keywords for SEO is using specialized SEO keyword tools. They will give you a general idea of what people are searching for. Although these services are mostly designed for SEO experts, you can also get the most out of them.
We recommend you to draw your attention to such free keyword discovery tools as Google Keyword Planner. It will help you move in the right direction and find the most relevant keywords for your further business development.
Let's say you want to add some keywords to your lists. Just type the desired keyword into the search box and look at the ideas Google Keyword Planner is offering you. For example, I entered the word "toys" into the search field and got the following search results.
I can use these particular SEO keywords for promoting my website or look for something else. Anyway, this tool is perfect for getting some inspiration and improving your keyword list.
#4 Perform a detailed analysis using keyword research tools
Let's say you've taken previous steps and you get some lists of words. Now it's time to analyze them and find the best keywords for SEO.
The easiest way is using different keyword research tools which are perfect for getting more data about each option. One of the best, free keyword research tools is Ubersuggest.
For example, you want to check the "toys" keyword. Just type it into the search box and click the Search button.
In the opened window, you'll see the most important information about the selected keyword such as search volume, SEO difficulty, paid difficulty, and cost per click (CPC).
SEO indicators to consider
Search volume

represents the number of searches users do during a particular period of time (a week, a month, a year). The higher the search volume is, the more people are interested in a product and the more chances you have to succeed. Therefore, if the search volume is low, people are most likely to ignore your search query, so it's better to look for another keyword.

SEO difficulty

(or keyword difficulty) demonstrates how difficult it will be for you to make your page rank higher on Google when using this keyword. This option is indicated on a scale from 0 to 100. The higher the number is, the more competitors you have.

Paid difficulty

shows the estimated competition in paid search. The rule is the same: the higher the number is, the harder it will be for you to fight against your competitors. As you can see, the keyword "toys" isn't the best choice. If you decide to use it for promoting your dropshipping store, you will most likely fail. 🙁

Cost per click

(or pay per click) shows the average amount of money you will pay Google for your ad if someone clicks it. As a rule, the more competitive and popular a keyword is, the higher the pay per click will be.
Unfortunately, there are no ideal keywords, which have a high search volume and a low SEO difficulty, paid difficulty, and pay per click. If a keyword is extremely popular, its CPC and SEO difficulty will be extremely high.
We recommend you concentrate on the keywords that have the middle (or even low) level of people's interest. The number of competitors will be also low which will allow you to get ahead easier.
#5 Implement the best keywords into your SEO strategy
After analyzing all the chosen keywords, you'll have a list of the best possible ones. The next step is to add them to the product categories and pages of your store and include them in all your meta tags.
The main aim is not to make the most common SEO mistake and not to place all the keywords on every page. If you do, it will make search engines crazy. Therefore, they won't know what page is better to show for a particular search query.
Wrapping it up: best keywords for SEO
So the process of researching keywords looks the following way.
1) Make a list of topics for keyword research
2) Fill topics with keywords you can guess
3) Check your competitors
4) Use keywords discovery tools
5) Provide detailed analysis with keyword research tools (check its potential and possible difficulties)
Actually, that is! Right after these actions, feel free to implement the best keywords you've found into your SEO strategy!
BTW, we recommend you divide all your keywords into several groups and use no more than 2-3 similar words or phrases on a page. This tactic allows you to improve the rating of your website in the eyes of search engines and achieve remarkable results as well.
Here are 5 steps that you should take to find the best keywords for SEO. Easy as never before, right? Start using this strategy right away and your efforts at improving your business will pay off soon!