Best Dropshipping Suppliers On AliExpress And Beyond: How To Find The Greatest Business Partners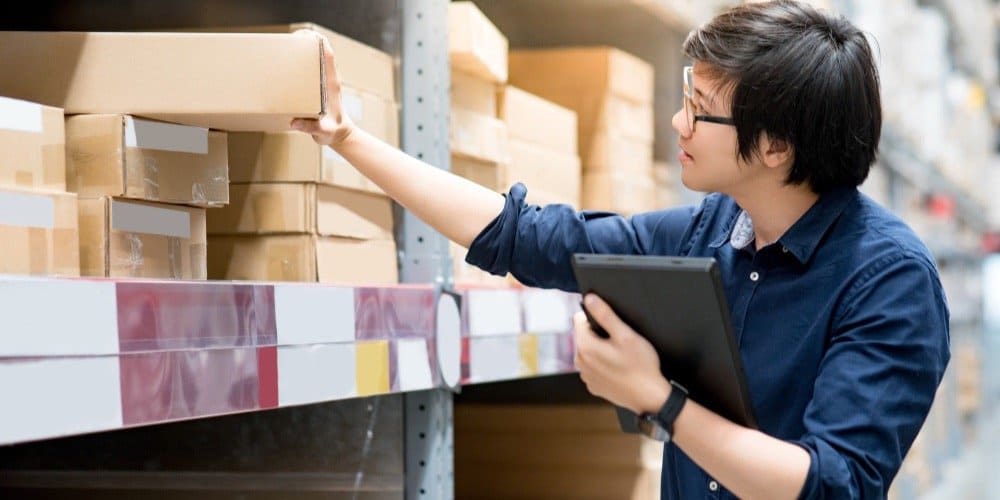 Is AliExpress the only source of products to dropship? Today, we will discuss the alternative dropshipping suppliers, and explain how to pick the most decent AliExpress sellers to partner with.
Usually, when we talk about choosing the right products for your dropshipping store, we assume it by default that you import these items from AliExpress. Still, it is not the only option.
Table Of Contents
Dropshipping directories and their role in your search for the perfect suppliers
When dropshipping newcomers make the very first steps on their business journey, they certainly need some guidance.
Having little to no experience in this field, they don't only look for counsellors and advisors: they also search for middlemen who can connect them with the most appropriate business partners.
Most typically, these middlemen are required for the product-related tasks: even if the entrepreneurs know what they would like to sell, it might be difficult for them to establish a contact with the reliable and trustworthy manufacturers.
This is why these beginners refer to dropshipping directories: simply speaking, these are the specially assembled databases of trusted suppliers.
In these catalogues, you can find structured data on suppliers, their fields of activity, manufactured products, addresses, and, sometimes, financial position or sales value.
This way, a dropshipping directory is a database of wholesale suppliers grouped by category, market or niche. Many directories organize special verification to ensure the suppliers are legitimate and genuine wholesalers.
So, entrepreneurs make a payment to get an access to a dropshipping directory database, and use the desired manufactures' catalogs to add the images and descriptions of the selected products to their own websites.
Then, the traditional dropshipping business model works as usual: the orders placed on the dropshipping site get transferred to the original manufacturers. These suppliers, in turn, provide the full range of the necessary product-related services: they store items, arrange shipments, provide sellers with tracking codes and, if required, customize the delivered packages by designing them in the style of the dropshipping store they work with.
Why directories aren't commonly used to find dropshipping suppliers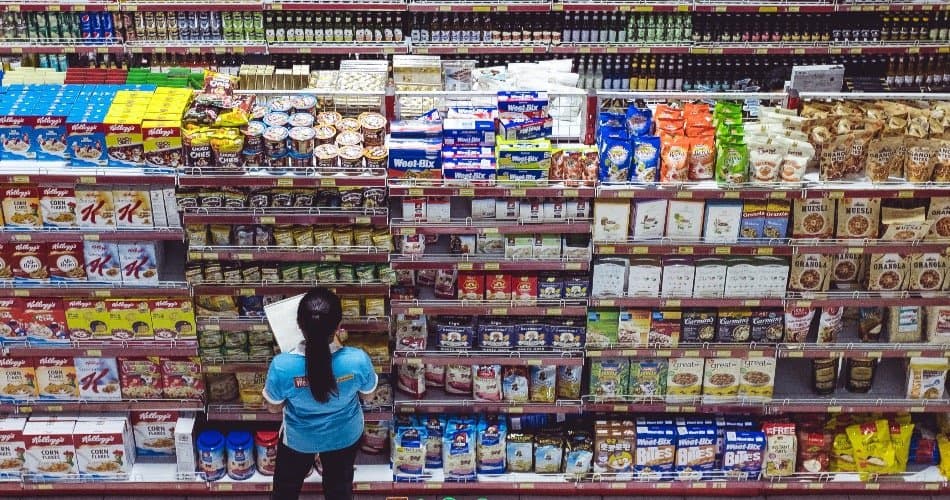 It might seem that these verified lists of well-reputed suppliers are a smart decision for dropshipping newcomers, but unfortunately, some of the directories' downsides might make them inconvenient for the entrepreneurs.
The majority of directories charge a fee for access to their database. You either need to make a one-time payment, or pay the membership fee on a monthly/yearly basis.
Some of the suppliers listed in dropshipping directories have a specific pricing strategy. In order to buy something from them at a wholesale price, you need to officially verify the legitimacy of your business, and get approved as a wholesale seller. Otherwise, you will purchase their products at usual, retail prices.
Most commonly, dropshipping directories consist or large-scale businesses that are looking for long-term profitable partnerships. Not all of them consider working with a small online store, especially with a newcomer who won't be placing a large number of orders.
It's quite typical for these well-established manufacturers to dictate the terms of the partnership: there might be requirements for a minimum order size, or the maximum allowed price markup, etc. Certainly, it limits a dropshipping store owner's activity quite significantly.
So, it only seems reasonable to pay for the access to a dropshipping directory if you are looking for the appropriate product ideas, researching the market offers, or looking for a highly specific product category that can't be easily found elsewhere.
If you have already chosen the niche and understood what products you are going to sell, you can find decent suppliers on your own.
One of the most reasonable alternatives to dropshipping databases is AliExpress – a platform of global reach that contains product offers from millions of distributors worldwide.
Why AliExpress dropshipping suppliers stand out of the competition?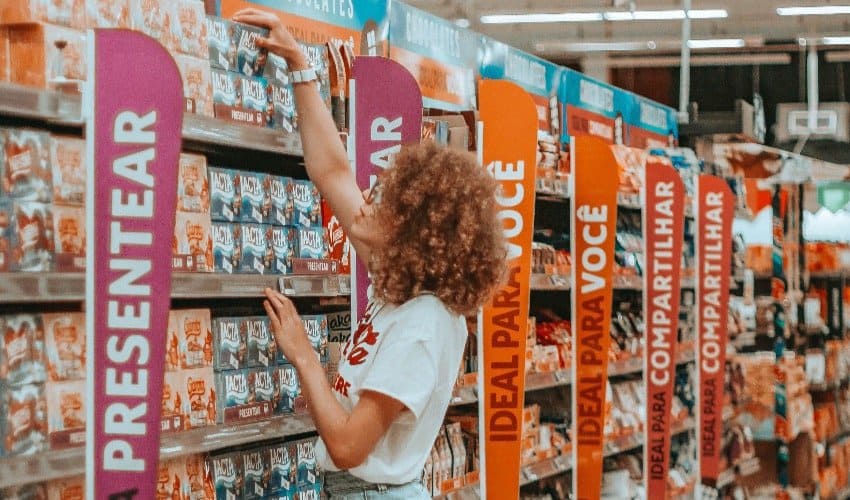 For numerous reasons, AliExpress is a much more appealing suppliers' database than any dropshipping directory.
Generally, it is typical for manufacturers to concentrate on a narrow product segment or, in the best case scenario, on a limited amount of related categories – for example, children clothing, toys, and stationery; or consumer electronics, gadgets, and gadget accessories, etc. It is quite understandable: managing an extended stock is quite a complicated and resource-consuming task.
This is not the case for AliExpress – it is not a single manufacturer's website, but a huge platform that facilitates the interaction between countless sellers and buyers. Any supplier can post their offers on the platform, and this is the reason why the number of products currently presented on AliExpress is estimated to be over 100 million. These products fall into various categories, which makes it possible for entrepreneurs to choose any items they fancy and adjust their dropshipping stores to a specific target audience's interests.
Free access to the database
As we have already figured it out, dropshipping directories usually limit the access to their databases. As the result, entrepreneurs can't browse the list of manufacturers and their products before making the necessary entry payment. It surely causes a significant inconvenience to the newcomers since they can't estimate whether buying an access to this supplier's catalogue will be a waste of money or a worthy purchase.
At the same time, AliExpress doesn't have any limitations of this kind. The registration on the platform is free, and it's not even necessary to be logged in if you want to view all the products available. What is also important, the platform provides some data that is exceptionally valuable for dropshippers since it gives the ground to evaluate the seller's performance and reliability, and lets businessmen source only the best dropshipping providers. These indicators include the length of this business operation, the percentage of positive feedback left by buyers, the number of orders placed by visitors, etc.
Dropshipping directories don't simply charge monthly or yearly membership fees that vary depending on each separate provider. They can also ask for a restocking fee – a compensation of stocking and delivery expenses occurring in case a customer returns a previously bought item that has no actual defects.
None of this is the case for the entrepreneurs who work with suppliers directly through AliExpress. To start working with the sellers who post their offers on the platform, you don't have to pay any entry fees, and you certainly don't have to make any additional payments during the whole process of business collaboration. All the expenses associated with refunds and returns are solely borne by the seller.
Unfortunately, dropshipping directories put your possibilities of making a profit at risk. It happens because this type of business interaction implies some limits on markup: the entrepreneurs are advised to set a so-called recommended retail price on the seller's items. In other words, the initial price can only be increased on a given value which normally constitutes not more than 15-20% of the starting cost. In case this requirement isn't met, the partnership agreement can possibly come to an end.
In turn, the sellers who are contacted directly through AliExpress don't insist on a specific price. Given that the items on AliExpress are known to be very low-priced in comparison to identical products sold elsewhere, the possible markups, and, therefore, the profits, can be quite impressive. Even several-fold price increase in this case will not affect end buyers negatively and will result in adequate financial gains for the store owner.
No limits on sales volume
Again, it's quite a popular practice in this type of business to oblige a dropshipping store owner reach a certain amount of orders. In case this sales threshold is not met, dropshipping suppliers can refuse to continue collaboration with this entrepreneur.
It never happens if you're contacting a seller via AliExpress. It's not even necessary to formally address sellers and let them know you are ordering their products for dropshipping purposes.
It's not a rare thing for large-scale manufacturers to only work with officially established entities. Some of them even prefer only USA-registered businesses.
None of this is required to contact a manufacturer on AliExpress – the platform is exceptionally popular among private individuals who make purchases for their own use and not for reselling, which is why local dropshipping wholesalers gladly work with everyone regardless of legal status.
The ultimate benefit of starting a dropshipping business is the possibility to reach an unlimited number of customers who weren't able to get these products in their own countries.
While general manufacturers mostly offer shipping within Europe or the US, AliExpress makes it possible to arrange a delivery literally to any corner of the world without narrowing your target audience to a specific geographic segment.
Obviously, AliExpress is not the only online platform designed for the manufacturer-to-buyer communication. Still, our own research has indicated that for the purposes of dropshipping, it is probably the best solution on the market: click the following links to learn about the possibilities and limitations of Amazon, eBay and Etsy for dropshipping.
Now, when you are aware of AliExpress benefits, you are probably wondering how to pick the most reliable business partners on this platform. We know the answer!
How to choose the best dropshipping suppliers on AliExpress
Filter the product search results
The hunt for the perfect AliExpress suppliers starts on the search results page.
When you are writing your product query in the AliExpress search bar, don't forget to tick the "4* &Up" box, and only the items of the highest quality will be shown to you.
If you sort the results by the number of orders, you will see the most frequently purchased items at the beginning of the product list – take a look at the screenshot below.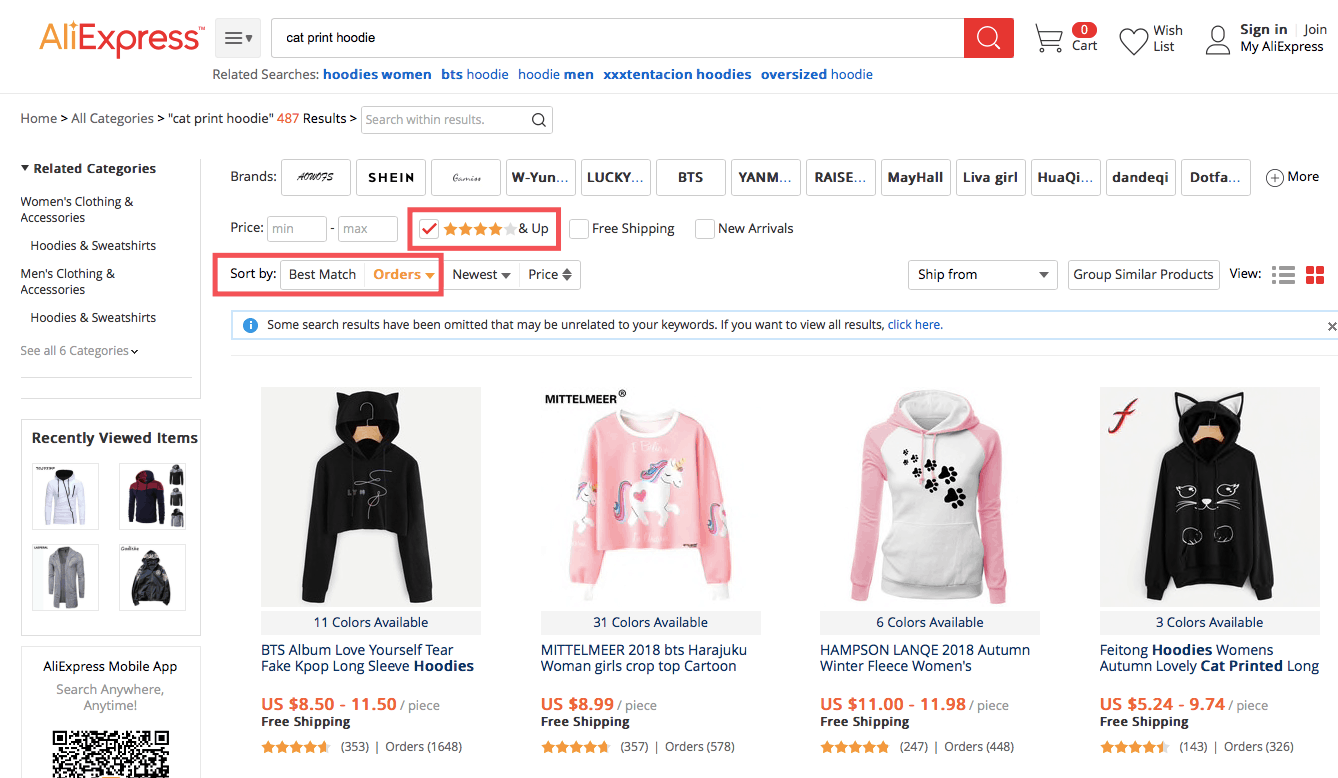 Thanks to these simple actions, you won't waste your time on poor quality items offered by questionable sellers: you will only deal with worthy offers that have already been tried and approved by other buyers.
When you go to a single product page on AliExpress, you can mouse over the store name and view the stats on this seller's activity.
You can learn how long the store has been operating, view the feedback score from the previous buyers, and see some additional helpful stats.
Look at the screenshot below.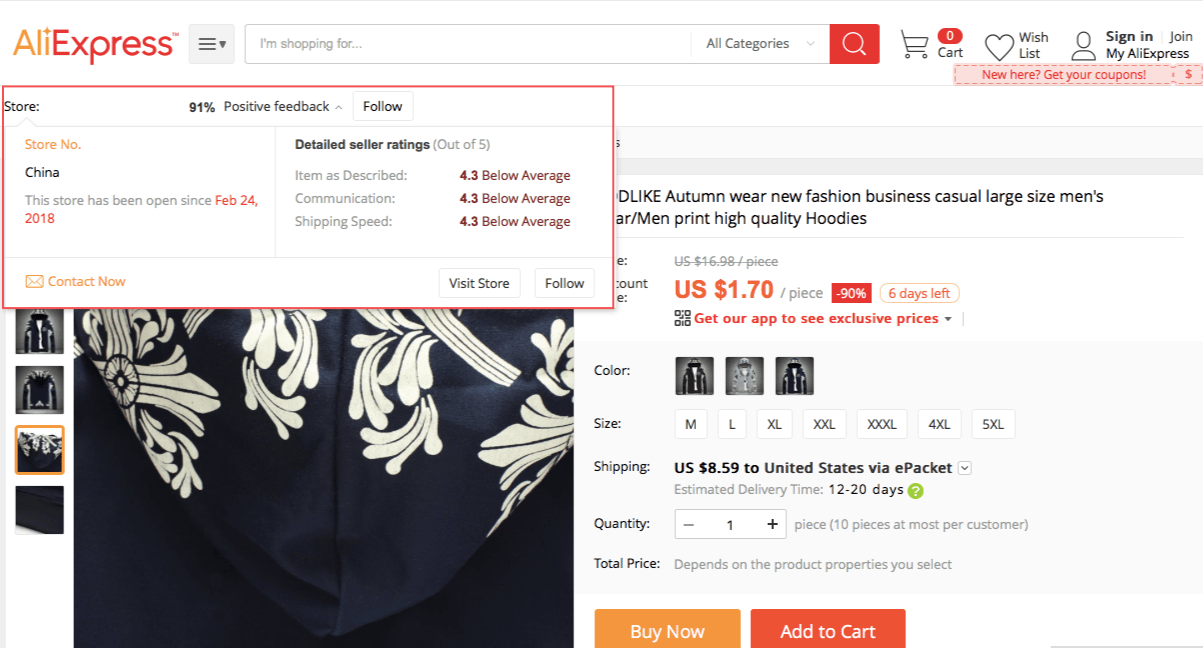 As you can see, that's a pretty young store, and even though its performance isn't exceptionally bad, it doesn't look insping either.
It seems that in their feedback, the buyers often note that the sold items don't fully match their description, there are some communication issues, and the shipping speed is not quite satisfactory.
How should you decide whether you still should trust this seller? Go to the next step!
Examine the product reviews
Within the the seller's store, pick 8-10 items that have the highest number of orders, and go to their product pages.
In the Feedback tab on each of these product pages, read the customers' reviews super carefully to understand what exactly is good and bad in this seller's activity.
Pay a special attention to the reviews that contain pictures: with the help of these photos, you can roughly evaluate the quality of the product and understand whether the buyers' claims are fair.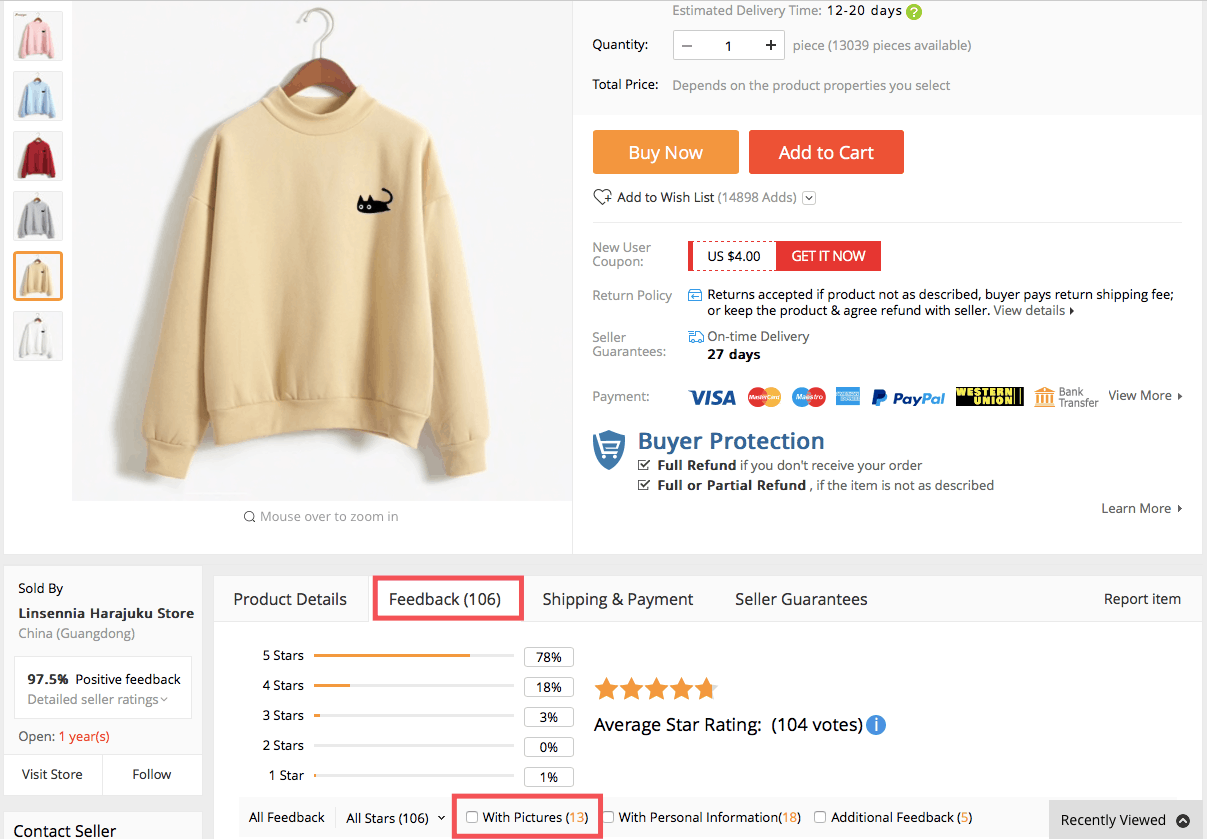 Sometimes, people get annoyed by some tiny details that are not really relevant and are just a one-time 'glitch' in the interaction.
But sometimes, several different buyers point out the same difficulties they had during the purchasing process, and that's a valuable indicator. For example, it is highly important for the suppliers who offer clothes: if various buyers write that several different products don't match the expected size, it might mean that the seller has irrelevant size charts, and it certainly doesn't show this store in a positive light.
On the product page, look at the available shipping terms to understand whether the seller can ship your order to the country where the majority of your potential buyers live.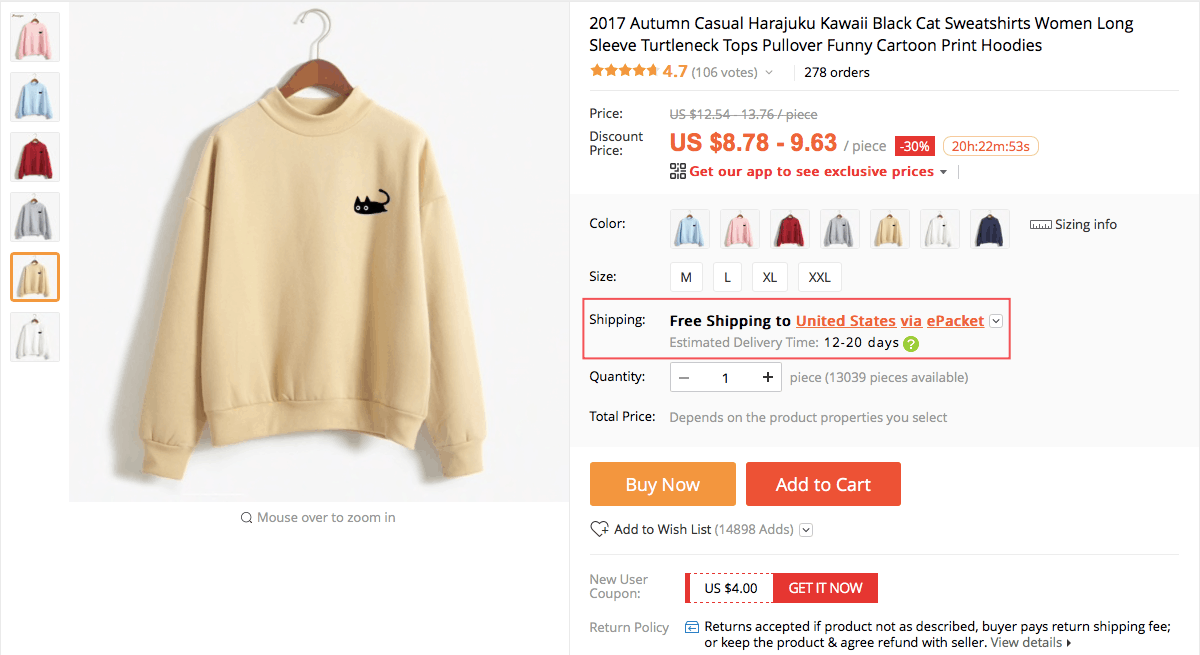 Click on the tiny arrow to change the country of delivery and to see whether the seller offers cheap and quick shipping options. Your buyers would certainly want to receive their orders as soon as possible and not overpay for the delivery, right?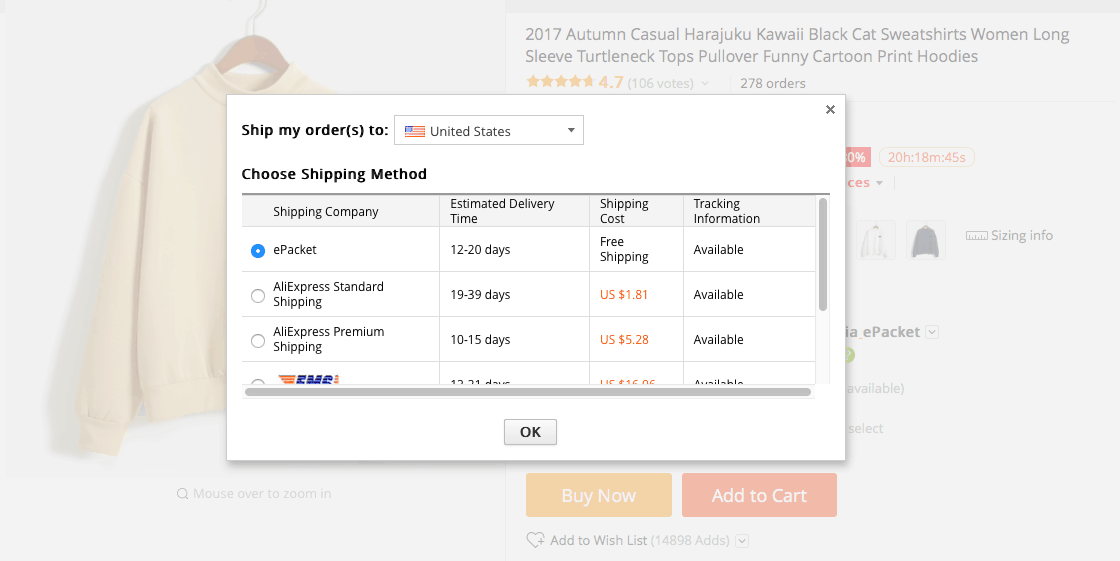 Such analysis should give you a better understanding of the seller's activity. Eventually, you will get a well-reasoned opinion about your perspectives of partnering with this store, and it will help you make a reasonable decision.
We hope that our little research helped you understand how to find the best dropshipping suppliers, and we're looking forward to seeing you fill your store with the most awesome offers from great sellers!
Join 325,000+ entrepreneurs who are already mastering new skills with our FREE Guide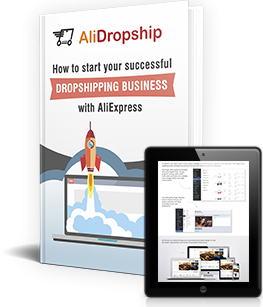 How to Start Your Successful Dropshipping Business with AliExpress
Get step-by-step instructions for newbies, expert advice how to build and promote your store, and best tools for AliExpress Dropshipping