AliDropship Blog
Get marketing tips, tricks and dropshipping inspiration right into your inbox!
Sign up today not to miss out a single post:
6 Niches That Contain Thousands Of Trending Products To Sell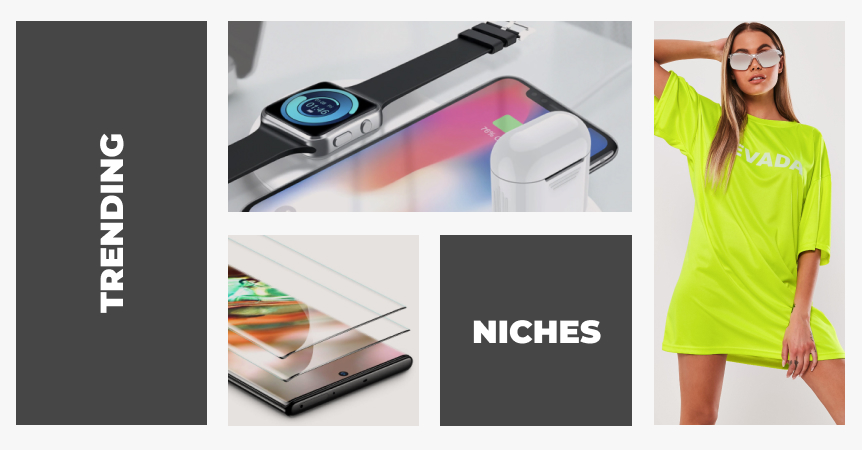 Welcome to our brand new seasonal selection of trending products to sell in your online store!
Some time before, we have guided you through a range of cute and adorable products that can boost your store sales and surprise you with exciting profits.
Today, we're showing you an exciting variety of trending products to sell in 2020, again! As usual, we did our best to conduct an in-depth market research. As a result, we are able to show you the product categories that are going to become increasingly popular next year. And if you're not sure about the financial potential of this or that category, you can always check it with our free niche research tool.
Let the fun begin!
The Full List of Trending Niches and Products to Sell in 2020:
Trending products to sell in 2020: hi-tech products and accessories
Since we live in the high-tech era, it is quite logical to assume that hi-tech items are going to be one of the most popular ones sold online.
Still, it's necessary to check the credible information sources to find trending products which can be a good choice for a dropshipper. Check this manual to find out what are the product types we do and don't recommend to include in your store offer!
1. Screen protectors and films
During the latest Consumer electronics show (CES 2019), it became evident that screens are continuing to become an integral part of various home appliances and personal use devices, to say nothing of mobile phones and tablets.
For example, Samsung Electronics introduced modular display – an outstanding innovation for enterprises and wealthy consumers. To meet the needs of other customer segments, it also presented CRG9, one of the most exciting gaming displays currently offered on the market, and Space Monitor that takes almost no desk space. Experts add that screens are expected to 'become more prominent' in cars, office spaces, restaurants, etc. as well.
Naturally, it leads to the rise of demand for different screen protectors and films. The more screen-equipped gadgets and appliances we own, the more we want to keep them in the due working order.
The Google Trends

shows the global changes of demand for this type of phone accessories in the last 5 years:
The modest yet steady demand growth is obvious, which is why we invite you to take a look at the relevant AliExpress offers:
Judging by the number of orders, this is quite a promising product type that can be duly noted by the owners of dropshipping stores.
2. Wireless charging stations
Wireless charging stations provide freedom and flexibility to its users. Basically, thanks to them, you don't depend on power sockets location. Therefore, you can charge your mobile phone or tablet, or any other device in a more convenient and user-friendly way.
Obviously, the whole idea of wireless charging is not that new. The technology has been known for several years already, but recently, it got an increased attention from both the general public and mass media. Mostly, it's due to the fact that nowadays many people can afford to buy such devices.
The reason is quite simple: in September 2017, Apple announced its cutting-edge wireless charging pad and declared it will only become available in 2018. It certainly influenced both the market movement and the customer sentiment. O the graph below, you can see the change of interest towards wireless changing stations in the last 5 years.
Demand for wireless charging stations has been substantially growing this year, and nothing is going to change about it in the near future. Manufacturers, in turn, increasingly adopt the highly demanded technology as it shows an impressive potential: according to industry estimates, the global wireless charging market will be valued at over $22 billion by 2022. Naturally, sellers who place their offers on AliExpress are willing to follow the growing trend.
3. Wearable devices
The popularity of different wearable devices is growing very rapidly. This is also related to the fact that nowadays most of them don't cost a lot, and people can afford to buy them without any problems.
Which particular wearable devices are going to be the best-selling products?
So, we are now speaking about fitness trackers. The point is that a fitness tracker is a relatively low-priced gadget which is able to provide its user with a number of functions: watch, alarm clock, heart rate monitor, pedometer, etc.
What is more, the years roll on, and the newest devices are already equipped with NFC technology (Near Field Communication, essential for making contactless payments), and not only.
That's why the hi-tech market is filled with these fitness trackers.
Just have a look at the picture below and make sure that they are extremely nowadays.
Since we go on speaking about different wearable devices, let's discuss the more advanced version of fitness trackers – this is a smart watch. Despite the fact that the most convenient and cutting edge models of smart watch cost really a lot, their popularity is also gaining momentum.
This is connected with a number of reasons. The most essential one is that this device has so many functions to suggest its user. By means of your smart watch you can answer the phone, write messages, get immediate access to the wide range of online information. Moreover, they possess all the functions most of fitness trackers do.
Look at what Google Trends can tell us about the desire to buy a smart watch.
As you can see, the number of people who are interested in purchasing a smart watch is increasing steadily from year to year.
We would also like to draw your attention to the number of orders the AliExpresss suppliers point out. First of all, please have a look at smart watch.
If you are already surprised with the figures, here come fitness trackers.
So, we have discussed only two most popular wearable items, and it's already clear that due to the demand these products are to be extremely profitable in terms of dropshipping for several more years.
Trending products to sell online: car products
To date, the number of people who want to purchase several accessories for their cars is growing steadily. It refers to the fact that in most cases it's very expensive to buy a car which possesses all the options you need for daily use. That's why people have to modify their automobiles and equip them with the most essential functions and accessories.
4. Rear camera
Since one of the most important aspects of driving is the opportunity to see what's going on behind you, such item as a rear camera has turned out to be in great request lately. To prove a point, let's see what Google Trends can tell us about it.
It gets clear that the popularity of 'rear camera' search request is growing rapidly. And if you doubt that dropshipping auto cameras is a good idea, let's monitor the number of rear camera orders in AliExpress stores.
The figures tell us that if you choose the right supplier who can provide you with the products of high-quality and with lots of positive feedback, dropshipping rear cameras is going to become profitable for you.
5. Car LED light
The sources of light are changing everyday. Some 15 years most car producers used halogen lamps in their automobiles. Then, the xenon technology of producing light displaced the halogen due to greater performance. Nowadays people make extensive use of car LED light. This light source provides low energy consumption while better characteristics of luminous flux.
As soon as people from all over the world realised that they have an opportunity to buy LED lamps for a relatively low price, they actually became widespread.
According to Google Trends, car LED lamps are in demand, and since nothing new has happened in the sphere of light sources, these lamps are going to maintain high ranking in the near future. By the way, these product category can also impress due to the number of orders.
We suppose it's definitely clear that car LED lamps are worth your attention when dropshipping!
6. Car charger
Since there are lots of modern technologies which are implemented in our devices, the level of their energy consumption is increasing everyday. This fact pushes most people to have an opportunity to charge their devices everywhere. That's why car chargers have turned out to be a big hit. Let's have a look at Google Trends and try to find out whether they are still so popular.
So, we can see that the popularity of car chargers are not only losing their spot, but it becomes more and more demanded. The number of orders in online stores also underlines this fact.
That's why, think of dropshipping car chargers because it's really a gold mine!
7. Car holder
One of the most interesting facts about car producers is that in most cases they don't adapt their automobiles to let us put our smartphones somewhere. It's actually hard to believe but that's how it is!
Due to this reason some car accessories manufacturers began to produce so called car holders. They are quite different. But they have one thing in common – they're extremely popular among car owners.
In accordance with Google Trends, their popularity is gaining momentum right now. This fact is also confirmed by the number of orders in online stores. Let's have a look at the picture below.
Looks impressive, doesn't it? By the way, since most of car holders are low-priced, they are going to be more attractive in terms of dropshipping!
Trending products to sell online: bathroom accessories
Who would say "no" to making your bathroom interior be a bit more pleasant and convenient?
So, let's talk about the products which are designed in order to let you make your home more modern and practical because next year will give us more opportunities to live out our fantasies!
8. Showerhead
Great variety of showerheads let people choose the one they like more. Just pay attention to what Google Trends tell us about the showerhead search volume.
It's obvious that such products are in strong demand right now, the situation is not going to change in the near future. We can confirm this fact by the number of showerhead orders in online stores.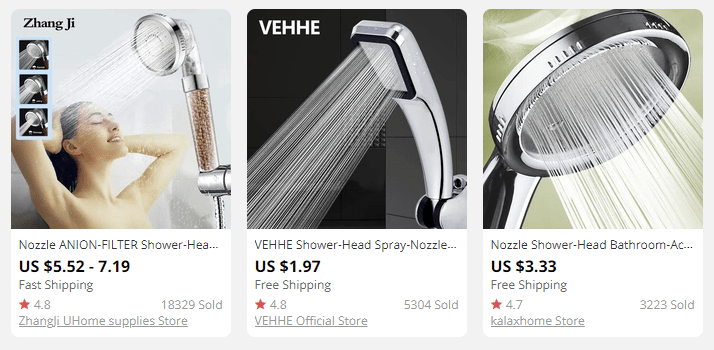 It looks really impressive! So, there is no doubt that this item is worth your attention while thinking of the product list for your dropshipping store!
9. Toothbrush holder
Have you ever looked for a way to make your bathroom look a bit more attractive?
Here comes toothbrush holder! Due to the fact that there are lots of different toothbrush holders for all tastes, they've become very popular in terms of buying in an online store.
As you can see, their popularity has already been growing for several years to come. Let's have a look at the number of orders.
These figures alongside with the original prices tells us that this kind of products fits dropshipping perfectly.
10. Hair catcher
As some foreign objects like loose threads, pet hair, etc. can bring a lot of harm to your washing machine or sewage system, people have to seek for the ways of catching these things. Fortunately, some producers have designed a very useful tool that is called hair catcher. It seems to be a filter which task is to exclude all the unnecessary matters from your washing machine or kitchen sink.
Despite the fact that this product doesn't seem to be a dropshipping best selling item at the first glance, we would like to draw your attention to the picture below.
Here you can see that the number of 'hair catcher' search request is increasing steadily. In fact, there is more. Look at the number of hair catcher orders.
Since the figures are impressive, we believe that this kind of products has a great potential in terms of running eCommerce stores!
Trending products to sell this year: fashion items
Fashion items are really perfect in terms of dropshipping if you want to create a winning product offer. When it comes to buying fashion clothing and accessories, customers choose them emotionally, and not rationally. This is why these products are great for impulse purchases generation!
11. Collared clothes
Typically, the so-called Peter Pan collar is witnessing a regular surge of demand in the autumn and winter seasons.
However, extra large and detailed collars were broadly featured in the runway collections showcased during the Spring-Summer 2020's edition of New York Fashion Week. And so, we expect them to become a more noticeable trend of the upcoming year.
Luckily, AliExpress sellers have enough lovely collared clothes to offer!
Even though the number of orders is not particularly high as of now, with the due promotion, these items can easily attract fashion-conscious buyers to your store.
12. Polka dot print
This nostalgic vintage print is already regaining its popularity, as you can see from the screenshot below.
And it's going to become an even hotter fashion trend thanks to the overwhelming presence of dotted clothes on the Spring 2020 New York Fashion Week runways.
It's great news for dropshippers: even now, dotted clothes see a huge demand on AliExpress.
Can you imagine the volume of profits you will be enjoying with these products when spring gets closer?
13. Neon clothes
No words are necessary. Just look how many people have become more interested in this type of apparel in the last 3 years!
The collections shown during the Paris Fashion Week Fall/Winter (2019-2020) are going to boost the neon's popularity heavily, and we'll be stumbling upon these catchy colors everywhere.
Speaking of which…
We're already seeing plenty of these bold colors featured in AliExpress sellers' offers!
Trending products to sell: sports and travelling
It doesn't even matter, really, whether these items are used on a daily basis or during some special occasions only. As soon as your store visitors understand that your products can satisfy their actual important need, they get much more likely to place their orders here.
14. Sport bottle
Since nowadays lots of people go in for sports, different items related to sports activity have become extremely popular.
As you can see, the popularity of sport bottles is going up! This fact is also confirmed by the number of worldwide orders.
By the way, low initial priced make this product even more attractive in terms of dropshipping!
15. Luggage suitcase
Nowadays travelling is trending. That's why all the items related to travelling are really gaining momentum. Is it hard to believe? In that case, look at the picture below!
Since the popularity is increasing steadily, we can make sure that these products won't fall behind. They're going to stay as attractive in terms of dropshipping as they are now! The statistics on the number of orders confirms this idea.
Do you want to lose a chance to start selling such beautiful products?
16. Travel organizer
To date, small and ordinary things are going to conquer the world! Such a simple and unique tool as a travel organizer is really enormously popular among online customers. Just have a look at what Google Trends tells us about the number of 'travel organizer' search request.
Are you impressed? Then, look at the picture below!
The number of orders is enormous. And since initial prices of such items are relatively low, they are going to enter the list of the most attractive products in terms of dropshipping!
Trending products to sell: beauty accessories
Are you keeping an eye on hair and makeup trends? Would you like to turn this hobby into money-making business ideas? Here are 3 exceptional product categories you can consider!
17. Makeup jewels
Face jewels are everywhere, from HBO's 'Euphoria' to the latest Paris Fashion Week.
It's not even surprising: these elaborate makeup elements have been enjoying a strong public demand for a longh time already. What is more, there's no reason to expect their popularity to go away in the near future.
Judging by the number of orders we see on AliExpress, it's definitely a noteworthy addition to your dropshipping store!
18. Nail décor
Much like elaborate face decorations, noticeable elements for creating outstanding nail art are going to be a must-have of the upcoming season. By the way, they have already managed to grab the audience's attention!
Such embellishments are thought to be one of the most important spring 2020 nail trends, and most definitely, you can't be overlooking them!
Thankfully, AliExpress suppliers have plenty of product variations to meet the needs of the pickiest visitors of your dropshipping store.
19. Hair clips and pins
It's a good thing to see that hair clips have a steady demand all year round, with no seasonal ups and downs. It means it's an evergreen product type that is not going to lose its popularity any time soon!
According to Cosmopolitan, hair pulled back and secured with hair combs and clips is a huge spring 2020 hair trends originating from the countless fashion runways.
It's enough to take a single look at the demand for this product on AliExpress to see it's a must-have addition to your dropshipping store!
Why not benefit from these cute, lightweight, easy-to-ship items that are going to stay demanded, like, forever?
How to find trending products?
In fact, you have a chance to make your own compilations. But you need to know how to find trending products.
Actually, there are some IT solutions which can help you define the most popular products in a particular niche. However this software often costs a lot. That's why we will tell you how to find trending products totally for free. Let's start!
First of all, here are two options:
You know approximately what to look for

You have know idea what is included in the list of trending products to sell
Option #1
For example, you think that wireless chargers are highly likely to be in a strong demand nowadays. So, you move to Google Trends and check whether this is right or not.
Google Trends let us see how popular a particular search request is. What is more, due to the settings you may choose location (US, worldwide, etc.), time range (past 30 days, since 2004, and so on) and some other parameters.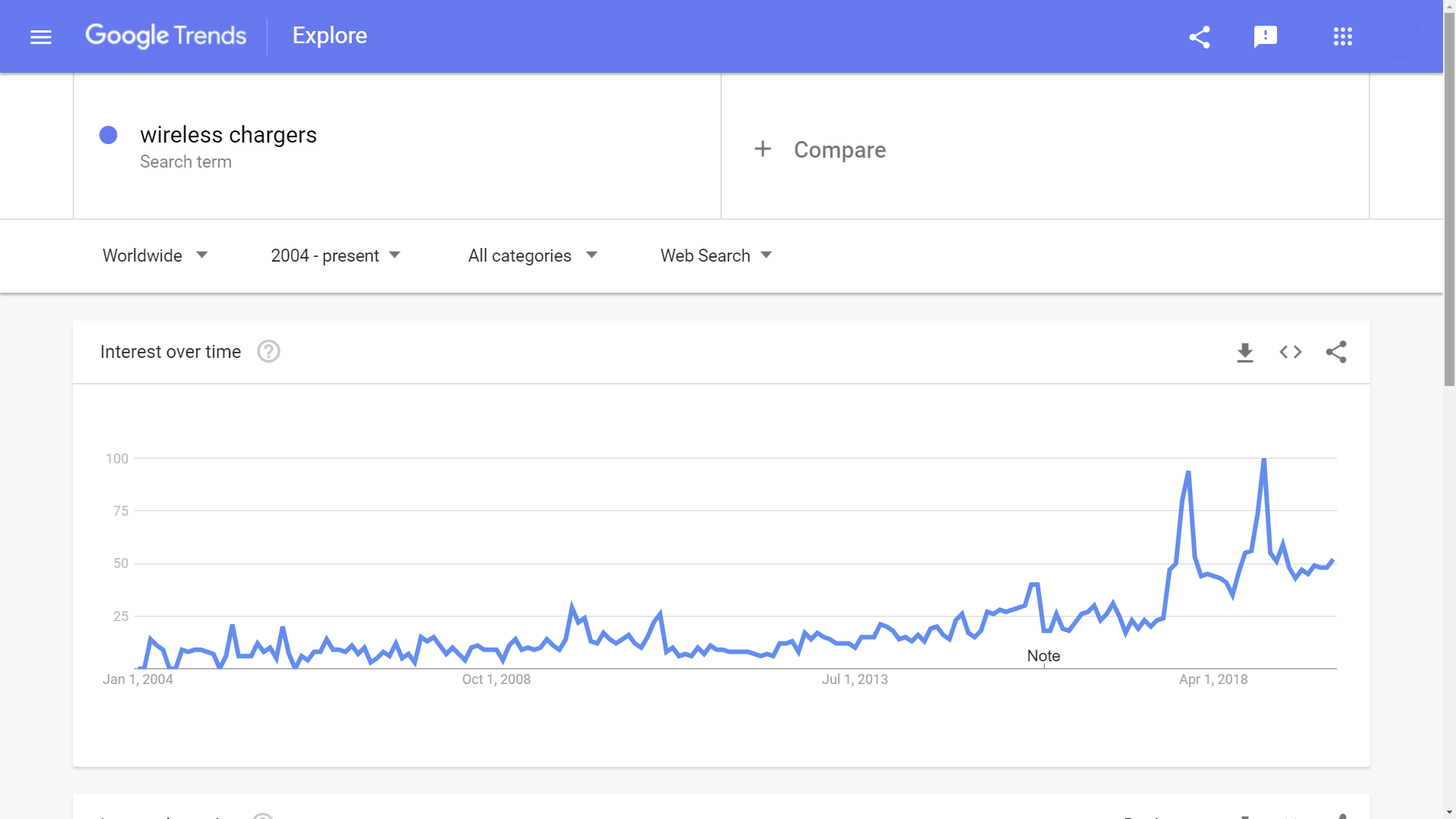 So, due to this tool we can make a preliminary conclusion whether an item is really trending or not.
Then, we move to one of the most popular online stores (AliExpress, eBay, etc.) and look for 'wireless chargers'. When searching, don't forget to put a check in '**** & Up' and sort the products by orders.
Now let's look what we got.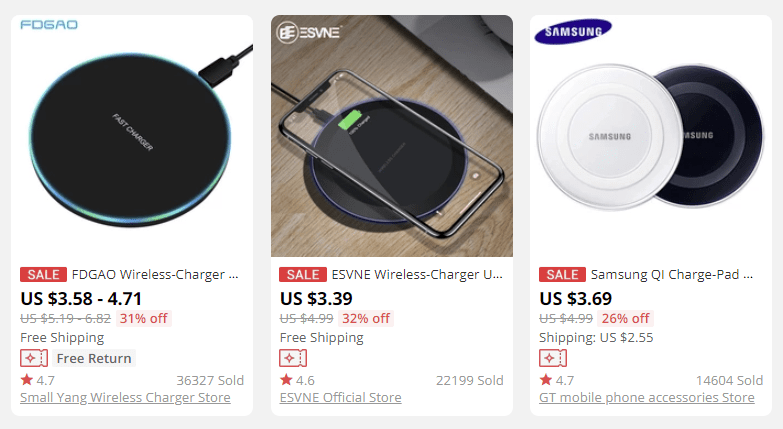 You can see the products with the biggest number of orders. For example, the first item AliExpress shows us has more than 35K orders. Sounds impressive, isn't it?
In that way we have found out that wireless chargers can be included in the list of trending products to sell.
Option #2
Let's imagine that you have no idea which items can be trending.
In that case, you go to AliExpress and choose a category and subcategory that are interesting for you. For example, you're fond of automobiles, and you want to sell products for cars. Then you choose 'Automobiles' and 'Car lights'. Then put a check in '**** & Up' and sort the products by orders.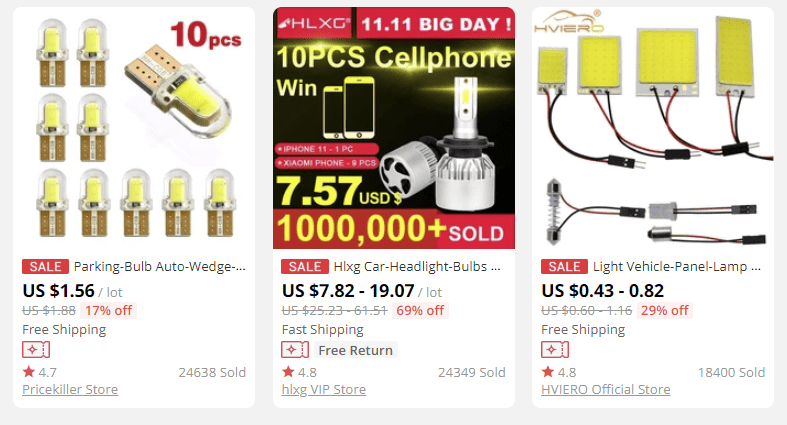 So we can see that if you want to sell car light, you should pay attention to LED lamps since they are the most popular on the market.
And if you have any doubts about them, let's check them out on Google Trends.
According to Google Trends, 'led light' search request has been gaining momentum during the past 5 years.
In fact, there is nothing challenging about it. So use this method wisely and make the most of your business!
That's it for our list of trending products to sell in 2019-2020! If any of the mentioned categories seems interesting to you, it's a wonderful reason to explore it further and start your own dropshipping business in the field. By the way, don't forget to market your products through social media because it's extremely important in terms of increasing profit margin.
Join 325,000+ entrepreneurs who are already mastering new skills with our FREE Guide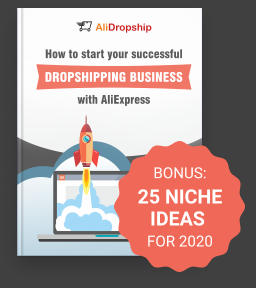 How to Start Your Successful Dropshipping Business with AliExpress
Get step-by-step instructions for newbies, expert advice how to build and promote your store, and best tools for AliExpress Dropshipping