How To Drive Traffic To Your Landing Page: Best Practices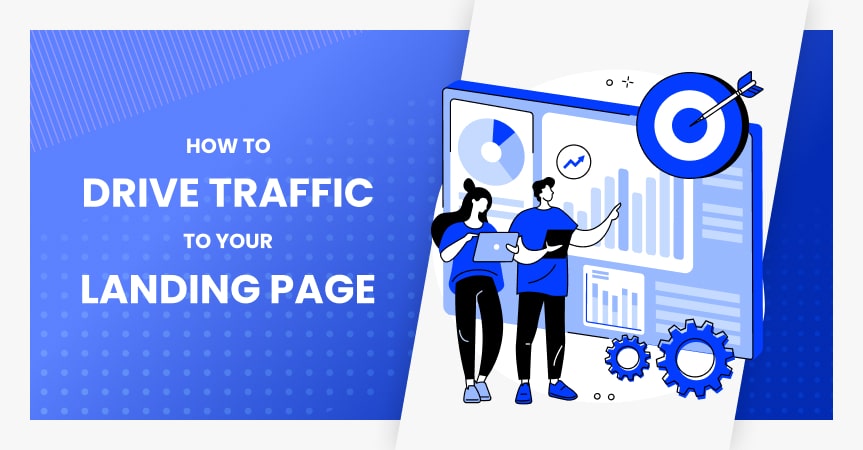 Landing pages are an exceptionally powerful form of advertisement. But as awesome as your landing page may be, it can't just pop out of nowhere and magically load in a person's browser tab. Let's be honest. The key ingredient of a successful marketing strategy is actually to hone in on promotion. That's why today we're taking a closer look at how to drive traffic to your landing page!
After you publish your landing page, there's a lot you can do to drive traffic to your page and make it stand out online. Without further ado, let's break it down by channels you can use to expand your traffic sources and make the most of your online marketing efforts.
Quick recap: A landing page is a standalone conversion-centric page that your prospects land on after they click on your ad (in an email, social post, search ad, etc.) or a search result. It has one goal: to convert by focusing on one offer.
How to drive traffic to your landing page: advertise it on your website
Probably the easiest way to get people to see your landing page is to promote it on your website. It even feels right to do so. You can implement this promotion in the blink of an eye and it may cost you absolutely nothing. And since your website is your own ecosystem, you'll enjoy total control over all kinds of integrations.
Here's how you can shine the spotlight on your landing page:
Show a pop-up form leading to your landing page
Use a fixed promo banner at the top of your screen with a link to your landing page
Add a banner to your Homepage slider that features the product you're selling with a landing page
Link a banner button of your Homepage slider to a landing page
Use Homepage article to tell your visitors about the product you promote with a landing page
Bring in traffic through customers' email inbox
Once you're ready with your landing page, one of the first things you should consider doing is to send an announcement to your email list. Telling people who are already familiar with your brand about the launch, you boost your sales chances greatly.
According to multiple studies, those who have already purchased from a store in the past are much more likely to become loyal customers. So, it's pretty safe to pin your extra hopes on actual customers who are subscribed to your newsletter.
Start your email with an enticing subject line and add a catchy headline that explicitly states your offer. Email content should be relevant to your landing page and have a clear and inviting call to action — a clickable button or a link that will bring your subscribers to the landing page. Also, consider adding the link to your landing page under your email signature. Zero efforts with a potentially high return 👌.
You can go one step further and launch a follow up campaign — a series of automated emails sent to people who take a specific action — to have even better results in the long run.
How to drive traffic to your landing page: take advantage of organic social media
Posting the link to your landing page on Facebook, Instagram, Twitter, Pinterest, or any other social network you use is a bulletproof way to pump in quality traffic. Since your landing page visitors are already familiar with the brand, it won't be hard to generate sales. To connect with your followers and urge them to click the link leading to the landing page, do your best to provide valuable content. It is stating the obvious, but the larger your community is, the more results this will deliver.
Here's what you can do to engage your social media followers:
Create a few related posts that tell about your product, the features it has and the ways it can make your prospects' life better
Prepare a post with a question related to the item you promote to engage your audience
Create visuals with the link to your landing page that can be pinned or shared on Pinterest
Include information on the landing page into your Facebook and Pinterest cover photo
Add a link to your Instagram bio
Add a link to your Instagram story with a swipe-up
Pin your landing page to the top of your Twitter account so it always gets displayed
Record a video explainer showing your product and publish it on your social media accounts
Here's what a Facebook post might look like:
How to drive traffic to your landing page with keyword research
To capture the attention of your customers, you must know what people are searching for. Thus, finding out what words are connected with your business is essential to drive organic traffic to your website.
Educate yourself with tools like Ahrefs, Keywords Everywhere, Ubersuggest, and Ask the Public to find out:
SERP rankings
Common questions
Backlinks referring to highly ranked pages
Volume of traffic being driven to competitor sites
Keywords and long-tail keywords relevant to your brand
Keywords research is the foundation of your website visibility. Make sure you take the necessary time to find the right keywords to use and what questions you'll need to answer to generate interest and demand.
There are many SEO mistakes you need to be aware of, but one of the most common ones is the lack of detail in the description for web pages. Before making each page, make sure they have enough information and imagery to be indexed by search engines and social networks.
Besides including keywords relative to your website, you have to ensure that the page titles and meta descriptions are accurate to the content displayed. Doing this, upon sharing a page from your website, the value is understood from the URL to the footer.
How to drive traffic to your landing page: team up with other brands
Consider finding a partner and launching a co-marketing campaign to broaden your audience reach. In cooperation with a like-minded (and hopefully established) brand, you'll welcome new traffic and give your brand a stronger voice.
This kind of partnership doesn't have to be huge. For example, a good idea is to start with a guest post. Guest blogging comes especially in handy in case you launch a product that is new to the market and it is still quite unknown to a broad audience. Obviously, people are not really prone to search for an item they haven't even heard about before. However, they are much more likely to give it a check (or even a try!) if they learn about it from the blog they're subscribed to.
This cooperation might yield especially impressive results if you tell an engaging story behind your product. Today, storytelling is definitely not something you want to neglect.
How to drive traffic to your landing page: create great calls to action
CTA's are essential to your blog, email and social media in general. And it is a simple and great way to drive traffic to your website or landing page. However, unless these calls to action are compelling in their content and design, your results will be less than stellar. Always find new ways to tweak and improve everything from your headlines to the color of your buttons and find out what really works for your audience.
How to drive traffic to your landing page: connect with your target audience on forums and question-and-answer websites
Find communities, groups, and forums where your potential customers share their interests and pains. Apart from Reddit, Quora, and Facebook communities, make sure to check local groups as well — we're pretty sure you'll discover plenty of hidden opportunities. This channel is a great way to get people talking about your business and bring your domain authority up without spending a single penny.
The tricky thing about reaching your prospects like this is that you can't just publish the link to your landing page. It will be considered spam. So, do your homework. Instead, invest some time in creating an informative post that provides some value to readers and piques interest. In this post, offer a solution to the problem being discussed. And of course, don't forget to mention that your solution (i.e. your product) is the ultimate one 😉
If you're curious about digging in further, we've put together a blog post that explains who Facebook influencers are and how you can benefit from collaborating with them. Be sure to check it out!
How to drive traffic to your landing page: expand your content marketing efforts
Creating a post that will resonate with your readers and spark engagement is not an easy task (we know this at first hand). But high-quality content might have such a heavy impact on a buying decision that you'll want to get down to your writing straight away.
The best thing about promoting landing pages on your blog? Readers stick around because they see value in what your brand has to tell. You've already managed to catch their attention and inspire interest, congrats! This means they're a couple of steps closer to making a purchase from you.
Luckily, in your own blog, you can afford the luxury of dedicating a whole post to the product you promote using landing pages. Just keep in mind one point. Instead of simply boasting about the product's features, elaborate on its perceived value. People don't want to buy a product. It is the end result they're willing to pay for: emotions, pain relief, comfort, upgraded social status, etc. So, when pitching your offer, try to focus on what people will get done using the product and point out what benefits it brings.
Besides, high-quality content might help users find your landing page on the internet as it ranks higher on search engines. Yes, it takes time, but anything good takes time. Just be patient.
A few ideas to consider:
Write a dedicated blog post
Add the link to your landing page to other related articles
Use a pop-up to inform your readers about the landing page
Don't skimp on engaging visuals: place an eye-catching banner and a nice product image
How to drive traffic to your landing page: use paid advertising
Yes, paid ads cost money. But you should always keep in mind that these investments pay off. With paid search ads, you can quickly get your brand name out there and vastly expand your reach. In fact, serving up a conversion-centric landing page to high-intent customers is the most effective solution you can come up with.
Besides, the power of the remarketing technology cannot be overestimated. This is a second chance to bring back those who show a specific interest in what you're selling but are not ready to buy when they first find your store.
How to drive traffic to your landing page: run a paid social media campaign
With 2.7 billion users worldwide, social media offers tons of advertising opportunities. Social ads are another terrific way to attract new audiences and turn one-time customers into regulars. And as we've already mentioned, retargeting campaigns are just a godsend. Such ads can win back lots of customers you've marked down as lost.
After you finish customizing your landing page, run an ad campaign that links this page URL in the call to action. A rule of thumb to provide a smooth flow and consistent experience is to ensure your landing page and the ad match and share the same message.
Don't limit your ads to Facebook only. There are plenty of fish in the sea! Make sure to check out our latest guides on how to promote your dropshipping business on other social media — TikTok, Pinterest, Twitter, and YouTube.
How to drive traffic to your landing page: create a thank you page with related offer
When your customer successfully purchases something from you, be sure to have a ready "Thank You Page" suggesting at least one other related offer that a person would be interested in.
These don't necessarily have to be landing pages. Linking to informational blog posts that align with the visitor's persona can keep them engaged and keep your brand top of mind while nurturing the relationship.
Key takeaways
Using several marketing channels, you ensure a higher efficiency of your activity from both a sales and marketing standpoint. To achieve this, you can:
Tap into your website traffic
Use your email database and reach out to your subscribers
Leverage your social media community to drive your followers to the dedicated page
Find the folks who are trusted advisers to your customers and prospects and partner up with them
Explore new places where your potential customers might be (blogs, forums, local communities, etc.)
Take your blog seriously: high-quality content coupled with storytelling is bound to win more loyal customers for your business
Don't be afraid to invest in paid ads — they yield a great return
And some best practices to keep in mind:
Use simple and clear messaging
Devise a concise and memorable tagline for your promo posts
When making ads, use colors, visuals, and tone that match your landing page look and feel
Make sure your landing page delivers on its initial promise stated in the ad
Test and optimize: you can create a few landing pages for one product to test your hypotheses (thankfully, the Landing Pages add-on allows you to create an unlimited number of landing pages)
Conclusion
So, you've created a killer landing page. With all the tips provided above, you're all set to launch a killer promotional campaign. Chop-chop!
Still don't have a landing page yet? With the Landing Pages add-on, you'll have a much easier time increasing your conversion rate and getting the word out about your product. Don't just take our word for it. Experience the power of landing pages for yourself!