How To Sell On Pinterest: Everything You Need To Know To Bring In Sales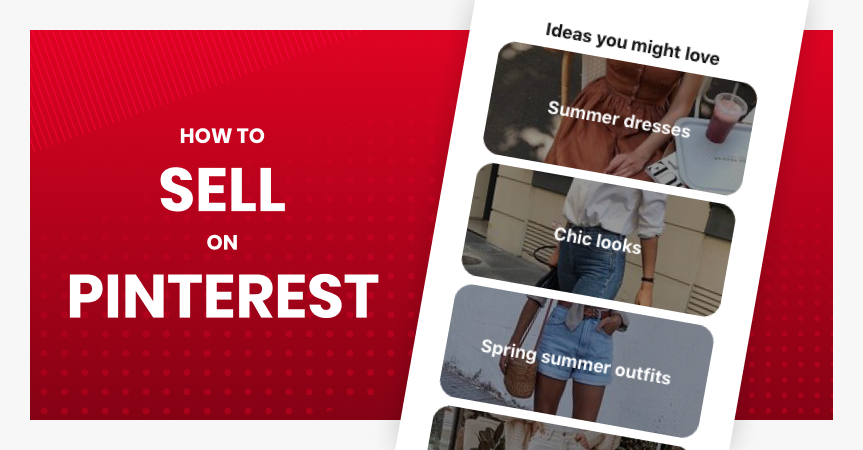 Did you know that 66% of Pinterest users buy something after they see it on pins? Or that compared to other social media users, Pinners are 39% more likely to buy products actively? That sounds intriguing for any dropshipping business owner! That's why today we offer you to shift your attention from Facebook & Instagram to a promising audience of Pinterest users, and discuss how to sell on Pinterest.
Reasons to sell on Pinterest
89% of US pinners use Pinterest to research purchasing decisions. And with Pinterest boasting 320 million monthly active users, that is a lot of people going to this one platform just to shop. This is all the more reason why your brand should make the most of this platformю
Pinterest has a lot of potential to get new customers every day. Moreover, it has been found out that the customers on Pinterest pay more per order than most other social platforms.
We've already covered that 89% of US pinners on the platform are using it specifically to plan out purchases and research products, but that's not all you need to know.
Nearly half of all users are logging onto the site just to shop. Forty-seven percent to be exact. That's about 150 million potential new customers buying your products.
A lot of customers are waiting for you to approach them. So, let's see how to properly sell on Pinterest!
How to sell on Pinterest: the best pin types to use
Whether you've already conquered Facebook Ads Manager or are still in the process, it's time to challenge yourself with making sales on Pinterest. Its advertising policy is a nut to crack as well! This social media platform has a few options for you to consider and use.
Rich pins
Those were designed with the needs of business owners in mind. The main feature of these pins is providing extra info about what you're selling, such as price, material, availability, etc., right on the pin.
This type of pin is free and will automatically show up in your follower's feed. It makes things easier for those who'd like to buy a thingy from you.
To add a Rich Pin to your account, you should do a couple of things:
Mark up your product with meta tags
Add the URL of the page to the Rich Pin validator tool
Click the 'Apply" button that will appear once you've done everything
Enjoy the effect!
Buyable pins
Those are called so because they have a special 'Buy It' button directly on the pin. The reason for this button to exist is very understandable because most Pinterest users are engaged shoppers. While this cool opportunity is available for some ecommerce platforms (not big brands only), unfortunately, this feature works in the US only.
If you're a lucky US resident who can use this feature, the simplest way to do that is through Pinterest Save browser extension.
Promoted pins
If you'd like to attract more Pinterest users to your account or website, promoted pins are a great tool to use.
They facilitate the process of adding followers and increase sales. Moreover, they are quite easy to set up in Pinterest Ads Manager.
If you'd like to learn more about it, read our article about Pinterest advertising.
"Shop the Look" pins
Remember the Instagram feature with price tags on posts? You can do the same on Pinterest! This is a wonderful tool that can be used by any brand with a business account with the free product-tagging tool.
You can show an attractive picture to people and sell your products to those who are already interested – we mean, without being irritating. 🙂 Typically, they generate twice as many clicks as regular pins, so we recommend using them to the fullest.
How to sell on Pinterest: the keys to using the platform more effectively
If you've been in ecommerce for long enough, you probably already know that advertising is not the only thing you should do to drive sales. So, here are some tips that will make your time & money investments even more successful!
Take care of your Pinterest profile
If you're wondering how to sell on Pinterest, first of all, make sure you have a business account, not a personal one. It will give you access to more specific features which you'll need as a dropshipping entrepreneur such as analytics and top pins (read more about it here). It will also give you an opportunity to link your store to the account, which is kinda important if you'd like to use all the wonderful features we mentioned above. If you already started your store's account as personal, don't worry: it's easy to convert it into a Business one.
Then, don't forget that your social media account should be easily distinguishable by your clients. So, make sure your profile photo is your logo of a suitable size, the bio is optimized, your cover board matches your niche and store identity, and the right contact information is present.
After these things are done and your account is ready, you should claim your website. Just follow this simple step-by-step guide from Pinterest.
One more thing to take into account is being active. Post a lot, and post regularly. Pinterest itself recommends making at least one post a day. Moreover, you should try to interact with other people: comment on other accounts' pins, re-pin other users' pins, and so on. Do everything to be noticed. 🙂 If that seems a bit overwhelming for you, our team has a great automatic solution for these needs.
Create your own boards
Remember that Pinterest was started as a scrapbook of a kind: that's why people here really love organization. While you can learn all hacks on creating boards in our previous article, we have one more secret thing with you to share: create a board that will give people a reason to follow you. Try to think of some kind of content that can be produced by you only and divide it between boards.
Use keywords
SEO works not only for Google! After all, Pinterest is a visual search engine, and keyword search is crucial if you'd like your posts to be on top. Use some keyword ideas from Ubersuggest or Ahrefs to find the most suitable and promising ones for your niche.
If you think that you can integrate these keywords into text only, we're happy to say that there are a lot of alternative options as well:
Title
This is the first thing a user sees, so it would be great to demonstrate that your pin is exactly what they've been looking for.
Description
No comments needed, just try to add the keywords to the first 50-60 words you're writing.
Hashtags
Yes, they work on Pinterest, too. Add some niche-relevant and not too general hashtags at the end of your pin.
Text overlay
Social media algorithms can read pictures, so use this feature to your advantage.
URL text
Add a keyword to the URL as well to let Pinterest see that the post you publish contains some valuable info on the topic.
Alt text
It's not something we usually think of, but it works. If someone pins your post, other users will see its 'technical' description automatically.
You can also add some keywords to your profile description and board names as that will help you connect to people who are searching for you. However, don't overdo the task: rumour has it that high-traffic pins tend to include between 5-10 keywords and 3-5 hashtags.
Engage with your customers
One of the best digital marketing strategies is not focusing on selling. It is significant to understand that the success of your social media promotion is defined by your ability to engage with customers. Increased engagement results in an increase in sales and revenue.
We recommend avoiding an overly 'pushy' approach and mix promotional and non-commercial content in your pins.
Pay attention to the 'Gift' tab. The gift tab is an innovative drop-down menu that gives users the opportunity to search for gifts at fixed prices.
It is very simple to join this list: just add a price tag to the product description, and you'll be added to the list automatically.
Building up content: tips on how to sell more on Pinterest
As you know, Pinterest is a visual platform. This means, first of all, you need to be sure that your pins look appealing and inspire your potential customers to click. You can achieve it by using:
High-quality photography
Beautifully designed graphics
Correctly sized visuals
Bold colors and fonts
Graphics that match your branding
These are the minimum requirements to make your content look professional. We'll show you a few examples of high-quality pins to illustrate what we mean.
You can create a beautiful, branded pin like the one below that draws users in and entices them to save, click on and purchase what you're promoting.
Photo credit: Coca-Cola
A perfect way to stand out is to take professional pictures of your product, like Moschino did for a new collection.
Photo credit: Moschino
Or you can simply post stunning photos of your products and provide all the necessary information.
Photo credit: IKEA
According to Pinterest's own research findings, there are some pin design tips that work well for all goals:
You can add it to the top or bottom center of a pin. This way, pinners can make out your logo clearly and understand this is an actionable pin.
Set your product image as the center point of the pin: this way, you make it the main point of the image.
Show how to use your product!
Since we are eager to sell more on Pinterest, these extra tips will be especially helpful:
We recommend creating a content plan and keeping seasonal events in mind. If your post is about a time-specific holiday, a mention of it can increase your sales by up to 20%. This will drive urgency for faster conversions.
Pins with call-to-actions in the text overlay tend to lead to a 6% sales lift on average.
Include pricing and product information in your Pin descriptions for an average 28% sales boost.
Create a unified visual style for the pin and the landing page for an average 13% sales increase.
Even though visual content on Pinterest will always be in the spotlight, that doesn't mean you don't need to use text. If the visual part of a pin will catch a user's eye, the description motivates them to click. It can help users find your pins easily.
For best results, your pin descriptions should be:
Users will only see the first 75-100 characters unless they click. To increase clicks, put significant information upfront and focus on establishing the utility of the product.
Keywords are necessary, but remember about creativity and informative texts. Pin descriptions that contain only keywords can be off-putting.
Users can see that the cool stuff you're selling is what they are looking for. But a description that lets them know it's premium quality and with free shipping can encourage them to purchase.
How to sell on Pinterest: summing up
Now you know all the basic keys to using Pinterest for boosting your dropshipping store sales. If you are seeking a new channel to win more sales, Pinterest has a great potential. Pinterest is a perfect social media for ecommerce because users are equally motivated to save items and to share them with others.
The long-term success of your Pinterest marketing strategy depends on creating stunning and relevant content. High-quality and inspiring images, effective use of keywords, and niche boards that show your pins will help you to get more followers and customers. The best part? You can easily automate your social media posting process and get more sales starting TODAY!