T-Shirt Dropshipping For Beginners (35+ Product Ideas)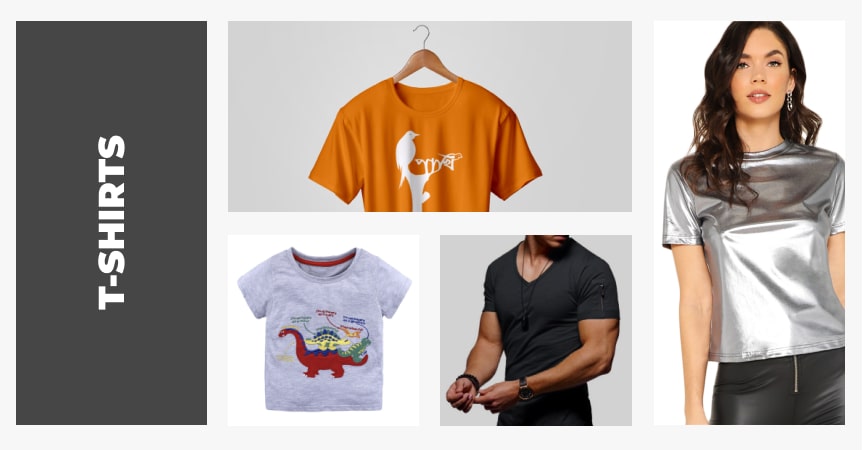 Would you like to try yourself in the t-shirt dropshipping business? What does it take to start and run a store in this niche? And will it even be profitable? Let's answer these questions together!
Some time ago, we were talking about the most profitable ways to dropship apparel. Now, it's time to narrow this product category down, and focus on a more specific product type: t-shirts.
Yes, t-shirts! The ones we're wearing on a daily basis and seeing in every brick-and-mortar clothing store. Are they a good fit for dropshipping if they are so easily available? Let's figure it out.
Why is it a good idea to start t-shirt dropshipping?
Here are 5 reasons to start selling t-shirts in your dropshipping store:
#1 The market is extremely large
According to Statista, the worldwide revenue in the men's and women's t-shirts and singlets (sleeveless shirts) segment in 2019 is $154,144 million. What is more, it is estimated to grow by 5.4% annually over the course of 2019-2023. The researchers predict that 25,000+ MILLION t-shirts and singlets will be sold in 2023!
Of course, the market is too tempting to ignore 😉
#2 AliExpress sellers offer demanded t-shirts
As a dropshipping store owner, most likely, you'll use AliExpress as the source of supply for your t-shirt business.
And it turns out, t-shirts are frequently bought here!
Even though it's not a big deal to buy a t-shirt from a local store, AliExpress is still considered to be a great shopping alternative for thousands of people.
Just take a look at this impressive number of orders!
AliExpress t-shirts are sold in thousands, which makes them a truly great type of product to add to your dropshipping store.
And probably the most important point here is the diversity of the product range, which brings me to my next point.
#3 There is plenty of options to dropship
Do you want to successfully dropship fancy womens' t-shirts? You've got it covered.
Do you prefer to work with mens' clothing items? Say no more.
Would you like to target your offers at edgy millennials? Why not!
Are you deeply interested in kids' clothing niche? There are lots of items to choose from, too!
So, this is a great product type which is suitable for almost any audience. It means that even a newcomer with a limited dropshipping experience can focus on an easy-to-reach customer segment – and thrive!
And here's another thing to consider…
#4 The product is familiar and understandable
Drones, makeup products, camping equipment, etc. are awesome niche items that see a huge demand and have an impressive money-making potential.
BUT, they require you to be super knowledgeable!
"Is this battery connector compatible with my drone model?"
"What is this makeup brush best for – foundation or concealer?"
"Can you explain how to use this foil blanket if there's an emergency during hiking?"
Ouch.
T-shirts won't cause any similar requests from your store visitors because everybody knows what they are and what they are used for.
So, you won't be caught off-balance with some tricky question, and you won't waste hours of your precious time providing customer service before purchase.
Sounds good, right? But wait, there's more!
#5 T-shirts are cheap
According to Statista, the average t-shirt/singlet price in 2019 is $6.57.
And, as you can see, AliExpress sellers offer lots of well-demanded, high quality t-shirts for a much lower price!
So, it gives you the opportunity to:
That's right – you are free to enjoy a healthy price markup with this type of product. Just imagine: you can double or even triple the initial item price!
Stay friends with your customers
Even if you triple the price set by your AliExpress supplier, it won't be much different from the market average. So, your buyers won't consider your store to be 'expensive'. To them, these purchases will still be affordable and satisfying!
Manage returns and refunds easily
Stuff happens, and at some point, you may need to make a refund to calm down your unhappy buyer. The procedure itself is very simple, so there's nothing to worry about.
However, to return the full cost of the purchase to your buyer, you'll need to use your personal money. Yes, the AliExpress seller will send the refund to you – but it won't be really prompt, and it won't be the full sum (you've doubled or tripled the price, remember?)
Nevertheless, you're not dealing with computer chairs or engagement rings here – you're just selling t-shirts! So, the refund sum will be small enough for you to handle.
That's a pleasant benefit for a dropshipping newcomer, right?
8 steps to profitable t-shirt dropshipping
And now, let's finally discuss what you need to do if you want to profit from this business model!
#1 Create your t-shirt brand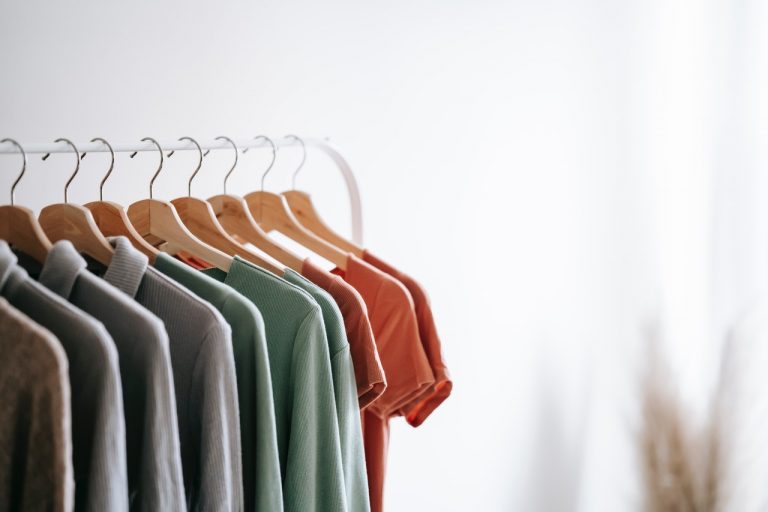 More often than not, when people purchase some kind of clothing product, they do it based on emotions. And that's why having a brand and a strong brand story is a great way to attract a lot of customers.
Come up with a brand idea
The first thing to start off with when building a brand is considering your interests. Are you into art? Create your own unique drawing and sell t-shirts with your prints. Or maybe you're an animal lover? Then you can consider selling t-shirts with cute animal drawings. You can go even further and raise awareness about a certain world problem, global warming, for example.
The most important is to find a niche you're genuinely interested in so that you can create a strong branding idea and build a community around your brand.
Think about the t-shirt design
If you have the imagination and skills, and you've always felt passionate about making your own art – now is your chance to shine!
Start drawing and designing your t-shirts, the more designs you come up with the better.
Use a t-shirt mockup to place your design on a blank shirt so that you can see how your design actually looks on a t-shirt. Simply google t-shirt mockups and you'll get a list of websites that offer this feature.
If you don't feel inspired or don't have the imagination to create something yourself, you can always hire a freelance specialist on a platform like Fiverr.
Figure out your printing method
Creating your own t-shirts can be fun and all, but you need to figure out what printing method you're going to use. Here's where things get a little technical, but it's essential to understand all the in's and out's of this process to sell high-quality t-shirts and have your satisfied customers recommend your products to their friends and family. Here are the main methods:
Direct to garment (DTG)
This is a type of printing method that applies ink directly onto the garment. Your designs are downloaded to a computer and directly sprayed on your t-shirts using a special printer.
DTG printing also offers a wide range of color choices, allowing you to come up with detailed designs and photorealistic images. However, if you want to have transparent design elements, DTG is not your best choice as DTG printers will create gaps in your design.
Screen printing
With screen printing, ink is applied to the fabric in layers using different stencils for different colors. Instead of soaking into the garment, ink lays on top of it. Screen printing is a great choice for graphics that don't have small details. The final price is usually based on the number of colors needed for the print.
Heat transfer
Heat transfer is a process where your design is put on heat transfer paper, cut from that paper, and then transferred on a garment by heating it to a high temperature. This method allows for creating designs with small text and intricate details.
Choose a Print on Demand service to collaborate with
When choosing a POD service to deal with, you need to consider several factors.
First of all, review the delivery times and how long the production process takes when your customer orders from you. Next, check out how the shipping fees are calculated.
Once you've gathered all the information, find out where the quality of the product is the best. And make sure that the POD services are compatible with your online store.
Before you dive into your business, make sure to ask for samples to check the quality of the products yourself.
This way you'll be sure of the quality of the products you'll be selling. Moreover, this will allow you to create photo and video materials for various marketing purposes, and to load them up to your online store. Photos and videos with people actually wearing your t-shirts is always a great way to showcase your products and generate more trust among your customers.
Want to skip the daunting part and get straight into the fun? Well, with Sellvia, you can launch your t-shirt dropshipping business and have your own brand. Sellvia offers ecommerce entrepreneurs to create a memorable brand from the ground up. You'll get a ready business where absolutely everything will already be taken care of, from the brand story and identity to an online store with stellar product designs. All that's left for you to do is manage your store and sell your unique products provided by Sellvia!
#2 Launch a dropshipping store
The easiest way to get your own dropshipping store is to order an individually created website that is ready to bring you profits from day 1.
However, if you have some IT background, you can also create a store by your own efforts. In this case, these guidelines will come in handy!
#3 Figure out your keywords
Your main keyword is a 2-3 words' phrase that explains your store idea clearly and correctly.
Use these tips to find best keywords for SEO, and don't forget to check your final niche idea with this free research tool!
#4 Define your target audience
Who are the people who want to buy t-shirts from your store? Here are 7 things to know about your potential customers to market your products as efficiently as possible!
Don't forget: as a dropshipping store owner, you can sell your products all over the world. Look at the screenshot below: according to Statista research, these are the countries with the highest revenue on the t-shirts and singlets market.
So, you're welcome to start international dropshipping if you want to!
#5 Fill your store with winning items
If you've ordered a custom-made dropshipping store, this step will be professionally completed by our expert team.
But even if you're making your store yourself, we want to make this task as easy for you as possible!
This is why we're inviting you to check out our free database of top quality AliExpress products that see the highest demand.
You can import these pre-edited items to your store in a couple of clicks and start selling them right away!
#6 Drive traffic to your store
And how do you start selling, exactly?
That's right: you need to help Internet users find your products – and your store.
This set of tips for driving traffic to a newly made store is exactly what you're looking for!
#7 Start promoting on social media
An Instagram post with over 5,500 likes? If you're running an account with the purpose of attracting Instagrammers' attention to your store, it's a killer result!
New to Instagram? Don't worry: follow our experience-based Instagram promotion tips, or ask for a professional Instagram/Facebook ads service.
#8 Repeat steps 5-7
That's right! Update your product offer from time to time, work on your store SEO, and try more advertising techniques to promote your products. That's exactly what successful dropshipping store owners do!
Summing up your t-shirt dropshipping perspectives, it's worth saying that's an awesome product category to work with Being demanded, cheap, and diverse, t-shirts are a great find for a person making the very first steps in dropshipping. Isn't it you, by any chance? 😉