Our Dropshipping Results Of 2019 [Infographic]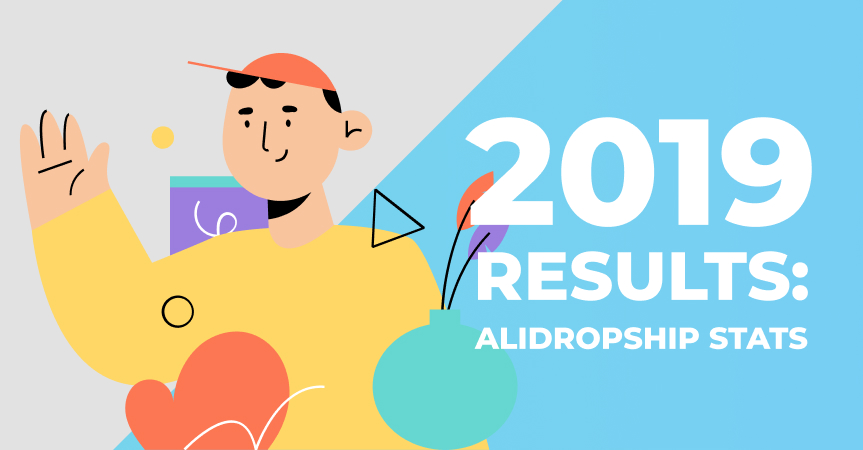 Introducing dropshipping results of 2019! The year is nearly over, and it's high time we summarize our achievements.
It was a challenging, yet exciting year for the team and, hopefully, for our customers too. To better understand the current market trends and our clients' needs, we decided to make an infographic demonstrating AliDropship's 2019 result.
Let's see what happened over the last 12 months!
What sources did we use?
To make this infographic, we used only our own data and statistics collected throughout the period from the 1st December 2018 to the 1st December 2019.
The data does not include nor discloses our customers' personal information nor any details concerning their business and finances. Only generalized information is represented in this infographic.
Dropshipping results of 2019: conclusion
What can we tell from the stats illustrated above?
Do-it-yourself approach is still prevailing
As you can see, the majority of our clients still prefer buying AliDropship plugins rather than ordering ready custom stores. In other words, most people want to create unique websites based on their own design.
After all, with all the simple and easy to handle tools that the plugin offers, even a newbie can create a good-looking dropshipping store! Besides, there are dozens of articles in our blog to help beginners start their business and successfully promote it on different platforms.
More dropshipping entrepreneurs use our add-ons
To make it easier for customers, AliDropship continues releasing new add-ons which serve as additional tools for your business. This year, the number of people who downloaded free and paid add-ons from AliDropship increased by more than 20% compared to 2018.
These tools are designed to help entrepreneurs customize their stores, automate some of the work, promote products on social media and more.
Customers keep coming back
Moreover, with so many extra tools for empowering your business, clients come back after purchasing the plugin to buy add-ons or AliDropship services. This year, one in two customers came back for more, and we're always glad to see you again!
American entrepreneurs are the most active
This year, US-based customers retained the first position as the most numerous buyers of AliDropship plugin. They are followed by Indians, Canadians, the British and Australians.
As for ready-custom stores, Americans outnumber other customers as well. Entrepreneurs from Canada, the UK, Australia and Malaysia took the other top positions.
However, these are just the top countries; we have clients from all over the world!
AliDropship Woo won over the original plugin version
Last year, the Woo version of AliDropship plugin proved more popular compared to the original version. In 2019, it still remains the audience's favorite! According to our data, about 60% of customers threw the handkerchief to the Woo version of the plugin while the original plugin is used by 40% of customers.
By the way, in case you didn't know, when purchasing AliDropship plugin, you get both these versions, so it's up to you to decide which one to activate.
I dare to assume that Woo popularity is related to our new themes for dropshipping stores that allow more customization options. Speaking of which…
Da Vinci is still the most popular theme
Our Da Vinci template retains its position as number one AliDropship theme and is used by more than 24% of customers. Da Vinci 2.0 and its Woo version became the second and third most popular templates consequently.
Furthermore, since 2018, the number of available themes has increased. This year, AliDropship released Da Vinci 2.0 Woo, Dali, Andy Warhol, Rubens, El Greco and El Greco Woo.
Niche stores dominate the market
When providing tips for customers concerning how to create and run dropshipping stores, we share AliDropship's own experience with our self-owned stores. We often recommend choosing a well-defined niche for business because such stores are easier to promote.
That's why it's a pleasure to see that 9 in 10 customers followed this recommendation. Furthermore, those who aren't sure what niche to choose can make use of our Niche Research Tool. It's a test that will help you understand where your area of interest crosses potentially profitable product types.
Fashion accessories have surged ahead of the field
Last year, most of our customers who ordered custom stores chose gadgets, devices and accessories as their niches. However, in 2019, fashion accessories topped the list while gadgets moved to the second position.
Baby & kids' products remain popular this year as well and occupy the third place while clothing and health & beauty became 4th and 5th most popular niches.
A lot of articles on AliDropship blog are devoted to trending products. That's why it's a pleasure to see that customers follow these guides. By the way, check out our updated list of 50 products to dropship in 2020.
Here are the company's dropshipping results of 2019! And what are yours? Share your experience in the comments. Or start your own business in the new year!