Andy Warhol
A profit-oriented theme with lots of calls to action, Fear Of Missing Out badges and trust banners designed to boost your conversions. Get ready for blazing-fast performance and enhanced shopping experience! This theme is created for AliDropship original plugin.
Buy Theme
View Demo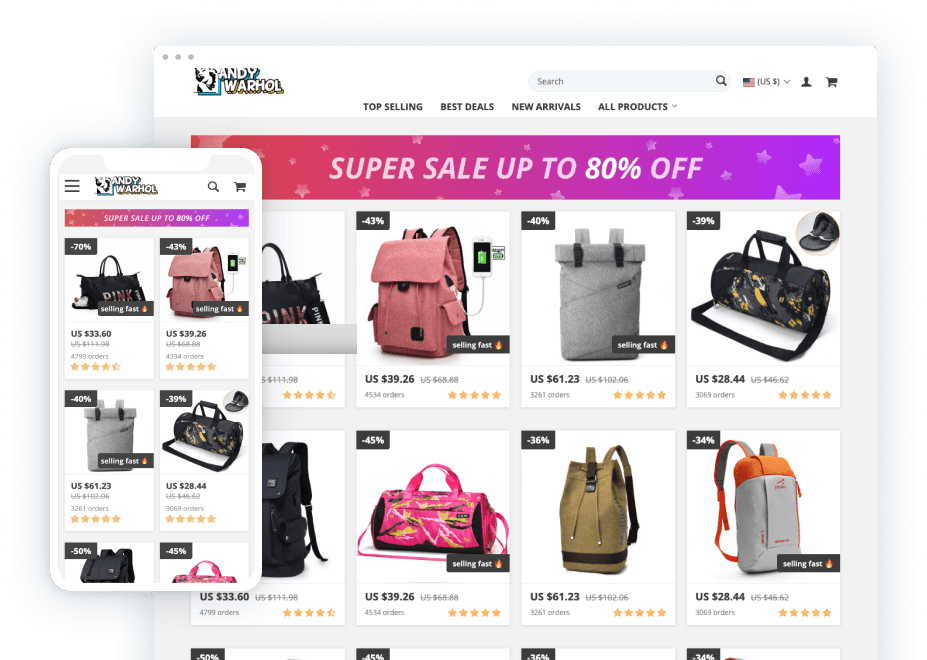 Version 1.6.5 - 01.12.2023 (Current version)
Header errors fixed
Version 1.6.3 - 22.06.2023
Update for Facebook sharing
Version 1.6.1 - 22.04.2022
Default settings updated in theme customization
Version 1.6 - 09.02.2022
Fix for Sizeguide Update for frontend when using Safari
Version 1.5.9 - 13.12.2021
Single Product Page Structured Data updated for several variation types Minor Improvements
Version 1.5.8 - 04.11.2021
Demo content Updated Minor fixes
Version 1.5.6 - 27.09.2021
Now you can edit the default Single product page tab labels (Products details, Item specifics, etc.) and disable these tabs Now you can edit the Our core values points on the About Us page Now you can disable the Keep in contact with our section on the About Us page
Version 1.5.5 - 10.06.2021
Translations updated Now you can disable 'Sort by discount' option on your Category page (Customization → General) Price bug fixed (RTL languages)
Version 1.5.4 - 13.05.2021
Blurry images bug fixed
Version 1.5.3 - 05.05.2021
Blurry images bug fixed (on mobile)
Version 1.5.2 - 07.04.2021
Minor optimizations
Version 1.5.1.1 - 26.03.2021
Sticky header bug fixed
Version 1.5.1 - 18.03.2021
Minor visual improvements 'Background color' color picker added PayPal smart buttons fixed when sticky 'Add to cart' enabled
Version 1.5.0 - 29.01.2021
Custom shipping method bug fixed
Version 1.4.9 - 08.01.2021
Minor improvements
Version 1.4.8 - 27.10.2020
Social Share Image added to Customization → Social Media Prices display bug fixed in RTL languages Horizontal images bug fixed in the image gallery
Version 1.4.7 - 12.10.2020
Instagram update fixed Single product page error fixed
Version 1.4.6 - 30.09.2020
Theme optimization Now you can choose which variation will be pre-selected by default on Product page (product details → the Variations tab)
Version 1.4.4 - 23.07.2020
Subcategory bug fixed
Version 1.4.3 - 22.07.2020
Import list bug fixed on Category page Buy with confidence icons bug fixed in Footer Back-to-top button fixed
Version 1.4.2 - 29.05.2020
Emodji support added to Header links
Version 1.4.1 - 24.04.2020
Video bug fixed in image gallery Minor improvements
Version 1.4.0 - 17.04.2020
Now you can import video to product gallery (make sure you have the latest version of the plugin) Payment icons added to Footer section Default payment icons replaced under 'Add to cart' button Quantity selector added next to 'Add to cart' button Structured data improved Zoom bug fixed (image gallery on Single product page) Pinterest share bug fixed
Version 1.3.9 - 13.03.2020
Lazy loading improved on Single Product page
Version 1.3.8 - 04.02.2020
'Buy with PayPal' button appearance changed on Single Product page Minor optimizations
Version 1.3.7 - 17.01.2020
One-page checkout option added (Customization => Checkout Features) New features available for multi-step checkout: Countdown timer, Why buy from us box, Trust box (Customization => Checkout Features) Alt tags and product title tags added to images can now be displayed Arrow buttons added to product gallery (desktop) Minor optimizations
Version 1.3.6 - 05.12.2019
Compatibility with third-party plugins improved
Version 1.3.5 - 08.11.2019
AliShipping add-on compatibility improved
Version 1.3.4 - 03.10.2019 
Compatibility with add-on Product bundle
Version 1.3.2 - 12.09.2019 
Speed optimization The Show product title on Homepage and Category page option added (Customization => General). Homepage product sorting by popularity / discount / newest added (Customization => Home). Inner zoom added to image gallery on Single product page. Variation images won't zoom due to small size. Several product tabs can be open by default at once (Customization => Single product). Current product stock can now be shown instead of random number. Simple product stock bug fixed (it wouldn't show random number of products left in stock). Structured data improved. Now we use another (a more lightweight) format - JSON-LD. It allows to collect data in a smaller code and reduces DOM size. Minor improvements.
Version 1.3.0 - 28.08.2019
Scrolling bug fixed for infinite scroll. Now you pick up where you left off on Homepage when going back from Single product page. LazyLoad image bug fixed.
Version 1.2.1 - 05.07.2019
One more category can be added to Header menu (Customization => Header). 'All Products' tab title is now customizable (Customization => Header). Homepage article added to Customization => Home. The Reviews Page add-on compatibility added.
Version 1.1.0 - 24.06.2019 
Size Guide option added to Customization => Single product. Product details table layout improved. Minor optimizations.
Keep your finger on the pulse
To enjoy the full range of features, please download the latest version of the theme
Show less
View more
Theme features
Homepage and Category ad banners
Running sales promotions has become easier: add promo banners and link them to any page
Store features
Powerful value propositions that convert visitors into paying customers
Fear of missing out banners
Unique sales incentives to keep online shoppers engaged and motivated
Sticky 'Add to cart' button
The perfect solution to always keep the main eCommerce call-to-action button in sight when you scroll down a product page
Staff favorites
Present your employees as loyal brand advocates to inspire trust among shoppers
Payment icons and trust badges
Let your customers know that your web store is trustworthy
All AliDropship themes include
Free theme updates and new features
Free customer support
Wide range of customization options
Side Shopping cart
Shopping cart page
Blog section
Live search
Social media icons and widgets
Built-in cross-sell
Free translation platform
Why our customers love this theme
Hafiz
Malaysia
"Easy to use for a beginner. Not perfect, but not far from it. Loads very fast, this is its major advantage."
Jack Simons
USA
"Andy is incredibly easy to set up, I even didn't read a tutorial before staring customizing it. Besides, we've never used a template where the support you get is so comprehensive."
Julija V.
Lithuania
"never paid for a template, but this time I had to make an exception, this was worth every cent. perrrfect !"
viki
Estonia
"Having such a great theme is a huge help! This is exactly the type of theme I was looking for. happy happy"
Dóri Halász
Hungary
"This theme is simply best for online store! AliDropship has gone far and beyond my expectations, the template is way better than the more expensive themes on other platforms."
R. R.
USA
"Loving so far. Thank you guys for another awesome theme! Hope you continue rolling out new features. It's so great to have free updates :)"
yassine
Morocco
"Many thanks for your work! Easy to use, very fast to setup. That's the only theme that allows to show a large number of products right on the homepage to make our store easily shoppable. 5 stars all around!"
Liam O.
Canada
"I wanted to launch a general store with a large number of products. After checking out a few options, this template seemed the best. I have to admit I'm quite impressed with what this theme has to offer. Nice job! :)"
Lenka
Slovakia
"Awesome mobile performance and helpful customer service. it has everything that I've been looking for and even much more. You don't need to purchase any third-party solutions to boost your conversions, which makes Andy a supergreat bargain."
Felipe G.
Brazil
"andy warhol is definitely the best thing that can happen to your store. you won't have any problems with the setup – it's an absolute breeze. love its speed performance!"
Petr M.
Czech Republic
"Wow the theme has everything you can think of and it is so easy to use. I installed it only a few days ago but it's already done wonders to my sales. Hope It's only the beginning!"
Bartek
Poland
"Excellent feature availability, intuitive customization. The support has been fantastic and quick in responding. Keep making awesome themes like this!"
Jonathan H.
Canada
"This template is amazing!!! With all these urgency boxes and recent shopper activity notifications my store looks super busy. Thank you, AliDropship team, for thinking out of the box! This is an incredible theme for an online store."