Premium Products: Your WEEKLY Source Of The Hottest Items – And Ads That Sell!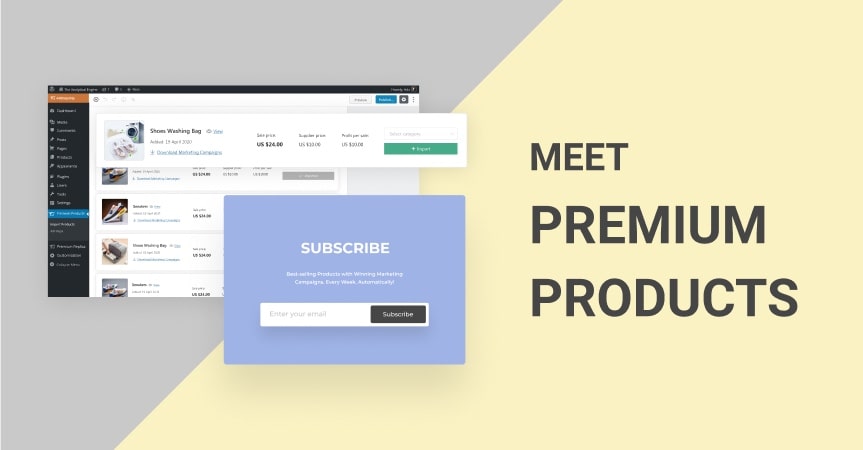 Introducing the revolutionary concept of Premium Products: ready-to-import hype items complete with ready-to-launch marketing campaigns! Keep reading to see how to get such a winning combo for your store and get more sales with ease.
What's the secret to making high profits from your online business?
Strictly speaking, there is no secret at all. 🙂
Mostly, your success depends on 2 major things:
Products you sell (are they hype, trendy, and demanded right now?)
Ad campaigns you launch (are they catchy, high-converting, and well-targeted?)
Of course, there are lots of smaller factors that also influence your business performance, but these two aspects are the key. They are the essential, game-changing components of your enterprise – and you absolutely need to bring them to perfection.
But how?
How to look for the most demanded products and create irresistible ads?
Well, this is the question we've covered multiple times before.
We've made long in-depth guides on navigating best-selling products' databases, picking the best products to dropship, editing their pages, creating super efficient promotional strategies for these items, and so on. So, there's plenty of information available for free, and you can easily access it.
Here's a little trick, though.
To apply our advice and strategies to your business, you actually need to do some work. Even with these time-saving tips, you'll still have to monitor the market, do research, evaluate product options to find high-quality and demanded goods, create unique item descriptions, and make engaging ad materials.
But why bother?
From now on, you've got it covered – and you won't have to do it all on your own because there's a weekly source of best-selling AliExpress products for your dropshipping store!
Meet Premium Products from AliDropship!
What are Premium Products?
As you probably know, our Ecommerce Department runs dozens of Premium dropshipping stores and Established dropshipping businesses with rising traffic numbers, increasing customer bases, and a growing amount of sales.
You're already guessing why these stores are so successful, right? 😉
Bingo! Because they all have an impressive product range and unique, tailored, purchase-stimulating advertising campaigns.
The team behind these stores monitors the hottest product trends every day, adding the most demanded items to the stores and testing their performance. And every day, our digital marketers experiment with advertising campaigns, rolling out dozens of ad versions and keeping track of their selling power.
Thanks to their incredible effort and hard work, you can do more than just get a copy of a profitable store or buy a well-developed business. These experts' experiments make it possible for you to benefit from pre-tested products and ads! So, let's define Premium Products.
AliDropship's Premium Products is a subscription service: once a week, you get a recommendation on a popular product that is selling like crazy right now, and a profitable advertising campaign we've already tested for this product.
In other words, it's your weekly source of product and advertising ideas! By subscribing to Premium Products, you save hundreds of dollars and hours of your time that you would spend on:
Searching for the products demanded by customers
Analyzing the products' selling potential after importing them to your store
Editing product pages to make them informative and highly converting
Creating purchase-stimulating ads
Testing your advertising campaigns' efficiency to choose the creatives that work best
It's already done by skilled ecommerce professionals: just grab the research results and turn them into profits!
What do you get after subscribing?
So, you've subscribed to Premium Products – what's next?
You download a special Premium Products plugin, install it on your AliDropship-based website and activate it with the unique keys we give you. Simply follow these steps!
In your admin area, a Premium Products tab appears – here's where all the magic happens!
Once a week, we will:
Add a freshly discovered, hype product to this Premium Products tab
You can be sure: it's the absolute best-seller we've handpicked for you after in-depth tests, trials, and research! Moreover, you'll be excited to see that this product's page is already edited in line with the highest industry standards.
Everything will be there: a clear title, an engaging description, a set of quality pictures, and even a range of informative reviews! In other words, you won't need to do anything else to this page. Simply publish it and start selling the product immediately!
Help you launch the best performing advertising campaign with this product
Together with the item recommendation, we give you the highest converting advertising materials we tested for it.
You'll not only find an extensive marketing package of highly efficient ads that have already proven their efficiency. What's more, you'll be able to launch the Facebook campaign right from your admin area! Here's what it will look like – and here are the full guidelines for you to follow at this stage.
Sounds like a magically easy way to start promoting a hype product with a killer ready campaign, right?
That's all you need to prepare and launch a money-making advertising campaign in just a couple of minutes!
Get a BONUS by subscribing to Premium Products!
In addition, to help you make the most out of our exclusive findings, we're also offering you a BONUS!
AliDropship Premium Products' Bonus: FREE access to all the winning products that we recommended before you joined! Subscribe to the service at any time, view every record-breaking product we have previously discovered, import any of them to your store and start selling immediately!
Already excited to subscribe? 😉
We're spending $500+ to discover, improve, and pre-test every single one of these Premium Products so that YOU could start benefiting from them immediately. Sounds like a fine deal, doesn't it? 😉