Dali
Make your website stand out with a dynamic aesthetic focused on full-width imagery that will captivate your shoppers.
Free
Download theme
View Demo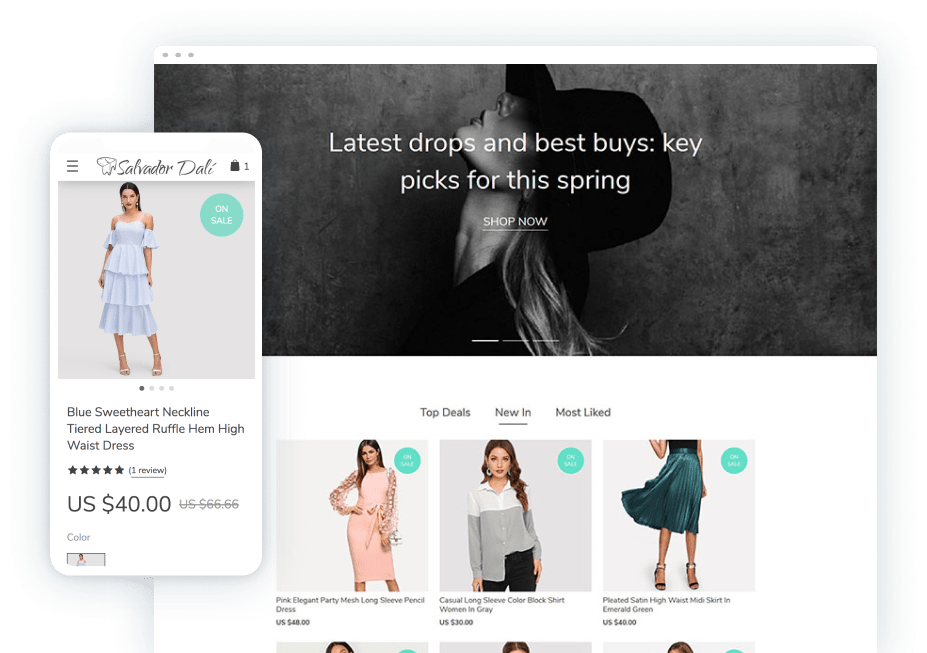 Version 1.5.0 - 29.05.2020 (Current version)
Minor improvements
Version 1.4.9 - 19.05.2020
Now you can import video to product gallery Loading time improved
Version 1.4.8 - 13.03.2020
Lazy loading improved on Single Product Page
Version 1.4.7 - 17.01.2020
'Buy with PayPal' button appearance changed on Single Product page Minor improvements
Version 1.4.6 - 17.01.2020 (Current version)
One-page checkout option added (Customization => Checkout Features) New features available for multi-step checkout: Countdown timer, Why buy from us box, Trust box (Customization => Checkout Features) Alt tags and product title tags added to images can now be displayed Minor optimizations
Version 1.4.5 - 27.12.2019
Search bug fixed (when Sticky header is enabled) Pinterest bug fixed 'Terms & Conditions' checkbox added to Contact Us page Now you can choose how many images to display in your Instagram feed (Customization => Social Media)
Version 1.4.4 - 08.11.2019
AliShipping add-on compatibility improved 100% discount badge bug fixed Bug in image gallery fixed (variation image wouldn't change if there was only one image in gallery) 'Load more' button in Customer reviews fixed
Version 1.4.3 - 03.10.2019 
Compatibility with add-on Product bundle
Version 1.4.1 - 24.09.2019 
Structured data greatly improved Name of a chosen attribute added on Single product page (for example, Color: Black) Cart icon color picker added to Customization => General 'Update Instagram images' button added to Customization => Social Media Minor optimizations
Version 1.4.0 - 25.06.2019
Size Guide option added to Customization => Single product Product details table layout improved Minor optimizations
Version 1.3.1 - 10.05.2019
'Display gallery images at their original dimensions' option added (Customization => Single product page) Urgency add-on compatibility added Minor improvements
Version 1.3.0 - 29.02.2019
Sticky Add to cart button added (Customization => Single product page) 'Article' block added to Customization => Home Homepage product sorting bug fixed 'Percent Off' discount badge type added (Customization => General)
Version 1.2.0 - 19.02.2019 
Contact Us and Tracking page bug fixed Sales badge bug fixed (badges were shown on products which are not on sale)
Version 1.1.0 - 15.02.2019 
Banner images can be added for mobile devices 'Play video' button added to Homepage sliders (YouTube videos) Option of disabling background videos for Android mobile devices added (Homepage sliders)
Version 1.0.1 - 08.02.2019 
'Show star rating on Homepage and Category page option' added 'Show one product per row on Category page (mobile)' added 'Use slider for product image gallery' added Logo enlarged Customer account optimized
Show less
View more
Theme features
Parallax banner
Add depth to your banner to create a captivating browsing experience
Sticky navigation
Keep the main menu fixed to the top of your page as you scroll down
Featured products
Elegantly showcase the items you want to draw attention to
Fullscreen homepage video
Create a profound visual impact and make your store stand out
Two types of product image gallery
Choose image gallery that suits your website style best
All AliDropship themes include
Free theme updates and new features
Free customer support
Wide range of customization options
Side Shopping cart
Shopping cart page
Blog section
Live search
Social media icons and widgets
Built-in cross-sell
Free translation platform
Why our customers love this theme
Ben Schulz
Germany
"fancy! nice work team, keep it up"
lorena domínguez
Chile
"I am so happy we've chosen this theme, it's such a pleasure to work with! Great template and even better customer service."
Charlotte N.
Belgium
"Works very well and very easy to use. Clean beautiful design makes your store looks really professional. Besides, you can enjoy heaps of customization options."
Matt
USA
"Nice template, great functionality. It meets my every expectation, there are more than enough opportunities for creativity. Looks ultra-modern and sophisticated."
Pauline
France
"Such an elegant template, i'm SO in love with it! and big thanks to support team for implementing my feature requests"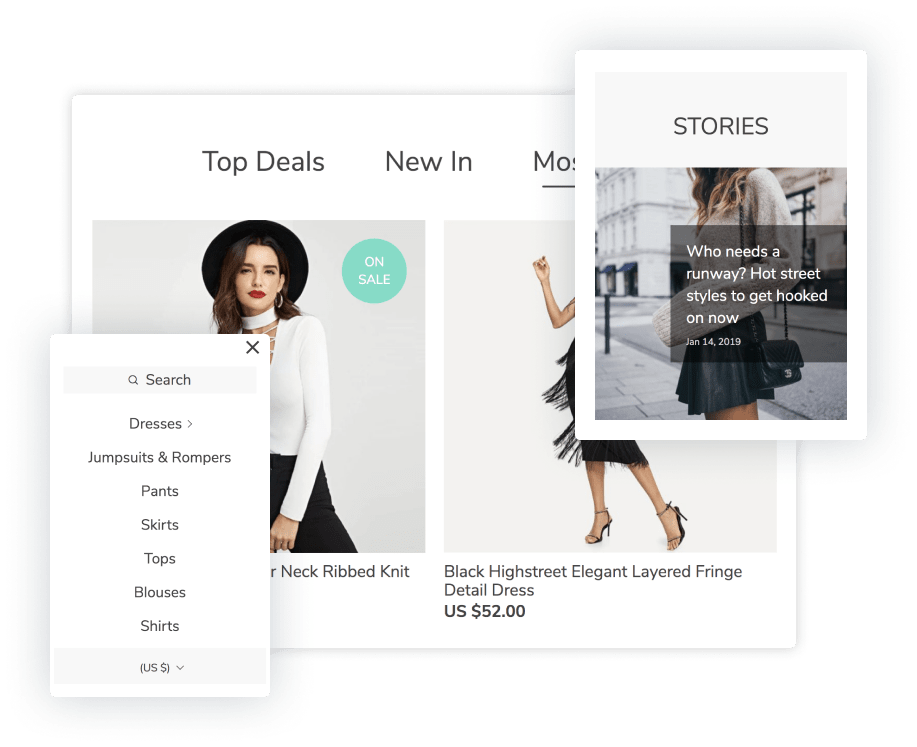 Are you ready to try
Dali?
Whether you're a total newbie or a seasoned expert with a multi-million dollar turnover — we have the exact solution you're looking for!
Download theme
View Demo