Premium Stores: A Smart Way To Start Your Dropshipping Business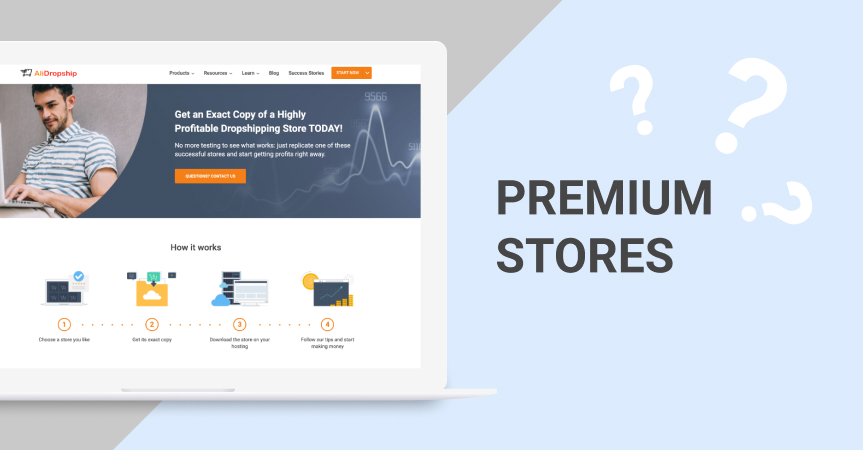 Do you want to start an ecommerce business without spending weeks on preparations? Need one of those ready stores that can be launched right away? Then check out – Premium Stores!

You feel ready to start a dropshipping business? But how do you begin? What niche should you choose? What products are the best? What's the most efficient promotion strategy?
If you feel uncertainty because of all these issues, then we've got a solution!
AliDropship's Premium Stores allow you to start your own online shop right away. But that's not all! You're not simply getting a dropshipping site that can be launched with just a few clicks. You're buying a precise copy of one of our own successful stores that are bringing us considerable profits.
In other words, these ready stores are the solution for those who want to get quick results based on proven ideas.
What are Premium Stores?
Many entrepreneurs have to spend months and thousands of dollars to figure out the best business strategy. But with Premium Stores, you can 'borrow' this experience from our Ecommerce Department that develops and runs our own dropshipping businesses.
Our team experiments with different niches, products, and marketing strategies. Some of the stores we own become very profitable. When one of them achieves a stable flow of traffic together with a steady volume of sales, and when we identify its most efficient marketing mix, it becomes a Premium Store. We make this website's copy available to customers who would like to get their own ready stores instantly.
When you purchase it, you get a copy of the original website including the store's theme, structure, imported products and product data, design elements, etc. As a result, you get your own dropshipping store duplicated from a highly successful business along with all its materials.
Copying someone else's brilliant ideas is quite common in business. Many entrepreneurs keep an eye on competitors and try out their strategies and solutions. Same goes for dropshipping. A lot of store owners copy ads and products from their competitors, so why not borrow the whole website from a team of professionals absolutely legally?
Furthermore, from a variety of ready stores, you can purchase one that makes more than six figures right now! That's right, you read that correctly. We are offering a premium store that makes more than $500,000 yearly! And you can get an exact copy of that store and start making profit right off the bat. What are you waiting for? While you're hesitating, others are reaping the benefits!
No need to test different niches! No need to try out different products or look for reliable sellers! You get all this along with your new business!
What you get as an owner
Precise copy of a flourishing dropshipping business
With ready stores of this kind, you get a copy of a dropshipping website that is already making money with all its materials. Thus, there's no need to experiment trying to figure out the best options on your own.
After the purchase, you become a full owner of your dropshipping business. Any profit you make belongs only to you. Since the moment you get your copy, it's up to you to decide how to develop the shop. You can leave everything as it is or change the site however you wish. From now on, this AliDropship store is yours!
You only pay once! No additional charges, no hidden fees or subscriptions. After paying, you get full access to the store and all the resources.
Best products from reliable sellers
By getting a copy of one of our shops, you also receive the full list of the products imported to the original store. AliDropship's managers selected these goods from hundreds of alternatives and dozens of sellers. Thus, you can be absolutely sure you're dealing with the most profitable items and the most reliable suppliers.
Ready to be launched right away
You don't have to start from scratch. Choosing a niche, finding great products, creating a design – all of this has already been done by our managers. As a result, you can start promoting your Premium Dropshipping Store right after the purchase.
You can choose from a list of different shops, each devoted to a certain niche, to find something that suits you best.
How to buy a Premium Store?
Visit the Premium Stores page where you will find the list of all available websites and choose the one you like. Press 'Learn More' to visit the given store's page.
After that, select the package you prefer. Here, you've got three options.
Buying a pure copy
First of all, you can buy a pure copy of the original website with no extra packages. To do that, simply leave the package offers unchecked and press the BUY NOW button. In this case, you will have to install the files by yourself and use your own domain name and hosting.
However, if you have zero IT experience, you can add the installation package to your order.
Copy + Installation package
Adding the Installation package to your order allows you to avoid all the manual work as AliDropship's team will do it for you.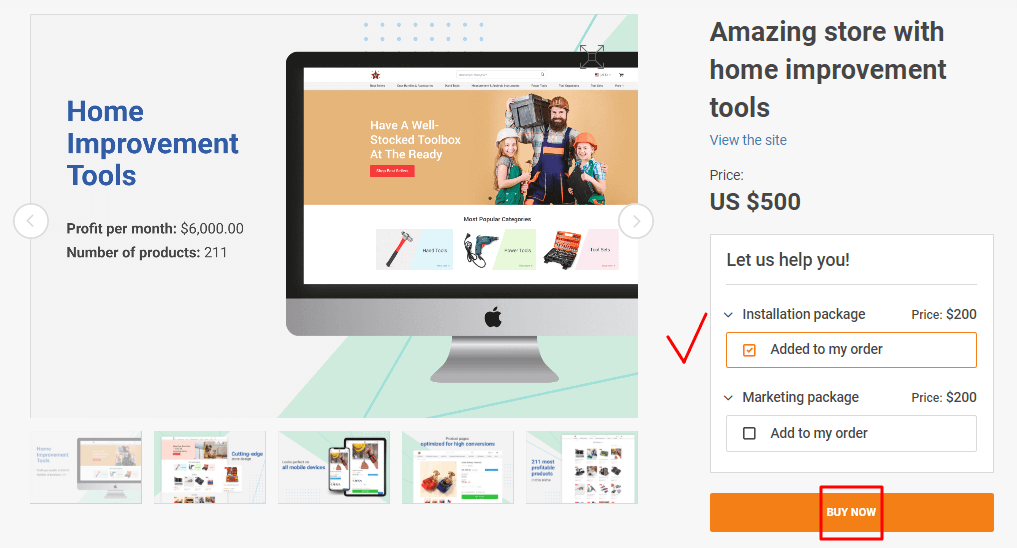 If you don't have a domain name, the team will offer three options to choose from. This domain name is prepaid for one year and will cost no more than $12 per year. We will also set up prepaid hosting optimized for a dropshipping website. The package also includes the store's logo editing.
After that, the team will install your copy of the store onto this hosting and set up a payment gateway.
With this package, you'll be ready to launch the site immediately.
Copy + Marketing package
With this package, you get copies of the marketing materials AliDropship team uses to promote the original websites.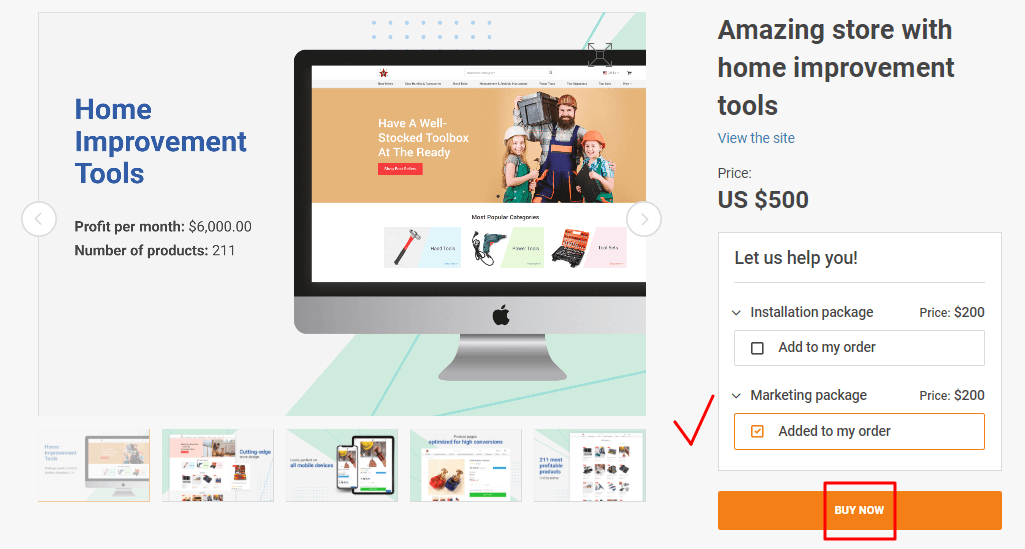 You get the banners and videos created by our team and the ad texts we use in our own campaigns. We will also send you a detailed description of the target audience that suits the niche you have chosen.
Lastly, we will provide you with instructions on how to set up and run marketing campaigns using these materials. This way, you can start promoting your business as soon as possible and use tested and proven materials.
And of course, you can purchase both the Installation and Marketing packages for the most seamless experience. Shortly after the purchase, one of AliDropship's managers will contact you to discuss all the details.
By purchasing a Premium Store, you start your own business with a fully developed website, a selection of the best products within the chosen niche, and even promotional materials. And you get all this for a one-time payment! Get yourself a Premium Store and start making money right away.