El Greco
Getting customers to the checkout has never been so easy! With a sleek and fully-responsive layout, El Greco is a pure pleasure to browse. It terrifically handles any niche and catalog so your customers can enjoy all the comfort and convenience of online shopping. The theme comes with TWO versions of checkout!
Buy Theme
View Demo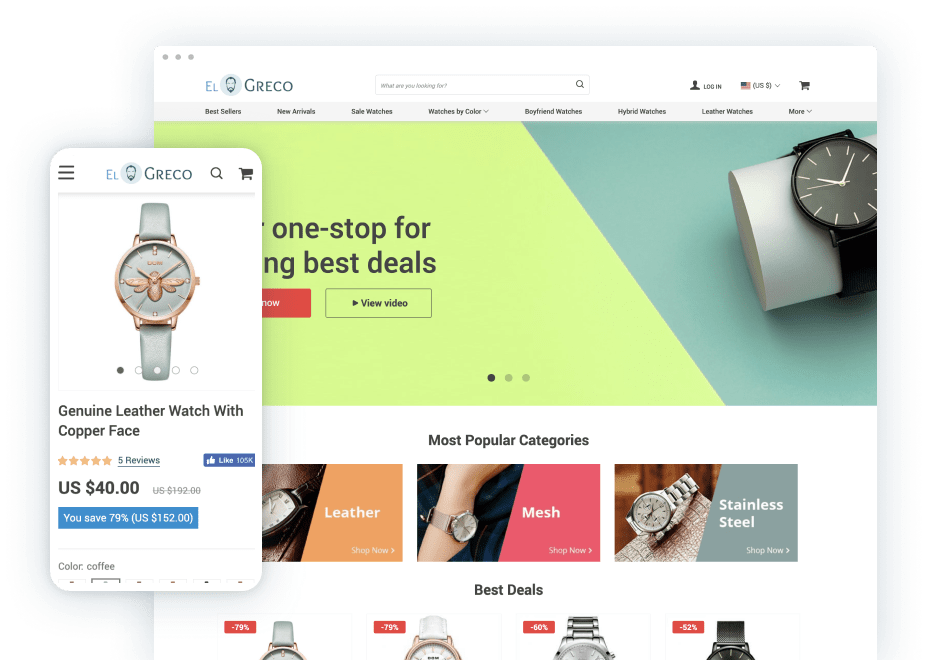 Version 1.3.2 - 29.05.2020 (Current version)
RTL support improved Image title is not shown in image gallery anymore (Single product page) Minor improvements
Version 1.3.1.2 - 07.05.2020
Now you can import video to product gallery Default payment icons replaced under 'Add to cart' button and in Footer Loading time improved Minor improvements
Version 1.3.0 - 13.03.2020
'Redirect to Checkout when a product is added to cart' option added (Customization => Single Product)
Version 1.2.9 - 04.03.2020
Colorpickers for Homepage slider video button added 'Show image title' option added (Customization => General) 'Back-to-top' button fixed on mobile LazyLoading option improved
Version 1.2.8 - 17.02.2020
'Redirect to Checkout when a product is added to cart' option added (Customization =>Single Product) Speed optimization Header background color bug fixed Minor improvements
Version 1.2.7 - 04.02.2020
'Buy with PayPal' button appearance changed on Single Product page Color options added to Header settings (Customization => Header) Minor improvements
Version 1.2.6.1 - 19.01.2020
Footer menu bug fixed
Version 1.2.6 - 17.01.2020
New features available for multi-step checkout: Countdown timer, Why buy from us box, Trust box (Customization => Checkout Features) Alt tags and product title tags added to images can now be displayed Minor improvements
Version 1.2.5.1 - 19.12.2019
Minor improvements
Version 1.2.5 - 18.12.2019
Additional product details on Homepage and Category page added (reviews count or order count) Blog posts added to Homepage Homepage article bug fixed on mobile 'Text position' option added to Homepage slider (mobile) Checkout Countdown Timer options added (Customization => Conversion Boosters) Breadcrumbs added to Single product page (mobile) Single product page gallery carousel optimized 'Enable sticky header on mobile' option added (Customization => Header) 'Terms & Conditions' checkbox added to Contact Us page Pinterest share button fixed
Version 1.2.4.2 - 05.12.2019
Minor optimizations
Version 1.2.4.1 - 15.11.2019
Content additional fonts added Homepage slider additional fonts added Text positioning added to each banner in Homepage slider
Version 1.2.4 - 08.11.2019 
AliShipping add-on compatibility improved RTL compatibility added Crop option added to favicon image (Customization) Color pickers for Homepage slider buttons added Minor optimizations
Version 1.2.3 - 16.10.2019
Main menu bug fixed Homepage slider optimized 'Use full-width slider' option added to Customization => Home => Homepage slider Delivery date language dropdown added to Customization => Conversion Boosters => Single product page store benefits.
Keep your finger on the pulse
To enjoy the full range of features, please download the latest version of the theme
Show less
View more


Ecommerce Site Design
Category: Electronic Media / Social Media / Interactive Media | Web Creative | 122. Website Design
Theme features
Homepage and category banners
Running sales promotions is a breeze with promo banners that can link to any page
Brand values
Powerful value propositions that convert visitors into paying customers
Sticky "Add to cart" button
The perfect solution to keeping your main eCommerce call-to-action button in sight when customers scroll down a product page
Homepage reviews
Add credibility to your store by sharing customer reviews on your Homepage
Payment icons and security badges
Let your customers know that your web shop is trustworthy and secure
All AliDropship themes include
Free theme updates and new features
Free customer support
Wide range of customization options
Side Shopping cart
Shopping cart page
Blog section
Live search
Social media icons and widgets
Built-in cross-sell
Free translation platform
Why our customers love this theme
thomas gray
USA
"The theme is stunning, it makes a great first impression"
Adrus K.
Estonia
"the coolest theme ever"
Lim
Singapore
"Love everything about this theme. It has been up and running for a few months and gets complimented on a regular basis!:)"
Hunter Davies
UK
"El Greco makes my store look clean, professional, and modern. Easy to use. A+ support team!"
arthit t.
Thailand
"If I could give El Greco more than 5 stars, I would. Brilliant support and loads pf features. Excellent value for money!"
Marek K.
Czech Republic
"Your work is a dream, really. Very user friendly and customizable theme. Plus, the support is proactive and efficient."
Jorge Alves
Portugal
"I highly recommend El greco. Not only has it a beautiful design, but also there are some really really great features and it is much cheaper. a must-have for any startup."
Aryan M.
India
"I wanted a theme that is fast and has clean code. Finally, I've found it! Now I use it on my three websites and they look stunning! 10/10"
Kaïs M.
Tunis
"I have just created a website and I am pretty sure this is the best template to grow it. El greco has such a large number of great built in features, this is a huge time saver. you do not need to worry about details - these guys have already done everything for you. thanx!"
danny
Serbia
"This is awesome. I've never had so many sales and returning visitors. super excited to have this theme 🤘"
Lama N.
Jordan
"I've been using this theme for a little while now and still impressed with how useful the product is. Already got a spike in sales. Please do continue being so great and making my life easier!!"
Alberto R.
Italy
"The simplicity of the functionality is what truly separates El Greco from the other e-commerce solutions. Congrats the team on that milestone!"