Da Vinci 2.0
Looking to establish a successful online business and delight your shoppers? Bring your ideas to life with the DaVinci 2.0 theme! Smooth and convenient buying process with the clearest calls-to-action is bound to make your customers return and recommend.
Free
Download theme
View Demo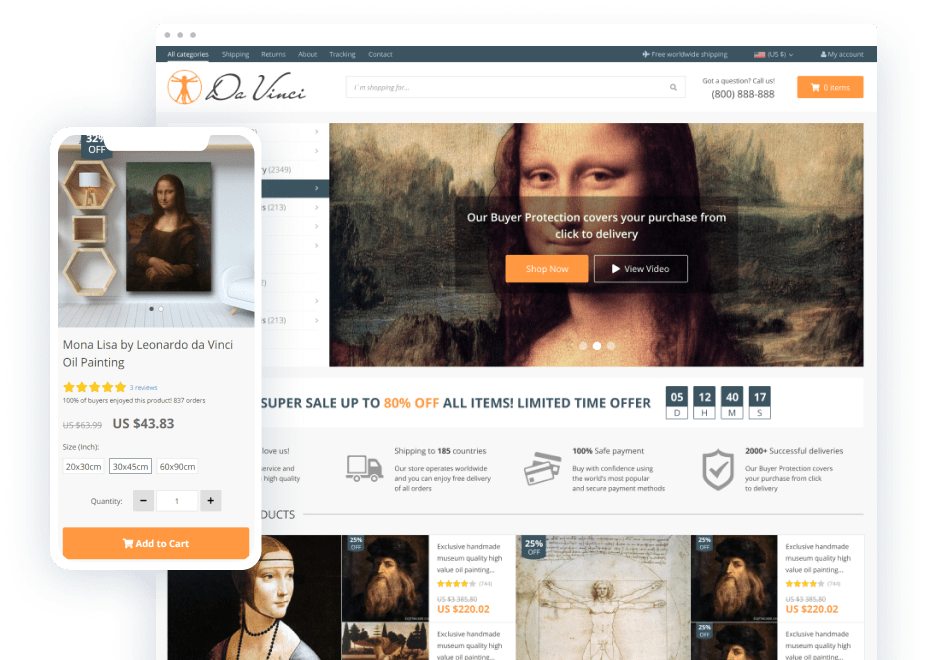 Version 1.5.7 - 08.01.2021 (Current version)
Minor improvements
Version 1.5.6 - 27.11.2020
Social Share Image added to Customization → Social Media RTL prices bug fixed
Version 1.5.5 - 03.11.2020
Attribute thumbnails now have a bigger resolution (50*50px → 100*100px)
Version 1.5.4 - 12.10.2020
Instagram update fixed
Version 1.5.3 - 02.10.2020
Sorting bug fixed on Category page
Version 1.5.2 - 30.09.2020
Theme optimization Now you can choose which variation will be pre-selected by default on Product page (product details → the Variations tab)
Version 1.5.1 - 01.09.2020
Jld price bug fixed (variable products)
Version 1.5.0 - 20.07.2020
Now name of the chosen attribute is shown on Single Product page
Version 1.4.9 - 29.05.2020
Now you can import video to product gallery Loading time improved Pinterest share bug fixed RTL support improved
Version 1.4.8 - 13.03.2020
Lazy loading improved on Single Product Page
Version 1.4.7 - 04.02.2020
'Buy with PayPal' button appearance changed on Single Product page Minor improvements
Version 1.4.6 - 17.01.2020
One-page checkout option added (Customization => Checkout Features) New features available for multi-step checkout: Countdown timer, Why buy from us box, Trust box (Customization => Checkout Features) Alt tags and product title tags added to images can now be displayed Arrow buttons added to product gallery (desktop) Minor optimizations
Version 1.4.5 - 03.12.2019
'404 page' tab added to Customization
Version 1.4.4 - 08.11.2019
AliShipping add-on compatibility improved
Version 1.4.3 - 16.10.2019 
'Show product count in sidebar on Category page' option added (Customization => General) Star rating bug fixed Minor improvements
Version 1.4.2 - 03.10.2019
Compatibility with add-on Product bundle
Version 1.4.1 - 17.09.2019 
Structured data greatly improved Name of a chosen attribute added on Single product page Super sale banner link added (Customization => Home => Countdown Settings) One more category level added to Category page menu Homepage slider bug fixed in Mozilla (mobile) Homepage slider text position bug fixed Update Instagram images button added to Customization => Social Media Minor optimizations
Version 1.4.0 - 25.06.2019 
Size Guide option added to Customization => Single product Banner images can be added for mobile devices Content layout in Product details fixed (Single product page) Subscription form default code improved Product details table layout improved
Version 1.3.0 - 31.05.2019
Shopping cart (page) compatibility added Structured data improved Replies to user comments submitted by admin can now be seen on Single product page
Version 1.2.7 - 10.05.2019
Minor improvements Urgency add-on compatibility added
Version 1.2.6 - 03.04.2019
RTL compatibility added
Version 1.2.5 - 04.03.2019 
Slider rotation bug fixed Header and footer colorpirckers added Product variation image is shown in image gallery on mobile devices (magnifying glass icon is not used anymore)
Version 1.2.4 - 14.02.2019 
Single product page layout improved (screen resolution 1024) Number of nested categories in Main menu increased Minor optimizations
Version 1.2.3 - 08.02.2019
Customer account optimized Minor improvements
Version 1.2.2 - 23.01.2019 
'LazyLoad images' option improved Enable/Disable 'Product details' tab option added to Customization => Single product Discount badges color bug fixed Customer service tab bug fixed (mobile)
Version 1.2.1 - 09.01.2019
Layout bug fixed
Version 1.2 - 08.01.2019 
'LazyLoad images' option added to Homepage and category pages
Version 1.1 - 28.11.2018 
Express checkout with PayPal button bug fixed Homepage article bug fixed
Show less
View more
Theme features
Two types of Homepage banner setups
Use an ordinary slider or a slider+grid, now it's your choice
Promotional countdown timer
Encourage your visitors to finish their purchase asap by showing that the offers are time-limited
Homepage article
Tell more about your brand by featuring an article on your store's Homepage
A grid style product layout on Homepage
Present your products in a different way
All AliDropship themes include
Free theme updates and new features
Free customer support
Wide range of customization options
Side Shopping cart
Shopping cart page
Blog section
Live search
Social media icons and widgets
Built-in cross-sell
Free translation platform
Why our customers love this theme
Aiman
Malaysia
"Gives you a lot of opportunities and individual design options, products are displayed in a really nice way. Very happy with this theme, would definitely recommend it."
Dylan F.
USA
"I couldn't be more pleased and excited than I am now with the my website performance, template design, and support for the Da Vinci 2 theme. Big thanks!"
Camila
Colombia
"These guys rock!!! You have a great vision of the product, keep up the good work! I can't review the support because I never needed it, everything works perfectly."
Ștefan
Romania
"Excellent product. A fast and feature rich theme. Looks very nice on any store."
Muhammad R.
India
"I've been using Da Vinci 2 for half a year and never had any regrets about it. beautiful and easy to customize, great support."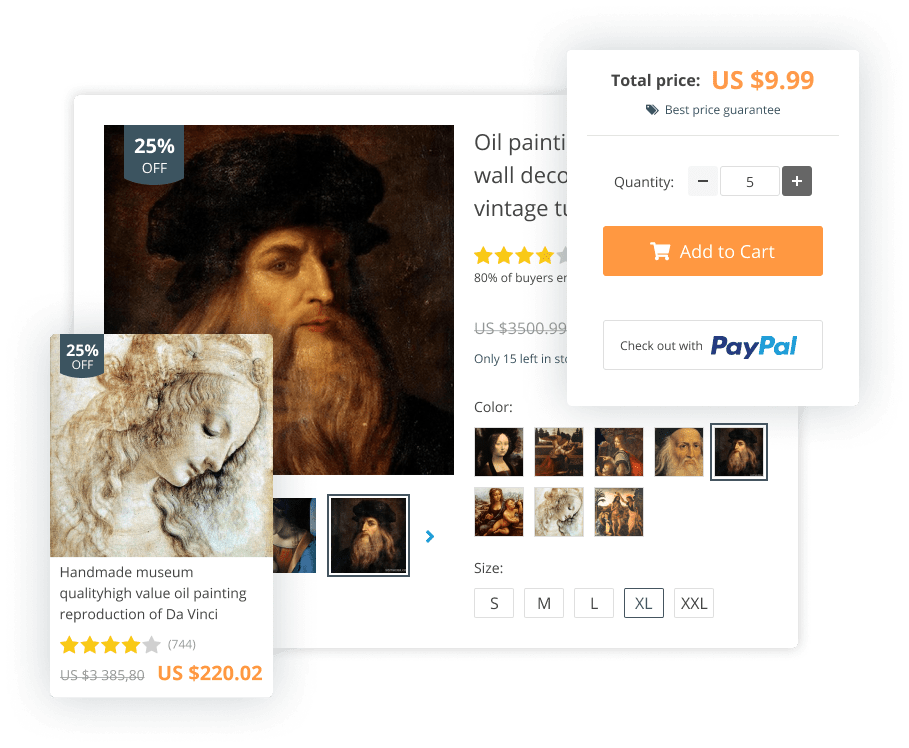 Are you ready to try
Da Vinci 2.0?
Whether you're a total newbie or a seasoned expert with a multi-million dollar turnover — we have the exact solution you're looking for!
Download theme
View Demo