Da Vinci 2.0 Woo
Discover a fully-responsive design that matches the latest technical standards and allows your customers to buy easily from all devices. Download this theme to get your WooCommerce-based website off to a great start!
Free
Download theme
View Demo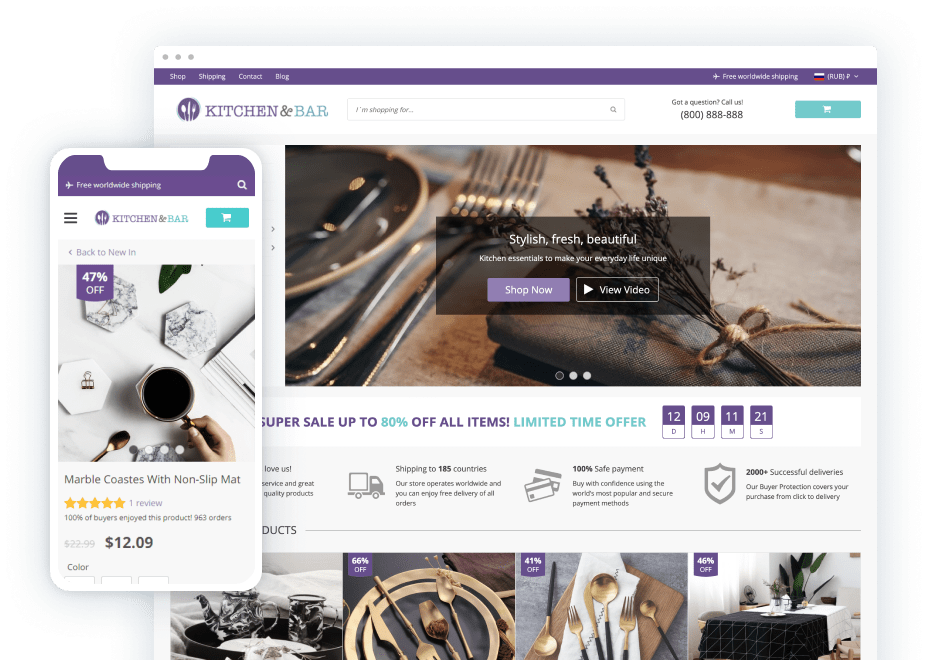 Version 1.2.1 - 03.07.2020 (Current version)
Image gallery bug fixed
Version 1.2.0 - 25.06.2020
Now you can import video to product gallery (make sure you have the latest versions of AliDropship Woo plugin and AliDropship Woo Product Video add-on) WooCommerce image gallery thumbnails fixed on mobile
Version 1.1.11 - 12.05.2020
Favicon added Now you don't need to reload the page after removing a product from shopping cart to update number of items in the cart icon 'Forgot your password?' notification fixed (Customer Account) Structured data improvements
Version 1.1.10 - 10.04.2020
Now you can display media content from your Instagram using Access Token Theme responsiveness improved
Version 1.1.9 - 13.03.2020
Discount badged changed Arrow buttons added to product gallery (desktop)
Version 1.1.8 - 11.02.2020
YITH WooCommerce Wishlist bug in child theme fixed WooCommerce 3.9.1 compatibility added
Version 1.1.7 - 17.01.2020
YITH WooCommerce Wishlist compatibility improved Default subscription form code updated Search results page bug fixed 'Show side Shopping cart when a product is added to cart' option added (WP dashboard => DaVinci Woo => WooCommerce) Minor improvements
Version 1.1.6 - 10.12.2019
'Hide side Shopping cart option' added (WP theme settings => WooCommerce) Pinterest bug fixed Blog products bug fixed WooCommerce category description removed ('This is where you can add new products to your store')
Version 1.1.5 - 08.11.2019
WooCommerce templates updated Translations updated Category article added
Version 1.1.4 - 12.09.2019 
Homepage Import list products bug fixed (admin couldn't see products on Homepage that are not published) Minor improvements Smart search feature added
Version 1.1.2 - 14.08.2019
Product bug fixed on Shop page (number of items shown per row) Theme templates optimized to be compatible with WooCommerce 3.7.0 Minor optimizations
Version 1.1.1 - 31.07.2019
Photos in Reviews enlarged Variation image sizes decreased Minor optimizations
Version 1.1.0 - 04.07.2019
Sticky header option added to Customizer => Header 'Show 2 products per row on Category page' option added to Customizer => Shop (WooCommerce) => Product Catalog (mobile) Tracking page frame fixed Rave payment gateway pop-up at Checkout fixed Minor improvements
Version 1.0.8 - 07.06.2019
Tax calculation bug fixed at Checkout. Tax rates wouldn't recalculate when the state code or country is changed on the Checkout page. Color bug fixed for the Microsoft Edge browser
Version 1.0.7 - 24.04.2019
Spanish translation added FB and IG widgets bug fixed (on mobile)
Version 1.0.6 - 19.04.2019 
WooCommerce 3.6.1 compatibility Countdown timer bug in Super sale banner fixed (Homepage) Payment methods layout fixed (Checkout) Enable Login option added (Customizer) Minor optimizations
Version 1.0.5 - 10.04.2019 
Product image gallery issue resolved fixed (Single product page) Minor improvements
Version 1.0.4 - 27.03.2019
WooCommerce product short description added (Single product page) 'Attach' option added to Leave a review box (Single product page) Category images  bug fixed (mobile) 404 page image bug fixed Minor improvements
Version 1.0.3 - 14.03.2019
More Homepage slider options added Minor improvements
Version 1.0.2 - 28.02.2019
Minor improvements
Version 1.0.0 - 20.02.2019
Show less
View more
Theme features
Store features
Let your customers know what benefits your website has to offer
Buyer Protection banner
Assure your visitors of the safe shopping experience and secure purchases
Multiple product layout options
Choose your perfect product layout from the variety of options
WooCommerce shopping cart page
Make the most from WooCommerce shopping cart and enhance your conversion rate
Different product gallery options
Choose the type of gallery that shows your product at its best
WooCommerce checkout
Adjust checkout flow to your needs
All AliDropship themes include
Free theme updates and new features
Free customer support
Wide range of customization options
Side Shopping cart
Shopping cart page
Blog section
Live search
Social media icons and widgets
Built-in cross-sell
Free translation platform
Why our customers love this theme
Vik
Lithuania
"The theme is a piece of cake to use. The thing I like most about it is a one-click installation. Recommend to everyone."
Yash
UAE
"Looks immaculate and professional on mobile. Thank you, AliDropship team, for paying such a close attention to details, really appreciated!"
Daniel B.
UK
"This is possibly the BEST theme I have ever used... It has the widest range of customization options available. Just stunning!!!!"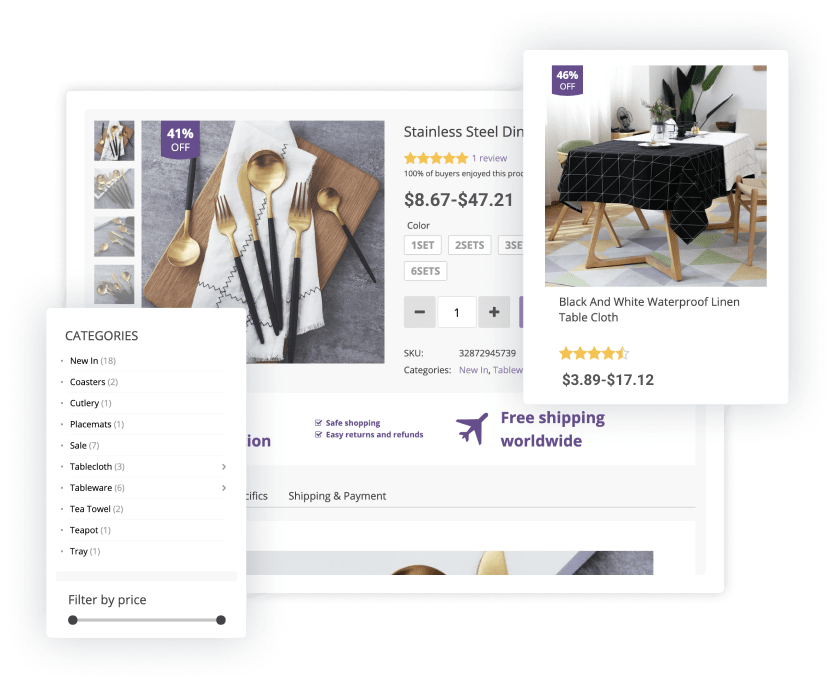 Are you ready to try
Da Vinci 2.0 Woo?
Whether you're a total newbie or a seasoned expert with a multi-million dollar turnover — we have the exact solution you're looking for!
Download theme
View Demo