Meet Matisse Woo: An Eye-Catching WordPress Shop Theme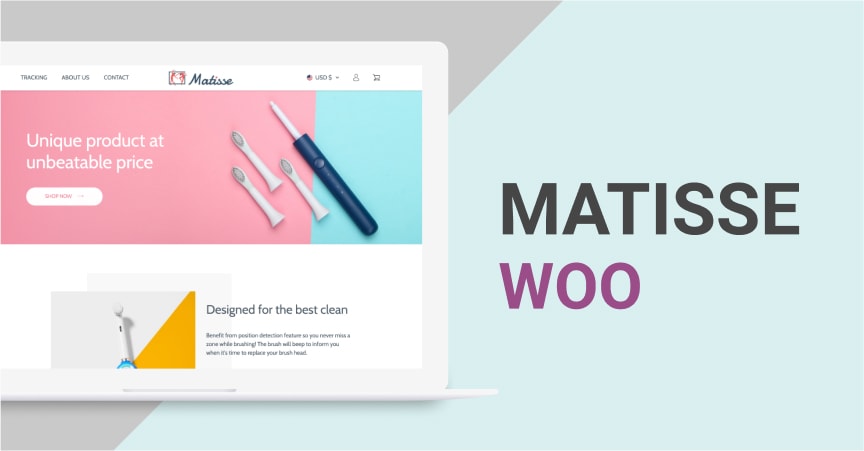 Are you looking for a really cool WordPress shop theme for your single product website? Do you want your ecommerce store to look very appealing and be highly profit-oriented? If so, all you need is Matisse Woo!
Nowadays single-product stores are gaining momentum among ecommerce entrepreneurs. In fact, there is a good reason for this!
However, if you want to get maximum profit from such a store, you need to pay particular attention to some of its aspects. And one of the most important one of both successful single-product and regular online stores is a theme!
So why is starting a single-product store a perfect idea for your business? How to choose the right WordPress shop theme with lots of customization options? And why is Matisse Woo your big ticket?
This is exactly what we are going to talk about right now!
Why is a single-product store a great business idea?
In practice, starting a single-product store can let you get a profitable business without extra concerns. Are you wondering why a single-product store is so beneficial? Well, let's get this sorted out.
Here are the advantages of starting a single-product store:
There is no need to look for lots of promising products for your business
When you are running a regular online store, you need to look for a number of trending products to sell. What's more, it's necessary to find reliable suppliers who will provide you with those products. Beyond this, you have to update your product range from time to time.
It's not necessary to waste your time on promoting several products at the same time
You will be glad to know that you can easily save your time not only when searching demanded products, but when running ad campaigns for them, too!
Definitely, the regular online store owners don't promote all the items they sell. In most cases, they are focused on several most promising products. And when a user visits their stores, entrepreneurs do their best to make the visitors see the whole product range.
However, in case of a single-product store, it's a lot easier to run ad campaigns. You have only one product and that's it! And if focusing on this very product, you are highly likely to succeed!
It's easier to be responsible for the quality of one product only
How to make an online store that is going to be reliable for your customers? Right, you should sell high-quality products only! In this case, you will easily minimize the number of refunds and returns and get only favorable reviews on your online store on a permanent basis!
It's also highly important that for you as a single-product store owner it will not be challenging to check if the product you sell is of high quality since it's only one in your product range.
Wondering where to find the most promising products for your store? Check out Premium Products – your weekly source of best-selling products AND tailored powerful ads! You can import this week's hot product to your store in a single click, and launch money-making promo campaigns using the winning materials (texts, visuals, audience settings) we're providing you with.
Matisse WooWordPress shop theme: what's so special about it?
When building your own online store, no matter if we're talking about a single-product or regular one, you should pay close attention to several aspects. And your online store design is one of them.
Well, what commerce theme to choose for your single-product store? How to get both appealing design and focus on converting as many visitors into customers as possible? The answer is clear – it's high time to get the Matisse WooCommerce theme!
So why is Matisse Woo a perfect decision for your one-product store?
Imagine a large product image at the top of the homepage: what can be more powerful in drawing your website visitors' attention? Well, using such a banner, you can put the product you sell into the spotlight.
What can be more important than description blocks? It's due to this reason they are paid lots of attention to in Matisse Woo. They provide you with an opportunity to enrich your text content with eye-catching images, so the product you sell can easily shine!
Informative product details
Well-described product detail is your one more step to successful sales. And in Matisse Woo, special attention was paid to product details, so they are set out in a simple and convenient way.
Great visual review content
Social proof greatly affects the customers' interest in your store. So if you want your online store to look reliable for your potential customers, it's time to place a trust element on your homepage. Fortunately, Matisse Woo provides you with an opportunity to do this with ease! What's more, you can enrich it with images. Sounds tempting, doesn't it?
Eye-catching customer gallery
What can also help you convince your clients that they can safely deal with your store? Right, it's a human touch to your online store! So increase your brand awareness by using the customer gallery in Matisse Woo!
What should a checkout look like in order to make users finally make a purchase? Definitely, it should be simple and intuitive. This is exactly what the checkout in Matisse Woo is! What's more, it has built-in trust icons, urgency banners, etc.
So it becomes clear that Matisse Woo is your big ticket to the profitable ecommerce business!
How to get Matisse Woo for your website?
Well, are you now interested in Matisse Woo? Do you want to make the most of your ecommerce business using this WordPress shop theme? If so, let's check what's necessary to get Matisse Woo.
First of all, in order to use Matisse Woo for your business, you need to have an online store. Do you have one? That's great.
In case you still don't have an online store, it's high time to start your exciting dropshipping journey!
Then, you need to make sure that your online store is built on WooCommerce.
Is it? Awesome! You're ready to get Matisse Woo from its official page.
Remember that at any moment, you can go to AliDropship Knowledge Base to see how to customize Matisse Woo, and use its potential to the fullest!
Appealing WordPress shop theme: final takeaway
As they say, there are lots of WordPress shop themes, but Matisse Woo from AliDropship is one of a kind.
We have found out that Matisse Woo can easily become the perfect decision for your business due to the following theme options and features:
Brilliant design
Simple and intuitive interface
Conversion-focus homepage
Social proof content
Trust blocks
High-converting checkout
That's a way too tempting opportunity to miss out, isn't it?
So do you want to get an appealing WordPress shop theme? Are you interested in making the most of your ecommerce business? If so, don't miss a chance to get Matisse Woo!