One Product Store For Dropshipping: How To Make It Right?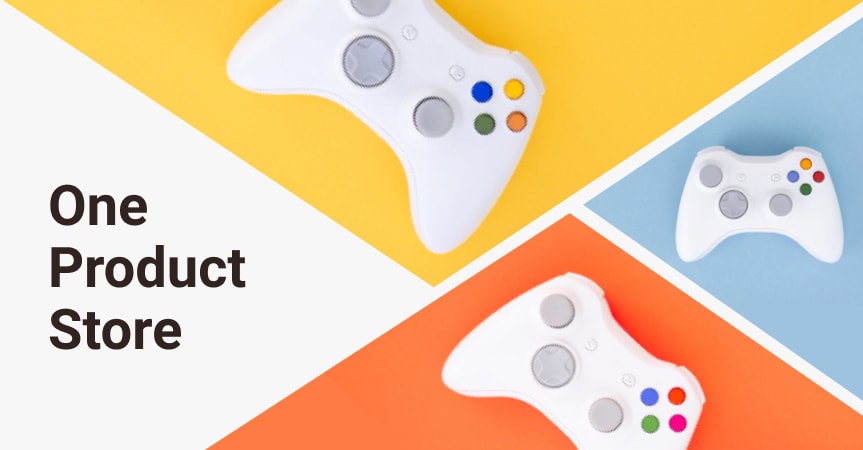 Only one product to sell? Not a problem if you're using a one product store theme! The right store design can get you countless sales. What's the secret? And what does Picasso store theme have to do with it? Let's figure it out together!
Long story short, here's the deal: more and more people all over the globe are showing interest in stores that sell only one product.
Are online users looking them up because they want to buy something from such stores?
Well, that would make a lot of sense. Dealing with one product only, a store is 100% focused on ensuring a top quality of this item and providing first-class customer service. And that's what every buyer wants from their shopping experience, right?
But what if people are looking this term up because they want to try out this business model themselves?
That's easy to understand, too. A one product store or a website template that can put any of your multiple items in a limelight gives their owners multiple benefits – let's take a brief look at them!
What's so great about running a single product website?
Basically, every business means multitasking. There will always be numerous aspects you need to consider, monitor, and improve. Of course, it means huge time spendings, and possibly, even some amount of stress!
But what if I told you that by cutting down the amount of products offered in your online store, you'll get rid of numerous extra worries?
Here's what I mean.
You need to come up with ONE idea only
Filling your store with 50+ products, you need to make lots of important decisions.
For example, exactly what niche will you occupy with these particular products? Or will they have in common? How will you need to write their descriptions and ad texts to convey the same brand message and tone of communication?
And coming up with ideas for a one product store is much easier. Yes, you still need to find an absolutely winning product with a high profit potential and make its presentation perfect – but you only need to do it once.
You can check the product quality personally
Found your perfect AliExpress product to dropship? Great!
Since it's one item only, it's not a big deal for you to actually order it from AliExpress. This is how you will:
See if the supplier is polite, trustworthy, and quick to react
Make sure the item truly has a good value for money
Get the opportunity to make a fancy photoshoot of the item and create enough catchy visuals to use for your further marketing activities
What is more, you can even make this purchase through your own dropshipping store and test order processing and order tracking features with no rush and worries. 😉
You complete daily business operations much quicker and easier
With only one product in your store, you don't need to spend days and weeks polishing the item description and images, figuring out the perfect price, and monitoring competitors' offers. Similarly, you don't spend much time making your online store SEO-friendly. There is only one product to take care of, which is why you can target all your energy and resources at it freely.
The same goes for an ecommerce store that has multiple products but focuses on just one. In this case, the inventory will most likely consist of a small number of goods closely related to the main product. So, it'll require less work than a standard store with 50+ items.
Moreover, it doesn't take you much time to learn your main (or only) product inside out. It allows you to treat your customers with exceptional pre-purchase counseling and post-purchase support. And that's the key to winning their loyalty and making them recommend your store to others!
Plus, it gives you an unbeatable chance to establish yourself as an expert in the field you're working in. Knowing everything about your product, its benefits and areas of use, you can confidently publish informative articles in your blog, run social media accounts that spread valuable insights, and contribute to industry-related forums, platforms, etc.
You plan your marketing activities with a higher efficiency
Positioning yourself as a 'guru' in your product field, you're actually making the first step to building a strong brand that helps you make more sales.
And it's not the only marketing benefit of a one product dropshipping store!
When you're promoting one and the same item over and over again, you are not distracted by any other items. You can test any types of ads, any audience targeting settings, any business collaborations, and any promotional tactics you can possibly think of. Gradually increasing the efficiency of your promo efforts, you'll surely discover the perfect ads mix that works best for this particular product – without excessive spennings of time and money!
But is it actually as easy as it sounds? Let's find out the secret recipe of success when you're running this business!
What's the key to a profitable one product website?
If you're already excited about trying out this business model, here are 3 crucial things you need to consider before you start.
#1 Your product must be AWESOME
A "just fine" or "good" item won't do. You're looking for the absolute best here!
The perfect candidate for being sold in a one product store is:
Maybe it's a hype thing of this year or season, or maybe it's something evergreen that won't go out of fashion ever.
In any case, it's something that people really want to buy very much, and (most importantly) don't mind ordering from an online store.
To make your dropshipping store successful, you need your product to trigger impulse purchases. In other words, it should be simply irresistible: overwhelmingly cute or insanely geeky, or totally badass – well, you got the idea. The stronger the emotion, the better!
The product's idea, purpose, and benefits should be clear immediately. You don't want your store visitor to leave the website and go googling this product, right? It's definitely not a good thing if your potential customer starts overthinking the purchase and having doubts – or even worse, finds a similar product in a competitors' store!
Again, nothing should stop your client from placing the order right here, right now. Of course, every customer segment has their own understanding of 'affordable', and every product has its own specific product range. That's the thing you need to research.
What's the point of dedicating your store to a product that can easily be bought everywhere?
You need to be looking for an interesting and rare to find product variation that has an unusual design, or some extra features, or any other non-typical modification.
#2 The quality of visuals is crucial
When you deal with a one product store, basically, your website consists of one page – the Home page.
And most certainly, it must be product-centered and good-looking: you only have this one page to catch your visitors' attention and convert them into buyers.
So, high quality close up product images, fascinating product videos, and customer-focused texts are a must. Without them, you won't really be able to let the visitors know it's a reliable and safe shopping destination, and convince them to buy your outstanding product right now.
#3 Social proof is everything
In fact, social proof is vital for any online store. But with a one product store, it gets absolutely essential.
Just think about it: your store visitors see this one page only. Does it provide them with enough information to rely on? Are you giving them enough product details to help them make their purchasing decisions?
A little motivational booster that you need here is social proof: previous customers' feedback showing that the product is fine and safe to buy. And, given that you don't really want your visitors to go online searching for more details and reviews, you need to find a way to integrate it in your store. How can you do that?
#4 Outstanding product copywriting
Because you have only one product to showcase, you should carefully approach the aspect of copywriting.
How does the product work? What are its unique features? And why do people love it? Your customer should understand all of this in an instant. Here are some guide points to show you how you can do this.
The key point to understand is that most consumers have little interest in every product detail and feature – what they want is to understand what they gain with it. Thus, what you need to do is to showcase the benefits of each feature.
Next, don't overuse any over the top words such as "market-leading" or "innovative" and so on. People have become accustomed to using these words way too much, causing them to practically lose all their power and meaning. Instead, try using more facts and figures to increase your credibility.
And finally, entertain your audience with captivating stories. You can do this in your "About us" section of the website to tell about your mission, its solution, and your noble ambition to change people's lives for the better. Such memorable and fascinating stories should bring out more emotions and empathy from your audience, allowing them to connect with your brand.
How to create the perfect one product store?
We're thrilled to introduce Picasso: our brand new theme exclusively created for websites that focus on a single product. Feel free to check out a demo website built on it!
Here's what makes this theme so unique, outstanding, and money-making.
Grab your store visitor's attention from the first second!
This theme is perfect for showcasing your main (or only) product in the best way possible. A huge image that is seen immediately and a short, persuasive text next to it is exactly what you need.
Customer-oriented product info
The first button your store visitor sees is not 'Buy Now', but 'Learn More'. And you already know the logic behind this: your goal is to give plenty of details that convince the viewer to place an order.
Clicking on this button or scrolling the page down, your store visitor sees this:
After a block with general terms of purchase, there's a part that looks like a usual, familiar product page. There's a product title, picture gallery, price and variations, and finally, the 'Buy Now' button.
And right next to it, there's a whole new eye-catching element!
You get the opportunity to showcase your delightful offer once again, and focus the viewer's attention on the exceptional benefits that go with the purchase.
Only after that, you're getting to the 'boring' details describing the product's actual features and specifications.
And if your client feels ready to place an order at this point, they can conveniently do it without scrolling all the way back to top!
The same catchy purchase-motivating element gets repeated a bit further on the page.
When it's shown for the second time, it accompanies the FAQs section that provides your potential customer with even more details on your terms of service.
Integrated social proof elements
This important point of generating more sales in a one product store is covered in our Picasso theme, too!
First of all, there are previous buyers' reviews collected neatly on the following board.
And what's more, this theme gives you the opportunity to connect your business Instagram to the store in a very fancy way.
It encourages the visitor to stay on your website and research the provided feedback instead of leaving the store and looking for more info somewhere else.
The best news: you can try and test the one product store strategy at ANY moment!
All of it sounds great, but what if you don't like the idea of selling a single product? I mean, what if your dropshipping business grows fast and you'll need more goods? Does it mean you'll have to build another website to replace your one product dropshipping store?
Not at all! The Picasso theme lets you create regular product categories, just like in any online store, and fill them with multiple products. The home page still focuses on your main product, but your visitors can also browse other items in your catalog.
You can turn it on or off whenever you want to make a one product dropshipping website or a regular store with a stronger focus on a particular item.
Summing it up, Picasso is a theme that fully meets the industry requirements for a user-friendly, income-generating single product website. At the same time, you can customize it by adding a regular catalog of complementary goods.
And you just can't argue: it looks absolutely adorable! 😉
How to get Picasso theme for your one product store?
First of all, make sure that your store is powered by AliDropship original plugin.
Please note: as for now, this theme is not compatible with WooCommerce! It'll work only if your store is built on the original version of AliDropship.
Got the plugin? Great! Now, simply buy this theme from the official Picasso page, and you're good to go! Follow these theme installation instructions if necessary.
By the way, don't forget that you can customize your store in multiple ways. To learn more about the modifications you can make with the Picasso theme, please read this Knowledge Base article.
Now you know what's so special about a one product store – and, most importantly, how to get a proper one for yourself! Don't put this opportunity on hold: isn't today the perfect day to start your own money-making business?