How To Sell Baby Stuff And Make $8,000 A Week? [Case Study]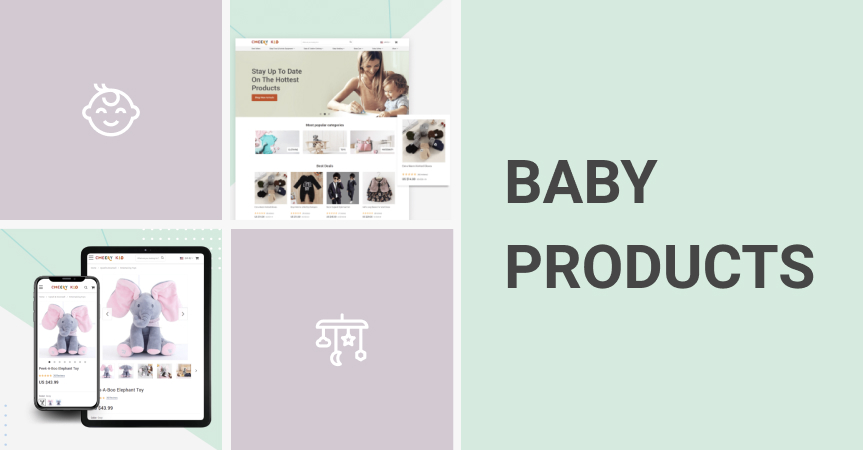 Introducing a shining example of a successful dropshipping store! Cheery Kid was created by two work-from-home moms to sell baby stuff to other parents. Now it's making $32,000 per month and keeps growing. Let's find out the secrets behind its success!
People often ask, 'What is the recipe for a successful dropshipping store?' Some say it all depends on your niche. Others claim it's how and where you advertise products.
But the truth is, you need to take care of all these and other aspects of creating a dropshipping business. Each and every element of your future store must contribute its bit. Only in this case can you hope to succeed.
Cheery Kid is a good example of how you build an ecommerce store and promote it. Launched in September 2020, it quickly became an extraordinarily performing marketplace. During just six days in November, it earned $8,128. I'd say it's a good start!

In this article, we are going to analyze all the features of this dropshipping store that made this success possible.
Product niche: why sell baby stuff
The baby product niche remains an evergreen sector in e-commerce due to the continuous cycle of new parents entering the market. The baby product niche offers remarkable potential for consistent growth and profitability. Here's why you should consider venturing into this niche, backed by compelling statistics.
Unlike trendy or seasonal niches, the demand for baby products remains consistent throughout the year. Every day, new parents are seeking out quality, affordable items for their infants. From baby clothes and toys to strollers and car seats, there is a vast range of products that parents need for their children, creating an endless stream of potential customers.
The Great Potential of the Baby Product Niche
Statistical data speaks volumes about the opportunities in the baby product industry. According to Statista, the global baby care market is projected to reach approximately $109.13 billion by 2026, up from about $73.86 billion in 2019. This growth reflects a compound annual growth rate (CAGR) of nearly 5%.
This same report also indicates that the majority of this growth will occur in Asia and North America, suggesting that these regions could be prime markets for targeting your e-commerce baby products.
Within the overarching category of baby products, there are several lucrative sub-niches that can be explored. These include eco-friendly baby products, organic baby food, high-tech baby monitors, and designer baby clothes. Each of these sub-niches has its unique consumer base, which adds to the overall profitability of the baby product industry.
Evolving Consumer Behavior
Modern parents are more informed and conscious about their purchasing decisions, thanks to the internet. They're interested in buying products that are safe, high-quality, and beneficial for their baby's development. As an e-commerce business owner, you can capitalize on this by offering products that meet these demands, which will not only satisfy your customers but also improve your reputation and sales.
The influence of social media platforms, especially Instagram and Pinterest, on the baby product niche is undeniable. From expectant mothers sharing their baby registries to parents posting their favorite baby products, social media platforms serve as influential channels for product discovery and purchase. Therefore, they can be used effectively to target and engage your audience, showcase your products, and drive traffic to your online store.
Inside the minds of the two moms and why they started
The idea to launch a dropshipping store that sells baby products belongs to work-from-home moms. Right now, they're taking care of their kids. So, they know a thing or two about what parents and their children need.
They also know firsthand that it's almost impossible to leave a kids store with just one purchase!
Instead, you end up with a full bag of kids clothes, toys and a few useful things for yourself. Oh, and that super cute T-shirt too! Never mind you already have dozens of such T-shirts at home.
That's why picking this dropshipping niche was rather natural. After all, experienced online entrepreneurs recommend choosing something you really like. In this particular case, buyers and sellers are actually the same people – parents who want to give their children only the best products.
And the store met the creators' expectations. Customers are willing to add upsell goods to their shopping carts and also buy products from related categories. As a result, the average order value is pretty high and rises even more right before holidays.
On the other hand, this niche does have one thing to be careful about. Selling baby stuff, it's very important to ensure all the goods are safe for babies and little kids. That's why it's crucial to only pick high-quality products.
And that's the first part of Cheery Kid's success.
Store design
Take a look at Cheery Kid. You will notice that the site has a very minimalistic design and uses almost exclusively the white color.
This design solution was chosen not without a reason. Most baby products have bright and vivid colors. A neutral background allows product images to draw all the attention. The only exceptions are clickable buttons.
Another important part of the site's design is the banners placed on the homepage. First, they feature happy kids and parents – the store's clients. Second, the texts used in these banners are optimized specifically for parents.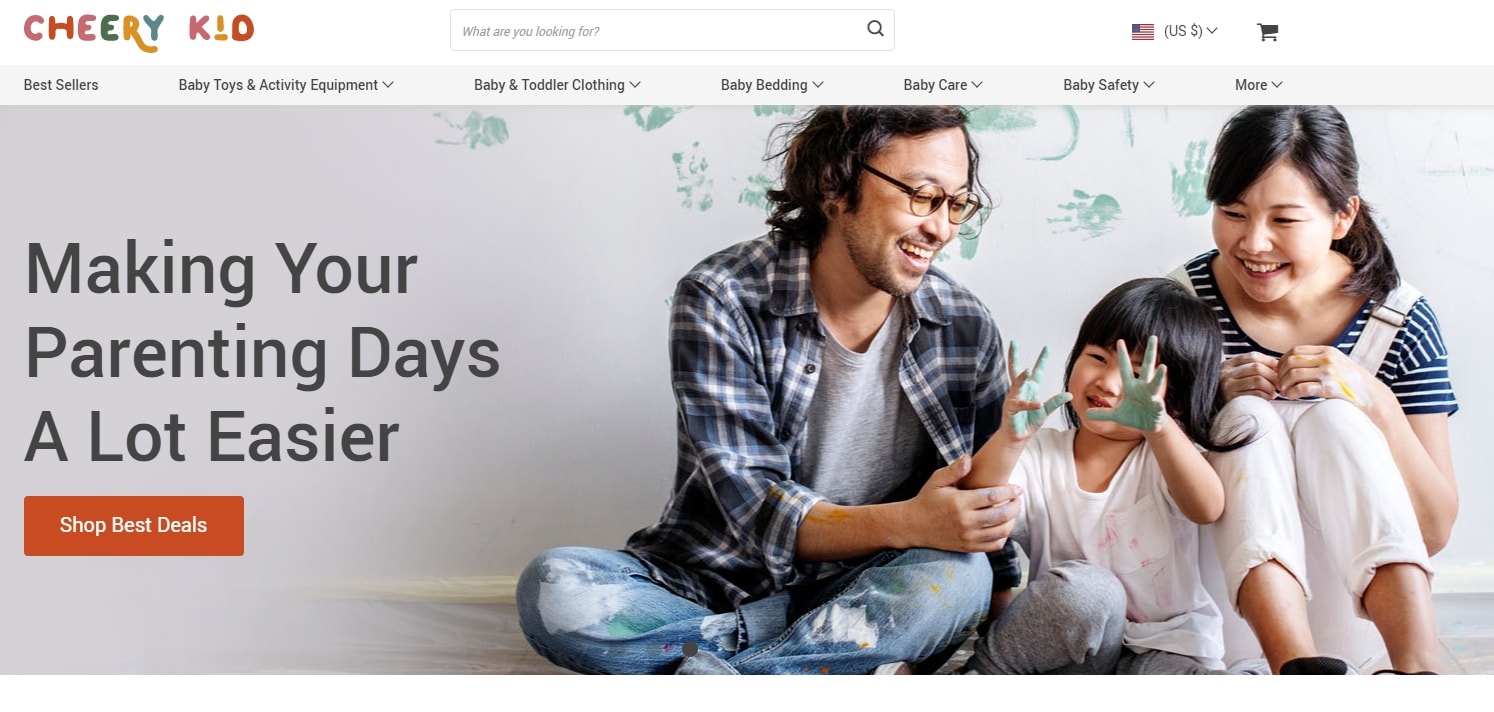 In addition, each of the three banners on the homepage portrays children of different ages. This message gives potential customers an idea of what kind of products they can find here.
You may think it's not a big deal. But it's just one small element of the bigger picture.
Website structure and product pages
Another important step in creating a successful dropshipping store is to properly structure your site, namely product categories.
The inventory is split into several categories, with each having at least one of the niche's best-sellers. The categories are further split into a number of subcategories. This way potential buyers can find products they may need other than the ones being actively advertised.
Additionally, all the best-selling goods are gathered in a standalone category. As a rule, people tend to be curious about what the top products are.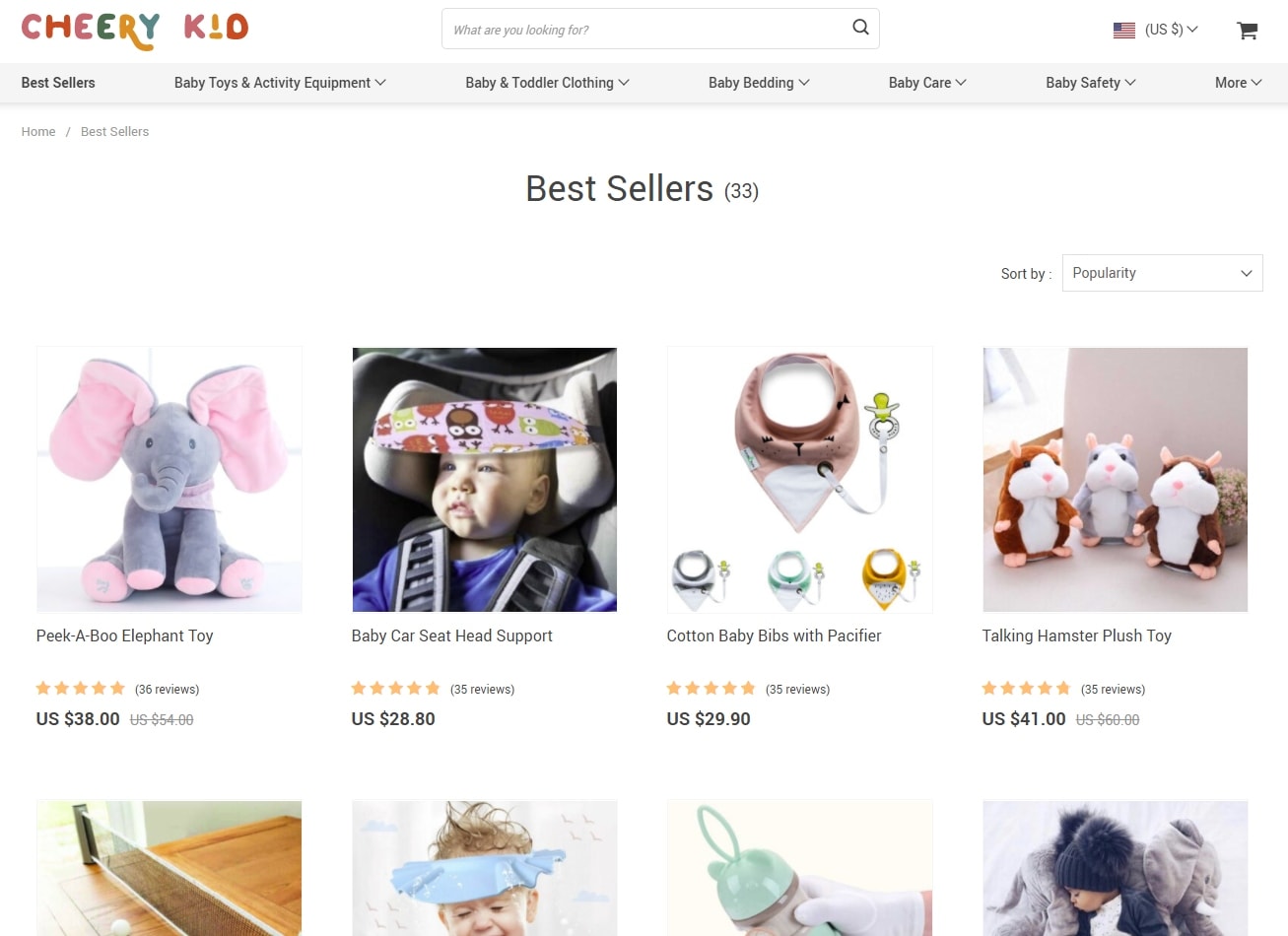 The entrepreneurs behind this store pay huge attention to product pages as this is where potential customers either convert into buyers or leave the site.
First of all, the team optimizes their loading speed. Remember, if you make visitors wait for too long, they may leave before they get to see your product page. We recommend compressing images on the page until its weight equals 1.5-1.8 MB.
Second, they add detailed specifications into product descriptions. After all, when you sell baby stuff, it's crucial to let parents know what materials were used for manufacturing your goods.
Third, the team also makes descriptions touching and emotional. Since most of the products have not only practical, but also emotional value, it's crucial to highlight it.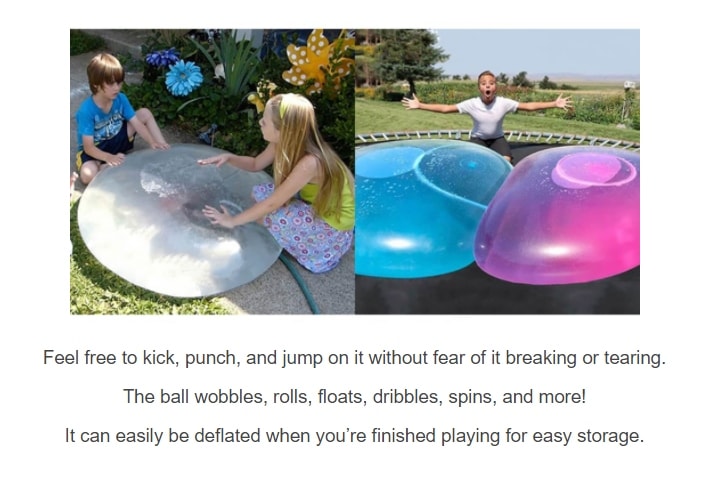 For the same reason, whenever possible, the team makes sure customer reviews contain photos of happy children interacting with a given product. Visualizing the result of a purchase is a strong move!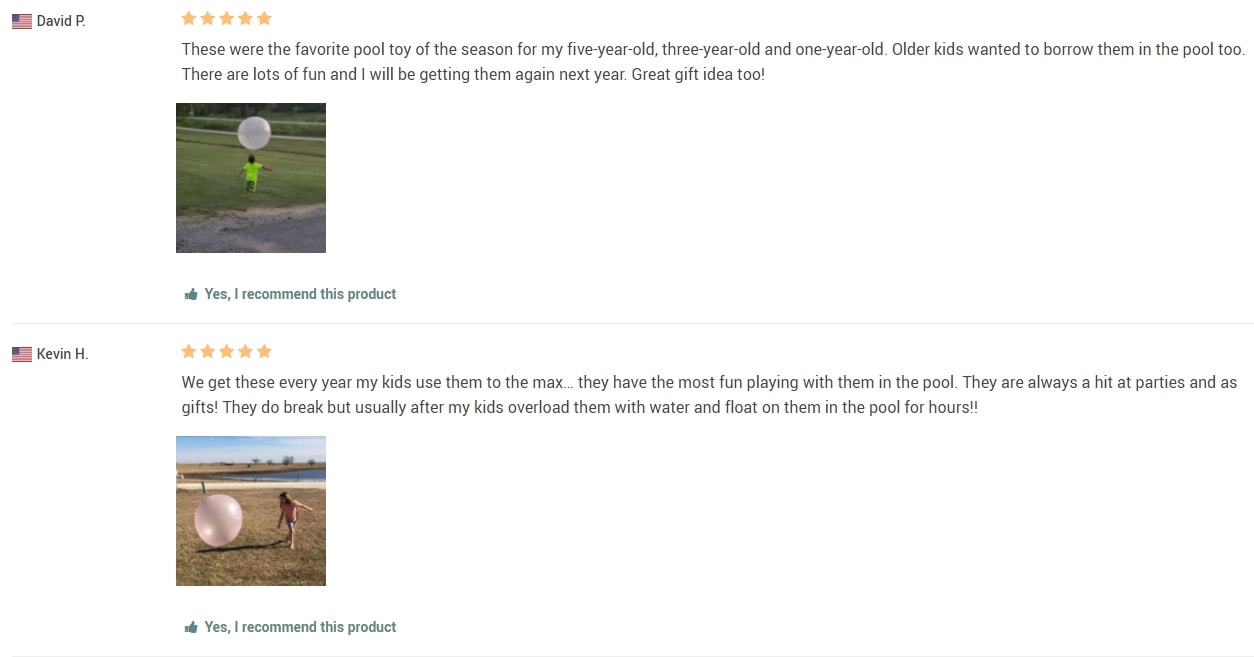 Finally, if a product does have a distinctive function, do your best to show how it works with GIFs, videos and pictures.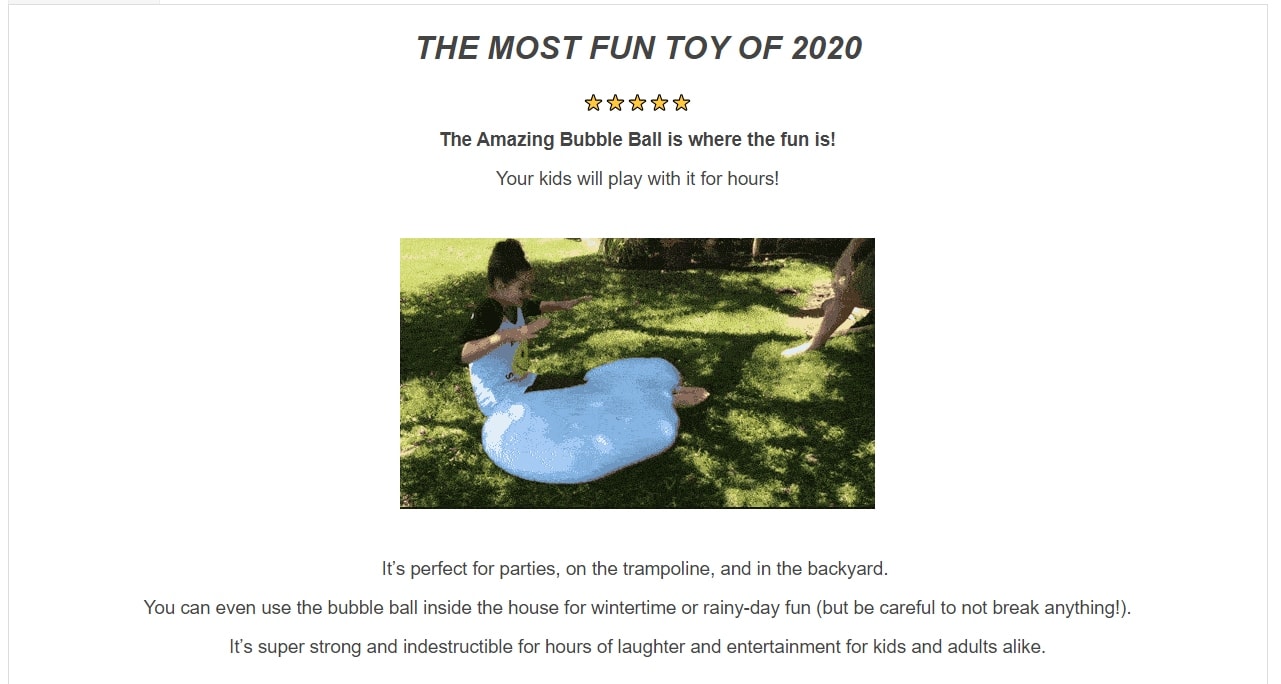 Choice of products
As of now, Cheery Kid's inventory contains 200+ thoroughly selected and optimized products. Nevertheless, the moms still experiment with new goods and analyze the target audience.
As mentioned above, these products will suit not only children of different ages but their parents as well. The team wanted to give parents something that could make it easier to take care of their kids. The store offers toys, children's clothes, backpacks, safety items, pregnancy belts and so on.
Also, the store creators deliberately avoid products that can be dangerous for little kids.
And what about the product strategy for this niche? Of course, you won't find goods that cost hundreds of dollars here. But the fact is the target audience tends to pay little attention to the prices. When it comes to buying something for your child or for yourself (to make things easier), money goes into the background.
People who look for presents for friends and their children think the same way.
Promotion: how to sell baby stuff
When the website was ready, the moms began promoting it – mostly through Facebook.
It often requires a considerable investment in time, resources, and capital to find the perfect recipe for success. It can be a daunting task, especially for those who are new to the world of online business. Here's where the Premium Marketing Package from AliDropship comes to the rescue! We've put together this package after testing numerous marketing strategies, gleaning what works best, and refining top-performing materials. Try it out and upgrade your business!
Obviously, the first category of buyers the team targets is young parents. However, there's also steady demand from elderly people. These are grandfathers and grandmothers who are happy to indulge their grandchildren.
A number of purchases also come from younger relatives and friends who were able to steal the scene at baby showers and other parties thanks to our products.
For those products which have useful functions, the team creates ads that highlight their usefulness. Showing how a particular item solves a problem is usually enough to get people interested.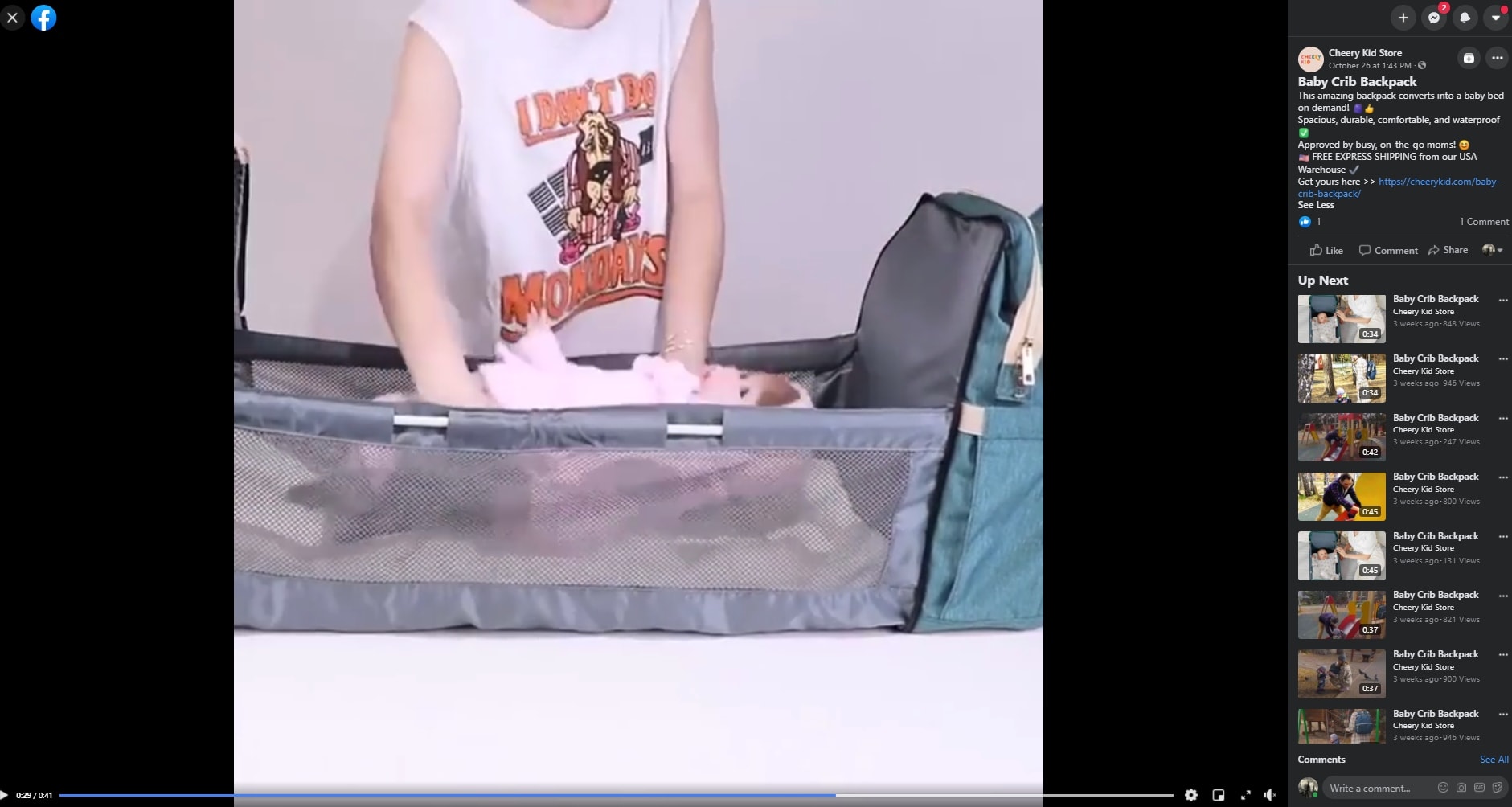 As for other goods that don't have particular functions, the team appeals to emotions. In this case, it's crucial to show the happy faces of parents and their children as they interact with a given product.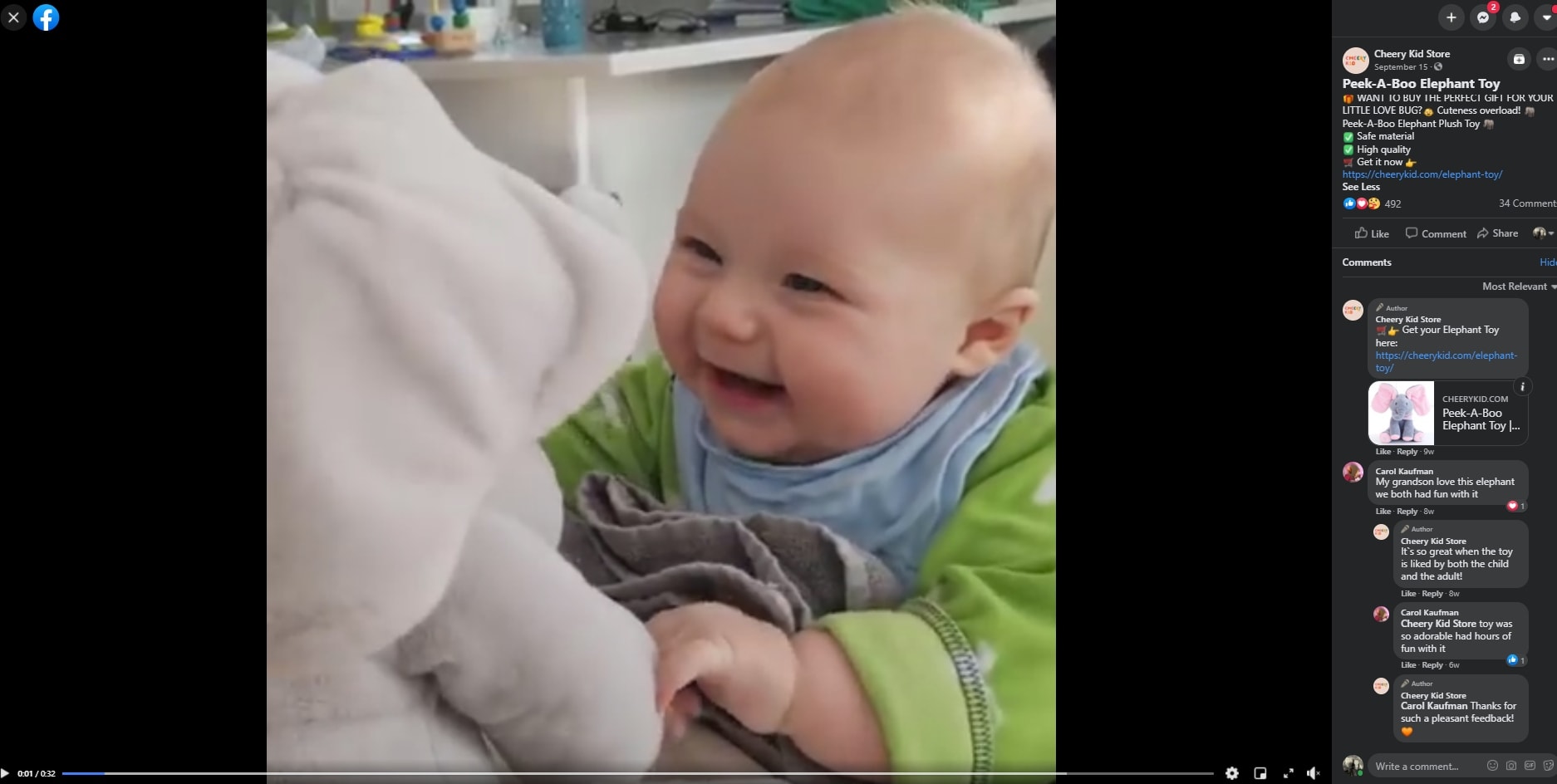 Upsells, bundles and discounts
Since the cost of conversion can be quite high on Facebook and other platforms, you can use a number of methods to raise the average order value of the store.
Upsells are offered to people who have purchased an advertised product. This store also adds products to the Recently Viewed section as visitors browse the inventory. Plus, the creators use discounts regularly and offer coupons in remarketing.
In general, their approach repeats the one used, explained, and recommended by AliDropship marketers: we described this winning Facebook advertising strategy here!
When combined together, all these aspects create a well-performing business with strong potential. Want to try yourself in ecommerce, too? Get a custom-made dropshipping store tailored to your business needs, and feel free to experiment with its promotion following our tips and advice!