20+ Best WordPress Themes For Business In 2021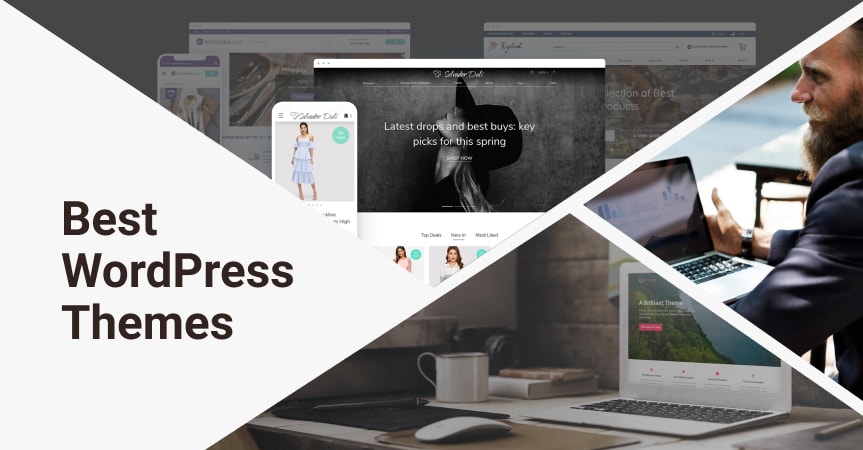 Do you need a stylish WordPress theme for your business? Are you eager to provide your website with a perfect design? Are you searching for a theme which can help you convert as many visitors into clients as possible? If so, you will be happy to know that we are ready to present you with over 20 best WordPress themes for your business to benefit from!
Running an online business is sometimes a challenging task with several components. One of them is choosing a proper theme for your website. Why is it essential? Let's find it out!
In fact, your website theme is something like the calling card of your business. This theme provides your website visitors with the first impression of your company as a whole.
That's why you need to pay lots of attention to choosing the most suitable theme for your website if you want to attract as many potential clients as possible to your business. How to do that? This is exactly what we are going to talk about in this article!
Best WordPress themes for business in 2021: what should they have?
As we have already found out, a perfect theme for your WordPress website is an essential component of your online business if you want a high conversion rate. Indeed, when a potential client visits your website for the first time, the main task for you is to do the following:
Make them satisfied with the site design
Ensure a user-friendly interface
Convince them to stay on it for a long time
That's why you need one of the best WordPress themes ever! However, there are lots of different themes on the internet, but which one should you choose? Let's try to answer this question!
Well, what features should your excellent WordPress theme have?
1. Great appearance
Your website has to look good if you want it to attract as much attention as possible. Otherwise, most of your visitors are highly likely to leave it.
So, your business needs to be attractive on the Internet. And it's necessary to choose a theme that is able to make your visitors stay on the website, learn more about your company, take a look at your offers, etc.
2. Maximum level of customization
The theme needs to be flexible in making adjustments. The more customization options you have, the more promising this theme is going to be. We doubt you will be happy when you have to switch to another theme because of some features that can't be customized in your current one.
We bet you look for a unique WordPress theme for your business, don't you? If so, take a look at the themes with lots of settings!
3. Focus on buyers
What's the main aspect in any business? Right, you need to get the maximum number of clients. That's why the theme chosen has to be client-oriented. It means that it should be intuitive, easy to use, have call to actions, well-thought landing pages, etc.
So, do you wish to convert as many visitors into clients as possible? Then, make sure that the theme you've chosen is user-friendly!
4. High loading speed
High performance is also extremely important for your website if you want your visitors to stay on it as long as possible. So when choosing a theme for your business on the Internet, you should pay attention to the fact whether it's possible to build a really fast website on this theme.
5. Responsiveness
Nowadays, when surfing the Internet, people use not only PCs, but also tablets, smartphones, etc. So make sure that the theme you want to use for your website looks great on all the devices.
Well, if the WordPress theme you've chosen includes the features mentioned above, it's going to suit your business perfectly.
Best WordPress themes for business in 2021
So we can talk at length about the best themes for your WordPress business. But a picture is worth a thousand words, isn't it?
However the team of AliDropship has decided to go beyond, and not just show what an excellent WordPress theme should look like. We are happy to provide you with a list of 20+ best WordPress themes for business in 2021. Here they come!
AliDropship themes for WordPress
AliDropship knows firsthand how to create websites that are able to bring you hundreds of thousands of dollars in revenue. We not only help our clients start their profitable dropshipping businesses, but also launch our own dropshipping stores. And some of them really make over half a million dollars per month.
This is exactly why we pay particular attention to the creation of client-oriented and high-converting WordPress themes. These are largely our themes that let us create user-friendly and eye-catching ecommerce websites that bring us a chance to make a fortune with them.
So if you are looking for a perfect WordPress theme that can let you bring your website to a whole new level in terms of converting clients into customers, we recommend you pay attention to the themes that the team of AliDropship develops itself. They are fully optimized for AliDropship Plugin and include all the necessary components required for dropshipping and any ecommerce business.
1. Van Gogh
Van Gogh is a groundbreaking theme for one-product stores allowing you to showcase this very product in the most appealing way possible. With its help, you can build a money-making business around one winning item only – and make your visitors' on-site journey a truly memorable and pleasant experience. Read more about Van Gogh in this introductory article!
2. Picasso
Picasso is another WordPress theme for single product stores that includes all the necessary features for you and your ecommerce business. This theme is able to provide you with amazing design, great contact form, countdown timer, one-page or multi-step checkout at your choice, and all the blocks you may need when customizing your business.
Here is Eartha Haines who is exploring ecommerce products and more on That Affiliate Life channel. There, you can watch a review of the Picasso theme from AliDropship!
3. El Greco
El Greco is a theme that is going to impress you a lot due to its several built-in ecommerce trust drivers, easy guidance though your online store, two versions of checkout, and many other features. Read its detailed review here!
4. Andy Warhol
Meet the Andy Warhol WordPress theme that is well-known due to lots of call-to-action blocks, trust badges, easy mobile navigation, and high-converting checkout. Do you need a profit-oriented theme? Go for Andy Warhol then!
Feel free to watch a review of the Andy Warhol theme from AliDropship by Eartha Haines!
5. Da Vinci
The design of the Da Vinci theme speaks for itself: thoughtful header, footer, and category page sidebar provide easy navigation, while the informative homepage will definitely do their best to attract lots of potential customers! BTW, Da Vinci is one of the most used themes from AliDropship, since it was designed some time ago.
So, are you looking for a tried and true theme for your website? Go for the Da Vinci theme, then!
6. Da Vinci 2.0
Da Vinci 2.0 is an updated version of the well-liked Da Vinci theme. In fact, it is almost the exact match of the Da Vinci theme. Meanwhile, it differs from the previous variant for its promotional countdown timer, renewed design, etc.
7. Rubens
Rubens is a minimalistic theme from AliDropship. It's characterized by the sticky navigation, two types of product image gallery, opportunity to place a YouTube video on the homepage, etc. So, with its spacious design, this theme possesses everything required to perfectly suit your business. Great, isn't it?
8. Dali
This is the Dali theme that is able to impress you due to its neat design, parallax image, featured products, etc. Moreover, with this theme, you have an opportunity to place a width background video on your homepage.
9. Michelangelo
Here is Michelangelo which seems to be a lot simpler when comparing with other themes. However, besides typical trust units, social sharing buttons, and so on, with this theme you'll have an opportunity to change the background image! This is exactly why this ecommerce theme is extremely popular among online entrepreneurs.
10. Raphael
AliDropship is also glad to offer the Raphael WordPress theme. It's going to be a good choice since it allows you to place a 'blog' and 'reviews' units on the main page. What's more, it has such interesting features as a sticky 'add to cart' button, zoom and glow hover effect, etc.
11. Rembrandt
This theme is well-known not only due to its informative homepage, eye-catching design, etc. Actually, Rembrandt can boast the smart search, store features block, Instagram and Facebook custom widgets, and so on.
AliDropship themes for WooCommerce
Beyond this, the team of AliDropship is also deeply involved in developing themes for WooCommerce. They are fully optimized for AliDropship Woo Plugin and possess everything necessary for dropshipping to make your ecommerce journey as convenient as possible.
1. Matisse Woo
Matisse Woo is yet another example of an impressive theme for a one-product store. Being specifically optimized for WooCommerce needs, this clean and mobile-friendly theme goes with an eye-catching animation, image-rich product descriptions, and other elements bound to convert your store visitors into buyers – and eventually, a loyal fan.
2. Claude Monet Woo

A striking thing about Claude Monet Woo is its app-like structure making it easy and comfortable for visitors to browse the store. Combining purchase-stimulating features with clean layout, Claude Monet allows even inexperienced online shoppers to navigate your website effortlessly. Interested to learn more about this customer-focused solution? Here is an in-depth review of the Claude Monet Woo theme from AliDropship!
3. Andy Warhol Woo
The Andy Warhol theme proved itself to be a huge success, which is why we were really excited to create its WooCommerce version, too! Here, you'll find all the familiar features standing behind Andy's selling power: catchy banners, FOMO badges, calls to actions, and more. We cover Andy Warhol Woo in more detail in this article, so make sure to take a look!
4. El Greco Woo
If you've decided to build your website on WooCommerce, AliDropship team is happy to present to you our brand new theme for Woo – El Greco Woo! It's highly optimized for your business high performance. Why is it so cool? This theme allows you to use a nice side shopping cart and category page widgets. However, the main feature of El Greco Woo is the opportunity to place different 'reviews' blocks on the homepage in order to provide social proof and convince your potential customers to deal with you.
Please, note that for your convenience we have integrated the original WooCommerce checkout into this theme.
5. Da Vinci 2.0 for WooCommerce
Da Vinci 2.0 for Woo is also a right decision for you if you want to create a website on WooCommerce. In this theme, you will find several product page layouts and product gallery options, buyer protection banners, and so on and so forth.
Sounds interesting? Then, go and watch a review of Da Vinci 2.0 for WooCommerce!
6. Smart theme woo
At long last, we have come to the very product that is supposed to stir up the market. Meet the brand new cool theme from AliDropship – It's Smart Theme Woo!
So what's so special about Smart Theme Woo, and why is it smart?
A number of layouts and design options you are able to choose and customize
Flexible frontpage you can easily customize without any specific skills
Convenient navigation
Opportunity to give your categories a spotlight
Smart search
WooCommerce checkout
And so on, and so forth. The most important thing about Smart Theme Woo you should pay attention to is that it's notable for the high level of customization to make it a perfect decision for any business. At first glance, one is likely to think they can customize whatever they want.
What's more, AliDropship always does its best not only to create IT solutions for experienced entrepreneurs, but also to help ecommerce newcomers start and boost their ventures. This is exactly why you don't need to have specific skills in order to personalize Smart Theme Woo. Forget about designers and developers, Smart Theme Woo lets you customize your business according to your preferences by yourself!
Would you like to learn more about this theme? If so, this is a high time to read an article that gives a detailed description of Smart Theme Woo!
Third-party WordPress themes for business AliDropship may recommend
Want to take a look at even more store design options? Consider the following themes!
Disclaimer: These are independent third-party themes, NOT made by AliDropship. Even though they are compatible with AliDropship Plugin and can be used for dropshipping, we are not responsible for their functionality and performance.
1. Flatsome
Flatsome is a WooCommerce theme that can suit any ecommerce business. It has lots of things to customize your website in accordance with your preferences. Additionally, it is designed in order to provide an incredible speed!
Here is Darrel Wilson, our friend, who is happy to present to you how to build a website on Woo using Flatsome and AliDropship Plugin!
2. Shopper
Shopper is a WooCommerce & Business WordPress theme. With its simple design, it can become a good choice for you when thinking of creating a fast and easy to use kind of website.
If it sounds tempting for you, watch a tutorial on Shopper from Wholesale Ted: an insanely popular YouTube channel for online entrepreneurs!
3. Shopkeeper
Shopkeeper is a one more Woo theme that is used by AliDropship clients. Beyond its great design, it also possesses all necessary components for you to create a great ecommerce website.
4. Storefront
WooCommerce Storefront is a theme that allows you to customize the website for your ecommerce business in the way you like. With its responsive design, SEO readiness, and ecommerce focused front page, this theme can, actually, become the right decision.
Third-party themes our clients choose
What if you want something really special? If you're up for some programming challenge, you might like some of the themes below!
Disclaimer: These are independent third-party themes, NOT made and NOT verified by AliDropship. They are typically chosen by highly experienced dropshippers and skilled developers who create websites on their own. However, these themes have not been tested by AliDropship developers' team and therefore, we can't guarantee they are 100% compatible with AliDropship plugin and suitable for dropshipping. That's why we don't use any of these themes for custom stores creation.
1. Themify shoppe
Shoppe from Themify is a WP theme that can boast all the necessary components for building a website. Due to its smart and flexible layout options, it is well suited for any ecommerce websites.
And here is a review of Shoppe from Hogan Chua. This video and more interesting information are available on his YouTube channel.
2. Astra
On the Internet, there are also several other themes which gained popularity among both large and small business owners. One of such themes is Astra. Astra provides you with lots of different settings such as a page title, sidebar, etc. Beyond this, its developers claim that this theme lets you create very fast websites.
3. OceanWP
OceanWP is one more theme some of our clients choose when creating an online store. What's interesting about it? It is going to provide your website with a great design on all devices. Moreover, it meets all the search engine optimization and loading speed requirements.
4. Divi
Divi is a WP theme that is fully customizable. It means that this theme allows you to configure almost everything you want. Great, isn't it? Meanwhile, you should remember that in most cases such themes require you to have more skills in building websites.
5. Woodmart
Woodmart is a theme that is designed for building WooCommerce online stores. If you have enough skills in creating websites, with this theme, you have an opportunity to get a fast site for the type of business you have.
6. Electro
Electro is a WooCommerce theme that is well-suited for online stores since it includes the list of main product features available in the most popular marketplaces. Great design and lots of customization opportunities, what else do you need to build a website for your ecommerce business?
7. Martfury
Finally comes the Martfury WooCommerce WP theme. It suits you well if you want to create an online store or multi-vendors marketplace.
Conclusion: WordPress themes for business
Well, there are lots of WordPress themes on the Internet. However, all of them are different. They all imply different sets of settings, levels of engagement, etc.
If you have a lot of experience in website building, you may look at highly customizable themes. If so, it would be better for you to think of WooCommerce WP themes that are compatible with AliDropship WooCommerce Plugin. In that case, it will be easier for you to create a website according to your preferences.
However, if you're a newcomer in this sphere, we would recommend that you find some WordPress themes for business that work with original AliDropship Plugin, choose the one you like more, and you won't have any problems building a site for the kind of business you have.
By the way, you have an opportunity to benefit from all the AliDropship themes since they include free updates, customer support, multi-step checkout, built-in cross-sell, and so on.
Even if you have already built a website on the AliDropship theme, and now you want to choose the other one, the team of AliDropship is glad to help you to switch the theme!
Well, are you looking for the best WordPress themes for business to create a perfect website? You know where to find a full range of exciting purchase-oriented themes now!