How To Start A Successful Online Store – Tips From The AliDropship Team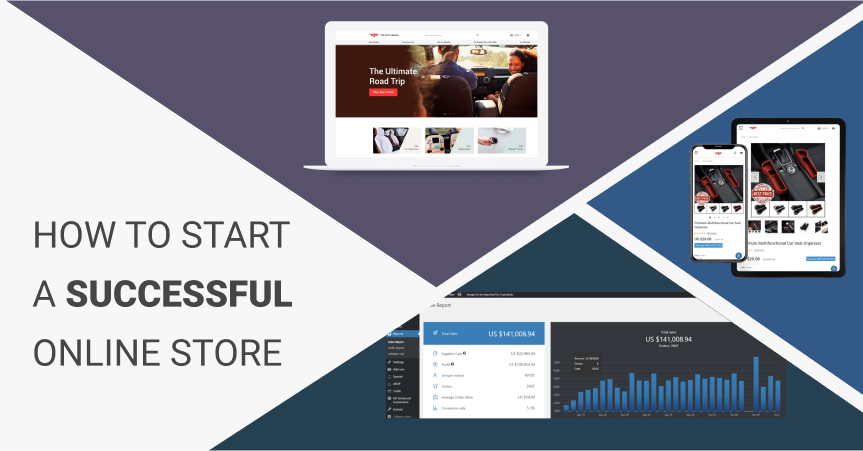 Are you wondering how to start a successful online store? The AliDropship team shares their experience in finding top-selling niches and building profitable dropshipping websites.
Online shopping is getting more popular: in 2019, online sales accounted for 14.1% of all retail sales worldwide, and by 2023 this figure is expected to reach 22%. Therefore, businesses go online. With easy-to-use dropshipping solutions, even people with small budgets can start an online store.
But what does it take to create a successful ecommerce business? Is it the niche? Or perhaps is it the advertising materials? Or does web design play the most important role?
The AliDropship company offers ready-made dropshipping businesses for sale including unique Established Stores and Premium Stores (copies of our most successful self-owned shops). In this article, we are going to talk about how our team creates such websites.
How to start a successful online store: niche ideas
When you consider starting an online business, it is natural to ask yourself what kind of products could sell well. Therefore, a beginner entrepreneur usually tries to analyze different markets, study potential customers, compare prices, etc.
Of course, most entrepreneurs prefer something they like because doing what you like motivates much better than necessity.
The problem is that niches are sometimes too broad. You can't be sure precisely what products could become your best offer. That's why we've been using a different approach.
Launching new Established and Premium Stores starts with finding a product!
First, the team uses AdSpy to find out what other dropshipping stores advertise on Facebook and Instagram. Here we look for ads with thousands of likes, comments and shares. Sometimes the team looks for ideas on Amazon, AliExpress Dropshipping Center and Google Trends.
When we find something interesting, we visit the original store to check the item's price and shipping options. We also check comments under the ad post.
After that, we find this or similar product on AliExpress to check the supplier's score and prices, customer reviews, available shipping options, pictures, videos and GIFs.
Lastly, the team visits Amazon to check if local sellers offer similar products and for what price.
This is a simplified action plan to find and analyze any product idea for your future dropshipping store. Here you can read a standalone article on how to find ecommerce products using this method.
The AliDropship team uses this method to find goods which are then tested on our stores. If these goods prove profitable, they become our Premium Products – a subscription service that sends you new dropshipping products each week.
When the team manages to find something outstanding, a product that converts really well and earns a lot of money, this product can become a foundation stone for a new Established or Premium Store.
How to define if a product is worth your attention?
When you look for product ideas on AdSpy or similar platforms, the number of likes and comments clearly indicates that this particular product is popular. It's also important to pay attention to when an ad was created and whether it's still running. An old ad may have a lot of likes, but it doesn't mean the product is popular right now. Also, browse customer comments under the post and reviews on this particular shop and on Amazon if you can find this item there.
When you browse AliExpress looking for good products, check sellers' ratings, how long the store's been in business and how many followers it has. Then check the number of stars a product has (stick to those having more than four), and the number of goods sold. Make sure the price is affordable and the seller offers free or affordable shipping to your destination.
Also, check customer reviews and customer-made photos to estimate the quality of the product.
To build a successful online store, you need goods that will let you mark-up the price considerably. It's especially important for products you're going to advertise since each conversion costs money. For example, when you advertise on Facebook, expect the average cost of conversion to be about $30. So you have to make sure the final price doesn't scare away your customers.
That's why our team prefers products that clients will buy in quantities. For example, people often buy two car organizers to put the second one near the passenger seat. And if a family has two cars, they may buy four of them. In this case, the cost of conversion will remain the same.
This way you can sell several products after paying for a conversion only once.
How can a single product turn into a niche?
As a matter of fact, in most cases, it takes at least two or three products to define the future store's niche. Still, even one item can serve as a center of attraction for related goods.
The important thing to remember is that you don't actually "create a new niche" this way. Having one product or a group of items with good potential lets you pick one of the existing niches for your store.
For example, if you have discovered a T-shirt with a funny print that sells great, your obvious choice is clothes. You will probably pick similar apparel, but if necessary, you can also broaden the niche or narrow it down later. After all, instead of focusing on clothes only, you can build your store around funny or cute items from other categories.
It doesn't mean you don't need the rest of the inventory! The flagship product is good for advertising, drawing the attention of potential customers and leading them to your site. Yes, sometimes a dropshipping store has only one popular product while other goods don't sell at all. And such stores can still be successful. But this is not what you should go for.
If you manage to find useful goods or items with emotional value that perfectly complement your flagship product, the rest of the inventory will make it possible to raise your average order value. To put it simply, people will buy other products along with the one you advertise, thus raising your profit.
For example, you can advertise the grooming tool to attract customers and then offer them the other goods as a part of a bundle. You can also use these offers for remarketing campaigns.
So, the idea is to find a hugely popular product, complement it with similar goods and promote them as bundles, or sets, or simply offer discounts for larger orders.
How to start a successful online store: website creation and design
During the next stage, the team builds a new website. The AliDropship plugin can be used to create either a WordPress site or a WooCommerce site, but we build our self-owned online stores on WordPress.
The process includes the following steps:
Buying a domain name for the future shop. The trick is to find a short and simple name that can explain potential clients what you sell and is easy to remember.
After that, the team installs WordPress on our hosting and installs the AliDropship plugin.
Next we pick a dropshipping theme that will suit a given niche and customize the site. The goal here is to build a proper site structure by creating a number of categories and subcategories, setting up the pricing formula and payment gateways to let customers pay with credit cards and PayPal, etc.
After that, the team takes care of the site's design and creates banners.
Finally, the team imports all the products they picked on AliExpress and creates proper product pages.
This step is extremely important because when people visit ecommerce websites, you can lose them any moment. There are plenty of things that can scare customers away: the price, shipping cost, low-quality photos, vague descriptions, negative reviews, etc. Even visitors that did add products to their shopping carts may change their minds and leave.
That's why the team tries hard to write a great product description and find positive customer reviews with real photos for each product. Here you can read more about how to create a perfect product page.
As for products that we are going to advertise, we also test their pages to see which variants convert visitors better.
How to start a successful online store: installing AliDropship add-ons
Advertising each and every product from your inventory will cost you too much. And the efficiency of this approach is questionable. That's why the team prioritizes only a few items in the list. But in order to create a profitable online store, one has to increase its average order value, i.e. how much customers spend on average.
You can either convince site visitors to buy more of the same product or buy more goods from the same or other categories. The choice depends on what kind of products you're going to sell. Some goods sell better in quantities while others go well when complemented with other items.
For this purpose, the team uses a number of AliDropship add-ons such as Gift Box, Bulk Discounts, Product Bundle, Recent Sales Pop-Up, etc. Note that you will have to purchase these add-ons separately if you want to try similar marketing strategies.
However, all Established Dropshipping Stores have the following add-ons installed:
After an Established Store is launched, the team also creates a Facebook page and a Pinterest account. All these additional plugins and services are included into the price.
The team builds social media communities for Premium Stores as well. But when you purchase a copy of these shops, you have to create your own social media pages.
How to start a successful online store: launching and developing a new shop
After that, the team launches the store and promotes it through the channels picked earlier. If the website starts making enough profit, we turn it either into one of our Established or Premium Stores.
Established Stores feature somewhat more unique niches, which is why we hand all the materials to new store owners completely. Premium Stores feature relatively broad niches, which is why you can buy their copies without having to worry about competition very much.
After you become an owner of such websites, all you need to do is to start promoting them in a similar way we do or develop your own strategy. For those wondering how to run a successful online store, we recommend reading our blog where we publish marketing tips, industry secrets and success stories from our customers.
This is how we start a successful online store. It's a time-proved method the AliDropship team has been using for a long time to offer you profitable Established Stores and Premium Stores so that you could launch your own small business.