What Is Remarketing? 6 Tips On How To Retarget Customers On Facebook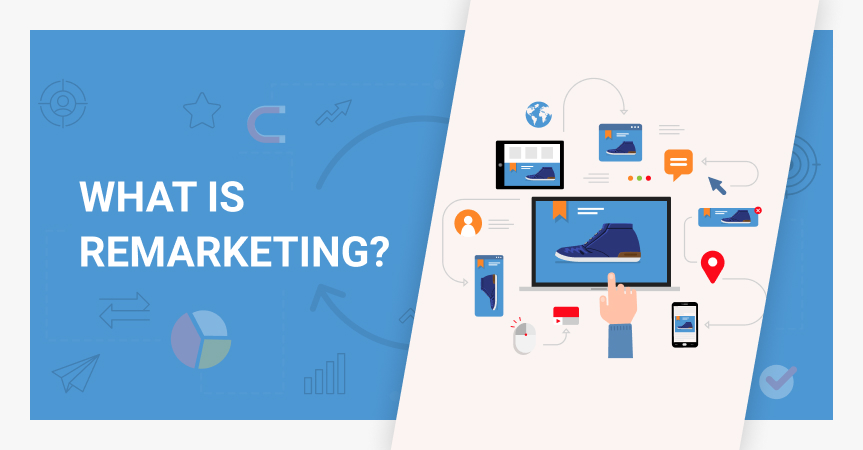 What is remarketing and why is it important for your business? In this article, we are going to talk about when you should use it and what kind of ads work best for retargeting Facebook audiences.
What is remarketing?
Remarketing, or retargeting, is a digital marketing strategy that implies advertising products or services to the part of a target audience who have somehow interacted with a business' website. In most cases, such ads are served to the people who watched your video ad, visited your website, or put products into the shopping cart.
Online businesses aim at raising their conversion rates (i.e. the number of actual buyers) as high as possible. However, the majority of the initial target audience never buys anything.
At this stage, we call such people a cold audience: they never heard of your brand and never interacted with your website, products or services. Most of them show no interest in the ads they see and will never convert into site visitors or buyers.
Those of them who somehow interact with your business become a warm audience: they show a certain degree of interest and are more likely to convert. Those who purchase products or services (and don't complain after that) or those who get to the checkout but leave for whatever reason become a hot audience: they already trust you and often agree to spend more money after seeing another ad.
Why does your business need remarketing?
As you could guess, hotter audiences are smaller. As you move through your sales process, you lose potential customers, but they can be brought back. With remarketing ads targeted at your warm audience, you have another chance to convert them into buyers.
Targeting a warm audience is a huge benefit of remarketing. Those are people who are already familiar with the type of product you advertise and your online store. Moreover, since they interacted with your ads, posts or website, they are sincerely interested in your product, which is why they are much easier to convert.
Some of them simply need to be reminded of your offer, others need to know a benefit you didn't mention in your initial ad. Some people just need time to think about your offer.
AliDropship team's experience with our self-owned dropshipping stores shows that remarketing campaigns work much better than standard advertising campaigns on Facebook. Even when regular advertising campaigns only cover the expenses, remarketing can fix it and make advertising profitable.
Remarketing basics: Whom to target?
Our team starts advertising products on Facebook with Page Post Engagement campaigns designed to trigger engagements (likes, reposts, and comments). After that, we launch advertising campaigns targeted at Facebook interests or lookalike audiences. Clearly, both of them are cold audiences: they're not familiar with our offer yet.
After these people see our ads, the warmest part of this audience can be divided into at least four categories:
Users who watched 95% of our video ads. Since our team mostly uses video ads, we can tell if a person is interested in our product when he or she watches the ad to the end.
People who go to our website. Each Facebook ad contains a call to action which leads users to a corresponding online store. Obviously, if someone clicks on it, he or she must be interested in the product.
Site visitors who put a product to the shopping cart but never bought it. Obviously, this category of potential customers is the warmest.
People who put products into the shopping cart and even visited the checkout page. Although they never bought these products, they tried to, which means this is a very hot audience.
In theory, one could also target people who made a purchase (the hottest audience), but in this case, you will have to pick a different product. Besides, if the purchase was made not long ago, offering another product (before the buyer has received the first one) could annoy rather than convince them to purchase again.
To attract this part of the audience, I would recommend offering them new deals, seasonal goods, special offers (discounts, coupons, etc.). And do it after they received their first orders.
For promoting dropshipping stores, AliDropship team recommends launching a remarketing campaign when your warm audience has at least 500 potential customers.
Audience exclusions in remarketing
If you create more than one remarketing audience, certain users will get into several lists.
For example, one and the same user has visited your website and put a product into the shopping cart but never bought it. Now you want to create two remarketing campaigns targeted at site visitors and those who added products to the cart. As a result, this person will get into both these lists.
You want to avoid it for at least three reasons.
First of all, seeing too many ads in the feed can annoy people.
Second, you may want to use different ads for different audiences so that you could appeal to different motivations.
Lastly, launching two ads that follow the same list of people will cost you twice more money with little effect on their efficiency.
That's why you need to exclude potential doublings.
On the screenshot below, we excluded those who visited our site from the audience who watched 95% of our video ad.
If you divide all users who could get into remarketing audiences into categories, you will see that all categories belonging to higher tiers also belong to lower tiers. Let me demonstrate.
Let's suppose that one thousand Facebook users watched your video ad. This is a low tier category. Some of them visited your site. This is a high tier category. Not all people, who watched the ad, decided to visit the site. But all the people, who visited the site, had also watched the video ad.
Likewise, all the people, who put something into the shopping cart, had visited the site, but not vice versa. Keep that in mind when making exclusions.
Facebook remarketing tips
1. Make several ads for each ad set
Facebook's algorithm can analyze how different ads perform and pick the best one. After that the platform will start spending more money on the winning ads. That's why we recommend creating more than one. Set the budget to $2.5 a day and wait till you have a clear winner.
Since you can't set a budget for each ad individually, you will have to make some calculations. For example, if an ad set has four ads and you want to spend at least $2.5 on each of them, set the ad set budget to $10, so that the algorithm could divide the money between the ads within this ad set. Same goes for campaign budgets.
2. Keep an eye on your campaign
Sometimes Facebook keeps spending budgets on ads that bring no results. Actually Facebook should stop doing it when it sees it's ineffective, but sometimes it just wouldn't. That's why we recommend monitoring the campaign and turning off such ads on your own.
3. Keep an eye on the frequency
Frequency shows the average number of times a single user has seen your ad. We recommend keeping this parameter at 3-6. But sometimes even 2+ is enough to bring sales.
4. Number of views doesn't equal number of conversions
As a rule, the more people see your ad the more of them convert. But sometimes an ad generates lots of views but too few sales. So, keep an eye on these two metrics and don't hesitate to turn off the ads that don't result in sales despite a high number of views.
5. Match ad copies to audience's temperature
Don't forget that a remarketing audience can be divided into sub-audiences, with each having different temperatures, i.e. levels of interest. Or you could say that different segments of the audience have different interests.
Therefore, we recommend creating ad copies with corresponding content. Motivate potential customers with different arguments, pictures, videos or calls to action to match their level of interest.
6. Retarget recent visitors
Even if a person has visited your website, he or she will get "colder" as time passes. A visitor from a week ago is much warmer than the one from half a year ago. Therefore, retarget only those who interacted with your business not longer than a month ago.
What is remarketing? For ecommerce entrepreneurs, it is the most effective marketing strategy that can push your business from stagnation to regular profits. A successful dropshipping store also requires sought-after goods, which is why I recommend checking AliDropship's Premium Products that come with marketing and remarketing materials as well as target audience recommendations.