AliDropship Blog
Get marketing tips, tricks and dropshipping inspiration right into your inbox!
Sign up today not to miss out a single post:
A Secret Of Dropshipping With AliExpress: Ship From Europe Or The USA Instead Of China!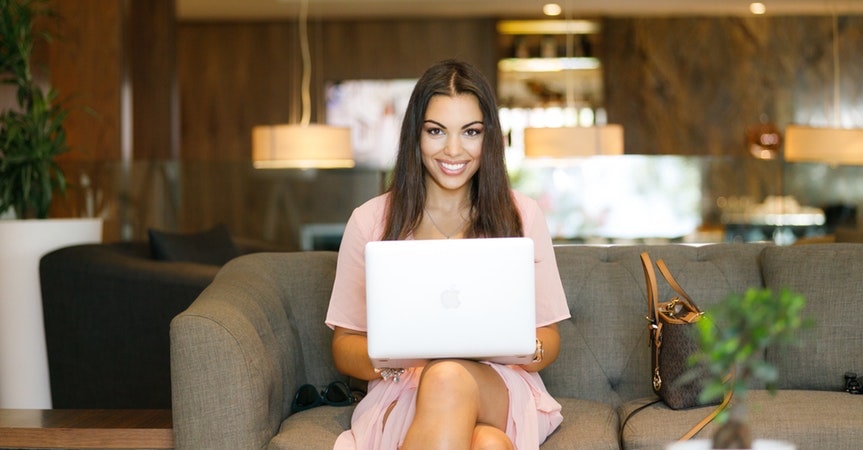 It would be great to ship the AliExpress goods to your US customers right from the USA instead of China, wouldn't it? And how about letting your European clients receive their packages from the UK or Spain?
Sounds even better, doesn't it?
So, let's look what tricks you've got up your sleeve!
Table Of Contents
Why the service delivery time matters?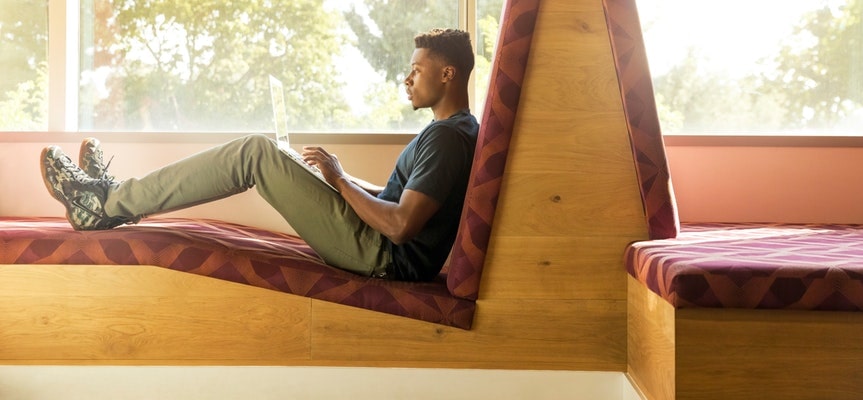 What is so great about dropshipping?
The short answer is, it's a level playing field!
No matter whether you're rich or poor, you can launch your dropshipping business and be riding high in the shortest time.
Your success is up to you.
To lead the field, you should always work towards refinement. In other words, you need to look for something that will give you the edge over your competitors.
Here's a little story to give you the idea…
In the 1940s, there were dozens of drive-in restaurants in the USA.
Each of them stated that they have unique dishes and cooking methods, but by and large, all these restaurants were almost identical. You used to drive there in your car. A waitress came over and took the orders. Next, you would sit tight and wait no less than 30 minutes to get your food.
Not very fast, is it?
One of such restaurants was owned by two brothers, Richard and Maurice. Their business wasn't much different from the others of this kind.
But, in 1948, they made a fateful decision.
The brothers reduced their menu to the most profitable dishes (hamburgers, soft drinks, coffee, milkshakes, etc.) so that the restaurant kitchen could focus on these products. Apart from that, they got rid of the carhops and made their restaurant self-service.
By the way, the brothers' last name was McDonald and their restaurant was named after them – McDonald's.
And those were the first steps that let it stand out from the others and evolve into the largest restaurant chain in the world.
So, what were all those changes for?
To speed it up, of course! After the makeover, customers were able to get their orders in 30 seconds instead of 30 minutes.
People want to meet their needs as soon as possible, don't they?
Definitely!
Making the process faster and more convenient for your clients is one of the keys to customer heart.
The McDonald brothers worked it out and made a good use of the idea.
In AliExpress dropshipping business, entrepreneurs run up against the challenge of long delivery time from China.
Although customers are usually ready to put up with this, the shipping time reduction would certainly allow you to win more clients along with their praise.
Imagine your clients from Spain receiving their items in 7 days or less instead of waiting a month until they arrive from China.
It would make a difference, wouldn't it?
The good news is that it's possible!
Your business model doesn't have to be tied down to China. Many AliExpress sellers have warehouses in the USA and European countries.
So, you can cut down your delivery time and ship the products to your customers right from the United States, Spain, France and other countries.
How to find an AliExpress supplier to ship from the USA
The US market is the biggest one. Naturally, many entrepreneurs want to dropship products to the United States.
But…
If you decide to target the US customers, you should be ready to come up against a powerful rival – Amazon. This e-commerce platform dominates the online shopping market in the USA.
And while dropshipping entrepreneurs can beat Amazon with their prices, it could be hard to compete with this company when it comes to the shipping time.
Amazon warehouses are located in the United States. So, it takes 5-7 days for it to deliver their goods. Of course, shipping from China can't be so fast.
However, as we mentioned before, many AliExpress sellers store their products in the US. So, you can shorten your shipping time up to 6 times and take some bread out of Amazon mouth.
Things become even better when you figure out how to find such suppliers on AliExpress. It's really a piece of cake.
You just need to set the country where you want to ship your goods to (United States) on the top of AliExpress main page and pick the category of products you need. Then, in the "Ship from" field, you should choose "United States" and…
Here they are! You see all the suppliers storing the necessary products in the USA.
Easy, right?
Yet, it may be even easier if you use AliDropship plugin. You can import already pre-edited items to your store from AliDropship database. It contains the most popular products from the best AliExpress suppliers.
And you can easily sort out those who have warehouses in the United States. For this, you just need to click on "Import" tab.
On your left, you'll see "Ship to" and "Ship from" fields. Choose "United States" and you're good to go. Pick out the products you like from the list and please your American customers with the fast delivery.
How to find an AliExpress supplier to ship from Europe
Many dropshipping entrepreneurs focus too much on the USA whereas European market stays a bit overlooked. However, it may have even bigger prospects than the United States.
While the US is flooded with offers from different e-commerce stores, the European Union has much more room to let your online business spread the wings.
Besides, your European customer base will grow much faster if your clients know that they may get their dropshipping orders in the shortest time.
So, the things you need to do to implement this are not much different from the task you carry out when searching for suppliers shipping from the USA.
The only difference is that you pick the UK, Spain, France or other European country you need in "Ship to" and "Ship from" fields.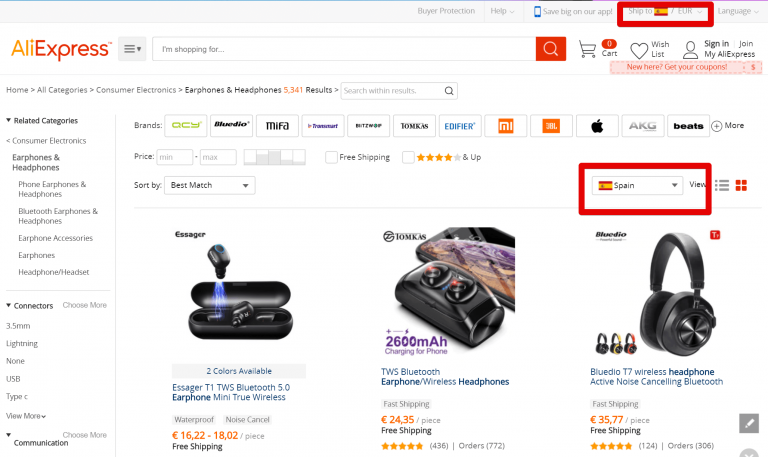 Yet, the beauty of dropshipping to Europe is that if you want to ship your goods to Germany, it's not necessary to find a supplier with the warehouse in Germany. You can pick the ones who stores their products in Spain or another European country. It's going to be fast as well.
Some AliExpress sellers might even have warehouses in several countries, which you could make a good use of.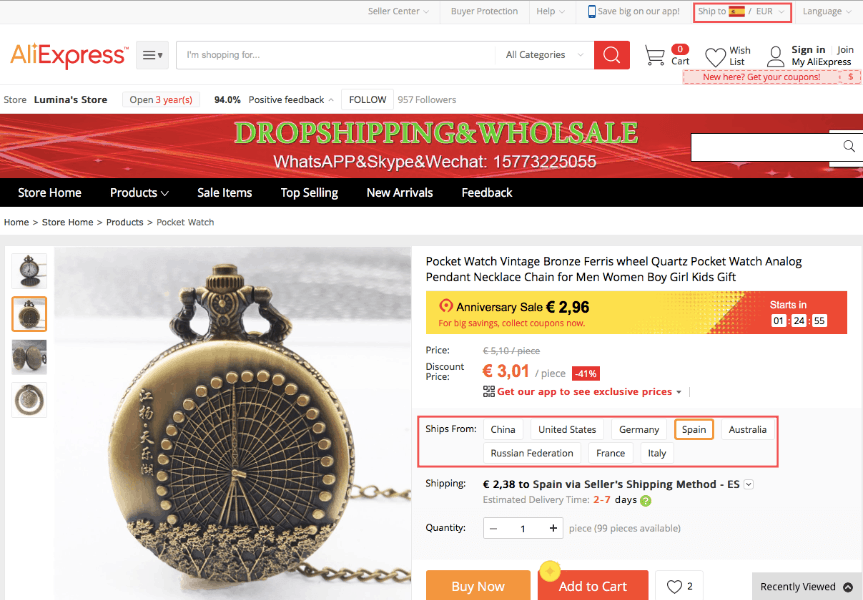 For AliDropship users, the process is traditionally easier. You just choose "Europe" in the "Ship from" field and the European country you need to deliver your products to in the "Ship to" field.

The success of your online store lies in your ability to stand out from your competitors. One of the things that can help you with this task is a fast delivery. If you know how to find a supplier to ship your products from the USA, Spain, the UK and other countries, you can pull it off and make your business flourish.
Join 325,000+ entrepreneurs who are already mastering new skills with our FREE Guide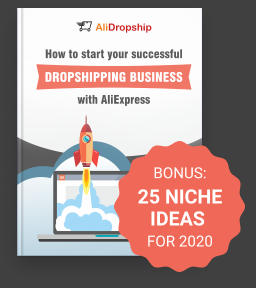 How to Start Your Successful Dropshipping Business with AliExpress
Get step-by-step instructions for newbies, expert advice how to build and promote your store, and best tools for AliExpress Dropshipping