Looking For A Free Profitable Niches List? This Is Where You Can Find It!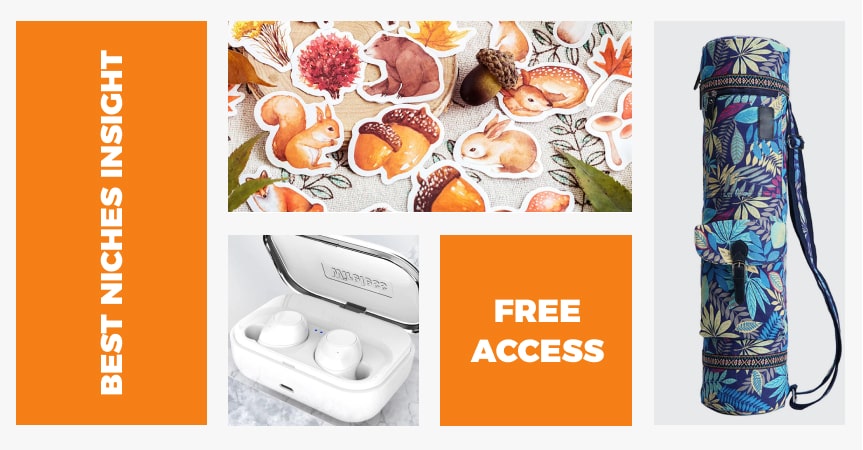 At the start of your business, choosing a niche is one of the main steps. Where can you find a profitable niches' list and choose a direction that will bring you success in business? Our Best Niches Insight tool will lend you a helping hand. Let's look at it in more detail.
Why is it so important to choose the right niche for your business? So, the answer is simple. If you want to get into business quickly and go where sales are, you need to know the best-selling niches and take part in this action.
Choosing a niche, it is recommended to pay attention to your own interests. You should be an expert in this area – this knowledge will help to organize your store correctly, import the necessary niche products to it, build a marketing strategy, and write thematic articles in your blog.
But, unfortunately, this is not always enough. Your niche may be interesting to you, but not to other people. If you want to make money from it, your target audience may be too small to start a business. You can't go wrong entering a market – this can cost you a lot of time and lead to financial losses. Thus now you understand that your success depends on it!
To find out how profitable your chosen niche is, you should do thorough research and carefully analyze market trends. There are a large number of various online tools that can help you. One of these tools is Google Trends. With its help, you can analyze the popularity of search queries across various regions and decide if selling these niche's products is really worth it. Here you will find some more tips on using this tool for your business.
Let's suppose you've figured this part out. But what is the trend of your niche: stable, rising, or decreasing in popularity? What products in this niche are at the peak of demand? Which countries and audience segments should you target with your ads and where to direct your marketing strategy?
Yes, you need to look into all these issues, too. It's not an easy task, we agree. Research can take quite a long time and require a lot of effort. But you can't wait to start! What to do? Does this mean that you'll have to choose a niche for your business randomly?
Of course, it doesn't! Luckily, now you can save tons of time and get the necessary information without carrying out niche research on your own – everything is already collected in Best Niches Insight.
Best Niches Insight, our new database, lets you easily find the most promising niches in a couple of clicks!
What is Best Niches Insight?
Best Niches Insight is a FREE all-in-one analytical service from the AliDropship team.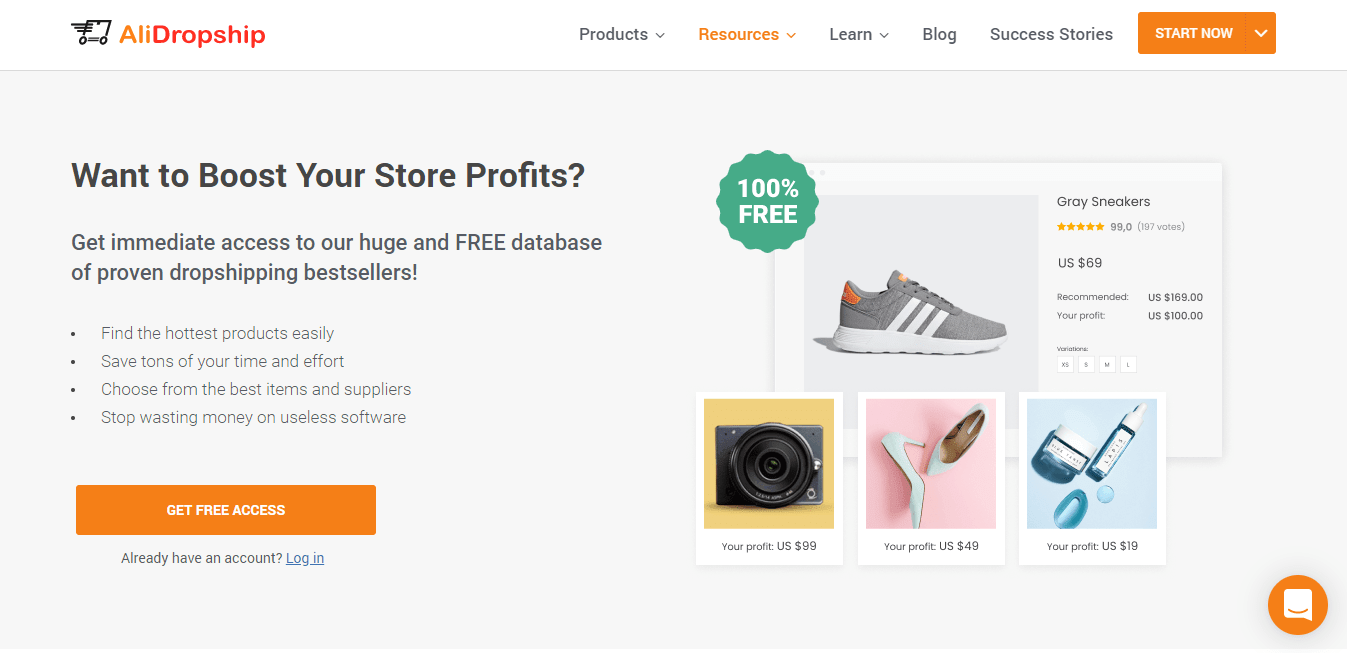 Best Niches Insight is one of the free sections of AliDropship Insights project. It gives you access to a profitable niches list to help you make a winning business choice.
We've collected 150 niches in this list. To make it happen, our team conducted an in-depth research: analyzed and monitored newest demand trends, figured out and handpicked the best niches that have already proven their worth on the dropshipping market. Moreover, our database grows consistently as we're adding new niches to the list. If you want to change a niche in your store or start another dropshipping store – you'll definitely have something to choose from.
What makes Best Niches Insight so valuable in your hunt for the profitable dropshipping niches?
Free and easy access to promising niches
Whether you are an online business newcomer or an already experienced entrepreneur, you'll find our data highly useful. If you decide to find a niche for your upcoming venture, change the niche of an existing store or expand your ongoing business, this task will not bring you any headache.
You won't have to spend countless hours on conducting research. You'll simply need to register with the service. It will only take a few minutes. See the detailed registration instructions below.
That's it! Now you have your FREE access to the profitable niches list. No subscriptions, hidden fees, and other inconvenient details will bother you!
Detailed information about the niches
In this section, you will find valuable data on numerous niches. Let's take a look at the screenshot.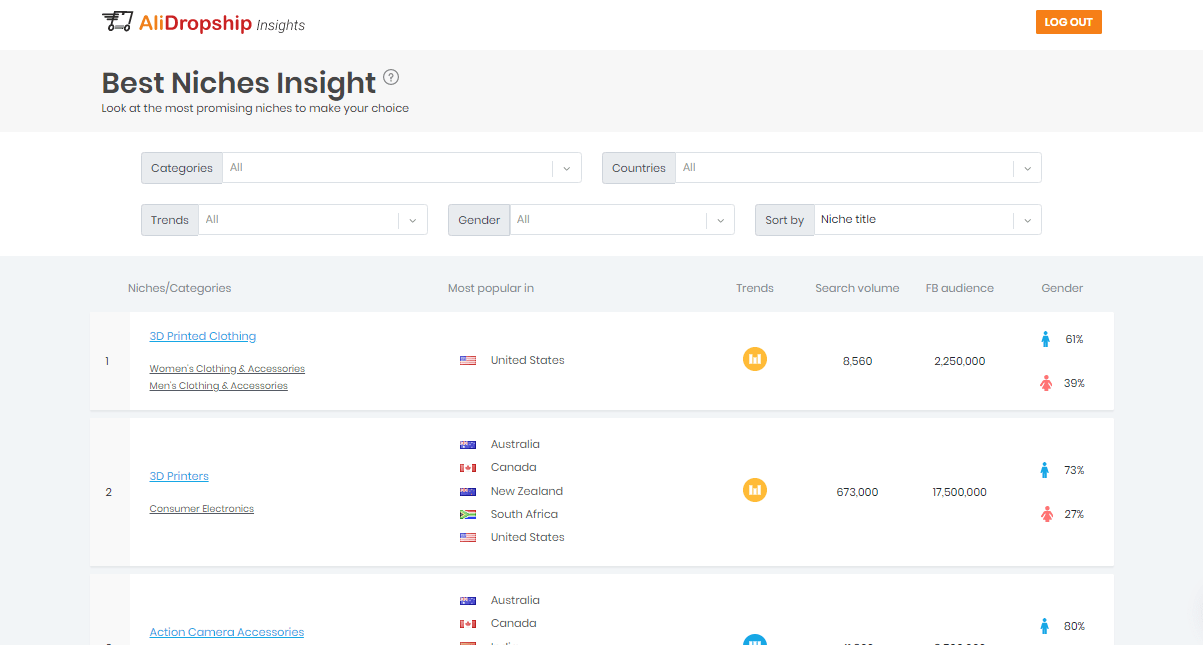 So, what can you learn about these niches from this section?
Broader product categories these niches fall in.
Your target region: we recommend to study top countries where your niche is most popular to evaluate your chances of success. The database shows the countries with the highest interest in this niche during the last 5 years.
A trend: we use Google Trends to show how the worldwide interest in the chosen niche changed over the past five years. A trend can be stable, changeable (for example, some seasonal fluctuations are possible), increasing, or decreasing.
The average number of monthly Google searches: for a new business, the best Google search volume per month should be between 5,000 and 50,000. If the figure is less than 5,000, the niche is not popular enough, and you may face some difficulties with its promotion. And if the search volume exceeds 50,000, the demand is really high, but the competition is extremely intense, and you'll have to try hard to compete with other sellers.
A number of monthly active people showing interest in this niche on Facebook: looking at social networks (including Facebook), you can be well guided in the demand for the niche.
Percentage of men and women showing interest in this niche on Facebook: in other words, sometimes your target audience is mostly male or female. In this case you'll need such parameter as gender interest.

150+ best niches to choose from
We're sure you will be able to find a suitable niche for your business. Why do we think so? The list includes more than 150 niches! There's a lot to choose from, right?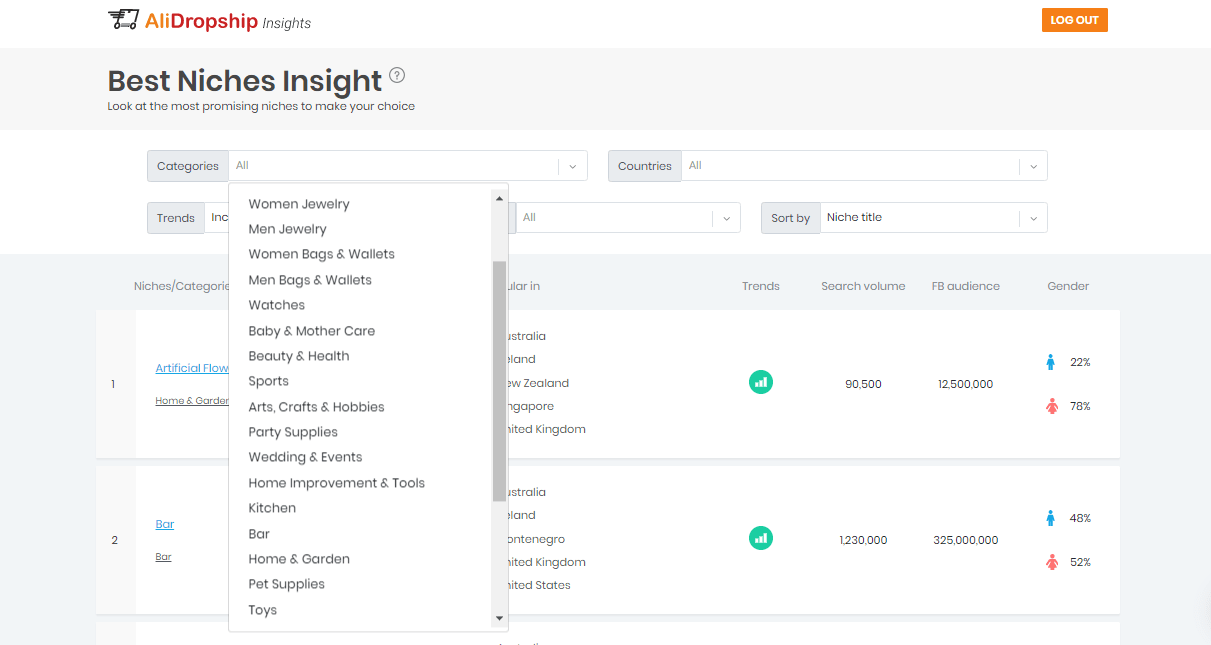 All niches are divided into categories. You can view a list of all niches or select a separate category and narrow your list down.
Convenient filters to simplify your work
To show a complete profile of any desired niche, we made convenient filtering inside the database. This will greatly simplify your work.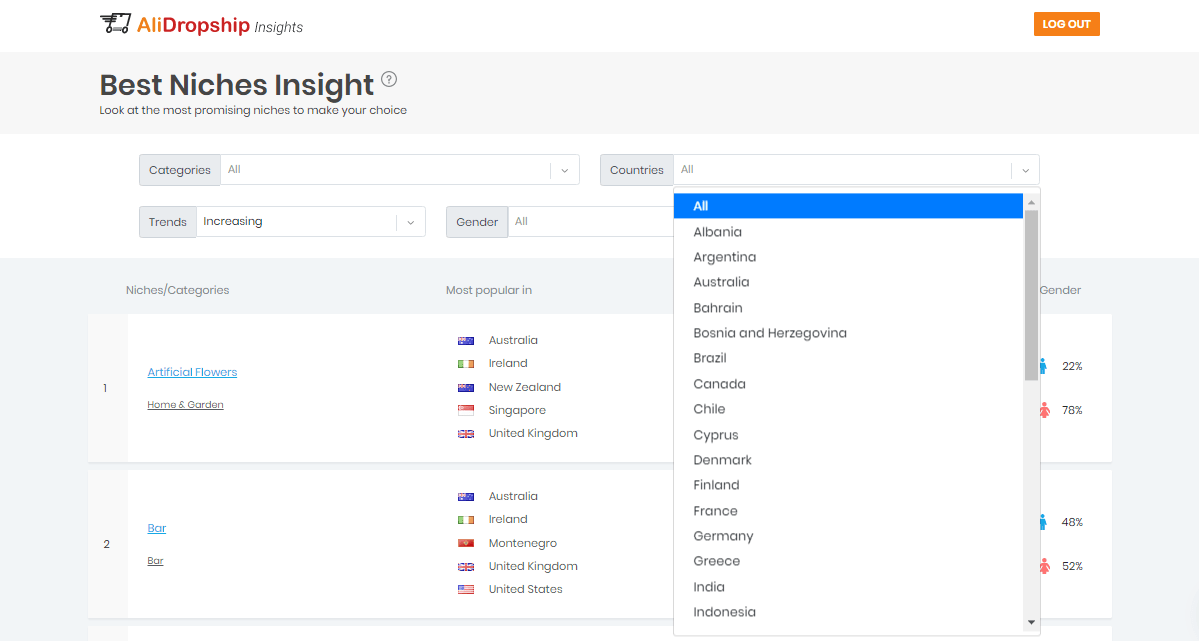 Using filters, you can select the category you are interested in from the drop-down list. Then, if you need to narrow the results down, you can choose the country, trend type, and gender.
Fast switching to niche suppliers
After picking a niche for your store, the next important step is to find suppliers. Why are suppliers so important to your business? You'll find the answers here.
We also made it easier for you. AliDropship Insights contain not only the Best Niches section, but the Top Suppliers selection as well. The database includes reliable suppliers for your store and allows you to find them in a few clicks.
If you click on the niche title, you'll be redirected to the Top Suppliers Insight section showing the best available suppliers providing products in this niche.
Get all necessary information about suppliers in your niche in a simple way!
How to access AliDropship Insight?
It will take you a few minutes to register. Go to the AliDropship Insight official page, find the 'Get Free Access' button, and click on it. Fill out the registration form to create your personal account.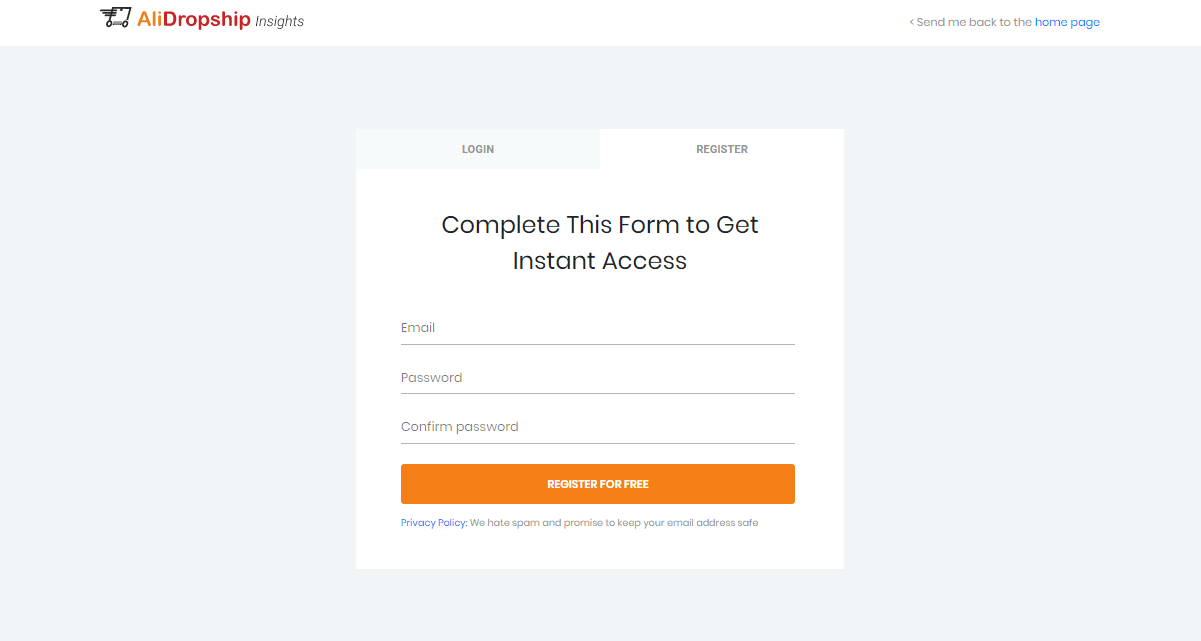 After that go to the mailbox that you indicated in the registration form. Find a letter from our team there. The email will contain a registration link and your login information. Click the button in the letter. You'll be redirected to your AliDropship account.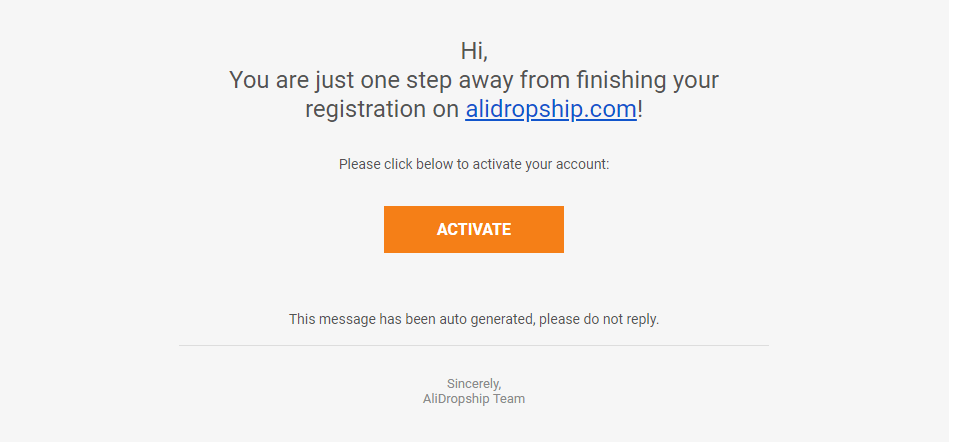 Done! Now you're welcome to access the profitable niches list, choose your niche, start or expand your store, and increase your profit!
Summing it up, the niche is an important component of your business. In order to find a profitable niche, you need to conduct an in-depth research: explore the trends, find the countries where this niche is popular, explore your target audience.
The AliDropship team has created a database giving you free access to the profitable niches list and all the necessary information about them. To get, you need to register and confirm your account details. This will take a couple of minutes. You'll discover a world of the most promising niches, and get the chance to choose the one meeting your personal interests.
Best Niches Insight is a great solution that will help you save the time you'd spent on a full-scale research. Everything is already done for you! Choosing a niche has become easier, and now you can focus on your store design, products, and marketing. Great option, isn't it? Pick a niche and start your business today.