How To Find Free Dropshipping Suppliers For Your Store With The Help Of "Top Suppliers" Insight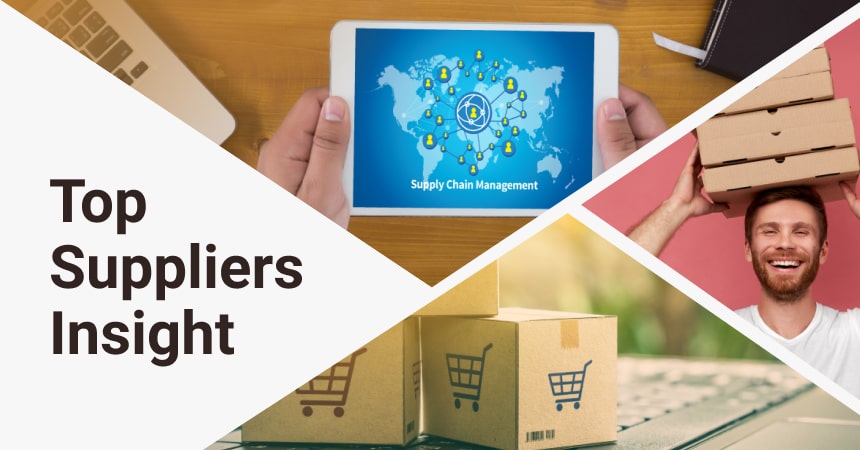 Product suppliers. This component of your dropshipping business deserves your special attention. Surely, you want to find the best ones for your store. How to cope with this task quickly and efficiently? We have created a free dropshipping suppliers database where you can find the best suppliers for your dropshipping store. Let's take a closer look at that!
Speaking about dropshipping, we can't miss a few important points: the niche we choose for our business, quality products, marketing strategy and, of course, suppliers of goods.
Why are suppliers so important to you? Knowing how the dropshipping business model works, you can easily answer this question. Without suppliers, you will not have products to resell. Therefore, without them, your business simply will not function.
But we also know how difficult it is to find suppliers of quality products from the niche you need. Those people, companies, stores that you can trust and with which your business will grow… how to find them? Big question. And many newcomers to this business don't know where to begin. It causes certain difficulties, right?
Which suppliers to trust? Which of them are the best in the dropshipping business, will not let you down and will be loved by your customers? You have come to the right place, my friend.
Based on our knowledge and research, in this article we will talk about the importance of choosing suppliers and the ways to choose them correctly. Also, we talk about our new service that will help you cope with this task in the shortest possible time and choose the best of the best.
Already want to access the list of free dropshipping suppliers now? Check out our free dropshipping suppliers' directory here.
Dropshipping business model: how it works?
So, what can we say about dropshipping? Dropshipping is an online business model of selling products without stock. You delegate the storage and logistics duties to the supplier, while you only create a store and attract customers – the model works like that. That's why your online store is not tied to the warehouse.
Great! This is one of the advantages of the dropshipping business model. You don't need a huge warehouse where products will be stored, and the supplier does most of the job for you: inventory issues, stocking and shipping are not your concern!
Let us quickly explain how dropshipping model works. Dropshipping actually is really straightforward but there are a couple of steps involved. Look at the picture below.
It turns out that to open a store and start selling, you do not need any production facility or warehouse. All questions of logistics and storage of goods are solved by the supplier, your task is to attract customers and provide them with the opportunity to pay on the website.
Dropshipping business: supply chain
To get a clearer idea of this business model and understand why a supplier is the most important link in your business, look at the dropshipping supply chain.
Let's explain each of the components of this chain.
Manufacturer is the actual creator of the product, its primary source. Of course, not all manufacturers do dropshipping. But many of them are beginning to see its benefits and enter the market.
You can contact them. Starting with it, you can get the lowest prices on the product. Essentially, you're cutting down on middlemen who add more costs to the purchase of the product.
But they can put forward their conditions to you: some dropshipping providers will require a minimum order cost. If you negotiate, you will be able to demonstrate their goods in your online store and have competitive prices.
When a sale is made from your store, you redirect it to the manufacturer, and the manufacturer packs and sends the product to the customer on your behalf.
Platform or directory is a manufacturers' database. They contain information about the manufacturers' activity, and may also serve as a marketplace that connects these suppliers with buyers.
Most of these directories are free, and some require a fee to access their catalog.
Your dropshipping store – this is the online store you created. You add products from suppliers to it and promote them. As the owner of this store, you resell the goods for profit to end buyers.
In this case, you as the seller delegate manufacturing and delivery to the supplier, so the goods go directly from the supplier to your buyer.
Your buyers – people who buy products in your online store. They need quality product data, a convenient and understandable ordering process, clarity and accuracy.
And if your store meets all these criteria, you launch an interesting advertising campaign, promote your business and have reliable suppliers – you will be able to succeed!
Free dropshipping suppliers: how to select them?
To select the most reliable AliExpress suppliers, you need to analyze their profiles and stores and evaluate them by several parameters:
How long these suppliers have been selling goods on AliExpress (not less than a year is enough)
What their feedback is (the supplier should have over 90% of positive feedback)
Do they have trustworthy comments (as fake or empty reviews mean fake rating)
Are the customers satisfied with the supplier's communication
How quickly the suppliers deliver products
How accurate their product descriptions and images are
Do they have a 'Top Brand' badge
Evaluating all these aspects, you can decide whether the products from these suppliers are worth being added to your store.
Why we recommend focusing on AliExpress as a supplier platform?
AliExpress the largest wholesale platform that lets dropshipping business owners cooperate with Chinese manufacturers around the world. This platform is recognized all over the world. Individual sellers and corporations from China use this website to offer various items (apparel, electronics, home decor, etc.) to a really wide circle of customers. They keep up with the trends and constantly update their range of products and as a result, they can offer a nice deal to any shopper.
Also, AliExpress offers free sign-up. You don't even have to pay any fees, so you can start working with the platform free of charge.
Nowadays, you can find more than 100 million items from different niches on AliExpress. It is only necessary to choose your niche and start your business. Of course, it is worth saying about AliExpress prices. They are incredibly low! Adding products to your store, you benefit from asking a much higher price for their products. Quite often, even the tenfold cost is much lower than the cost of similar products elsewhere. And you're a winner again!
Chinese sellers are glad to work together with dropshippers. It is easy to negotiate with them and they can accept some of your conditions, so, for example, you could ask them to replace their standard promotional materials with your own leaflets, gifts, etc., and add them to the parcel.
But despite the many advantages of using AliExpress, this platform has several disadvantages regarding the selection of suppliers.
Choosing a trustworthy partner is a really important task for a dropshipper. There are now more than 200,000 sellers on AliExpress.
Unfortunately, the scammers are on the way, too. Yes, online markets and sellers are different. Of course, we would not like to fall for their tricks and disappoint our customers. Don't forget about them!
We talked about the criteria for choosing suppliers, right? Starting or expanding your business, you will need to evaluate your potential supplier by all these criteria regularly.
Just imagine how long it will take you to view each of them? The task is not easy. There's good news. All the work has already been done for you!
Meet Top Suppliers database – the new free section of AliDropship Insights.
What is Top Suppliers Insight and why it's so good for you?
Top Suppliers Insight is a FREE all-in-one analytical service from the AliDropship team.
Top Suppliers Insight is one of the free sections of AliDropship Insights which allows you to find reliable suppliers for your store in a few clicks.
Currently, the directory contains about 700 free reliable suppliers who provide quality goods, fast delivery and good customer service. Here you can find suppliers from a wide variety of niches – all of them are divided into categories. We update the list again and again, finding the best suppliers that have already proven themselves as profitable suppliers to dropship.
What makes Top Suppliers Insight so valuable in your search for the best free dropshipping suppliers?
Free and easy access to top suppliers
If you are at the beginning of your dropshipping business, want to expand it or want to change your business niche, this is a great option to find suppliers for your online store.
Access to a huge database of top suppliers is provided to you absolutely FREE of charge. Registration will take a couple of minutes and you have every door open to you! Detailed instructions can be found below.
You won't have to worry about subscriptions and hidden fees. You won't find it here.
All necessary information about the suppliers
By opening this section, you will find all the necessary information about numerous suppliers that you need as an online store owner. Let's take a look at the screenshot.
The "Top Suppliers" section page looks like this. On it you'll see the list of sellers with the following information:
Store name with the link to AliExpress
Niches: here you'll see what niches the products from this supplier can belong to.
Followers: this point displays how many people follow this supplier.
Rating: here you can learn how many customers are satisfied with this seller.
Years: this parameter shows how long this supplier operates on AliExpress.
You can sort all sellers by such parameters as title, number of followers, rating, and years.
700+ top suppliers from different niches to choose from
We are sure our database will help you find the top free dropshipping suppliers for your niche store.
Currently, it consists of over 700 providers in 150 different niches. Exciting opportunities! Use them with pleasure! Select the desired product niche to narrow down your choice and pick your best supplier among hundreds of them.
How to access AliDropship Insight?
How do you register and get access the Top Suppliers Insight database? Just a few steps are enough: go to the official page of AliDropship Insight and fill out the registration form.
Your letter with the registration link and your registration information is already waiting for you. Check it in your inbox! All you need to do now is press the button in the letter. You will be redirected to your AliDropship account.
Perfect! Yes, that's all. Just a few minutes and the world of the best free dropshipping suppliers is closer than ever!
In this article we explained the importance of suppliers for your dropshipping business. Now it has become much easier to find the best ones and grow your store with their help. A huge database of the top dropshipping suppliers is at your service. Well, let's get started!