6 Effective Follow Up Strategies You Need To Start Using Today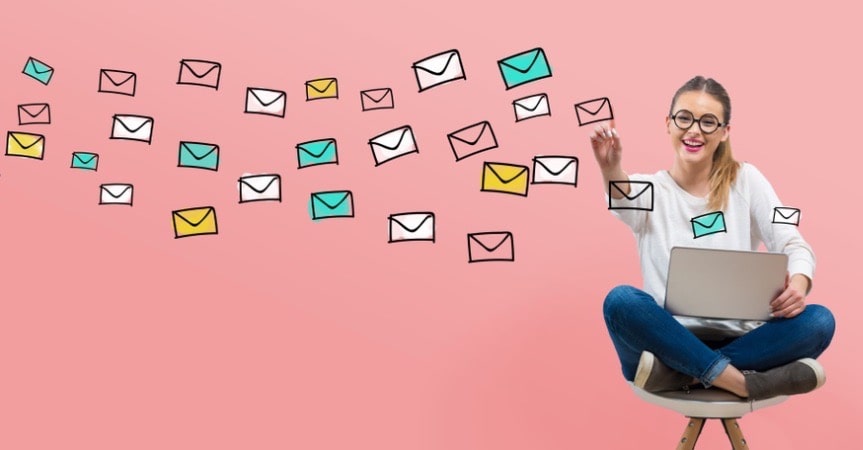 In email marketing, follow up letters are the bridge connecting you with your subscribers and helping you stay in touch with the potential buyers.
For us, email marketing is one of the main promotional instruments. Most likely, you're reading this article because you've received its preview in your inbox 😉 So, we decided to share some of our tips on the most effective follow up strategies we've tested ourselves!
Follow up emails: introduction
As usual, we'll start with the basics: what do we mean by follow up letters?
Follow ups are several emails that are sent to your subscribers automatically over some specific period of time. You write them once, and they work for you on auto-pilot in the long run.
So, follow ups are a series of logically linked emails that do A LOT for your business promotion:
Make your clients feel valuable and important to you
As a rule, the first email in the series of follow ups is sent to a person right after he or she took some action in your store: made a purchase, left an abandoned cart, subscribed to your newsletter, etc.
Therefore, this person feels appreciated – especially if you write this first follow up email correctly! Read below to learn more about it.
Share important information with your clients
Every followup should be dedicated to a specific topic that is meaningful for your audience. You don't just send the same email over and over again every 2-3 days. Every time, it should be something new and engaging. We will explain it in more detail below!
Remind about your business with no extra effort from you
Follow up emails are set up through a specialized mailing service. Therefore, you don't write and send every email manually! You write the texts, add them to the mailing service's email sequence, and specify the sending frequency. The system will do the rest.
How to start using effective follow up strategies: collect clients' emails
Now, the prospects of this marketing tool seem really appealing to you, right?
How can you start using this strategy for your dropshipping store promotion?
As you understand, you can't send out follow ups if you don't have any email addresses in your mailing database. That's what you need to begin with!
We have dedicated a whole article to email list building – read it carefully to learn how to collect email addresses of your potential customers.
Don't want to set up all these pop-ups, subscription forms and other tech elements yourself? Use the service of email subscription form integration provided by dedicated specialists, and watch your email list growing on its own!
And, while the systems collect email addresses and put them into your database, you can proceed with the most interesting part of email marketing: writing the follow up texts!
Effective follow up strategies: how to create emails that sell?
And now, it's finally the time to share the best follow up strategies we've figured out from our personal experience!
#1 Start with a plan of your follow ups
What will your follow ups be about? How often will the subscribers receive them?
At this point, you need to come up with a general plan – something like this:
Day 1: (right after getting the email address): the first welcoming follow up (gratitude for the interest to your store, brief business introduction, tempting welcome discount coupon)
Day 2: an appealing product selection from your store (best sellers of the week / new arrivals / trends of the season / items similar to the viewed or purchased ones) with product links
Day 3: some interesting facts about your products (buyers' testimonials / industry secrets of the products manufacturing / unexpected ways to benefit from the products use) with product links
Day 5: special offer (creating a sense of urgency and differing from the first-time discount coupon)
Day 7: a preview of your valuable article from the in-store blog with the links to the related articles or products
As you can see, this sample follow ups plan covers 7 days, includes 5 messages, and uses every opportunity to motivate the reader to check out the store once more.
Of course, it's not a must-follow sample plan. You can come up with any other ideas for the letters' topics, mailing frequency, and time period. It all depends on your store niche, business brand, and the potential customers' preferences.
#2 Pay attention to the first follow up email
Basically, the first follow up introduces you to the readers. It lets them understand what they can expect from you, how they can benefit from your offers, and how many of their problems you can solve.
In order not to make them disappointed, you only need to give them the information they were looking for while browsing your store. That's why it's a good idea to create different follow up sequences for different types of actions taken in your store. Obviously, a 'thank you' letter after a product purchase won't be the same as the 'these items are still waiting for you in your cart!' message, right?
In any case, it should bring value to the readers. Otherwise, they will quickly assume that your emails are not worthy of their attention.
#3 Combine marketing elements with transactional details
Your readers are smart enough to see a difference between a spammy promotional text and a piece of valuable information. That's why some email marketers use payment confirmations, notifications about an order, etc. as the basis for the first email in their follow up sequence.
Normally, such action-triggered notifications are sent directly from the website where the user's activity took place. But you can also add a transactional element (download link, order confirmation, etc) manually to your very first follow up. In this case, you can fill it with FAQ links, store contact details, or other elements that bring value to the readers, re-engage them and bring them back to your website.
#4 Work on your subject lines
It must be clear from your subject lines that the emails contain something really important: not just useless boring information, but meaningful bonuses, tips, or other helpful and valuable elements. It makes it more likely that the readers will open the emails, and not simply ignore them. These insights will help you create powerful subject lines!
Want to see expert examples and tips? Check out these seven types of email subject line that boost your conversions!
#5 Keep it short
An overly long email will be left unread – trust us 😉
Your goal is to make all the text seen immediately, without scrolling down a page. That's how you can be sure that the reader won't miss any of the links, buttons, appealing coupon codes and other crucial parts of your letter.
Need advice on the texts and catchphrases you'll put into your follow ups? Check out these tips on selling emails we've covered in our previous article.
#6 Consult experienced email marketers
Don't worry if you don't have any background in writing catchy texts or planning a long-term emails sequence.
Our team is happy to help you craft an engaging, highly efficient, and valuable set of follow ups! Here is what we offer:
A sequence of 4,8, or 16 unique follow ups that cover from 2 weeks to 3 months (depending on the package you choose), reflect your business, and prompt the readers to make a purchase
From 2 to 5 appealing email templates that you can freely use for your future email campaigns
A detailed step-by-step guide on setting up this follow ups sequence in Mailchimp mailing service
Thanks to this assistance, you'll enjoy an improved volume of sales and a growth in the number of repeat buyers – all on autopilot!
Now, you have a much clearer idea on effective follow up strategies that can convert your subscribers into happy buyers! And remember – we're always here to help you out with this task.