Dropship Electronics Like A Pro: How To Benefit From Hi-Tech Products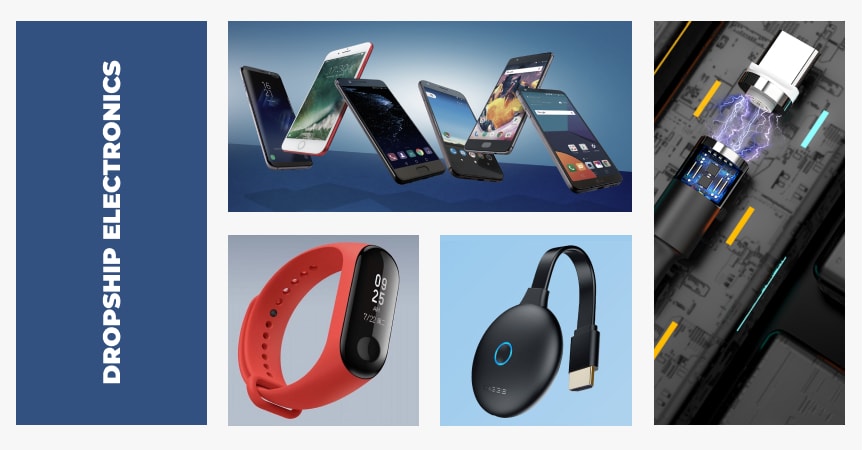 Do you think of starting a dropshipping business? Or are you already running an online store? Are you looking for a promising and interesting niche? Well, if you are fond of hi-tech products, here is a way out for you! Start to dropship electronics RIGHT NOW!
To date, electronics are all around us. Every minute we use cell phones, smart watches, wristbands, and not to mention different kinds of audio and video equipment. So, if your hobby is electronics, why not turn your passion into profit?
Well, is dropshipping electronics hot or not? Can you make a fortune with this niche? How to dropship electronics right for the maximum profit? AliDropship has studied the issue, and now we are ready to answer all these questions!
There's a BONUS section for you, where you can find and source trending products from a trusted supplier! So stay tuned!
Is it profitable to dropship electronics?
First of all, let's find out whether dropshipping electronics is worth starting.
Well, those who have been monitoring our blog for a long time know well that we don't usually recommend you go in for dropshipping technically complex products. And if there are some exceptions to this rule, that's exactly all about dropshipping electronics! And here is why.
Firstly, if you look at the statistics, you will be probably surprised by the fact that the revenues in the Consumer electronics market amounts to US$1,019,553m in 2021. Sounds impressive, doesn't it?
Secondly, the niche of electronics includes not only high ticket items. In this niche, there are lots of cheap electronic devices that are extremely popular nowadays. For example, different wristbands or TWS earbuds can become a perfect solution for your tech store.
Now we suppose that it's clear that dropshipping electronics is a tempting idea for your business, isn't it? However one does not simply start to dropship electronics.
So what is necessary to know if you are going to dropship electronics? Let's figure it out!
What should you know to dropship electronics?
Like any other business, dropshipping electronics requires you to be prepared for this. So what is essential for you to start dropshipping electronics?
Interest and basic knowledge
Whatever kind of business you deal with, you should be interested in it. What's more, since you are going to sell technically complex items, you have to get the hang of the components inside them, their specifications, etc.
So if you want to start dropshipping electronics, you should be aware of what products are sold on the market, and which ones are in strong demand. This will rid you of any challenges related to deciding what to sell, how to promote, what audience to target, etc.
If you want to get an easy and convenient dropshipping journey, there is no doubt that you need to find trusted suppliers to order from.
So you can get the list of reliable suppliers by trial and error. However, it can cost you a fortune.
Luckily, there is a way out – you have an opportunity to use Sellvia! Read on to find out more.
By the way, in this article we are also ready to provide you with a list of reliable suppliers of hi-tech products, but we will talk about it a little toward the end.
Electronics dropshipping: what are trending products to sell?
Since choosing the most promising products for your online store is crucial for your business, AliDropship has prepared the list of trending hi-tech products to sell in 2021. Here it comes!
Wearable devices
To date, wearable devices are, definitely, in fashion! And if some years ago their functionality was strictly limited, now they have become an indispensable tool because we can use some of them to make calls, pay for purchases, monitor sleep, and perform some other tasks.
Moreover, here is a very interesting fact for you as a dropshipping store owner: technologies are evolving permanently, meanwhile, devices remain affordable.
So if you are going to dropship electronics, we recommend you pay attention to wearable devices firstly since they have tremendous potential in terms of dropshipping.
Wristbands

Smart watches

Audio
In fact, there are lots of hi-tech products that can be as promising for dropshipping as wearable devices. And audio equipment is the one that can.
With the development of wireless technologies, different bluetooth earphones and speakers have become extremely popular around the world. And due to technological progress, they don't cost a lot nowadays! Meanwhile, don't write off high-quality wired earbuds, they are still in demand.
What does this mean for you as a dropshipping business owner? These products are a must-have for your online store!
Wired earphones

TWS earphones

Bluetooth headphones

Sleeping earphones

Portable speakers

AirPods cases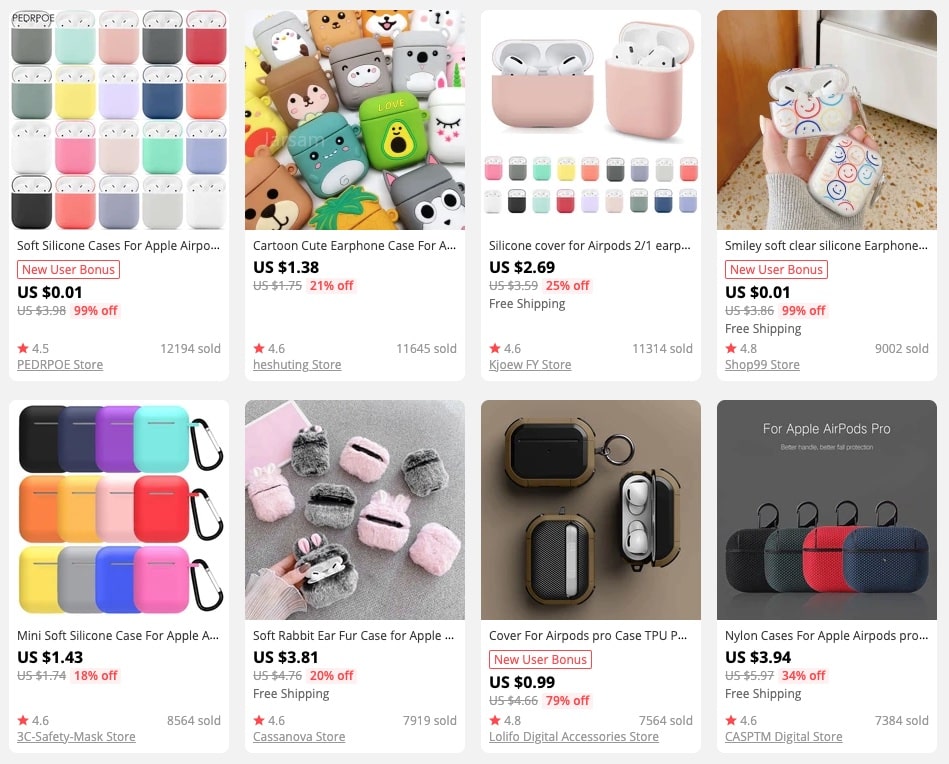 Camera & Photo
Nowadays blogging is trending. There are lots of people who actively update their social media accounts, share their breathtaking sceneries with their followers, post videos, and so on.
As you know, when something is trending, it's high time for you to make money on this!
So we recommend you pay attention to different photo & video equipment. Fortunately, today there are lots of items that can be both affordable for potential customers and profitable for you as a store owner.
By the way, if you are interested in drones and think of starting them, feel free to read our guide on dropshipping drones.
Action cameras

Drones

Car accessories
Automobiles have taken a steady position in our everyday life. And since technology advances very rapidly, people are getting an opportunity to upgrade their cars.
That's why dropshipping auto parts is going to be a promising idea for your business!
And the most important thing for you about this situation is that car owners are ready to pay you a fortune to get a new device for their vehicles. So why not take advantage of it?
Car radio

Cameras

Car chargers

DVR

Jump starters

Garage door opener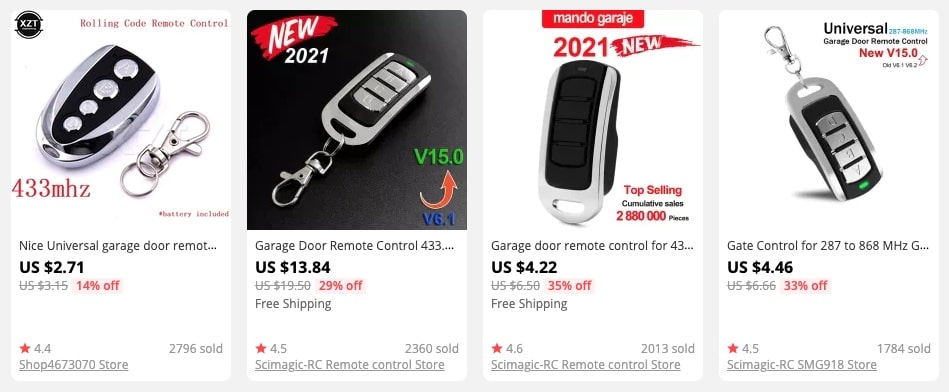 Home electronics
Recently cheap smart home devices have gained popularity around the world. And this is not surprising. In fact, you have an opportunity to automate your home for a small amount of money, so why not?
Yes, you heard it right! The majority of smart home devices are affordable. And it means that it's going to be a perfect decision for you to start selling them in your online store!
Smart plug
Wi-Fi wall switch

Smart LED light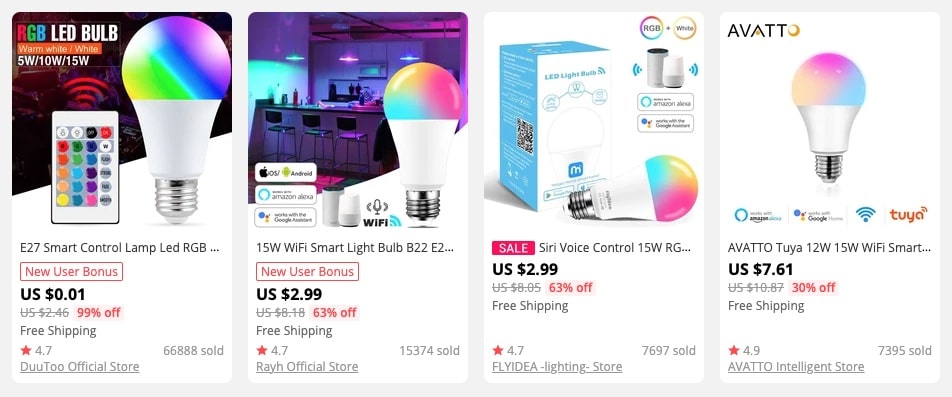 Mobile phones
And now we have come to high-ticket dropshipping. Actually, on the market there are both cheap and expensive cell phones. However if we talk about a product that costs more than $100, it will be treated as a high-value merchandise.
Nevertheless, can you name a product that is more popular than a cell phone nowadays? Just imagine that almost everybody has a mobile phone in our time.
And since brand-new models of cell phones appear almost every day, why not start dropshipping cell phones and build a business based on the most hi-tech products? By the way, there are lots of accessories for mobile phones that are also in strong demand on the market!
Smartphones

Phone accessories

Accessories
So if you don't want to focus on expensive products, here is a way out for you – start dropshipping different accessories!
As a rule, these products are cheap enough to even use for your impulse purchase strategy. Meanwhile, they are extremely popular nowadays due to their low cost and much of a choice.
HDMI cables

Power cables

Cell phones batteries
Power banks

Computers
Here is one more group of products that can be related to high ticket dropshipping. Although there are some items at a relatively low price. As a rule, tablets, laptops, and desktops are really affordable.
So you have two options here. You can run an online store that is focused on cutting edge technologies and sells high-priced devices. Or you can concentrate your business on different computer parts and accessories.
Tablets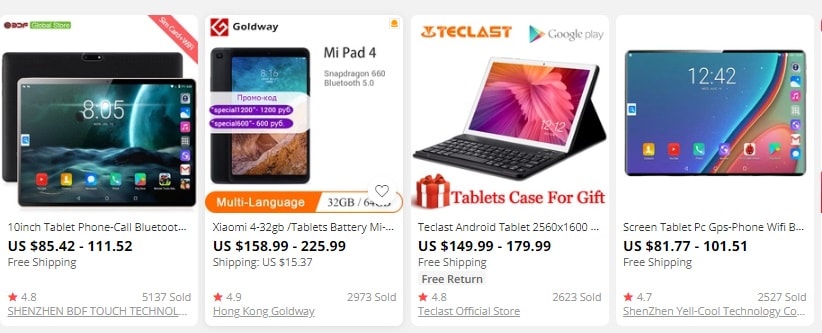 Parts

Gaming accessories
Right now, the niche of gaming accessories is really promising in terms of starting your online business and gaining profit from it. Any doubts? Then, look at the statistics!
In 2Q of 2020, consumer spending on gaming in the US amounts to more than 11 billion USD. Sounds impressive, doesn't it?
So it's up to you whether to start dropshipping video games gear and accessories or not. However please note that this is highly likely to be the big ticket you've been waiting for!
Game controller skins

Controller light bars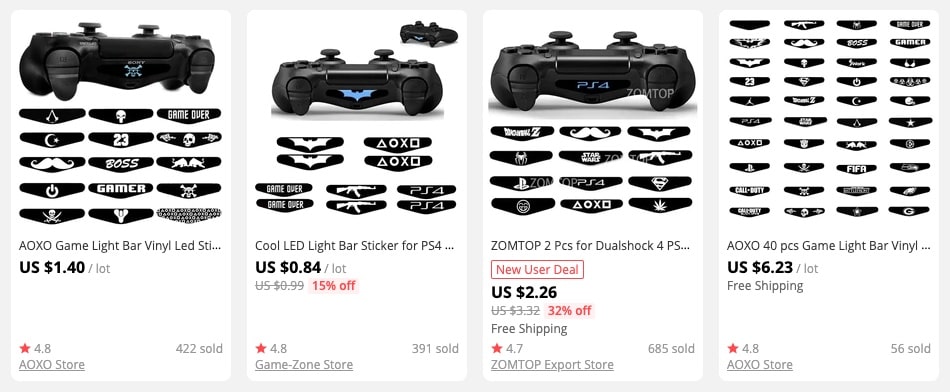 Finger coats for gaming

Mobile game controller clamps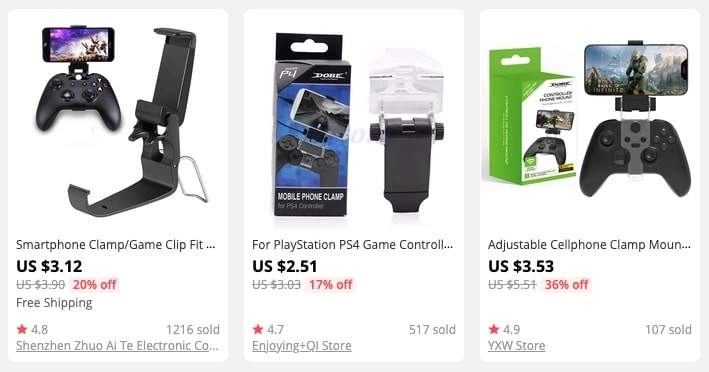 So this is the list of the most promising hi-tech products for your online store in terms of dropshipping. It remains for you only to choose the ones you are interested in more, add to the product range of your online store, and enjoy your benefit!
Start to dropship electronics: where to find reliable suppliers?
Meet Sellvia, the one of a kind ecosystem with all the ecommerce, marketing, and customer service features you need to start, manage and grow your business.
Moreover, you'll have access to catalog of bestselling products from lots of various profitable niches. All of them are already handpicked for you, so you don't have to search for them yourself. All you need to do is import them to your store and start making profits!
So, here are the mot popular electronics that you can find in the Sellvia catalog.
Here we go!
Portable speakers
Smartwatches
Drones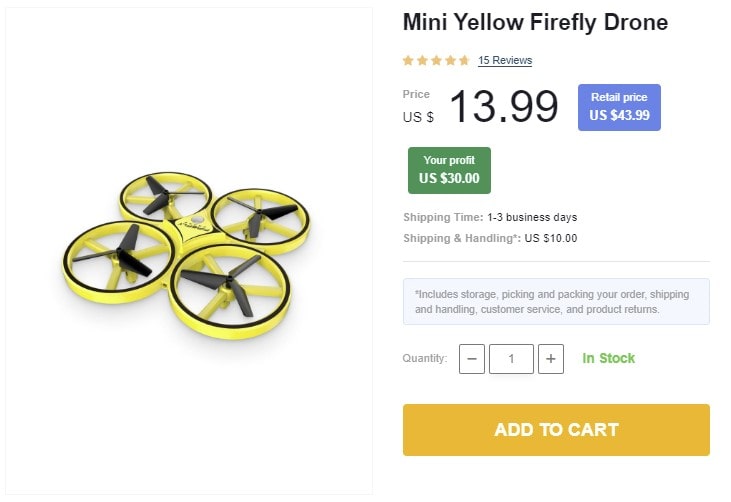 Earphones and headphones
Power banks
Smart home devices
Do you want to find more time-tested products for your dropshipping business? Are you interested in a different niche?
Go to Sellvia and find the best products to order and import to your online store! Try Sellvia for Free now!
Dropship electronics: final takeaway
If you are a person that is fond of hi-tech products, consider starting to dropship consumer electronics. It's really going to be a highly profitable niche for you since these items have gained incredible popularity nowadays.
For you as an ecommerce business owner, there are lots of options. You have an opportunity to sell highly priced hi-tech products or cheap smart devices. What's more, don't forget about different accessories which, generally, cost several dollars and claim to be a must-have for your online store!
If you have started a dropshipping business, choose the category you like more, add high-quality products to your online store, and enjoy your benefits!
However, if you are a dropshipping newcomer, and you haven't already launched your dropshipping store, here is also a way out for you!
To date, AliDropship is glad to provide you with several options to start a dropshipping business, for all tastes:
So, don't lose an opportunity to get a profitable business. Start to dropship electronics or anything else and enjoy your benefit with AliDropship!