Do You Want To Dropship Video Games Accessories & Gear? Here Are 60 Product Ideas!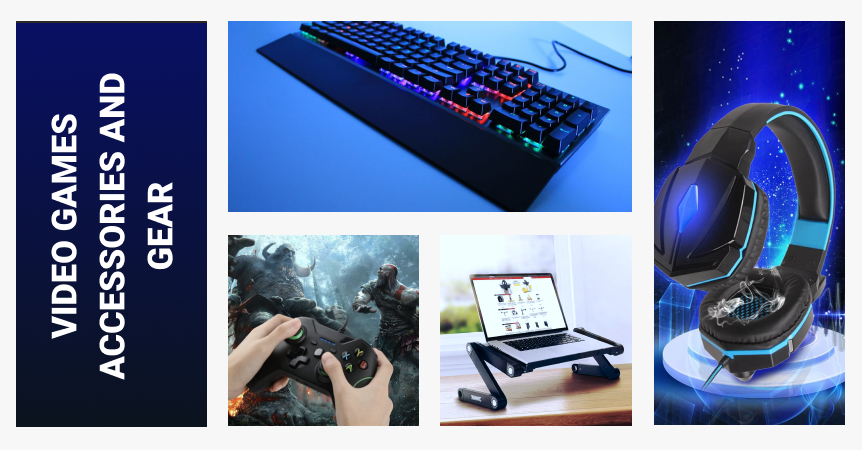 Video games are among the most popular products in the world. If you want to capitalize on this industry, you can dropship video games accessories and gear as AliExpress sellers offer plenty of goods in this niche.
64% of adults and 70% of those under 18 in the US alone play video games regularly. Today people play video games on personal computers, consoles and mobile devices. Single-player and multiplayer games, action games, RPGs, strategies, simulators – there are games for everyone.
Moreover, because of the COVID-19 pandemic, people all over the world got more free time. Trapped at home, many of them entertained themselves with games. No wonder, the video game industry thrived in 2020.
For Anas, our friend from Morocco, launching a dropshipping store in this this niche was the first step of an exciting ecommerce journey! As you can see from his most recent interview, his enterprise has grown a lot and he greatly enjoys the changes it has brought into his life.
With all this in mind, it's a good idea to dropship video games accessories and gear. In this article, I'm going to share a selection of products you can find on AliExpress to fill the inventory of a dropshipping store built around this niche.
But first, let's talk about why you should focus on video game accessories and gear rather than on games.
Why you shouldn't try dropshipping games
One could think that nowadays everyone downloads games via the internet. However, the number of digital downloads exceeded the physical copies for the first time only in 2020. And again, it was largely due to the virus outbreak.
There are many reasons why some gamers still prefer buying discs. Installing a game from a disc takes much less time than downloading it. Especially if you live in a country with a slow internet connection.
Besides, in a brick-and-mortar store, you can pay with cash. Since most kids don't have credit cards, it's definitely a better choice. And finally, many stores sell discs with decent discounts.
Nevertheless, one can't deny that the video game market is going online. And there are no signs this trend will change.
It means that a lot of games are sold on huge platforms like Steam or Epic Games Store. Alternatively, one can download a game directly from a distributor's website. Additionally, this is the only way to get most MMO games. Even consoles have their own platforms where gamers can buy games.
With the physical copies segment of the market shrinking, there are less opportunities for offline retailers. Besides, there are thousands of games (mostly from independent developers) that are sold only online.
All this makes dropshipping video games an extremely difficult and risky task. However, games are not the only product gamers purchase.
Of course, I'm not talking about reselling hardware goods. Such products are too complicated and expensive. But you can dropship video games accessories and gear instead!
You can easily see potential of this niche if you check out the performance of a video gaming dropshipping store we're running ourselves. By the way, did you know you can easily get an exact copy of this store and run it as your own independent and profitable online business? Faraz, our friend from India, did just that – read his interview to see how it's working out for him!
Here are some product ideas for your online business.
Video games accessories and gear for your dropshipping business
Gaming mice
Many games require accuracy and control. Even the slightest movement is important. That's why people who play shooters and action games buy gaming mice. These devices give better control. Besides, using gaming mice feels much more comfortable and allows you to play for hours.
Gaming keyboards
Playing a game is kind of like playing the guitar. You use two hands for a single combined action. So, naturally, gaming keyboards are another product type that your dropshipping store must have.
The sensitivity of the keys, their layout, even LED lights, which gamers love so much, – all this can make a huge difference for a gamer.
Game controllers
If you want to dropship video games gear, you can't do without game controllers. While some games are better played with a mouse and a keyboard, sometimes a controller or a joystick is a must. For example, most sport games and flight simulators feel much better when you play with a controller.
Controller skins
Another product for a gaming dropshipping store is controller skins. People like customizing their stuff – both in games and in real life. Controller skins are affordable goods that come in numerous variations and can easily trigger impulse purchases. An ideal product for dropshipping!
Laptop desks and cooling stand
As you can see, the demand for laptop stands is on the rise. Some gamers like old games that don't require powerful computers. Others purchase gaming laptops. In any case, using a laptop desk makes playing and working more comfortable.
Another option is to dropship cooling stands. You probably know that laptops overheat easily when they're placed on a flat surface. So, these stands with passive or active cooling are quite popular.
Gaming earphones
The last product category, related directly to video games, is earphones. High-quality sound is as important as graphics, gameplay and plot. A good device gives an unforgettable immersive experience. That's why most gamers pay due attention to headphones.
Health products for gamers
Let's be honest. Playing video games doesn't really improve your health. Still, many gamers play at least several hours a day despite potential health problems. And if you want to dropship video games accessories and gear, think about health goods as well.
Computer glasses
Most people who use computers and smartphones a lot suffer from headaches, blurred vision and eye strain. These symptoms indicate that you need to spend less time staring at the screen or start wearing computer glasses. Such glasses reduce glare and increase contrast. As a result, one can work or play a game longer without the symptoms mentioned above.
Posture correctors
Another common problem most gamers face is back pain. Some people can spend hours sitting in front of the computer and killing monsters or building empires. Of course, such passion can lead to long-lasting consequences. Posture correctors will release the pain and help gamers improve their posture.
Orthopaedic cushions
Posture problems are often caused by how you sit in the chair. There's actually the right way to sit: maintain a tall back, legs bent at an angle of 90 degrees. But most people never pay attention to how they sit.
Orthopedic cushions can help you with that. Most gamers will surely get interested in a product like this.
What you shouldn't dropship in your store
And finally, I'd like to warn you about a product category you should stay away from. I'm talking about merchandise designed after popular games – character figurines, emblems, postures and so on.
All these items are copyrighted. Trying to sell them will sooner or later result in some of the big companies suing your business. So, stay away from it!
In order to dropship video games accessories and gear, you're going to need an online store. The easiest and fastest way to get one is to purchase one of our Premium Dropshipping Stores dedicated to this exact niche. As you can see from the performance numbers, it shows pretty good results! All you need to do is to get an exact copy of this store and start your own business.