Need A High Converting Website Design? Go For El Greco Theme!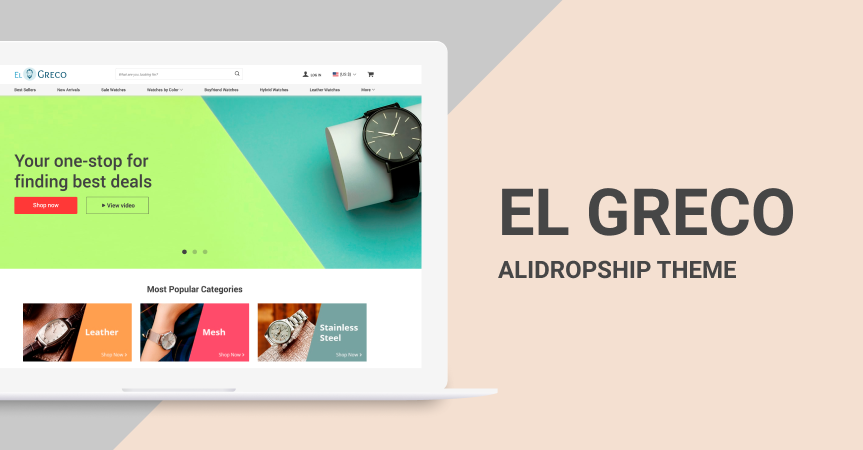 Any dropshipping store needs a high converting website design, which will turn potential customers into real buyers. And we're happy to help you create one! Meet our new theme for AliDropship plugin – El Greco! It's also compatible with the Woo version of the plugin!
In any business, including eCommerce, one has to compete with hundreds of other online stores that offer the same or similar products. It takes a lot of efforts – making proper search engine optimization, finding high-quality product images and trustworthy dropshipping suppliers, writing detailed descriptions, etc. Design is another important element of your online store.
Purchasing products on your site should be as seamless and simple as possible. As a store owner, you want to guide your clients to the shopping cart and checkout without any obstacles. To help you with it, we have designed El Greco, which is set to become one of our most favored high converting website templates.
We're beyond grateful for the industry recognition we gained thanks to the theme: in April, 2020, El Greco theme won a prestigious accolade of Hermes Creative Awards. It was entitled the Gold Winner in the Website Design category which is highly encouraging, inspiring, and humbling for our whole team.
Now, let's see how El Greco can help you improve conversions!
El Greco: Homepage
To see how the new template looks, go to El Greco page and click on the 'view demo' button.
Sliders
The first thing your website visitors will see on the store's homepage is your slider. Here you can set a number of banners that will switch one another or a link to a video.
The first impression is very important; therefore, this element is located at the top of the page. If you want to catch your site visitors' attention, this is the right place! You can even upload an alternative image for the mobile version of the page.
Lastly, you can make the sliders static or allow them to switch every few seconds.
Most popular categories
The next section contains three most popular product categories represented by large banners. Here you can upload any pictures you like, be it actual photos of goods or something abstract, name the banners and link them to the product category pages or any other resource.
The goal of this section is to direct potential customers to the best-selling or most representative goods in your store. It'll prompt them to browse your catalogue immediately.
Best Deals, Just Arrived and Trending Now
After that, your visitors will see three sections. The first one offers the products with the most tempting discounts for creating a sense of urgency.
The 'Just Arrived' section shows the newest goods in your stock. It's useful because it demonstrates that the store always has new products to sell and allows your regular customers to see the fresh offer right away.
Lastly, the 'Trending Now' section contains the most popular offers. It helps visitors understand what's coming into fashion, which can be useful for certain niches such as clothing or accessories.
These sections of El Greco's homepage are designed to show your products right away instead of guiding visitors to abstract categories. As a result, they instantly get involved into shopping process.
Moreover, the theme fills these sections automatically by analyzing your current inventory. If you wish so, you can disable or rename any of these blocks.
Reviews
84% of online shoppers trust reviews as if they were personal recommendations. Therefore, a high converting website must demonstrate feedback from customers.
In the next section of El Greco's homepage, visitors will see several reviews. You can enable or disable auto-rotation, set images and the title of the section.
Instagram Widget
Here your site visitors can see some of the works on your Instagram account and can click on the link to follow it. Remember that social media play an important role in any eCommerce business promotion.
Homepage article
This is the place where you can post an article optimized for search engines. If written properly, it'll help you increase the traffic to your site thanks to relevant keywords. At the same time, this is also a good opportunity to meet potential customers, tell them about your online store, your products and how you can help them.
Subscription Form
Subscription form is another important element of your dropshipping store because this is your chance to get emails from your visitors, which you can later use in email marketing.
However, few people will want to give you their emails without any motivation, so offering a coupon is a good idea. Still, it's up to you to decide because this section is customizable.
Social proof & benefits
A high converting website must not only advertise its products, but also explain other benefits for visitors. Therefore, the last section on El Greco's homepage shows the guarantees and advantages you provide such as free delivery, money return policy, etc.
Store Features are placed above the footer section. On single product pages, Store Benefits are located underneath the Add to Cart button, while the Reasons to Buy block is automatically placed in the product description section.
You can customize them by adding your own icons and texts.
Categories
As you can see, the product categories are located in the header of the page. You can make the header collapse on scroll or always stay there, or disable the sticky header at all.
All these sections make up the anatomy of a high converting website designed to grab visitors' attention and provide smooth shopping experience.
El Greco: Single product page
The design of El Greco's product pages is aimed at providing shoppers with all the information and details they need to make a purchase.
The product images occupy half of the page. Moreover, you can easily zoom the images by placing the mouse over them.
In addition to the standard elements such as product's title, price and variations, the page also has a number of important conversion boosters.
If you offer a discount on a product, the theme will show the previous price and calculate how much your buyers can save by purchasing it now.
There's also the Facebook like box, which you can use instead of social media share icon.
Below the 'Add to Cart' button, your visitors will find additional information such as payment options, benefits and guarantees, which will automatically appear on all product pages.
Product details and reviews are located at the bottom.
El Greco: Shopping cart & checkout
A high converting website design should provide seamless shopping experience at every step your visitors take. Therefore, it is especially important to make the checkout process as simple as possible.
Whenever a customer clicks on 'Add to Cart' button, an El Greco-based website will show them a slide shopping cart containing all the products that were added to it. It's a quick and easy way to check what goods were chosen and how much they will cost.
There's also an option allowing customers to go to a standalone shopping cart page.
You can customize these options by enabling or disabling the slide and standalone versions or even disabling both, thus, making customers go directly to the checkout page.
And finally, when site visitors are ready to buy, they get to El Greco's checkout page.
Here you can make use of the theme's main feature – two checkout page options. You can either enable one-page checkout, and in this case, customers will be able to fill all the necessary forms on a single page; or switch it to multi-step option. The latter allows users to fill order details step by step.
So, you can try both these options to see what works best for your business.
Take note of the red box at the top of the page's left side. It warns customers that, due to extremely high demand, they have limited time to complete the order. You can change the default 15 minutes to any time you want. In other words, it's another element to create a sense of urgency and stimulate customers' shopping decisions.
Turn your store into a high converting website
As you can see, one of the benefits of using El Greco as your dropshipping store's theme is its focus on conversion efficiency. Many of its elements create a sense of urgency and safety. The design has no unnecessary stuff and offers rich customization options.
So, if you are thinking about ordering a custom store, it's a promising choice. Furthermore, if you buy a custom store from AliDropship, you can get this or any other theme for free!
Start your dropshipping business with our new template! With this high converting website design, your online store is set to prosper.