Raphael
With its beautifully consistent design, Raphael is the perfect chance to delight your shoppers by showcasing your items at their best to boost customer engagement. Tell a fascinating product story that will make your store stand out in the crowded world of eCommerce.
Free
Download theme
View Demo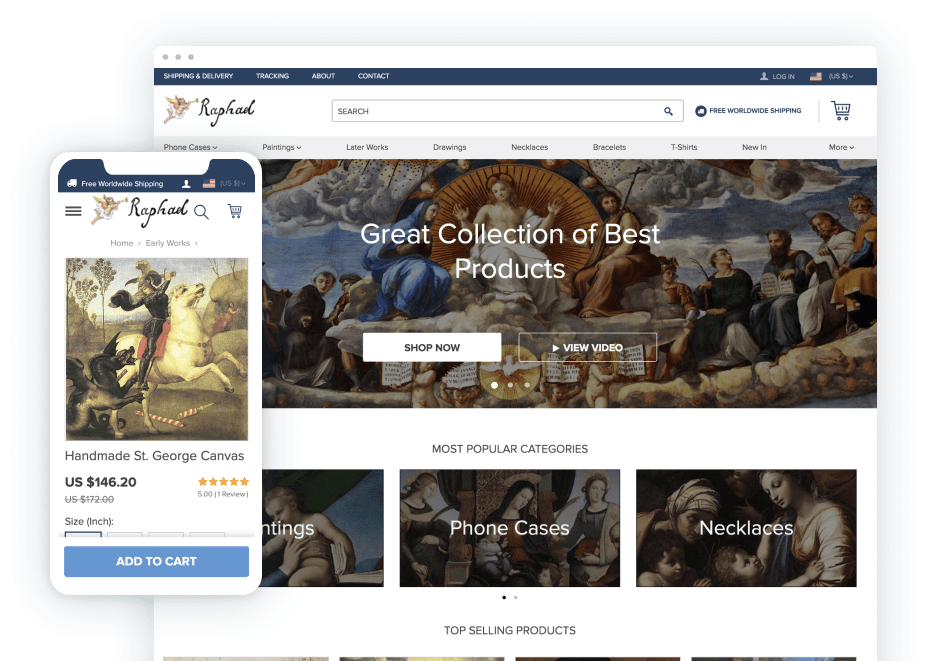 Version 1.6.4 - 03.12.2019 (Current version)
'404 page' tab added to Customization Instagram widget bug fixed
Version 1.6.3 - 08.11.2019
AliShipping add-on compatibility improved 100% discount badge bug fixed Logo layout improved Vertical variation images fixed
Version 1.6.2 - 23.10.2019 
Update Instagram images button added to Customization => Social Media Name of a chosen attribute added on Single product page (for example, Color: Black) Customer photos enlarged in the Reviews block Main menu optimized 'More reviews' button bug fixed
Version 1.6.1 - 03.10.2019
Compatibility with add-on Product bundle
Version 1.6.0 - 24.06.2019 
Size Guide option added to Customization => Single product Simple product bug fixed Product details table layout improved
Version 1.5.0 - 31.05.2019 
Structured data improved Shopping cart (page) compatibility added Replies to user comments submitted by admin can now be seen on Single product page
Version 1.4.3 - 10.05.2019 
Urgency add-on compatibility added Minor improvements
Version 1.4.2 - 13.04.2019 
Image gallery bug fixed (on mobile)
Version 1.4.1 - 10.04.2019
LazyLoad option added (Homepage, Category page, Single product page) Slider images can be added for mobile devices 'Article' block added to Customization => Home Main menu optimized Review image issue resolved Most popular categories bug fixed Tables in Product details tab are now mobile responsive (Single product page) Logo can be uploaded in the SVG format Minor improvements
Version 1.4.0 - 08.02.2019
Customer account optimized Minor improvements
Version 1.3.4 - 28.11.2018 
Main menu bug fixed (products did not show in 'More')
Version 1.3.3 - 14.11.2018
Translation issue fixed Google Analytics ID removed from Customization => General
Version 1.3.2 - 06.11.2018 
GA Enhanced Ecommerce add-on compatibility added Menu Icons plugin compatibility added Double Countdown Timer on Single product page bug fixed
Version 1.3.1 - 26.10.2018 
Default contact@ email address replaced with support@ in Privacy Policy page Default phone number removed from footer at checkout< Image gallery under the main product image fixed (not hidden when scrolling)
Version 1.3.0 - 09.10.2018 
Dropdown select bug fixed (currency switcher and filter) Homepage video bug fixed
Version 1.2.2 - 02.10.2018
Express Checkout with PayPal bug fixed
Version 1.2.1 - 27.09.2018
Dropdown select bug at Checkout fixed
Version 1.2.0- 25.09.2018 
'Show review date' option added in Customization => Single product Main menu bug was fixed 'More' option in Main Menu shows subcategories Symbol bug (product names) was fixed in Main Menu
Version 1.1.0- 12.09.2018
Main menu bug was fixed 'Guaranteed safe checkout' and payment icons under the Add to Cart button can be customized Default text in the Why Buy From Us tab was changed The About Us page image bug was fixed
Show less
View more
Theme features
Full-width built-in Instagram feed
Share your latest Instagram posts in an attractive full-width layout
Zoom & glow hover effect
Eye-catching hover effect on product images (Homepage, Category page, Cross-sell section)
Homepage reviews
Add credibility to your store by sharing customer reviews on your Homepage
Sticky 'Add to cart' button
Make the main website call-to-action button even more persuasive on mobile devices
Homepage blog posts
Connect with your clients and create a profound brand experience with informative content
All AliDropship themes include
Free theme updates and new features
Free customer support
Wide range of customization options
Side Shopping cart
Multi-step Checkout
Blog section
Live search
Social media icons and widgets
Built-in cross-sell
Free translation platform
Why our customers love this theme
Ignacio
Argentina
"I guess it's one of the best themes on the market today. Everything seems very neat and professional, competent and patient support."
fadhlan m.
Indonesia
"bugs free, a lot of features, easy customization, clean and well structured design"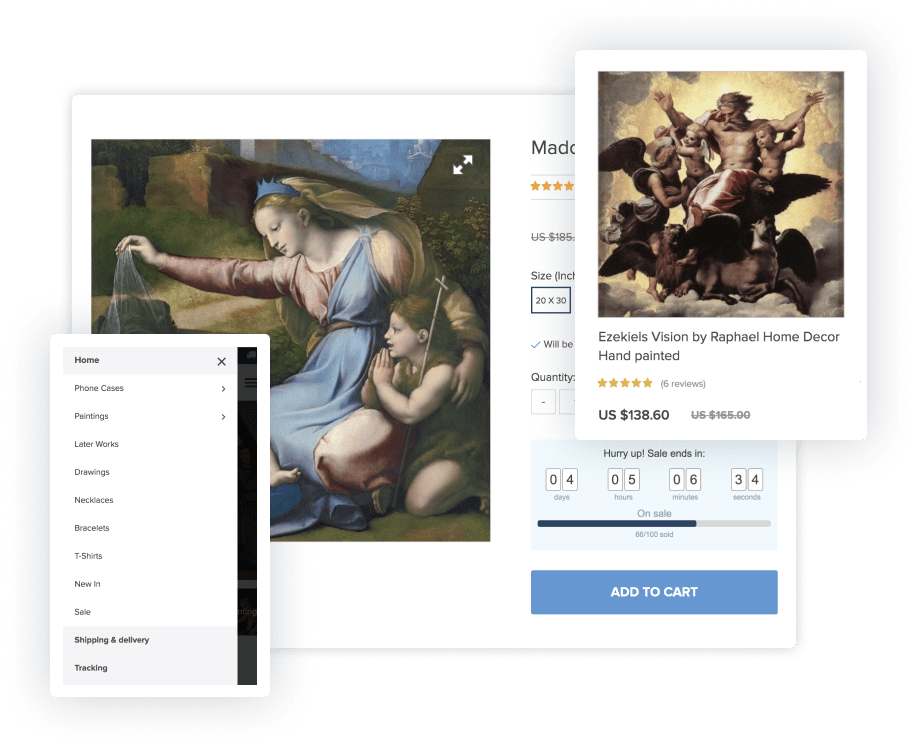 Are you ready to try
Raphael?
Whether you're a total newbie or a seasoned expert with a multi-million dollar turnover — we have the exact solution you're looking for!
Download theme
View Demo