AliDropship Blog
Get marketing tips, tricks and dropshipping inspiration right into your inbox!
Sign up today not to miss out a single post:
Is It Too Late To Start A Dropshipping Business In 2020?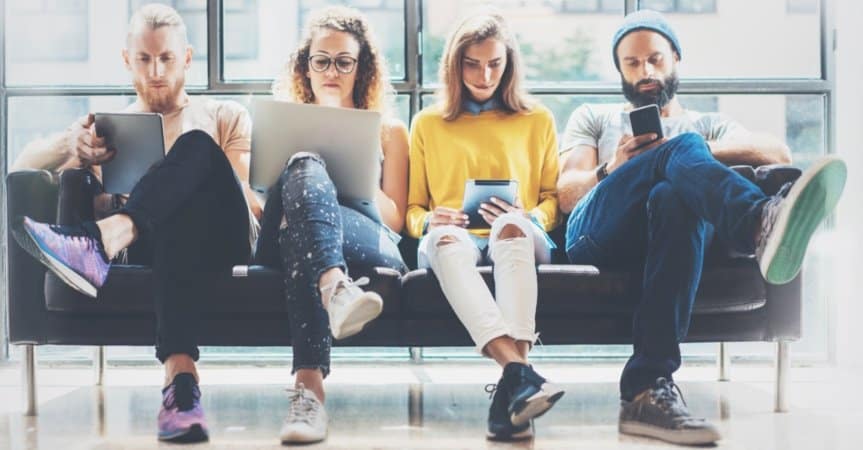 Are there any valid reasons to start a dropshipping business in 2020? Let's find it out!
When people start complaining about the little money they make at work, I usually suggest that they start something new.
A dropshipping business, for example.
And some of these people immediately bail out…
Rather than analyzing the eCommerce market and searching for the most profitable niches, they start looking for the reasons why starting a dropshipping business is a bad idea.
Some say that having successful dropshipping stores is impossible without secret knowledge or skills. Others are 100 percent sure that the market is saturated and it's useless to compete with the big fish.
Finally, they all come to the conclusion that it's hard enough to start a dropshipping business in 2019 (and at any other point of time) and it's better to give up this idea.
Are these people right? Has the ship really sailed?
Let's look into the matter together!
Table Of Contents
5 reasons why starting a dropshipping business in 2020 is a pretty good idea
1. Huge dropshipping knowledge base
People who started their dropshipping businesses some years ago didn't have so much useful information as you have. They were pathfinders and had to learn what is what the hard way. Nobody sent them emails with the lists of the most promising dropshipping products or gave them any tips on how to manage their stores. They had to begin from scratch.
These days everyone who wants to start a dropshipping business can just google the word "dropshipping" and get tons of articles, guides, educational videos and even special forums where people share their experience of dropshipping. As a rule, most of these materials are free, so everything you need to do is just to put a bit of effort into studying the content. That's it!
2. Lots of special technical tools for dropshipping
Let's suppose that there is no fridge in your apartment. In this case, you will regularly have lots of problems with keeping your food safe.
Or imagine that humanity didn't invent a car and we all need to use horses or other animals to move from one place to another. It would really take lots of your time and effort.
Historically, when people first set up their dropshipping businesses, they didn't have all these tools that are making your dropshipping journey easier now.
Seriously, you have much more opportunities than eCommerce entrepreneurs had, let's say, 5 years ago.
You don't need to import your products manually or spend long hours looking for the ePacket delivery option. You just need to install a plugin on your website and enjoy the process of running your own business.
Besides that, nowadays, there are tons of add-ons and services designed specifically for dropshipping. With their help, you can safely forget about many technical things and dedicate your time to your business promotion.
3. Constantly growing eCommerce market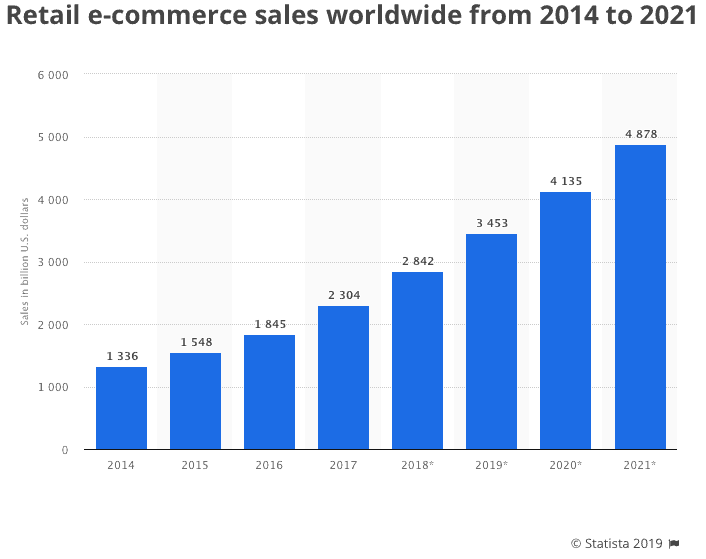 Image credit: Statista
I guess that now you're thinking: "OK, nowadays, there are many tools and lots of valuable information that can help me out with a dropshipping business. But what about niches? All the profitable ones were occupied many years ago, so starting a dropshipping business in 2019 is useless."
This is not entirely true.
Of course, the more people know about something, the higher the competition is in this field. And it is not true for the eCommerce business only.
How many cafés and restaurants are there in the place you live? How many brick and mortar stores do you have on your street? I have counted more than 5 regular clothing shops near me. Actually, they don't sell anything highly specific, but still, they exist and bring money, otherwise they would be closed.
In the eCommerce business, the situation is the same. Yes, there are many online stores selling clothing, for example, but they all are different! Some stores have a wider range of products, others offer their clients higher discounts, and some other stores spend lots of money on advertising to pop up in your social media feed all the time… They compete with each other and you can compete with them, too. Nobody limits you!
In your store, you will have your own design, a unique set of products, a self-made marketing strategy, etc. That's what will define you – and that's where your competitive advantage lies.
The eCommerce market is huge and there is always a place there for you, too! Remember, the ball is in your court!
4. Improved terms of delivery
Some years ago, the delivery time was a soft spot of dropshipping business.
Most of customers were forced to wait up to 2-3 months for their orders because the products purchased from China were shipped by sea. Of course, it was inconvenient and caused lots of problems for both the customers and the sellers.
Everything changed when ePacket delivery became available for Chinese sellers. With this shipping option, they were able to deliver products much faster than earlier, which helped them quickly earn people's love.
These days ,lots of AliExpress sellers offer ePacket delivery to their buyers, and deliver products in 10-20 days. Most customers are comfortable with that and buy cheap products from China with great pleasure.
Besides that, nowadays many Chinese suppliers have their own warehouses in the U.S.A. where they store their goods. It allows them to ship products to American buyers as quickly as possible, and therefore, get positive reviews from the most picky audience!
So, from the point of view of delivery, starting a dropshipping business in 2019 has a better chance of success.
5. Lots of opportunities for marketing
Do you remember how Facebook looked like ten years ago and how many options it had?
In fact, it was a platform which people used to make friends and slowly exchange messages with them. At that time, no one thought that in several years the terms 'Facebook' and 'online advertising' would be connected so closely.
In 2019, there are lots of marketing opportunities that weren't available to the first eCommerce entrepreneurs:
As you can see, you have a wide range of opportunities to make a name for yourself and for your store as well. Just use them and you'll make your dropshipping business flourish!
Dropshipping business in 2020: the bottom line
Starting a dropshipping business in 2019 isn't late. And it won't be late at any moment in your life if you're ready to work hard and put some effort into running it.
Remember, there are no magic pills that will help you get ahead in the eCommerce business. There are just modern technical and marketing solutions which you can use to your advantage, and your strong desire to change your life!
Starting a dropshipping business in 2020 is a great opportunity to get financial freedom and open up new opportunities for you! Don't let your fears stand in the way of your dreams and hold you back! Everything is in your hands!
Join 325,000+ entrepreneurs who are already mastering new skills with our FREE Guide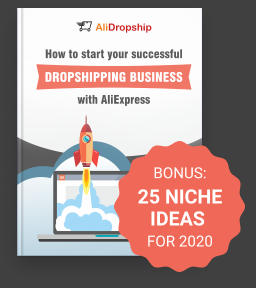 How to Start Your Successful Dropshipping Business with AliExpress
Get step-by-step instructions for newbies, expert advice how to build and promote your store, and best tools for AliExpress Dropshipping