Building An Online Business With Passive Income: Sunit's Experience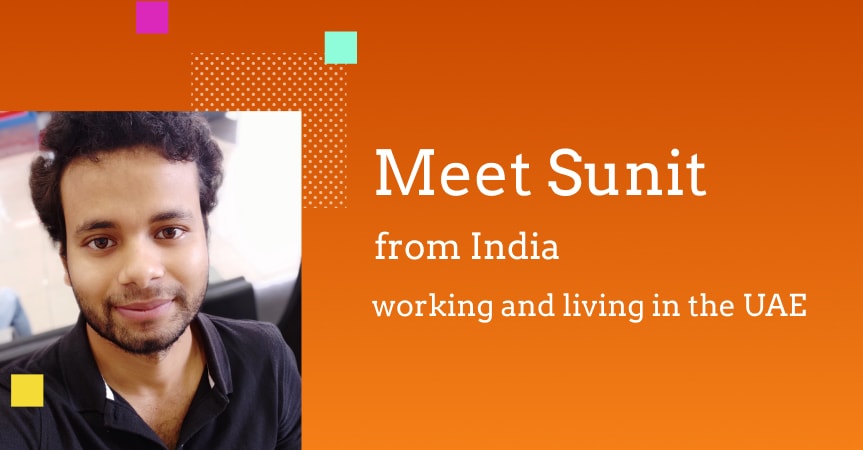 Online business with passive income: myth or reality?
For our today's guest, Sunit from India, the answer to this question is as clear as daylight. Let's see what we can learn from his experience!
Disclaimer: all the success stories published in AliDropship blog are the results of interviews conducted in the written form. Even though the editors may make some minor changes to the grammar, spelling, and/or punctuation, the respondents' writing styles, views, opinions, stores screenshots and personal photos are left unchanged.
Hi, please introduce yourself!
Hi, I'm Sunit Das, a 28 year old electrical engineer from a remote village in eastern India. I live in the United Arab Emirates and work in a private company in Ras Al Khaimah city here.
Why did you get interested in launching a business with passive income?
Since the beginning of my job life, I was looking for alternative ways of earning. Honestly, doing a regular job is not bad. Yes, most of us hate regular jobs but we shouldn't forget that it gives us strong base support to look for passive ways of income while continuing it.
Having a full time regular 8 am – 6 pm, 6 days a week job, I had no other way to earn using my passive time than launching an online business. I realized that the internet is the only way to utilize my passive time to earn money.
The internet is a sea of opportunity for starting a business with passive income. Young people who have a good potential often waste their time on social media for entertainment only. But, they don't know they can earn from the internet or especially social media using passive time. By starting from a passive income source online business can become the main income source and eventually it can change one's life.
For days, I was searching Google, looking for a reliable and convenient way to work on.
I tried earning from making YouTube videos, initially, I earned a little from YouTube, but I failed in a few months.
Then one day I read a discussion on dropshipping on a forum page. I got curious about the dropshipping term and started reading articles, watching YouTube videos.
How did your dropshipping journey begin?
First, I opened my dropshipping store with Shopify, using the Oberlo fulfillment service. But, I had to pay for Shopify, Oberlo and a few essential plugins for 55$ a month which was huge for a beginner like me. Especially when I didn't have enough sales. Even if I wanted to take a break or pause for a few months, I still had to pay 25$ monthly for no reason.
Then one day I read about WooCommerce and AliDropship, I closed my Shopify store and started working with WooCommerce using AliDropship.
What can you say about this experience?
I have watched many YouTube tutorials before starting a dropshipping business and I heard much of AliDropship plugin. It's an amazingly convenient way to automate the dropshipping processes. It let me work flexibly, the way I wanted.
I got AliDropship Woo Plugin, and it made my entire dropshipping business easy. Honestly, without AliDropship, I wouldn't use WooCommerce.
I don't have an internet technological background. And still, AliDropship enabled me to open my dropshipping store and have a stable amount of sales every month.
How does your business perform now?
I don't earn huge money yet, but I am satisfied enough to have a decent earning using my passive time.
What's your niche and product strategy?
My store niche is closely related to my education and occupation. So, to choose AliExpress products for it, I use my knowledge in electronics and also check interests of my Instagram page followers interests to decide which products will sell well. I spend 5-10 hours a week checking for new interesting products on AliExpress. I search for the kind of products which are unique and normally not available in local shops.
To set the prices, normally I keep 7$-14$ profit and add that with the product's actual price. I keep 3.7$ as shipping cost. Generally, I spend it on faster shipping only. I don't earn from shipping amount which I charge my buyer friends.
How do you promote your store?
I tried Facebook ads, but had to give them up as it was hard to reach an interested audience organically. It seemed to me that Facebook wants dropshippers to get sales from expensive ads only, not from organic reach. And if you have a tight budget, these expensive ads are not beginner-friendly.
So, I stopped making Facebook ads as soon as I realised it. But at the same time, I understood that social media is extremely important for online business. And I didn't leave Facebook for good – I kept running Facebook pages and a Facebook group, too. Now, I write technical articles for the blog and link my products there.
But my most important traffic and sales source is Instagram. I have created an Instagram page where I share my knowledge and tips about electronics and electronics technology. Within a month I got a lot of page followers. I constantly engaged with them and built a good trust, and even got my first sale from my page followers.
I will never forget this first sale moment! It happened 9 days after the launch of my store. I felt so excited to see that first sale. It appeared to me as the first rain after a long hot summer. I decided to never look back.
Today my Instagram page has 400,000+ followers. I achieved it in just one and half years without even spending money on advertisement. Instead, I worked on building my Instagram page and earning the trust of my follower friends.
Don't get me wrong, ads can work well for business, too. But, for me, I decided to work in this way.
How much time does it take you every day to manage your stores?
Not more than an hour including placing order, following up shipping status, sending emails. I do product search occasionally.
Following up shipping status and constantly giving updates to buyers takes the most time as I don't use any additional premium plugin to manage it.
What are the biggest challenges you're facing?
Thankfully, I don't face any single technical problem with AliDropship, but the shipping time is the main issue I face in dropshipping. Customers want their products within a few days and dropshipping usually takes 2-5 weeks for delivery. It's a huge problem. But in my case as buyers are mostly my page subscribers who have been following my account for a long time, they always have trust in my business. Plus, I always keep them updated about the shipping status. I apologize if shipping gets delayed for a very long time.
Till now, I didn't face any difficult customer situations, except for one sad story. Though, I understand in business it is normal to see such things happen. A buyer bought a product, after a few days he sent an email that someone has used his PayPal without asking his permission. By then, the order had already been shipped, and I had no way to cancel the delivery. So I replied that we are sorry for the inconvenience, but can not refund his purchase as it has been shipped already.
The product delivery was done within 3 weeks. After 2 months he had raised a dispute with PayPal and PayPal gave me chargeback after investigation. Clearly it was not my fault but unfortunately I had to face the chargeback.
Did you register your business legally?
No, but I have a plan to register in the near future. I want to register my company in India as a sole proprietorship. For sole proprietorship, you don't need any critical documents other than only voter identity, bank and tax details.
How has your life changed?
As I mentioned earlier, I started dropshipping as a side source of income not my main source of income. In that context, I am so happy to build a long-lasting business using my passive time.
I miss my family, but I still live abroad to earn for them and my future. Dropshipping gave me hope to return to my family earlier than I could possibly do by doing only a job. Thanks to AliDropship for holding my hand.
My friends and family all support me, and I plan not only to register my business as a company, but also work for further expansion.
What can you advise our readers – those who already run their stores and those who didn't start the business yet?
Dropshipping is one of the easiest ways to build a business with passive income. Rather than using social media solely for entertainment, we can build a page, group or an engaging community and sell products among communities.
For beginners, social media is a great way to start if you don't have enough money for paid ads. And always remember patience and consistency are the keys.
Start working on a niche in which you have enough knowledge.
Summing it up, it's safe to say that dropshipping model proves itself to be suitable and efficient for the entrepreneurs willing to run a business with passive income. We are grateful for Sunit's feedback and wish him best of luck with his promising venture!