64K+ In 1.5 Years Of Ecommerce In Morocco: Anas Is Back With New Records!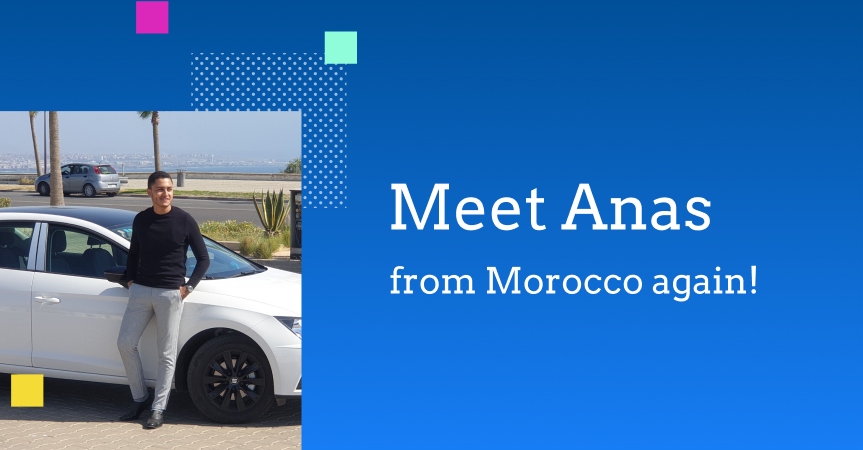 Do you remember our friend Anas, a dropshipping store owner who works with ecommerce in Morocco? Almost a year later, we're talking to him again to see what's new. Surely, it's super insightful to see how one's business grows and thrives in time!
Disclaimer: all the success stories published in AliDropship blog are the results of interviews conducted in the written form. Even though the editors may make some minor changes to the grammar, spelling, and/or punctuation, the respondents' writing styles, views, opinions, stores screenshots and personal photos are left unchanged.
Hi, please introduce yourself to our new readers!
Hi, I'm Anas, a civil engineering student living and running an online business in Morocco. I hate to be told what to do or to live a boring life – after all, this is what made me start my own business.
I had no IT/ecommerce experience when I started and wanted to discover this whole new world all by myself. Turned out, the dropshipping business was quite suitable. It is easy, saves a lot of time and money, and gives you a large choice of products you can sell.
To make the most out of this model, I use AliDropship Woo plugin and Social Rabbit add-on. AliDropship literally does most of the work: imports products, updates and changes their prices, places orders, sends tracking codes, and more. I am sure it's impossible to not come across this plugin when you look dropshipping up on Google!
How does your business perform now?
I have one more store now, so there are 2 websites I manage. Take a look:
In your experience of ecommerce in Morocco, what have proven to be the best product and marketing strategies?
To choose products and suppliers for my store, I check the number of orders on AliExpress and the supplier's rating. I focus on the niches that simply never die and let me always be innovative and adapt to the current market needs. Keeping an eye on other stores also helps: I tend to set my prices lower than the competitors' ones.
Also, I always use Instagram and rely on my followers' opinion to add new products to the stores. In time, the more you get engaged with your audience, the more you understand what they want.
To promote my products, I now use Facebook and Instagram ads and try making collaborations when possible. Earlier, I used to put much effort into SEO, but I don't do that any longer. It costs me about $3,000/month to promote my stores.
Looking back at how all of this started, I realize that the only key to succeed is to never settle and always be ready to take risks. For example, I never used Facebook ads at all before because I thought it is a waste of money. And it can happen when you don't know what you are actually doing! But once I learned how it all works and how you can use custom audiences to target potential customers or how you can use attractive ads to bring attention, everything changed.
On the other hand, I worked more on improving the user experience on the websites by focusing on customer support and categorizing the products. It is all about showing the right products to the right people at the right time!
Has anything changed in your ways of managing the business?
Now, I have a partner who works on customer support tasks. It's really helpful as it lets me focus on the main work and now, I spend about 6 hours a day working on my stores. The most time-consuming tasks here are orders management and customer support, while adapting to the market changes and keeping every customer satisfied is the most challenging part. I learn a lot and develop new techniques to cope with these issues. And when it comes to customer service, good manners and proposing multiple solutions always works.
In general, how has ecommerce in Morocco influenced your life?
To begin with, I registered my business officially as an LTD in the UK. My friends and family are proud and happy of the new person I became.
I would say that after a while I realized that I am still far away from my goals. In the previous story I shared how I made about 7,000 dollars a year of ecommerce in Morocco which honestly seemed like much for me. But after another year of working hard, I understood that there are no limits. The harder you work, the more you earn. And once you are financially independent, your life changes A LOT.
My life itself has improved so much during one year of hard work. I still remember how I struggled to make my first sales, but now everything seems easier than it was before. So, for every beginner reading this: Please do not give up, you are capable of making great things and achieving greater goals than me if you focus on what really matters!
DO NOT GIVE UP, I know how hard it can seem, but trust me, we all have been there. And remember that if it was that easy, everyone would do it. Do not think to stop, learn new things, try new methods and understand how it works.
You will make it ♥
That's a passionate and powerful message! We are beyond grateful to Anas for getting in touch with us again and sharing his rocky road to establishing a successful ecommerce venture in Morocco. Best wishes to you and your closest ones!